LISTENING POST: No Tomorrow is today
Priscilla Smith discusses her experimental arts space in Underground Atlanta
progressive and experimental art is the regular fare: A bird's eye view of No Tomorrow, Priscilla Smith's Performance space and studio in the newly-revitalized Underground Atlanta.
Establishing and operating a public space in which progressive artists can perform and display their work is a challenge in the best of times. To make it happen in the third decade of the 21st century takes an extraordinary combination of personal commitment, financial wherewithal and propitious circumstances, all of which came together a year ago when Priscilla Smith opened the doors of No Tomorrow in Underground Atlanta.
The propitious circumstances boiled down to an effort by Lalani Ventures, which acquired Underground Atlanta in 2021, to build interest in the 12-acre property by supporting pop-up events and shops. Professional artist Kris Pilcher was hired to implement the plan.
"Kris knew that artists would transform the ghost town, which was once Atlanta's biggest downtown tourist attraction, into a viable destination," Smith says.
Pilcher quickly filled six storefronts just inside the entrance to Underground Atlanta with retail shops and galleries. One space, a former geodes and fossils shop, remained open. From working on projects together, Pilcher was familiar with Smith's accomplishments as a musician, performer and producer. When he initially offered the space to her, Smith declined.
"I'd been through enormous life changes in the couple of years before," Smith said. "I was trying to recover from the interruptions of running for State House of Representatives and moving from my family home, which included a half century of my parents' stuff, to a house in Kennesaw."
"Come on," Pilcher and other friends exhorted, "just do it for fun."
Today, fun consists of booking and producing a steady stream of edgy, experimental music, dance and other performance art up to three or four times a week. No Tomorrow is also Smith's studio where she creates, rehearses, prepares and presents her own art.
The cost of operating an artist's space like No Tomorrow is not insignificant. Some government funding is available. As an individual artist (not a nonprofit organization), Smith is eligible for a small pool of arts funding from the City of Atlanta, Fulton County and Arts & Entertainment Atlanta, a neighborhood activation and economic development project managed by the Atlanta Downtown Improvement District. The majority of concerts and shows are supported by a suggested donation or tip jar. Sundry merchandise sales, event rentals, concessions, gifts and contributions from Smith's bank account have funded the enterprise thus far.
"Everybody gets paid," Smith said proudly. "Artists get the lion's share of ticket sales and the people who help run shows get paid $15 or more an hour." 
And what shows they are. Listed below are just a few shows in October, which represent a sampling of the innovative, uncompromising art, that finds a welcome mat only at experimental laboratories like No Tomorrow.
In August, Smith's short-term lease at No Tomorrow ran out. Underground management rewarded her commitment and investment, which generated no small amount of revitalizing energy and publicity, not to mention new patrons, for the property, by giving her a choice between leaving or signing a one-year lease with a 100% rent increase.
"I constantly brag that, out of the dozens of shows No Tomorrow has put on since November 18 of last year, none — not one — has been less than excellent," Smith said. "Finances be damned, no way was I going to stop."
No Tomorrow, 50 Lower Alabama St. SW, Atlanta, GA, 30303. Near MARTA Five Points Station. Street parking and garages available in the area. Venue is down the stairs at Peachtree Fountains Plaza inside Underground Atlanta. Find No Tomorrow on FB, IG, and at the website.
Upcoming events at No Tomorrow
Tim Kaiser (Oct. 10, 8 p.m.) — From Weirdo Industrial Complex headquarters in Duluth, Minnesota, founder Tim Kaiser brings a caboodle of homemade acousto-electric contraptions to Atlanta for the very first time. The DIY instruments in Kaiser's quiver for this tour include a Proximity Feedback Machine Infrared Theremin, TripleHex Optical Theremin, Circular Harp, Amplified Spring Box, Electric Kalimba, Ord sampler/looper, Zeppelin sampler/looper, AF loop box and Electro LFO Synth.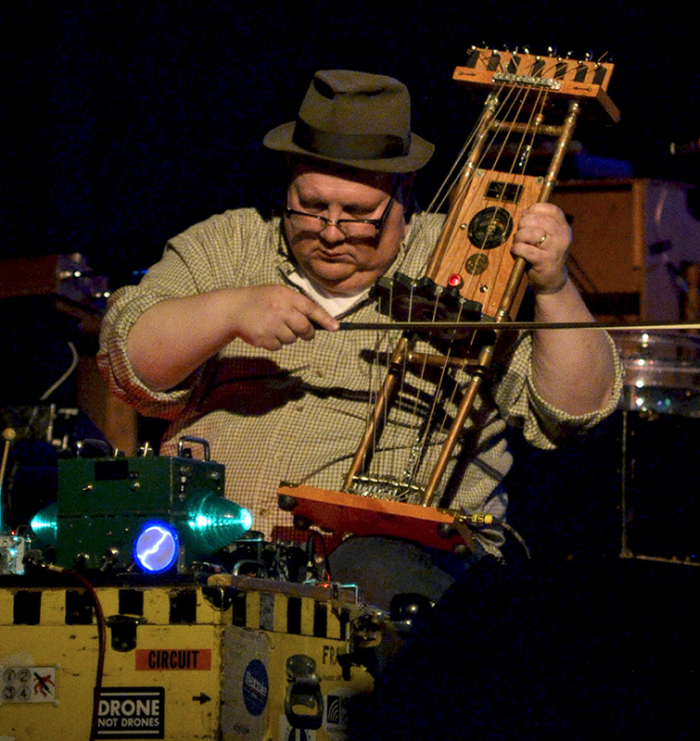 When asked to identify his primary musical influences, Kaiser replied in an email: "While in high school, my older brother was a DJ at the local campus station. I would tag along when he was doing shows because they had this phenomenal record library (actual vinyl records) and a little audition booth where I could listen to records by myself. I discovered Harry Partch, the mad scientist instrument builder who devised his own music system based on 43 intervals. I was in a punk band back then, which means we were broke. All of our gear was crappy. I took my minimal knowledge gleaned from an 8th grade class on electricity and started fixing stuff, which evolved into making stuff. Pierre Shaeffer's work reminds me of the fun I had screwing around with a portable reel-to-reel deck, which we had when I was a kid. His approach to composition redefined things for me. In college, I discovered Laurie Anderson's 'Big Science' and the 'United States I-IV' production, which really pushed my thinking on performance. Pauline Oliveros was a profound inspiration; her concepts around the subject of listening helped me better understand my own creative process. Pan Sonic and Eno are musical pleasures. There are many other influences, of course. All of our individual experiences shape the whole of our perception and outlook."
Opening for Kaiser at No Tomorrow is a trio of seasoned Atlanta improvisers: Majid Araim, Alex Cohen and Ben Shirley.
Jeff Crompton (saxophone) and Mike Baggetta (guitar) (Oct. 16, 4 p.m.) — Reprising their mini-duo-project, which played a scorching concert at No Tomorrow back in May, Atlanta saxophonist-composer Jeff Crompton is again teaming up with New York-based guitar wizard Mike Beggetta, this time for a Sunday matinee. Baggetta recently completed a massive American tour with mssv, his power trio with punk rock bassist Mike Watt (Minutemen) and versatile drummer Stephen Hodges (Mavis Staples, Tom Waits). The music is guaranteed glorious, but ear plugs are highly recommended.
Sharing the Sunday afternoon bill with Crompton/Baggetta is Whispers of Night (Majid Araim, mandolin, Ben Shirley, cello).
Poose the Puppet (Oct. 18, 8 p.m.) — Puppetry unbound comes to No Tomorrow in the Atlanta debut of "In the Deadly Nightshade, No One Can Hear You Scream Your Purpoose." The joint project by Benjamin Martin aka Poose the Puppet, a performance artist from New Orleans, and Portland-based puppeteer Sarah Frechette and filmmaker Jason Thibodeaux, whose art involves puppets, props and cinematic projection, promises to provoke with humorous antics and interactive elements.
From the artists' press release: "'In the Deadly Nightshade, No One Can Hear You Scream Your Purpoose' is a touring collaboration between the shadow cinema stylings of Night Shade and performance artist interactions of Poose The Puppet. Get lit and witness as Night Shade's illuminated Deth Cast members 'Necromancer Nadia' and 'Dead Mike' enter the No Tomorrow zone to conjure forth giant imagery to invoke an esoteric variety show with interactive interviews from the burial realm, live alchemistic music video, the ever popular 'Spew Dating Game.' the birth of Poose-Berry Crunch, plus secrets of Necromancy."
Doors 8 p.m., show 8:30 p.m. Teen and adult audience (15+). $10 suggested donation, cash or Venmo at the door.
Tatsuya Nakatani Gong Orchestra (Nov. 6) — Making his No Tomorrow debut, famed experimental percussionist Tatsuya Nakatani will perform solo as well as with his uniquely amazing, eponymously named Gong Orchestra. Watch for a Listening Post interview with Nakatani toward the end of October. —CL—
---