LISTENING POST: Bang a Gong (or 15)!
Tatsuya Nakatani and his Gong Orchestra roll into No Tomorrow
For whom the gong tolls: Japanese percussionist Tatsuya Nakatani brings his incomparable improvising skills and Nakatani Gong Ensemble featuring locally recruited instrumentalists to No Tomorrow in Underground Atlanta Sunday, Nov. 6.
In 2014, I attended a concert featuring Japanese percussionist Tatsuya Nakatani and American guitarist Eugene Chadbourne. Sponsored by Eyedrum, the concert took place in the lobby of the same building on MLK Drive where the Creative Loafing offices were located. I had seen Chadbourne a few times and was familiar with Nakatani's music, but had never witnessed a gig by the latter. Both artists are known for their idiosyncratic, unconventional approach to their instruments and full immersion in the world of improvisational music. Their duet set was astonishing, crackling with furious energy and punctuated by moments of deep sonic convergence, which occur only when uber-talented improvisers reach maximum mind-meld.
But, that night, it was Nakatani's solo set that really blew my mind.
Sitting at a standard drum kit augmented by a grab-bag of sundry noisemakers — bells, toys, trinkets, metal cups, bowls, cymbals, wood-knockers — Nakatani conjured up streams of percussive consciousness running the gamut from cacophonic squall to gossamer stillness to funky jazz groove. He struck instruments and implements with conventional drumsticks, chop sticks and brushes. At times, using a hand-carved bow, he scraped and sawed on the edges of a large metal gong, creating a shimmering, ethereal soundwave that permeated every membrane, muscle and bone in the audience.
A few months later, Nakatani returned to Atlanta, this time for a concert at the Goat Farm with enough gongs to equip a small marching band. The Nakatani Gong Orchestra (N.G.O.) is a touring sound art project established in 2011. When Nakatani comes to town, depending on how many gongs and attendant apparatus he can transport in his van, he recruits a commensurate number of musicians and non-musicians from the local community to perform compositions based on his proprietary notational system. During rehearsal, which typically transpires during the afternoon before an evening concert, Nakatani teaches the NGO members a few hand signals, which serve as performance cues, and conducts the ensemble through a few practice exercises.
"The compositions I am creating for [the NGO] are based in my idea of arranging the vibrations into formations," Nakatani notes on his website. "Silence, space and textures are key to my philosophy of making music. Working outside of academic theory and the Western note system opens many possibilities for me in sound." This unique educational and performative process produces a musical experience like no other.
Originally from Kobe, Japan, Nakatani moved to the U.S. in 1994. Internationally active since the 1990s, Nakatani has released more than 80 recordings of solo and collaborative concerts and studio sessions with similarly avant-inclined musicians from all over the planet. Now based in Truth or Consequences, New Mexico, Nakatani adheres to a grueling touring schedule. Crisscrossing North America in his trusty 2006 Mercedes-Benz-manufactured, Dodge-imported, customized diesel Sprinter van, he plays around 150 concerts annually (a regimen interrupted by the COVID pandemic).
This Sunday, Sep. 6, Nakatani will play a solo set and conduct the NGO in concert at No Tomorrow in Underground Atlanta. Opening the all age's program are two of Atlanta's finest progressive bands, Atlanta Improvisers Orchestra and Flight of Swallows. On Monday, Nov. 7., Nakatani plays a duo concert with guitarist Shane Parish at Hendershots in Athens.
Listening Post caught up with Nakatani a few weeks ago when he was en route from a gig in Iowa City to another one in Chicago.
Listening Post: Tell us a little bit about your early musical education and adventures.
Tatsuya Nakatani: I studied 98, 99 percent myself. I was first playing a drum set in jazz groups, but very soon became interested in other things, rather than playing beats and rhythms and patterns. I started exploring more texture and experimental sound. Then I started exploring cymbals and gongs. I started feeling like, you know, I have a two arms and two legs, which is a four-way control on the percussion.
How did the idea of the NGO develop?
Nakatani: Listening to what two [bowing] gongs sounded like, which is maximum I can play, I imagined how four or six people would sound. I was pretty sure it would sound beautiful. I figured out how to compose in a different way and train people how [to bow]. Now, I have on the stage fourteen gongs, including me will be fifteen.
To my and other ears, your music expresses an overarching spiritual quality, which requires deep listening. From what direction do you approach it? Is every concert, on one level or another, a spiritual experience?
Nakatani: For myself, I'm working on my music and the composition and vibrations. I'm not trying to present it for meditation or relaxation. I believe live music is really powerful. You hear things you can't hear on the recordings. Music is not listened to only by ear. Your whole body is listening. Especially for the Gong Orchestra, you can listen to it through speakers, but, you also feel it.  For some people, they feel it in a spiritual way.
Your music is unique in many aspects. If we had time, we could talk about the history of Japanese gong music, its connection with ceremonial court rituals and stuff like that.
Nakatani: One thing you can mention is that what I do is not traditional Japanese. Many people think of the stereotype of the Asian man with gong playing things he heard at home growing up. I am nothing like that. I'm a contemporary artist working in contemporary art form.
What is the best way to explain your approach to playing and composing?
Nakatani: The main thing is improvisation. I'm an improviser. I improvise every show. But also, for the Gong Orchestra, I prepare a few pieces with some structure and patterns. I'm also risking every time with different members. Even when there is a professional musician, they don't usually have experience with gong. So it's different area altogether. Gong is a pretty simple instrument, so, with only a few things clear about the technical side of playing, you can make really beautiful music with my composition.
Almost everything about your music is unconventional. From the solo stuff to the NGO, the way you have figured out how to make a living by playing improvisational music is remarkable.
Nakatani: People easily forget about what's happening in the world and all kinds of disasters, like the pandemic, right? And we are still in the COVID era. During the pandemic, I lost all gigs. Immediately I realized why live music is important and how important it was to me. I started doing online concerts, but, it was obviously different than what I was experiencing and doing before. Now that musicians started touring again, I value live music even more. Music is life and the audience should come to the concert and experience this living art. —CL—
Tatsuya Nakatani & the Nakatani Gong Orchestra, presented by No Tomorrow, Face of Knives and Eyedrum Art & Music Gallery. Doors 6:30 p.m., music 7 p.m.. Tickets $13 (at Eventbrite) advance, $15 day of show, $10 w/ student ID. No Tomorrow at Underground Atlanta, 50 Upper Alabama Street Atlanta, GA 30303.
Fri., Nov. 4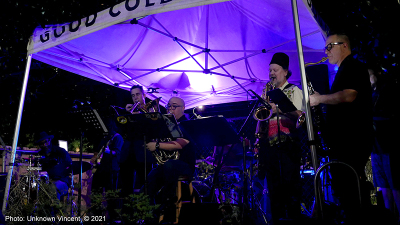 4th Ward Afro-Klezmer Orchestra at Southern Feedstore — The 4th Ward Afro-Klezmer Orchestra, stalwart purveyors of an irresistibly swinging mashup of Lagosian highlife and Ashkenazi folk-jam (a/k/a klezmer), return to the fray after a brief hiatus for a performance at East Atlanta's hippest new music venue, Southern Feedstore (a/k/a Buteco EAV). Don't miss the 21st century jazz ensemble that dares to be different. — Doug DeLoach
Tip your local musicians. 9:00 p.m. 1245 Glenwood Avenue SE. Atlanta 30316. Facebook Event: https://www.facebook.com/events/533631435272080
Sat., Nov. 5
Elyse Defoor's "Slivers of Time" at The Art Institute of Atlanta — A survey of work by Atlanta-based multi-media artist Elyse Defoor opens at The Art Institute of Atlanta with a reception Sat., Nov. 5, from 6-8 p.m. The show will include pieces from past bodies of work including a painting by Defoor created when she was an adolescent. Also included are works from "Body Armor," a recent series featuring photographic work, which incorporates articles of clothing as signifiers. "Slivers of Time" runs through Dec. 15. — Doug DeLoach
Free. 6-8 p.m. The Art Institute of Atlanta, 6600 Peachtree Dunwoody Rd, Atlanta, GA 30328. Gallery hours: Mon.-Thu., 8 a.m-6 p.m. Facebook event: [https://www.facebook.com/events/1069193847076147/?acontext={"event_action_history":{%22surface%22:%22home%22},{%22mechanism%22:%22your_upcoming_events_unit%22,%22surface%22:%22bookmark%22},"ref_notif_type":null}|https://www.facebook.com/events/1069193847076147]
Sun., Nov. 6
Tatsuya Nakatani & the Nakatani Gong Orchestra at No Tomorrow — For the past four decades, percussionist Tatsuya Nakatani has been honing his technique, building and adopting instruments and developing a uniquely powerful body of work within the realm of improvisational music. Don't miss the opportunity to hear a Japanese gong bowed in harmony with 14 other bowed gongs when Nakatani performs with and conducts the Nakatani Gong Orchestra in concert at No Tomorrow in Underground Atlanta. Opening the all age's program are two of Atlanta's finest progressive/improv groups, Atlanta Improvisers Orchestra and Flight of Swallows. (Special note: Monday, Nov. 7, Nakatani plays a duo concert with guitarist Shane Parish at Hendershots in Athens.) — Doug DeLoach
Tickets $13 (at Eventbrite) advance, $15 day of show, $10 w/ student ID. Doors 6:30 p.m., music 7 p.m. Presented by No Tomorrow, Face of Knives and Eyedrum Art & Music Gallery at No Tomorrow in Underground Atlanta, 50 Upper Alabama Street Atlanta, GA 30303. Facebook event: https://www.facebook.com/events/2967856380190786