LISTENING POST: No Words Music Festival
Instrumental diversity is celebrated with the inaugural event
This Yuletide season marks the premiere of the first No Words Music Festival. Billed by producer Ann Wood as the "first annual instrumental music festival created to showcase Atlanta's eclectic instrumental artists," the inaugural No Words Music Festival features musicians well-known to regular readers of Listening Post: Jeff Crompton and Benjamin Shirley, FLAP, Frank Schultz, PerkinsWood and Artifactual String Unit in concert at Red Light Café Tuesday, Dec. 27.
One half of the guitar duo known as PerkinsWood — Jeff Perkins being the other half — Wood says the idea for the festival came to her one day "kind of out of the blue" when she was reading about various festivals in Atlanta and elsewhere. "Considering this city's deep history of great instrumental music, it seemed like a no brainer."

Speaking of deep history, the oldest known musical instrument is a 60,000-year-old flute, carved by a Neanderthal from the left thighbone of a bear, which was discovered in 1995 in a cave near Cerkno, Slovenia. Along with cave paintings from the same era, the bone flute lends credence to the theory that Neanderthals were endowed with an intellectual propensity for abstract artistic expression, which developed sooner than it did in Homo sapiens.
"Abstract art and instrumental music function similarly by requiring the audience to be involved in the process," says Wood. "I also love the fact that non-verbal music can evoke emotions in the absence of literally defined meaning."
As guitarists and composers, Wood and Perkins have been performing around Atlanta since the 1980s. Their recorded collaborations span nine albums under three monikers: Hypedelic (1989-1991), DEW (1991-1997) and Perkins Wood (2000-present). PerkinsWood's music tends toward the indie-alt-dream-pop side of the spectrum with a nod to spaghetti western soundtracks and psychedelic rock.
Wood remembers first hearing FLAP — another longstanding Atlanta-based guitar duo comprising Andy Hopkins and Matt Miller — around 1992 when she and Perkins played an opening slot in Heaven at The Masquerade. "I felt an instant kinship," she said. "We introduced ourselves, but didn't develop a friendship until years later when they were playing a show at Kavarna with Grady Cousins. This was soon after Jeff and I had taken a break from live performance, which FLAP also did."

Spawned in an Emory University dorm room during the heady DIY era of the 1980s, FLAP has spent the better part of four decades staying true to its singular notion of what dueling guitarists are capable of doing. While much of Hopkins and Miller's recent repertoire hinges on lyrical tales (yes, with lyrics) about zany characters and comical adventures, the FLAP songbook does not lack for purely instrumental material.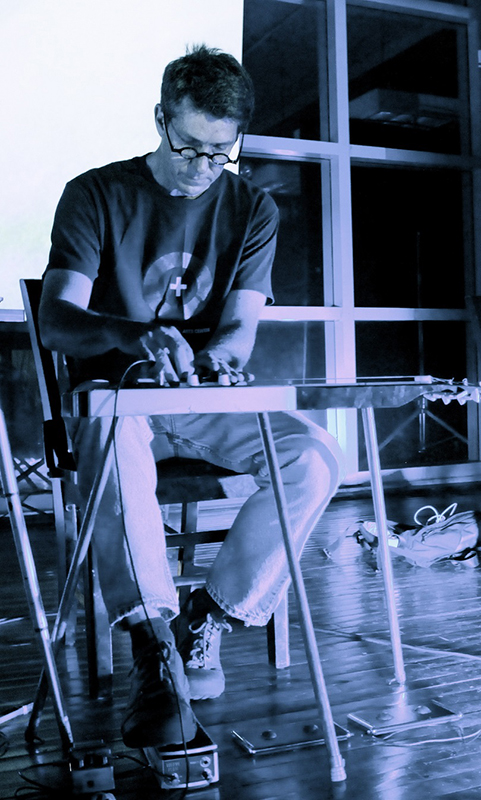 Wood initially encountered Frank Schultz as the lap steel half of Duet for Theremin & Lap Steel when PerkinsWood shared a bill at the Red Light, "Tres Duos," which also included FLAP. For the No Words Festival, Schultz says he will be "improvising solo on lap steel with some new twists and possibly bowed banjo."

Described by co-founder Chip Epsten as "something of a classical trio, albeit with non-standard instrumentation, taking a garage band approach to our music," Artifactual String Unit features Epsten on violin, Benjamin Shirley on cello and Gabe Monticello on double bass. The trio's highly compelling original music resounds with influences ranging from folk, jazz and blues to rock and classical chamber repertoire.
In 2021, at an outdoor show in Decatur with FLAP, Wood caught a performance by saxophonist-composer Jeff Crompton, a musician she had been wanting to see for years, but always missed for one reason or another. "After seeing him perform, I knew I wanted to include Jeff in the festival. I'm so excited to share the stage with him and Benjamin [Shirley]," says Wood.

Frequent collaborators in settings large and small, Crompton and Shirley have a new duo project called Eastern Continental, which is also the title of their debut album slated for release in early 2023. Says Shirley: "This duo is about putting aside the surface differences between the traditions, generations, experiences and styles from which we developed in favor of pursuing shared musical interests, exploring compositions, improvising and making beautiful and raucous sound together."
Although the first annual No Words Music Festival lineup features artists drawn from Atlanta's alt/improv/chamber/jazz scene, Wood's vision for the festival extends beyond any particular category. "I am imagining a future when the No Words Music Festival expands to multiple stages and features unique voices from other genres, such as R&B and funk," Wood says. —CL—
$15 advance, $20 door. Music 7 p.m. Red Light Café, 553-1 Amsterdam Avenue NE, Atlanta, 30306. 404-874-7828. redlightcafe.com @redlightcafe
---