CREATIVE ARTS: A fresh start for the New Year
Exhibition openings, solo shows, and gallery events to see as we enter 2023
Zipporah Camille Thompson has always sought to evoke emotion through her art. Her work is the focus of a new exhibition at MOCA GA in January.
Since 2020, it feels like time has moved faster than usual. This past year has flown by, and it's made people more grateful for the simpler moments in life, because just like that - it all could be gone. Even though it came and went, 2022 was an amazing year for the Atlanta arts scene, which makes for a greater sense of optimism for the future.
The upstart gallery Cat Eye Creative hosted several events and exhibitions, and regularly had a massive turnout for each due to the intimate setting, quality of artists, and dedication of its young and ambitious owner, Adam Crawford. Painters such as Chris Veal, Erin Nicole Henry, and FRKO, all had outstanding solo shows here, which built up the reputation for this growing gallery located in the heart of downtown. Last month, Cat Eye Creative was the recipient of "Best Art Gallery" in the "Best Of" issue of Atlanta Magazine. What was most important about this accolade is that you don't have to be a longstanding establishment, or a curator with decades of experience; all you have to do is have a love for the craft, and an unwavering work ethic to showcase the best art that the city has to offer.
Miya Bailey's Peters Street Station also had a really big year, and has become a staple in the neighborhood of Castleberry Hill. In addition to its numerous solo and group shows, the weekly events added to the gallery's significance. It hosts art classes, live music, comedy nights, and so much more. It is also home to the award-winning tattoo studio City of Ink, and the great-tasting coffee shop Gilly Brew Bar. PSS is a one-stop shop for all creatives, and 2023 will only bring more notoriety to this phenomenal business.
For a long time Miami Circle has been the go-to spot to see art in Atlanta. It's not quite that anymore - but it's for good reason. The art scene in the city has evolved, so there are many places throughout the Metropolitan area where one can scratch that artistic itch, but this well-known area in Buckhead still has some of the best galleries in the South. Within walking distance, you can find ten galleries - Alan Avery Art Company, Anne Irwin Fine Art, Bill Lowe Marcia Wood, Mason Fine Art, Maune Contemporary, Pryon Fine Art, September Gray, Signature, and Thomas Deans Fine Art. Its owners and curators have a wealth of knowledge, and the formal feel of these establishments provide the perfect balance to the grassroots aesthetic of the other galleries in Atlanta.
As we enter the new year, it is not only critical to look ahead to new beginnings, but to also show gratitude to the moments that got us to this point. The art community here continues to grow, and become better with each passing day. Here's to an amazing 2022, and an even greater 2023. So, to start things off right, here are the exhibitions to check out during the month of January.
Through Jan. 19
Trish Andersen: Hindsight 2020, Gallery100 - Born and raised in Dalton, Georgia, Trish Andersen's initial attraction to the process of tufting was a means to reconnect with and explore her roots. After years of honing her craft in Savannah and New York City, she began using the medium as an examination of the reason why we are who we are and do the things that we do. The people, places and things around us have an immense influence on personality traits and the like. With Hindsight 2020, Andersen shows that when our life experiences are pieced together, it shows us how resilient our spirits truly are. Each stitch symbolizes a moment in time, and may appear different depending on one's distance from it.
Free. Now - Thurs., Jan. 19. 100 Peachtree St. NW, Atlanta, 30303. 404-524-2200 gallery100atlanta.com @gallery100atlanta
Through Jan. 21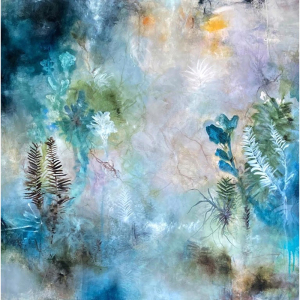 Deedra Ludwig: Drift, Thomas Deans Fine Art - Deedra Ludwig has a very unique practice. In her art, she uses materials such as soil to serve as a foundation, which is inspired by the coastal lands of Louisiana. For years, she has experimented with color, mark making, and composition, and has worked with biologists, botanists and historians on site in diverse ecosystems where our human interactions have diminished the health, vitality and well-being of land and watersheds. Drift - her current exhibition at Thomas Deans Fine Art - is more than just a re-creation of landscape on canvas or paper, it is an expression of the essence of nature in a rich and complex form; based on geographic locations such as the Florida Everglades, Louisiana bayous, Pacific Northwest wetlands and global rainforests.
Free. Now - Sat., Jan. 21. 690 Miami Circle NE, Suite 905, Atlanta, 30324. 404-914-1811 thomasdeansfineart.com @thomasdeansfineart
Through Jan. 7
Zipporah Camille Thompson: the ocean wept rainbows, Museum of Contemporary Art, Georgia - Zipporah Camille Thompson, MOCA GA's 2021/2022 Working Artist Project Fellow, has a solo exhibition titled the ocean wept rainbows on display through the beginning of next year. Thompson is a ceramist, weaver, sculptor and activist based in Atlanta, who explores alchemical transformations through clay and textiles, eliciting social change through her work. Curated by Jordan Carter, curator at Dial Art Foundation in New York, this show was put together in hopes of creating a perfect juxtaposition between art and emotion - both for the artist herself, as well as the viewer. "Deep and boundless love, like the depths of the ocean," Thompson wrote of the exhibition. "Endless grace and beauty like that of the sky, flowing infinitely like a river."
$5. Now - Sat., Jan. 7. 75 Bennett St. NW, Atlanta, 30309. 404-387-8700 mocaga.org @themocaga
Through Apr. 16
Horst P. Horst: Essence of the Times, SCAD FASH Museum of Fashion + Film - Horst P. Horst is one of the most influential photographers of the 20th century. Born Paul Albert Bohrmann, he originally studied furniture making and carpentry at the Hamburg School of the Applied Arts. Now, Horst is known primarily for his fashion photography and portraiture, as he has combined facets of surrealism and classicism into his unique compositions, creating striking, unforgettable images like the iconic Mainbocher Corset. His skill is also displayed in a series of portraits of fashionable figures from Marlene Dietrich and Diana Vreeland to Elsa Schiaparelli and Patrick Kelly. After achieving his first Vogue cover in the mid-1930s, Horst redefined the possibilities of fashion photography, inspiring a shift from hand-drawn illustrations to the full embrace of film by elite fashion magazines. Essence of the Times features 80 prints that span the majority of Horst's career from his early work for Vogue to his prints from the 1980s.
$10. Now - Sun., Apr. 16. 1600 Peachtree St. NW, Atlanta, 30309. 404-253-3132 scadfash.org @scadfash
Jan. 27 - Jun. 4
New Worlds: Georgia Women to Watch, Atlanta Contemporary Art Center - Opening in January 2023, the exhibition New Worlds: Georgia Women to Watch unites five emerging Georgia women artists contemplating a strange and uncertain future. This collaboration between the National Museum of Women in the Arts and the Georgia Committee offers an opportunity to speculate on what the future might hold amidst a time of cultural, political and environmental tumult. Featuring the works of Anila Quayyum Agha, Marianna Dixon Williams, Melissa Messina, Namwon Choi, and Shanequa Gay, this exhibition examines how our societal conditions have impacted artists' visions for the future or inspired them to create alternative realities. When women artists envision a different world, how does that look? Upon the conclusion of this show, One artist will be chosen from the Georgia exhibition for an exhibition at the National Museum of Women in the Arts in Washington, D.C. slated for spring 2024.
Free. Fri., Jan. 27 - Sun., Jun. 4. 535 Means St. NW, Atlanta, 30318. 404-688-1970 atlantacontemporary.org @atlantacontemporary
Through Apr. 9
Monir Farmanfarmaian: A Mirror Garden, High Museum of Art - Since her passing right before the pandemic, this is the first posthumous exhibition at an American museum for Monir Shahroudy Farmanfarmaian, one of the world's most celebrated and revered visual artists. She has come to be known internationally for her geometric mirror sculptures that combine the mathematical order and beauty of ancient Persian architectural motifs with the forms and patterns of hard-edged, postwar abstraction. The exhibition's title - A Mirror Garden - is borrowed from Farmanfarmaian's 2007 memoir, co-authored by Zara Houshmand, which evokes the visual splendor of the artist's mirror-mosaic sculptures. Objects on view will include a selection of sculptures, drawings, textiles, and collages spanning four decades, from 1976, until her death in 2019.
$16.50. Now - Sun., Apr. 9. 1280 Peachtree St. NE, Atlanta, 30309. 404-733-4400 high.org @highmuseumofart
Through Jan. 14
Open Window Kisses, Cat Eye Creative - Erin Nicole Henry debuted her first solo exhibition Open Window Kisses with Cat Eye Creative in December. Erin is a phenomenal local oil painter with an exciting body of work. This new show is a celebration of women and the power of their femininity. It is a "Rinascita", or rebirth, of the modern human. Contrasting against the earthier color palettes and darker chiaroscuros of the late Renaissance and Baroque periods, Henry chose to bring in ultra-bright, saturated colors, and intense light for these paintings. With Open Window Kisses, the viewer is able to enter two eras of time at once: The antiquity of the Renaissance and the rainbow-ed prospect of the future. The "Open Window" is neither entrance or exit, but a soft barrier, and yet a portal between these subjects and the outside world.
Free. Now - Sat., Jan. 14. 186 Mitchell St. SW, Atlanta, 30303. 404-547-8638 cateye-creative.com @cat_eye_creative