THE VINYL WARHOL: The top 10 concerts of 2022
'Supremely lucky' in Atlanta
In many ways, 2022 felt like my first year in Atlanta. I moved here in 2019. By the time I was settled, a worldwide pandemic put my life on pause. Now, everyone is able to go out again —  and concerts are flowing through the city, allowing us to make up for lost time.
I've been supremely lucky to see so many of my favorite artists this year. Here are my favorite shows of 2022:
10 — HAIM at Ameris Bank Amphitheatre, May 11
The HAIM sisters were on my "Must See" list for a longggg time. I became a fast fan all the way back in 2013 when the trio dropped their debut album, Days Are Gone. I played the hell out of album all-through college. It's an incredible project with a lot of different sounds and catchy choruses.
Finally able to see Este, Danielle, and Alana in person, almost 10 years later, all of the memories and feelings came rushing back. The old songs sounded fresh and the new songs from the fantastic Women In Music Pt. III hit hard. The dynamic onstage between these three sisters is, unsurprisingly, a joy to watch. They dance, banter, and tease each other, in such an organic way, like siblings do.
Each sister got their own time to shine, as HAIM all take lead vocal duties throughout the set. Danielle was cool, singing and playing guitar effortlessly. Alana was sweet and cute, the most delicate singer of the bunch. Este, who has always been my favorite, was raunchy and charismatic, with the best bass face in the game.
After approximately a decade in the making, HAIM were as great as I knew they would be.
9 — Lucky Daye at Center Stage Theater, Apr. 3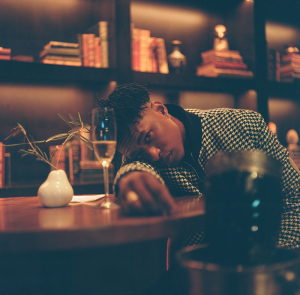 OOOoooOOOOooo was this a sexy show. Lucky Daye is one of the most talented, sensual singers in R&B and neo-soul working today, and he had the women in Center Stage melting from pure horniness. I remember looking around the theater, tickled at the faces transfixed by Daye. Nothing else existed for the audience at that moment. When he finally took his shirt off, the place erupted.
Apart from the cloud of pheromones that filled the theater, Daye delivered an enigmatic performance, more than worthy of a slot on this list. He bolted around stage whilst never sounding even the slightest bit winded. His runs were all on point and his passion could be felt by everyone in attendance. Daye's band was incredible, playing his instrumental songs flawlessly and giving his more hip hop-esque tracks new life. My personal highlight was getting to see him perform "Roll Some Mo," one of the best R&B songs of the last decade, live.
What made the night even sweeter was that Atlanta was the first date for Daye since winning his first GRAMMY®, with the audience celebrating along with him.  I can only imagine the pride he felt, with all his hard work paying off.
8 — Pusha T at Center Stage Theater — Jun. 21
Alright, so we had Lucky Daye for the ladies, now we have Pusha T for the fellas. King Push was another on my list of must see artists, and he did not disappoint. Now in his 40s, Push hasn't missed a beat, bar, or brick in the 30 years he's been rapping. He is still moving like he has something to prove. Fresh off the release of his fourth solo album, It's Almost Dry, he delivered a miraculous performance with no backing tracks or dancers, just one man rapping his ass off for thousands of fans.
The setlist was career highlight after highlight, spanning from his days in Clipse through the current day. I was reminded of Push's many hit features, from [redacted]'s asshole anthem "Runaway," to the numerous G.O.O.D. music collaborations. The biggest pop of the night came during It's Almost Dry's "Neck & Wrist." Push went back and forth rapping every other line while the audience filled in the blanks. However, my favorite moment from the set was during a song less of the crowd had memorized, "Numbers On The Board," my favorite Push song and [redacted]'s best beat. Now, I could be mistaken by this, but I swore Push looked directly at me—rapper hands pointed in my direction—and we rapped the first verse together. That's my story, and I'm sticking to it.
7 — Ladybusch at Atlanta Beltline (Behind Ladybird), Oct.28
Ladybusch being the only local Atlanta band on this list should say something about their performance. It was Halloween weekend at this little ass venue behind Atlanta Beltline restaurant Ladybird. I had heard rumor of the debaucherous sex and silliness of Ladybusch shows, and they were all true.
Throughout the set, vocalists Kate Forsberg and Beaux Neal, dressed as Jesus Christ and a BDSM nun respectively, introduced one stunning moment after another. (Damn, I wish I'd seen it — ed.)First, a balding evangelist was hung from a cross and pegged by Jesus, who was wearing a bright red strap-on. Then, a sexy COVID nurse administered nasal tests while the band performed the song "DP in the Nussy." (For those unacquainted, a "nussy" is a combination of the words nose and pussy.)
But the climax of the evening was after the band finished playing. Once the last song was over, a dance pole was revealed, and Forsberg and Neal proceeded to perform a mind-blowing routine to Christian rock staple "Jesus Freak" by DC Talk — if you went to youth group in the mid-to-late 00s you'll probably be familiar. There were upside crucifixes maneuvers, Forsberg in diapers, synchronized spins, fake blood, and a stunning action where Neal spun horizontally, while Forsberg twerked standing on top of her.
I cannot recommend attending a Ladybusch concert more, because it will certainly be full of sights and sound you won't be able to get out of your brain.
6 — DOMi & JD BECK at Aisle 5, Oct. 12
I had no knowledge of DOMi & JD BECK before this year … or even before August for that matter. I was shown them by my roommate — shoutout Javari—one night while we were sitting on the couch. The group is so simple, a drummer and keyboard player, but are able to produce some of the most technical and elaborate jazz fusion I've ever heard. Even better, they had just released their first album on Anderson .Paak's newly formed label, and it featured the aforementioned Mac DeMarco, Thundercat, Herbie Hancock, and more. I simply had to see them live.
I got my chance no more than a month and half later. Isn't living in Atlanta great? I think so. It was at the intimate Little Five Points venue Aisle 5. The show started at 11:00 p.m., as they had added a late show after an earlier one sold out almost immediately. The performance, to put it bluntly, was virtuosic. DOMi is a wizard on the keys. She plays lead and bass parts simultaneously, while triggering samples with her feet. Her fingers glide like butter across the keys. It's hard to put into words how great she is. JD BECK, now that boy, can play some drums. My roommates and I always remark how he takes the drums and makes them a lead instrument, hitting eight different beats in different time signatures in one song. Motherfucker is dynamite!
I don't know much about music theory, so I can't full explain how good they are, but DOMi & JD BECK are a marvel to witness live. Being as young as they are—DOMi is 22, JD 19(!!!) — the duo are goofy and charming on stage, poking fun at each other and making poop jokes, the latter made even funnier by the fact that DOMi was sitting on a custom-made toilet the whole night. In summary, it was an honor to see such incredible musicians play the way DOMi & JD BECK do. I met them after the show, and they couldn't have been sweeter. Best wishes to this young duo.
5 — Stereolab at The Eastern, Sep. 7
Stereolab is another act I wasn't really familiar with until this year. I always wrote them off as Pitchfork-core, pretentious shit without listening to them — as I continue to do with Radiohead and Fleetwood Foxes. But this year I gave them a chance, and fuck me, what was I doing the last 28 years? I fell in love with their quirky and catchy tunes, their political and theoretical lyrics, and the fact that they often sing in french — a cheat code for getting me to like you.
And what do you know, the same year I got into this band from the early-90s, they were going back on tour and coming right to me. Atlanta, you are great sometimes! Now, legacy acts can often be a mixed bag. Sometimes, the members are using nostalgia to get away with not really giving a fuck. 'Twas not the case with Stereolab. Lætitia Sadier and company played with ambition and passion. It was a joy to see masters of their craft work the way Stereolab did. Everything was tight and precise.
Having such an expansive catalog as Stereolab does, and me being a rather new fan, they played quite a few songs that I was unfamiliar with. But, I didn't mind a bit. Stereolab curate hypnotic moods in their music, so I couldn't helped but be sucked in, even if I was didn't know the song fully. As for the songs I did know, they hit so hard. It was euphoric to sing "Pack Yr Romantic Mind" with a crowd of fans both much older and younger than me. The whole evening felt important, and I left with an even deeper respect for this iconic, yet underrated, group.
4 — Kendrick Lamar at State Farm Arena, June 30
I'm going to keep this one short, because I already wrote a fuckton of words about this masterful concert that you're welcome to read. To sum things up, I had seen Kendrick Lamar once before and was very underwhelmed. (It sounds crazy I know, but I'm not being contrarian. I promise.) I still remained a huge fan and had an itch to see him again, as I knew his performances were lauded. This was my chance, and it was incredible.
I look at this show as more of a stage play than a mere concert. The production value poured into this live show matched Broadway. There were dancers, set-pieces, scenes, and monologues. The best moment for me though, was when all of that was stripped away.
To quote myself: "Perhaps my favorite moment was when the curtains revealed Kendrick alone, hunched-over in a chair under a single spotlight. The power of that image incapsulated everything that the tour and album supporting it was about. Introspection. Reflection. Pondering. Growth… In that moment, it was almost like the thousands of people in the arena ceased to exist, and we were secretly capturing a glimpse of a person sitting with themself."
3 — Channel Tres at Variety Playhouse, Oct. 4
I did not think Channel Tres would ever be this high on a list of my favorite concerts. Being a fan of his, but not knowing a thing about his live shows, I was expecting something completely different. I thought he'd stand on the stage, DJ a little bit, and rap over a backing track. In the words of Shaquille O'Neal, "I owe you an apology. I wasn't really familiar with your game."
First off, this man is so damn suave. Channel came on dressed in black leather pants and a white leather jacket, the latter which, when he discarded, revealed he was wearing a pair of opera gloves. When he rapped, his low bassy voice exuded charisma and cool. At one point, he rapped to himself in a handheld mirror, because of course he did. (FYI, he did not have a backing track.) And then this man started dancing(?!). I had no idea Channel had moves like this. We're talking pelvic thrusts, crotch grabs, spins, and voguing. "I owe you an apology. I wasn't really familiar with your game."
Now, if Channel had appeared alone on the Variety Playhouse stage, he would still be on this list. But, it's the fact that he brought four of the most talented dancers I have ever seen with him that has him this high. We're talking matching outfits with berets, my guy. We're talking dancing on multi-tiered platforms, my guy. We're talking synced choreography matching the themes of the songs, my guy. And Channel fit in perfectly with this crew, trading dance moves, giving the dancers their own time to shine, and working together for the greater benefit of the performance.
I love Channel Tres. "Topdown," "Controller," "Black Timberlake," and "Just Can't Get Enough" are incredible songs. But, I could have never expected such an incredible display. "I owe you an apology. I wasn't really familiar with your game."
2 — Men I Trust at Variety Playhouse, Dec. 3
I thought about writing this article last month, but I knew I was seeing Men I Trust in December and knew they would be one of my favorite shows of the year. Maybe they're only this high because I just saw the band a few weeks ago, but this is an experience that will stick with me for a long time, because Men I Trust is a band I had been itching see for a long time.
They lived up to the hype. The dreamy indie rock of this French-Canadian trio was captivating in a live setting. Emmanuelle Proulx's voice was so delicate, so soothing. I swear, much of the audience was lulled into a trance, myself included. "Sugar," "Numb," and "Show Me How" are astonishing songs to see live. I will not stop gushing.
While Proulx's vocals sounded exactly like the recordings, the instrumental elements did not. Many songs were stretched by minutes with added intros, outros, and Jessy Caron's astonishing guitar solos. I was in awe of the way Men I Trust were able to weave together these beautiful sonic pallets. Their more high tempo tracks were thumbing and grooving, making at least my section of the crowd dance. The night was a dream.
1 — Ravyn Lenae, Vinyl at Center Stage, June 5
I had no choice but to put Ravyn Lenae at number one. Not only did the Chicago R&B songstress release my favorite album this year, the glorious HYPNOS, but I feel like the April 5 concert at Vinyl was the culmination of Lenae's career so far. A career that I've seen grow first hand over the last five years.
My first time seeing Lenae perform was in 2017 at The Orpheum in Ybor City, Florida. She was opening for soon-to-be R&B superstar SZA and was only 18-years-old at the time. I remember thinking her voice was gorgeous, so delicate, yet charismatic. I listened to a couple songs off her Moon Shoes EP and saved title track and "New Room" to my R&B playlist, didn't think much of it. Then, her second EP, Crush, a perfect five-track project produced by The Internet's Steve Lacy. I was now a fan.
My second time seeing Lenae perform was in 2018 at The Tabernacle. It was also one of the second time I visited my future home of Atlanta, Georgia. She was opening for the hottest new act new neo-soul, Jorja Smith. The crowd clearly had no idea who she was, but my girlfriend and I at the time didn't care. We sang every note when she played "Sticky."
And the third time I saw Ravyn Lenae perform was this year at the show I mentioned two paragraphs ago. No longer was she put in an opening slot. It was her show, celebrating her debut album that had come out less than a month earlier. At the age of 23, she owned the stage like she'd been on it for decades. Her voice was a perfect replication of the recordings. She performed with swagger and grace. Her welcomeness made the venue like a room of friends. It felt like I was seeing one of my longtime friends finally get their shot, reach a new rung on the ladder. I've been with Lenae for five years now, and I can't wait to see where she's at in another five. —CL—