GRAZING: So So Fed, Brave Wojtek, and Mighty Hans "where tweaking their grandmother's" recipes comes naturally
"These pop-up chefs are young, brilliant, usually hilarious, and perhaps not so willing to work for the usual dismal wages of an industry that has long required underpaid misery in order to serve cheerful hospitality."
POP-UP CENTRAL: Full Commission, on Memorial Drive in the Larkin, is now home to three of the city's best pop-ups. A fourth is on the way. (Inset left) THE REIGNING QUEEN: Molli Voraotsady's Lao pop-up, So So Fed, has been named the city's best pop-up by Eater Atlanta. She will clear your sinuses and torture your tastebuds in a way that hurts so so good. (Inset right) MIGHTY HANS: His real name is Fu-Mao Sun and he pops up Sundays at Full Commission with a Taiwanese-American brunch. You'll also find him cooking dinner at Gigi's in Candler Park.
A hyperactive young chef honors her Laotian heritage by preparing her grandmother's recipes. Off duty, she recently enjoyed peddling sublime — yes, sublime — beef jerky in front of Gigi's in Candler Park during a street fair. Her name is Molli Voraotsady and her gig is So So Fed.
A gregarious tall Taiwanese-American chef comes out of the kitchen and explains that he fled work in corporate finance to become a chef in New York City, then felt obligated to move to Atlanta to assist his father's food import business. But he just had to get back in the kitchen at least part-time. His name is Fu-Mao Sun and his gig name is Mighty Hans.
A chef whose Polish breakfast menu satirizes Waffle House doesn't want his picture taken because he's "just not into, you know, being out there." His name is Matt Reeves and his general gig is Brave Wojtek while the Waffle House breakfast parody is Wojtek House. Believe me. His picture may not be out there, but his humor is way out there.
These three are pop-up chefs who regularly occupy the kitchen at Full Commission in Grant Park. I've not really absorbed myself in the sprawling culture of pop-up dining until recently. I have my reasons. Most of the early pop-ups seemed to be part of bro party culture — dudes setting up grills to cook cool shit. It dovetailed with the food-truck mania that completely eluded me. Yes, they did provide cheap access to some novel flavors but there came that day when I said to myself, "Nah, bruh, I'm done with Mexican corndogs festooned with kimchi."
Things have gotten a lot more interesting in the last few years. Truly driven, passionate pop-up chefs like those hosted by the old Gato (now Gigi's) in Candler Park have opened their own brick-and-mortar locations. The stupendously gifted Jarrett Stieber of Little Bear and Parnass Savang of Talat Market come quickly to mind. I became incurably addicted to the biscuits flying out of Erika Council's kitchen at Bomb Biscuits, a pop-up I (unknowingly) first encountered at the long-gone B's Cracklin'.  Council — now turning out 2500 biscuits a week — settled into Jake Rothchild's Irwin Street Market which has helped "incubate" many small food operations on their way to independence. It wasn't long after I began my two-to-four-times-weekly solo visits there that I realized feeding my face wasn't the only thing I loved about the place. It was also the theater. Council has a demeanor of pure righteousness mixed with intellect and wit in a gaze that makes me nervous. I once made the mistake of toting my big fat biscuit, enclosing a crispy-fried chicken thigh gleaming with a fierce honey-hot sauce, back to the order counter, complaining that its surface was mushy. Council soon showed up at my table and said, "I made that biscuit." I immediately wanted to kill myself. That's been my only big, scary dramatic moment. Mainly I love watching people, especially families, fall into retrospection as the biscuits, like down-South versions of Proustian madeleines, bring everything lost in the past to the present again. My dead mother, deep-South daughter of a German cotton broker whose biscuits were mystifyingly never much more than an inch thick, is always there with me.
I don't know the Full Commission chefs or their food as well as I do Council, but their stories, like hers, have been told countless times, so Google for their CVs. Yes, they do provide much of the same theater of nostalgia as Council, and, yes, their fans do constitute virtual social cliques that only annoy antisocial people like me. All of them share one strong trait in common. They aren't WASPS and every single one of them says the same thing in every single article written about them: They are cooking their grandmothers' and mothers' food, usually tweaking it. Arguably, anyone who cooks passionately — even the lily-white descendants of the witch-burning Puritans — says something similar. But I'd argue that living in a country that has always bloomed with ethnocentric hate and massive financial inequality makes the memory of a loving maternal figure and a dinner-table refuge particularly compelling. Believe it or not, our bodies seriously soak up the taste of love. I'm not saying these factors don't figure in established chefs and restaurants, but these pop-up chefs are young, brilliant, usually hilarious, and perhaps not so willing to work for the usual dismal wages of an industry that has long required underpaid misery in order to serve cheerful hospitality. Let's not delude ourselves. Much of the theater of the Civil Rights Movement occurred in restaurants right here in Atlanta and you don't have to look hard to see the corporate industry's lingering plantation ethos.

So, what's the food like at Full Commission? It's fantastic without exception, but this minute's standout is Molli Voraotsady of So So Fed, which, as it happens, was named the 2022 Pop-Up of the Year by Eater Atlanta soon after I ate my first meal there. The food of Southeast Asia — usually Vietnamese — is my go-to comfort food, but I've eaten very little explicitly Lao food beside that of Snackboxe Bistro, which I like. But the best I've eaten has been at Tum Pok Pok, a restaurant that focuses on Thailand's northeast region, Isan, which was originally part of Laos. The cuisine is dominated by fiery chilies. Here's your test at So So Fed: You will likely be offered a choice of a mild papaya salad or the very spicy version more typical of Isan. Don't insult yourself by passing on the latter. True, my companion, Wayne Johnson, waved his face, stood up from the table, crying but laughing, and walked in a little circle in the poorly lit room before striding to the restroom. But I was in the paradise of the demonic bardo, beat down in a Good-Golly-Miss-Molli trance. You will be stunned by the way the chilies and the inherently cooling, crunchy papaya interact with the garlic, the deeply fermented fish sauce, tomato, and shrimp-crab paste. Prepare to die happy with a shrimp chip crunching beneath your electrified brain.
The same depth of flavor minus the ferocious heat was present in a red curry chicken. Unfortunately, our curry was virtually without chicken and vegetables, making it more like a soup that we maddeningly couldn't figure out how to eat, ultimately giving up. This is the consequence of, um, pop-up-ularity and the dish should have probably been marked sold-out. Next time, Ms. Molli, bottle that leftover sauce and sell it as the perfect stinging aphrodisiac to revivify the zombified genitals of Zoomified Millennials.

We also ordered the Crying Tiger — a version of the traditional Isan/Lao grilled brisket, made here with a 10-oz. New York strip steak. At this point, I fell smack into that reverie of the past that food inevitably evokes. This was literally the first serious steak I've eaten in a few years. Steak was my father's default meal. That's because he traveled the South five days a week and, as he preached to me constantly during my annual summer road trip with him, steak was the only meal hotel restaurants could reliably cook.  My mother was a fantastic Southern cook who devoured red-hot peppers and took me to weird Asian restaurants, but even at home on the weekends, my father eventually demanded steak, which he often grilled himself. I'm sure the image of steaks thawing in the sink will flash before my eyes multiple times as I die. So So Fed's medium-rare, marinated strip steak was meaty and bloody enough for daddy, but the spicy dipping sauce with toasted rice was fierce enough to silence mama's ceaseless sarcasm. You will desperately dip the meat repeatedly because your tongue will be wanting to wallow, not merely lick, those spicy tears of the crying tiger. The plate's grilled peppers can help get more sauce in your mouth. Finally, we ordered the dessert of "grandma's favorite…sugar toast" made with Euro-buttered challa, served with a cup of coffee for dipping (not drinking). It recalled more culinary trauma. My father slathered butter and sugar on white bread and rolled it up for snacks. One day he handed me two rolls in the backyard just before he decapitated the adorable baby mice in our strawberry patch. It's true. So sorry. I only ate one bite of the challa and was too dazed to even discern its ingredients.
All of this food is lubricated by Joshua Fryer, the celebrated bartender from 8 Arm, which recently closed after hosting Voraotsady and other pop-uppers for years. Fryer's destabilizingly tranquilizing potions returned Wayne Johnson to his peculiar version of normality after the papaya-salad breakdown. Unfortunately, god does not allow me to drink, but I did take a sip of his banana-rum cocktail just to see. Astonished, I had Dr. Google on the line immediately and learned that Fryer's complicated beverages taste a bit like a saboteur's punch because his radical intellect is determined to queer your brain.
Such brilliance is a good match for Voraotsady, whose other mind-altering gig is running Psycho Disco! with her husband, Ashley Jones. Although the label is on hiatus, you can hear recordings online and find pictures from parties they've hosted. And that brings up the So So Fed name. It is play with the name of So So Def, Jermaine Dupri's groundbreaking Atlanta hip hop label. There's the music of course, but Voraotsady told me: "I was born and raised in Atlanta, so whenever I saw the billboard driving down from Buford Highway every Sunday, I knew we were almost home." In short, the name is a reference to home, where, she told someone online, her Lao grandmother lovingly stuffed food in her face as an expression of love because emotions were not discussed. That's a recipe for an eating disorder for many people, but not everyone can hear the music, taste the love, and bend the incredible strangeness of life into delicious art.  So, no, the name doesn't mean you'll be fed but only so-so.
My other visits to Full Commission were less intense, largely because they were for breakfast. Matt Reeves, formerly general manager of the now shuttered One Eared Stag, cooks serious Polish and other eastern European fare as Brave Wojtek three nights weekly, plus makes an immediately funny impression with his Saturday breakfast menu, "Wojtek House." The deal is pierogi treated like the Waffle House's hash browns, which can be topped with various ingredients in supposedly thousands of combinations. Like most pretentious Southern foodies in need of a trashy fixation to make ourselves feel like real folks who eat real food, I love Waffle House. Well, I should say I couldn't care less about their hash browns, but I like their country ham. It's a special cut by Smithfield — not the best available — but for years restaurants, including those with renowned Southern chefs, have served candy-ass imposters of country ham, which my uncle cured in Rocky Mount, North Carolina.
So, Reeves serves his doughy Polish pierogi, filled with potatoes and cheese, with a variety of toppings, employing Waffle House's language. You can get 'em smothered with thin blackened onions, covered with beer-cheese sauce, chunked with kielbasa, capped with Lion's Mane mushrooms, etc. I ordered four and received three, likely because I was so stingy, choosing only the onions and the beer-cheese sauce which I asked to be served on the side. Don't do that. Go full-out Waffle House and dump three or four loads of stuff directly on the pierogi, which are tasty on their own but really do need a lot of additional flavors. I delicately dipped the things in the beer-cheese sauce, sharing it with a stranger sitting nearby. I flitted the onions over the cheese. She told me to get real. Just be a pig, please.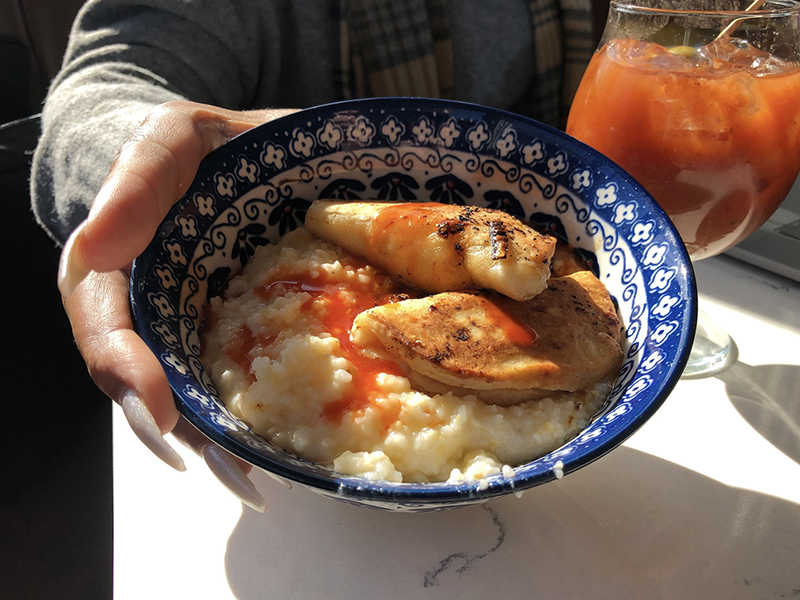 I should say that this was my second breakfast at Wojtek. A week earlier, I decided to have a hash made with wedding sausages, a supposedly lean variety of kielbasa, with leeks, tomatoes, roughly diced sweet potatoes, and orange peppers. I thought it would be too heavy for breakfast but I cleaned the plate and then devoured a pear tart with almond paste obviously made for two. A diner at the table next to me ordered a special of pierogi stuffed with shrimp, served over cheesy grits. She raved about it, brandishing the bowl and her Bloody Mary at me without offering a taste. My hope was to order it at my next visit, but it was not on the fast-changing menu. I managed dinner at Wojtek one Saturday night and was happy AF to score bigos, the "hunter's stew" I ate voraciously during a week of feasting on Polish and Russian food in Chicago years ago. That meal finally explained to me that it was my mother's German father who must have inspired a mysterious sauerkraut stew my mother made for me frequently when I was a teenager.

Brave Wojtek takes its name from an orphaned Syrian brown bear, Wojtek, who was adopted by Polish soldiers and then literally drafted during World War II. His story, almost mythological in scale, reflects the way humor relieves suffering in our world, even when it seems inappropriate — a fact of life that has lost much of its bitter radiance amid the self-censoring literalism of our time. It doesn't seem to be much acknowledged, either, but Wojtek became the soldiers' teacher despite what many describe as their abuse of him. He irrefutably helped his fellow soldiers preserve freedom, but after the war ended up in prison — a zoo — himself. That's a terrible reality for outsiders of all species.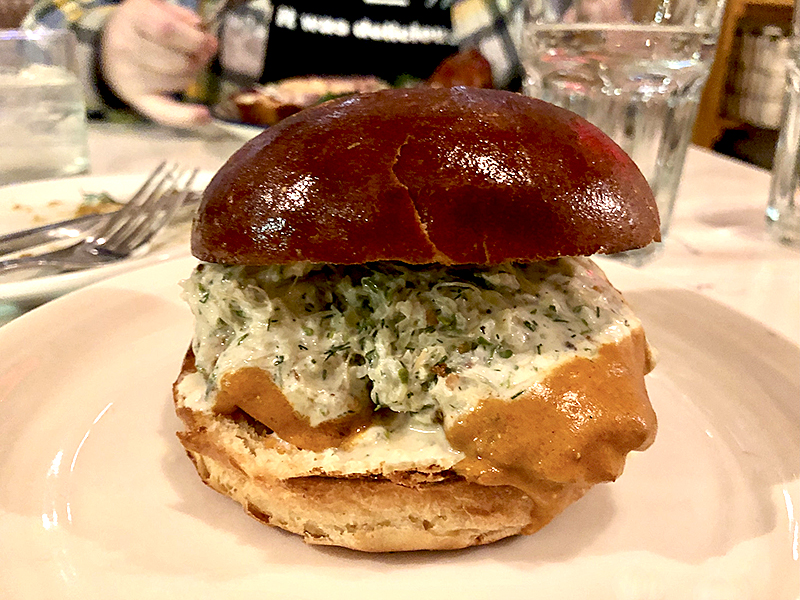 Reeves himself has certainly not fallen prey to the imprisonment of literalism. I'm sadly old enough to have fallen out of high school into the '70s reading the Polish Jerzy Kosinski's "Painted Bird" and "Being There," brilliant books whose content and authorship were constantly questioned by the literal-minded literati. Is the real ever real? Reeves, After So So Fed won Eater's designation as the city's best pop-up, Reeves created a sign that excitedly announced that Brave Wojtek was "Voted not #1 by Eater!" He also misspelled Wojtek's name but, unlike Kosinski's detractors, I did not attempt to investigate intention since he'd already brutally denied me freedom to capture his image. That's a good thing. It's why Eater has done the right thing by awarding Brave Wojtek "The Jerzy Kosinski Medal for Most Delicious Reversal of the Unknown Real in an Atlanta Pop-Up." Awesome.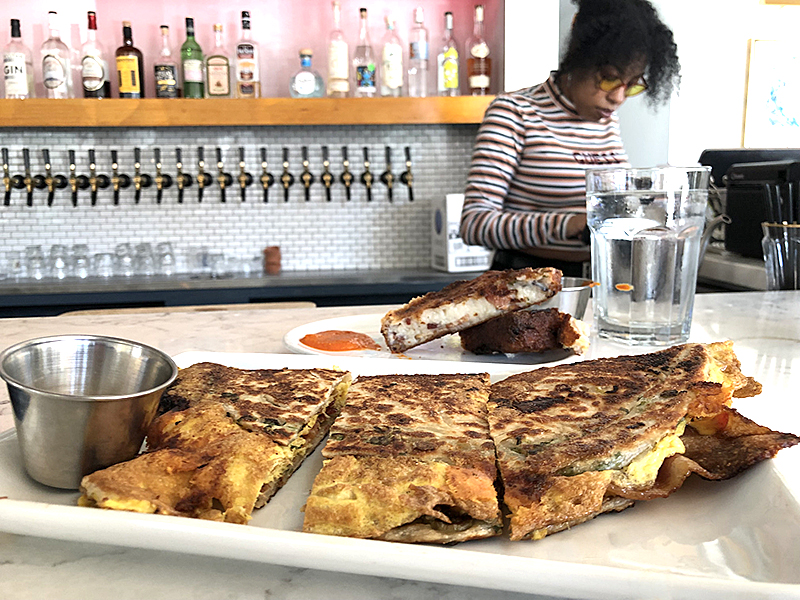 My last meal, breakfast with Mighty Hans, really did not give me a deep taste of Chef Fu-Mao Sun's cooking. I long ago dim-summed my brain to near-death with chicken feet, savory buns, and radish cakes, and I was glad to see the menu wasn't leaning that way. On the other hand, I was confused — real confused. I knew the menu was Taiwanese-American. So why were there sandos on the menu? I knew those to be the architecturally linear, compact Japanese sandwiches that are a global obsession. The man who polices the dining room for idiots and makes drinks, Anthony Carpenter, must have noticed that my IQ was interfering and asked me if I had questions. "So, these sandos are…?" I asked. "Made with milk buns," he said. "Very tasty." Sure, I really wanted to get the fried chicken on a milk bun, but that sounded way too much like the gigantic hot-honey fried chicken biscuit I always order at Bomb Biscuits. Carpenter told me that many people order the first thing on the menu — a gigantic scallion pancake enclosing bacon, scrambled eggs, and cheese lubed up with duck fat, garlic-bean paste, and something forebodingly called "Taiwan Ranch." I ordered it but also noted to Carpenter that it too seemed more American than I expected. He stepped close and said, "Maybe the best thing on the menu is the turnip cake side at the bottom of the menu." I love anything turnip, so I added it to my ticket. The scallion pancake was moderately delicious. The problem was that, unlike pictures I'd seen, the pancake was smashed into one-dimensionality. The bacon was unpleasantly undercooked for me but that's not to say I didn't eat every bite. But that turnip thing! It was flawless, definitely like something off a first-class dim sum cart, served with some hot sauce. I feel bad that I didn't get to sample more of Mighty Hans and plan to visit Gigi's, where he pops up on Thursday nights and receives rave reviews. But, bro, please stop saying "sando" when you mean sandwich. It took many of us years to survive the cutesy word "sammie." Everyone just say "sandwich,"
All of these chefs are seeking their own brick and mortar homes. I can't help wondering how finding that stability will affect their cuisine. Will success blunt their edge and slow down their fast-firing brains? Will Mighty Hans shrink into Mighty Sando Mouse? Will Brave Wojtek land in the prison of the literal? Will So So Fed sell its cracktastic beef jerky recipe, close its doors, and go psycho? Will the ghost of my mother Bunny — in her pink bathrobe and unraveling blue hair curlers, with a cigarette hanging from her mouth while making breakfast — appear to Erika Council and convince her that there's no need to make a biscuit thicker than one inch?
Eating is so strange when you're strange. —CL—
How to …
The three pop-ups discussed here are all regularly scheduled at Full Commission, 519 Memorial Dr., 404-941-9102, IG: @fullcommissionatl. It is strongly suggested that you check each pop-up's IG page to verify they're open before making plans. The most recent IG entries will usually provide a glimpse of the week's menu and sometimes point to additional locations for the pop-up.
So So Fed — Dinner, 5-10 p.m. Sunday-Tuesday, sosofed.com, IG: @sosofedatl.
Brave Wojtek — Dinner, 5-11 p.m. Thursday-Saturday; lunch 10 a.m.-1 p.m. Saturday. IG: @bravewojtek.
Mighty Hans — Brunch, 10 a.m.-1 p.m. Sunday. IG: @itsmightyhans.
Also …
Bomb Biscuits — 668 Highland Avenue, 678-949-9439, 9 a.m.-2 p.m. Thursday-Sunday. IG: @bombbiscuitatl.
Joshua Fryer — Bartender at So So Fed, IG: @friedshua. Look but also read.
Psycho Disco! — psychodisco.com, IG: Psycho Disco!.
Punk Foodie (aka Sam Flemming) — Keeps track of countless pop-ups every day. The easiest way to get the full benefit of his work is through linktr.ee/punkfoodie.atl. For the daily lists, click on those links labled ITP and OTP.
Christiane Lauterbach — The Atlanta Magazine dining critic long ago began exploring and reporting our city's immigrant dining scene. Follow her on Twitter, @xianechronicles, where she explores the pop-up scene now and then.
Sam Worley — The deputy editor at Atlanta, Worley also frequently reviews pop-ups, on atlantamagazine.com.
---