SCREEN TIME: Culture clash
The Atlanta Jewish Film Festival returns to theaters
L'CHAIM: Sasson Gabai and Rita Shukrun play a middle-aged couple who rekindle their relationship in 'Karaoke,' the opening film of this year's Atlanta Jewish Film Festival.
One of the bigger events on the city's cinematic calendar, the Atlanta Jewish Film Festival ,returns to theaters this year after going virtual in 2021. Now in its twenty-third year, the AJFF will present 60 documentary and narrative features and short films from 18 countries.
The festival opens Feb. 8 with the Atlanta premiere of the Israeli comedy Karaoke and closes Feb. 21 with the East Coast premiere of the documentary Killing Me Softly With His Songs, a profile of lyricist/composer Charles Fox. While these and other films will be exclusively in-theater, much of this year's line-up will also be available virtually.
Special vintage screenings include 1973 Cannes Film Festival Jury Prize winner The Hourglass Sanatorium, a Polish surrealist film about a young man seeking his father in the titular institution; the 45th anniversary of Girlfriends, a 1978 dramedy from Claudia Weill; and the 1919 silent Yiddish film Broken Barriers.
Notable films include the following:
Karaoke, nominated for 14 Israeli Academy Awards, should be a hit with the festival's opening night crowd as a likable, low-key comedy about the renewal of a marriage at midlife. A pair of Tel Aviv empty-nesters (Sasson Gabai and Rita Shukrun) unexpectedly rekindle their zest for living when they get a new neighbor at their high-rise apartment. Lior Ashkenazi plays a glamorous, garrulous business with a karaoke machine who essentially sweeps the couple off their feet. For his debut feature, director Moshe Rosenthal offers insights into how older people view friendships and second chances, but also steers away from some of Karaoke's more thorny implications.
7:30, Feb. 8 and 4:20, Feb. 9, City Springs Performing Arts Center.
Attachment offers an intriguing genre mashup of horror and LGBTQ romance, beginning with a meet-between Danish actress Maja (Josephine Park) and Jewish grad student Leah (Ellie Kendrick). When an illness requires them to relocate to Leah's Orthodox neighborhood in England, the culture clash becomes increasingly fraught. Is Leah's mother (Sofie Gråbøl) a religious fanatic, or is she genuinely trying to protect her daughter from an evil spirit? Screening at the Plaza Theatre Feb. 18 in partnership with Wussy, Attachment effectively cultivates a mood of low-budget dread and delivers consistent surprises.
12:25 p.m., Feb. 10 at Landmark Midtown Art Cinema and 8 p.m., Feb. 18 at Plaza Theatre.
David Baddiel: Jews Don't Count unfolds as a provocative, hour-long essay produced for English television. Baddiel, a British comic, songwriter and author, expounds on the theme that progressives seem reluctant to extend to Jews the same protections afforded other minorities. Interviewing such Jewish celebrities as Sarah Silverman, David Schwimmer and Miriam Margolyes, Baddiel balances wry humor with gripping accounts of a rising tide of global anti-Semitism. He persuasively argues that anti-Semitism is racism, pointing out how anti-Semites are far more focused on bloodlines than religious practices. His accusations of progressive double standards seem sketchier by comparison, but he deserves credit for apologizing for his own blackface incident in the 1990s, showing he's willing to interrogate his own actions as well as the wider culture.
3:25 p.m., Feb. 11, GTC Merchant's Walk.
My Father's Secrets features vocal performances from Baddiel and Margolyes in the English version of an intriguing French/Belgian animated film. Based on Michel Kichka's graphic memoir, the film depicts two brothers coming of age in Belgium in the shadow of their father (Elliott Gould), a taciturn Auschwitz survivor. The film takes a surprising turn when the 1961 trial of Adolf Eichmann draws new attention to the Holocaust and turns their father into a kind of celebrity, eager to share with others the personal stories he denies his sons. The film makes a sharp counterpoint between the clean animation typical of a children's film with grim historical legacies and painful family dynamics. My Father's Secrets brings fresh creative perspectives to some of the 20th century's darkest corners. 11:30 a.m., Feb. 10, City Springs Performing Arts Center, and 1:50 p.m., Feb. 20, Landmark Midtown Art Cinema.
Wed., Feb. 8 – Tue., Feb. 21. Atlanta Jewish Film Festival. Sandy Springs Performing Arts Center and other local venues. ajff.org
Thu., Feb. 2, and Sun, Feb. 5
Groundhog Day—  "Time loop" stories went mainstream with this classic Bill Murray comedy about an arrogant weatherman inexplicably reliving February 2 again and again. Fathom Events presents the 30th anniversary of actor/director Harold Ramis' best film. — Curt Holman
Thu., Feb. 2, and Sun, Feb. 5. Atlanta area theaters. fathomevents.com/events
Fri., Feb. 3
Knock at the Cabin—  M. Night Shyamalan directs his first R-rated thriller since The Happening, with hopefully better results. Four sinister strangers take a family hostage in an isolated cabin, claiming the fate of the world hangs in the balance. Dave Bautista and Jonathan Groff star. — Curt Holman
Fri., Feb, 3. Atlanta area theaters. fathomevents.com/events
Sat., Feb. 4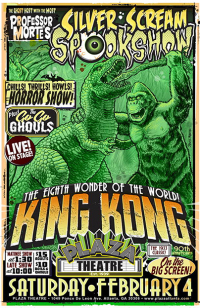 King Kong —  A jungle adventure with groundbreaking special effects, the original King Kong was like the Avatar of 90 years ago. The giant ape smitten with Fay Wray (the original scream queen) remains an alternately fearsome and sympathetic figure almost a century later. Presented by the Silver Scream Spook Show, a live, burlesque tribute to the classic horror hosts of yesteryear, so expect lots of ape puns.
1:30 and 10 p.m. Sat., Feb. 4. Plaza Theatre, 1049 Ponce de Leon Ave NE, Atlanta, 30306. plazaatlanta.com
Wed., Feb. 8-Thu., Feb. 9
Sleepaway Camp —  A slasher runs amok at a summer camp in this low-budget, frequently silly horror film with a justifiably famous final shot. The production values are kind of crummy, but Sleepaway Camp remains a must-see for horror fans. This 40th anniversary screening features a Q&A with Felissa Rose, who stars as the enigmatic Angela.
7:30 p.m. Wed., Feb. 8-Thu., Feb. 9. The Sandy Springs Cinema & Taphouse, 5920 Roswell Rd., Sandy Springs, GA 30328. springscinema.com
Fri., Feb. 10
Magic Mike's Last Dance —  Stephen Soderbergh directs the third and final (for now?) Magic Mike film, just in time for Valentine's Day. Channing Tatum's former male stripper romances Salma Hayek and choreographs a big dance show in London.
Opens Fri., Feb. 10. At area theaters.
Fri., Feb. 17
Ant-Man and the Wasp: Quantumania—  In the latest outing of the Marvel Cinematic Universe, size-changing superheroes of several generations (including Paul Rudd, Evangeline Lilly, Michelle Pfeiffer and Michael Douglas) are transported to the subatomic "quantum realm." Jonathan Majors, previously seen on "Loki's" first season finale, plays Kang the Conqueror, who's being built up as the next big Marvel villain. — Curt Holman
Opens Fri., Feb. 17. Atlanta area theaters
Fri., Feb. 24
Cocaine Bear—  A black bear goes nutzoid after eating a duffel bag of cocaine in this outlandish-looking dark comedy directed by Elizabeth Banks. The hapless cast includes Keri Russell, Isiah Whitlock Jr., Alden Ehrenreich and the late Ray Liotta. It's loosely inspired by an incident in North Georgia in the late 1980s, but was filmed in Ireland.
Fri., Feb. 24. At area theaters.