BLUES & BEYOND: Marvelous Marvin's Music Mission
Marvin Mahanay brings the blues south…of I-285
There is so much that needs to be achieved by blues musicians in order to move from local unknown, to area hero, to the national spotlight. You have to understand the history of the music, learn your instrument, secure bookings, fine-tune a stage presence, and play live. Lots and lots of playing live. Then maybe, just maybe, those who get some breaks and perfect their faculties, can graduate to a larger commercial audience. But it takes time — and plenty of shows in front of less than enthusiastic audiences to make that materialize.
It can happen though as the varying degrees of success generated by the Atlanta based Sean Costello, Oliver Wood, Tinsley Ellis and to a lesser degree, Col. Bruce Hampton proved. All had clubs, mostly in the city of Atlanta, willing to book them as they struggled and honed their craft. From the well-known, even legendary Northside Tavern and Blind Willie's, to Fat Matt's and any number of long defunct joints, the city's roots scene has been a key factor, providing an audience and a venue for nascent acts to sharpen their skills and acquire homegrown followings.
Those that facilitate this — those who book the clubs, bars, and music rooms — are essential to the operation and to an artist's progression. Historically, at least for the blues, these stages have been located inside the perimeter (ITP). The bottom, or southern end, of I-285 — especially outside the perimeter (OTP), removed from the metro Atlanta area — has been a wasteland for reputable regional acts playing blues and roots based material.
Luckily, that has changed, thanks to Marvin Mahanay.
The 69 year-old Fayetteville resident — and bassist for blues rockers The Trouble Tones (winner of this year's Atlanta Blues Challenge) — found himself bored and directionless after retiring from his full-time job, the pre-COVID passing of his wife, and the knockout punch of live music's disintegration during the pandemic years. As a musician, he already knew most of the roots players who frequented the Atlanta locales. In December, 2021 he pitched the idea of presenting them in Fayetteville, about 30 miles south of Atlanta, to a friend who owns the Olde Courthouse Tavern there.
Mahanay began booking blues bands every Saturday night, eventually drawing substantial crowds who welcomed the influx of semi-professional talent to their area. Mahanay had been doing this unofficially for the outfits he played in for years, so he understood the basics.
Established local groups and artists have been hungry for post-pandemic places to play. Over the past year, well-known ITP performers like The Cazanovas, Skyler Saufley, and The Garret Collins Project jumped at his offers. Admission is free (a tip jar gets passed around) and Mahanay isn't paid, but "it gets me out of the house," he laughs. He has expanded his services to another Fayetteville location, Lafayette's Bon Temps, where he also books solo acts on Sunday afternoons.
As usual, The Atlanta Blues Society has helped by holding an occasional monthly meeting at a Fayetteville location and listing Mahanay's bookings. But promoting these shows is still one of the most frustrating aspects of the job.
While it's unlikely Fayetteville will become an OTP go-to place for nationally known names as the once great Darwin's in Marietta was, Marvelous Marvin (as he's known) has created a mini blues revival in Fayetteville that's growing in popularity for both audiences and talent. In the future, he's hoping to expand operations by booking shows every night in Fayetteville "turning (the Olde Courthouse Tavern) into Blind Willie's or Northside Tavern South."
And Marvelous Marvin is the guy to pull it off.
"The whole reason I did this was to get my musician friends back playing — putting money in their pocket — and helping build up the club and lift the town up. I figured if I could lift all these people, maybe I'll be lifted up with them."
Olde Courthouse Tavern, Fayetteville:
March 4 — Skyler Saufley
March 11 — Sweet and Salty Band
March 18 — The Trouble Tones
March 25 — The Garrett Collins Project
$free. 8:30 p.m. Olde Courthouse Tavern, 105 West Glynn St. S, Fayetteville, 30214.678-489-3888. (no web page)
Lafayette's Bon Temps Tavern, Fayetteville:
March 5 — Mandi Strachota
March 12 — Garrett Collins
March 26 — Heath Williams
$free. 2-5:00 p.m. Lafayette's Bon Temps Tavern, 119 Stonewall Ave. E., Fayetteville, 30214.678-545-3149.  lafayettesbontempstavern.com
March into March with these Blues & Beyond Shows:
Fri., March 3
Joshua Ray Walker, The Vandoliers, Vinyl — Dallas, Texas-based country singer/songwriter Walker has released three albums in three years creating a trilogy about honky-tonk bars and those who frequent them. Yet his clear vocals, his strikingly crafted lyrics about dumpster diving and gas station roses among other topics in his tangy, twangy tunes never demean his subjects. Opening is a harder rocking country outfit, The Vandoliers, making this an impressive roots music double bill.
$20. 8:00 p.m. Vinyl, 1374 West Peachtree St., Atlanta, 30309. 404-885-1365. centerstage-atlanta.com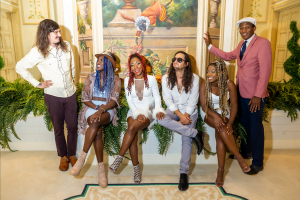 Southern Avenue, Keith Slettedahl, Smith's Olde Bar — Blues, funk and soul mix together in the music of this rugged, Memphis-based group. It's ignited by the killer lungs and boundless energy of lead singer Tierinii Jackson and the intensity of her drumming sister Tikyra. Expect tunes from all three of their albums, each with a handful of keepers you'll be singing along with even if you don't yet know them.
$15-25. 8:00 p.m. Smith's Olde Bar, 1578 Piedmont Ave. NE, 30324. 404-875-1522. sobatl.com
Dawes, Variety Playhouse — This Taylor Goldsmith-fronted California quartet has released eight albums since 2009, all mining a dreamy, melodic Americana with an occasional edge. Their latest, from 2021, pushes the boundaries by expanding three tracks to over eight minutes without falling into repetition or pretension. It's billed as "an evening with" so expect two long sets.
$35-79.50. 8:00 p.m. Variety Playhouse, 1099 Euclid Ave. NE. Atlanta, 30307. 404-504-7354. variety-playhouse.com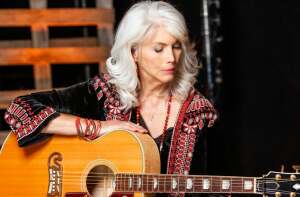 Emmylou Harris with the Red Dirt Boys, Symphony Hall — Nothing more needs to be said about Harris' influence on the Americana genre and her storied career in country, folk, bluegrass, and even roots pop. She's an undisputed living legend. Her backing band, the Red Dirt Boys quartet, just released their debut — expect original music from them, as well. Harris, whose stunning voice and classy five-plus decades in music have made her an American icon, doesn't need to worry about being overshadowed.
$49.50-80. 8 p.m. Atlanta Symphony Hall, 1280 Peachtree St., 30309. 404-733-4900. aso.org
Sat., March 4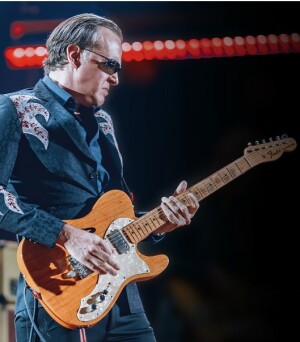 Joe Bonamassa, Fox Theater — Blues rocker Bonamassa returns for his annual visits, which were interrupted during the pandemic years, with new songs in his arsenal. His band is top notch, as is his guitar work, but he has been criticized for overly polished performances that are emotionally staid. Regardless, fans flock to the increasingly higher priced gigs; he's doing something right. His most recent studio album, Time Clocks (2021), finds him stretching into more progressive rock territory.
$43-253. 8:00 p.m. Fox Theatre, 660 Peachtree St.NE., Atlanta. 30308. 404-321-5000. foxtheater.org
Sun., March 5
The Shootouts, Eddie's Attic — This Akron, Ohio-based outfit sounds like they're Texas born and bred with their easygoing yet compelling combination of twang, strum, honky-tonk, rockabilly and reverb laden country. A new album Stampede, produced by Asleep at the Wheel's Ray Benson, adds guests like Marty Stuart, Raul Malo and Buddy Miller to the mix, bringing veteran Americana talent to their third release. This'll probably be the last time you'll be able to see them in a place this intimate.
$10. 8 p.m. Eddie's Attic, 515-B N. McDonough St., Decatur, 30030. 404-377-4976. eddiesattic.com
Tues., March 7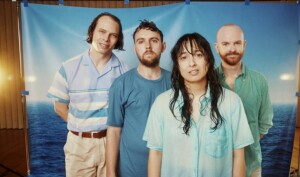 The Beths, Sidney Gish, The Masquerade — New Zealand indie rockers The Beths play strummy, melodic pop rock with rootsy charisma. Frontwoman/songwriter Elizabeth Stokes channels Crowded House with a bit of Breeders-influence and plenty of attention to the charming, sweeping hooks that made those bands international sensations. Add Bangles-styled harmonies for a slightly retro, girl group sound floating with edgy sweetness.
$22. 8:00 p.m. The Masquerade, Kenny's Alley at Underground Atlanta. Parking & Entrance at 75 MLK Jr Drive SW, Atlanta, 30303. Uber/LYFT Drop off/pick up: 92 Pryor Street SW, Atlanta, GA 30303. 404-577-8178. masqueradeatlanta.com
Wed., March 8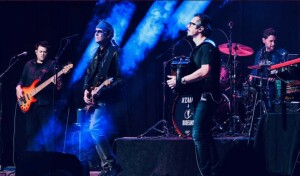 The BoDeans, City Winery — The harmonies so integral to the initial BoDeans sound are MIA with the exit of founding member Sam Llanas, gone for over a decade. But frontman Kurt Neumann has kept the faith and catalog of ringing Americana roots pop alive, releasing spirited albums dedicated to the Midwestern rock that has always defined the band. Thankfully the title of 2022's 4 the Last Time has proven to be false.
$40-50. 8:00 p.m. City Winery, 650 North Avenue N.E., Ponce City Market, Atlanta, 30308. 404-496-3791. citywinery.com/Atlanta
Thu., March 9
Crypt 24, The Mystery Men?, The SideBurners, Star Community Bar — They may not be the immortal Cramps (who can be?), but Rome, GA's Crypt 24 carries on the zombie rockabilly tradition well enough as they crank out creepy, garage rock originals like "Monster in the Closet" and "Bride of Frankenstein." Both openers help set the surf and voodoo monster mash mood.
$10. 8:00 p.m. Star Community Bar, 437 Moreland Ave., NE, Atlanta, 30307. 404-390-3062. starbaratl.com 
Thu., March 9 - Fri., March 10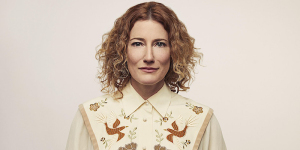 Kathleen Edwards, Eddie's Attic — Americana folk rocker Edwards took an unexpected sabbatical from music in 2014, just as she was gaining in popularity. But a co-write with fan Maren Morris got her back in the game. The result was Total Freedom an impressive return to form in 2020. Then came the end of the world. Welcome her back for two nights of what will likely be sold-out shows.
$25. 7:00 p.m. Eddie's Attic, 515-B N. McDonough St., Decatur, 30030. 404-377-4976. eddiesattic.com
Fri., March 10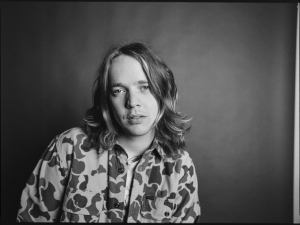 Billy Strings, State Farm Arena — He's young, he's crazy talented, and he's the face of the next generation of bluegrass players influenced by the old folks but forging new, and in many cases, jammy paths. Strings attacks his guitar with fire and furious conviction but he remains humble even as he sells out huge arenas like this, something few of his peers in the genre can accomplish.
$49-74. 8:00 p.m. State Farm Arena, 1 State Farm Dr. Atlanta, 30303. 404-878-3000. statefarmarena.com
Fri., March 10 - Sat. March 11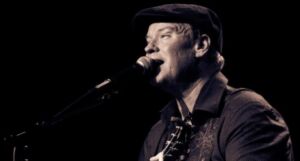 Shawn Mullins, Eddie Owen Presents: Red Clay Music Foundry — Help local folk-pop star Mullins celebrate his birthday this weekend with two performances. We know he has composed far more great tunes than just his lone 1998 crossover hit, "Lullaby," and his shows offer the full breadth of his songwriting talents. Still, it has been a long while since the release of a new album, so perhaps there will be fresh material to preview.
$35-44. 8:00 p.m. Eddie Owen Presents: Red Clay Music Foundry, 3116 Main Street, Duluth, 30096. 404-478-2749 eddieowenpresents.com
Sat., March 11
Martin Sexton, Eddie's Attic — The Boston-based, soulful singer/songwriter has been professional for so long that he released his 1990 debut on cassette only. It has been over a decade since his last studio album, although a 2020 EP showed he hasn't lost his knack for effortlessly melodic, snappy tunes that should be more popular than they are. Seeing him in this intimate venue will be a treat.
$35. 7:00 and 9:00 p.m. Eddie's Attic, 515-B N. McDonough St., Decatur, 30030. 404-377-4976. eddiesattic.com
Blair Crimmins and the Hookers, Northside Tavern — Crimmins and his rooty-toot-tootin' retro jazzers always bring the party. But tonight's special Mardi Gras show should ramp up the fun level a couple of notches. Bonus! It's at the Northside Tavern, not exactly known for low-key audiences. Bring your beads — and a designated driver.
$10. 10:00 p.m. Northside Tavern, 1058 Howell Mill Rd. NW, 30318. 404-874-8745. northsidetavern.com
Sarah Shook & the Disarmers, Sunny War, The EARL — Shook's outlaw country is raw and unvarnished. It practically sneers at anything slick or commercial, which tags her as "punk country" in some quarters. This indie rock venue is the perfect place to hear her and her seasoned band of similarly-styled players. Opener War combines blues, gospel, indie folk and country on a new album sure to be a contender for one of this year's finest. A killer double bill.
$16-18. 9:00 p.m. The EARL, 488 Flat Shoals Ave.NE, Atlanta, 30316. 404-522-3950. badearl.com
They Might Be Giants, The Eastern — It's hard to describe TMBG's music without using the adjective "quirky." The duo of Johns Flansburgh and Linnell have been working this schtick since the mid-'80s, and while they haven't scored any crossover hits, their witty cut-and-paste inventiveness and sense of unpredictable frisky fun hasn't waned. Perhaps only cult fans know they released a pretty great 21 track album in 2022 which could have been recorded any time in their long career. Give 'em credit for persevering this long by expanding their reach into video, soundtracks, children's records, documentaries and anywhere else their zany approach connects.
$39.50-79. 8:00 p.m. The Eastern, 777 Memorial Dr. SE., Atlanta, 30316. easternatl.com
Thu., March 16
Will Hoge, The Wild Feathers, Vinyl — Hoge has been a constant, if somewhat under-the-radar, presence on the folk/heartland rock landscape since the late '90s, cranking out about a dozen consistently solid albums with Petty/Springsteen undercurrents. The recent Wings on My Shoes is as tough as any of them and his energetic live shows are legendary. Openers The Wild Feathers are Nashville-based, melodic, guitar-strumming rockers, influenced by the Jayhawks and the Eagles. An terrific double bill.
$25. 8:00 p.m. Vinyl, 1374 West Peachtree St., Marietta, 30309.404-885-1365. centerstage-atlanta.com
Ian Munsick, Ashland Craft, Buckhead Theatre — Munsick titles this "The Long Live Cowgirls tour," which doesn't explain much since his upcoming album is named White Buffalo and his biggest hit was 2017's "Horses are Faster." Regardless, Munsick's lovely tenor voice and clean, sweet songs that split the difference between folk, country and bluegrass brought him some justified acclaim on his 2021 debut. Still, this seems like a large venue for his moderate level of success. Opener, the rugged country thrush Craft found popularity as a Top 10 contestant on The Voice and rocks a little harder.
$21-28. 8:00 p.m. Buckhead Theater, 3110 Roswell Rd. NE, 30305. 404-843-2825. livenation.com/venue/KovZpZAJAllA/buckhead-theatre-events
Fri., March 17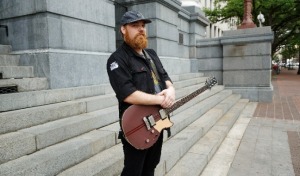 Marc Broussard, Rebirth Brass Band, The Eastern — Louisiana's blue-eyed soul man Broussard must love Atlanta as much as he plays here. This time he's promoting the fourth in a series of S.O.S. (Save Our Soul) cover albums where he runs through well known songs with his gruff, emotional vocals. He's paired with Louisiana legends Rebirth Brass Band who will kick the evening off on a funky foot. Perhaps they will join him for a post Mardi Gras celebration.
$29-59.50. 8:30 p.m. The Eastern, 777 Memorial Dr. SE., Atlanta, 30316. www.easternatl.com
Buddy Guy, Christone "Kingfish" Ingram, Symphony Hall — Subtitled the "Damn Right Farewell" tour, it pretty much sums up the concept of this tour by the blues legend. At 86 years old and with nothing left to prove, who can blame Guy for taking a victory lap before retiring? Opener Kingfish is part of the next generation of young blues guitar slingers, heavily influenced by Guy, which makes this pairing particularly poignant, potent and powerful.
$59-149. 8 p.m. Atlanta Symphony Hall, 1280 Peachtree St., 30309. 404-733-4900. aso.org
Sat., March 18
Mudcat and the Piedmont Playboys, Waller's Coffee Shop — The best supporting "actor" award for his role in the recent Northside Tavern documentary goes to Mudcat, who plays his "American roots music and Piedmont blues" (as his webpage describes it) at this Decatur location. A full band is scheduled, and weather permitting, outdoors.
$15. 6 p.m. Waller's, 240 Dekalb Industrial Way. Decatur., 30030. 404-975-3060. wallerscoffeeshop.com
Emily Scott Robinson, Alisa Amador, Violet Bell, Eddie's Attic — This mix and match combination features the three singer/songwriters joining for a performance of Robinson's recent song cycle, Built on Bones, about the witches of Shakespeare's Macbeth. Highbrow stuff? Sure, but not as nerdy as you might think. The music throbs in a dark, intense way with lots of reverb and creepy effects. Amador and Bell also play their own material.
$20. 9:00 p.m. Eddie's Attic, 515-B N. McDonough St., Decatur, 30030. 404-377-4976. eddiesattic.com
Sun., March 19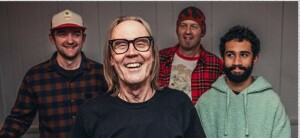 Atlanta Blues Society Gathering & Jam, Rootstock — Clarkston's Orange Drivers are the host band for this month's meet and greet for area blues lovers…and those who just want to check out the scene.
$free. 3:00 p.m. Rootstock, 855 Main St., Woodstock, 30188. 770-544-9009. rootstocknow.com
Wed., March 22
S.G. Goodman, Rose Hotel, The EARL — Kentucky bred Goodman traverses a dusky Americana landscape with a voice that cracks and croons with authenticity substituting for polish. Fellow Kentuckian My Morning Jacket's Jim James was an early supporter, producing Goodman's 2020's debut. Her 2022 follow-up, Teeth Marks, reinforced her shadowy vocals and rugged approach. Local singer/songwriter Jordan Reynolds, aka Rose Hotel, with dark, dreamy, winsome folk-rock, makes a terrific opener.
$18-20. 8:30 p.m. The EARL, 488 Flat Shoals Ave.NE, Atlanta, 30316. 404-522-3950. badearl.com
Thu., March 23
Big Richard, The EARL — This all female Colorado acoustic quartet takes bluegrass and runs it through often twisted, swamped out indie rock, creating compelling music. The propulsive four part harmony vocals alone will floor you. Their only album to date is a live performance that effectively captures their quirks and striking instrumental talents.
$15-17. 8:00 p.m. The EARL, 488 Flat Shoals Ave.NE, Atlanta, 30316. 404-522-3950. badearl.com
Fri., March 24
Webb Wilder, Eddie's Attic — Baritone vocalist Wilder may bristle at being called a roots rocker, but his combination of country, blues and rock fits the bill. He's been at it since 1986, cranking out an intermittent stream of impressive albums mixing garage, country and rock with crafty lyrics and a diverse approach that those who like NRBQ should appreciate. He's a funny dude too, punctuating shows with offbeat stories and songs.
$18. 7:00 p.m. Eddie's Attic, 515-B N. McDonough St., Decatur, 30030. 404-377-4976. eddiesattic.com
B.J. Barham, Eddie's Attic — American Aquarium's frontman Barham loses the bluster of his band as he goes the solo route, these two shows featuring songs from his seven-year-old debut, Rockingham. He'll bring some AA tunes too, so fans of that group can get up close and personal with the singer/songwriter in a place where you can marinate on his sharply observed lyrics of ordinary people just trying to make it through.
$25. 8:30 and 10 p.m. Eddie's Attic, 515-B N. McDonough St., Decatur, 30030. 404-377-4976. eddiesattic.com
Sat., March 25
The Nighthawks, Blind Willie's — Celebrate Blind Willie's 37th (!) anniversary with a special show from veteran D.C. blues roots journeymen The Nighthawks. They have been touring for 50 years, albeit with many personnel changes, but remain fronted by singer, harp player, and founder Mark Wenner. They have been busy, too. They recently released an EP, Slant Six, which follows 2022's full-length album,Established 1972. There's no telling how much longer they can keep this up, so catch this legendary act while you have a chance and simultaneously pay tribute to one of Atlanta's longest lasting roots music clubs.
$10. 9:00 p.m. Blind Willie's, 828 N. Highland Ave., Atlanta, 30306. 404-873-2583. blindwilliesblues.com
Sierra Hull, Terminal West — Mandolin and guitar bluegrass prodigy Hull (she's been playing professionally since the age of 11) was mentored early on by Alison Krauss who also produced her first album. She's the recipient of multiple bluegrass awards including three wins as Mandolin Player of the Year from the International Bluegrass Music Association. Oh, and she's had some GRAMMY® nominations, too. She's also a terrific singer. Her most recent album pushes the boundaries of bluegrass into darker folk areas. Hull is only in her mid-20s. Get on board now.
$25-49. 8:00 p.m. Terminal West, 887 West Marietta St. NW C., Atlanta, 30318. 404-876-5566. terminalwest.com
Michelle Malone, Eddie's Attic — It's a Malone double header as Atlanta's blues, folk, Southern rock veteran plays two shows with different bands, and probably different set lists. The early one is a stripped down duo performance, the later gig features her full band. Either way you win…so go for both (while purchasing separate admission tickets, of course).
$30. 7:00 and 9:30 p.m. Eddie's Attic, 515-B N. McDonough St., Decatur, 30030. 404-377-4976. eddiesattic.com
Sun., March 26
Eric Johnson, Variety Playhouse — Jazz/blues/rock/fusion guitarist Johnson has been blowing away audiences with dazzling, virtuosic fretwork and understated singing since his 1986 debut. He tours supporting two new albums released late last year that lean more towards his songwriting and vocals. But live, his glistening Jeff Beck-styled "Cliffs of Dover" solos are what bring out the fans and he provides the goods.
$30-59. 8:00 p.m. Variety Playhouse, 1099 Euclid Ave. NE. Atlanta, 30307. 404-504-7354. variety-playhouse.com
Tues., March 28
Winery Dogs, Variety Playhouse — With their first album in seven years (sporting the uninspired title lll), this threesome of hard rock veterans (backing Steve Vai, Poison, Dream Theatre, and others) takes the sound of early ZZ Top, adds some Grand Funk Railroad pop hooks and explodes with a hunk of leathery blues rockers. No overdubs, no Pro-Tools polish, just three sweaty dudes feeding off each other's, and the crowd's, energy — with committed vocals, gutsy tunes and rugged riffs. Tight and tough.
$29.50-49.50. 8:00 p.m. Variety Playhouse, 1099 Euclid Ave. NE. Atlanta, 30307. 404-504-7354. variety-playhouse.com
Thu., March 29
Jackie Venson, City Winery — Practically a one-woman band, all soul singer and jazz guitarist Venson needs is a drummer and some sophisticated multi-tracking loops to sound like a full group. Her prog/funk songs are quirky, cool, and unique — but when she lays into a guitar solo with her eyes skyward, she shifts into another musical dimension. Venson will likely feature music from her new album, Evolution of Joy, and its 19 tracks.
$20-28. 8:00 p.m. City Winery, City Winery, 650 North Avenue N.E., Ponce City Market, Atlanta, 30308 Citywinery.com/Atlanta 404-496-3791. citywinery.com/Atlanta
Fri., March 31
Loudon Wainwright lll, Eddie's Attic — Sure it's pricey, but Wainwright is a legend in the folk/pop realm, steadily releasing over two dozen albums since his 1970 debut. Now in his mid-70's, his cynical, often skewed, always dry witted humor has only sharpened over the years (note his 2022 release, the snarky-titled Lifetime Achievement). With a deep catalog, you never know what songs he'll pull out. Between his entertaining, engaging stage chatter and a humorous persona honed to a fine edge over the decades, this'll be worth the price.
$47.50. 7:00 p.m. Eddie's Attic, 515-B N. McDonough St., Decatur, 30030. 404-377-4976. eddiesattic.com
Sat., April 1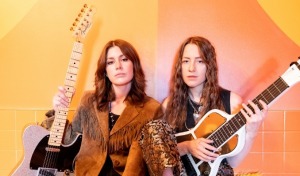 Larkin Poe, Michigan Rattlers, Variety Playhouse — Local fans might remember them as The Lovell Sisters, but after siblings Rebecca and Megan changed their band name and evolved with a tougher attack, they have risen to the top of the young, blues rocking heap. A sort of homecoming, this show is sure to sell out. Arrive early for the Rattlers who, despite their somewhat misleading name, play soft, lovely, strummy indie folk pop without much rattling.
$29.50-49.50. 8:00 p.m. Variety Playhouse, 1099 Euclid Ave. NE. Atlanta, 30307. 404-504-7354. variety-playhouse.com
Erik Vincent Huey, Smith's Olde Bar — Huey's quite remarkable debut solo album (he was a member of the Surreal McCoys) titled Appalachian Gothic mixes dark country with a harder edged Drive-By Truckers/Steve Earle attack. It illuminates the murkier fringes of lives from his coal mining West Virginia hometown. Working with veteran producer/guitarist Eric Ambel, the duo creates a tough, moving portrait of these dedicated miners, "the forgotten people in these burned out towns" that's poetic, rugged and often graphically descriptive of their lives. Don't miss this.
$10-15. 8:00 p.m. Smith's Olde Bar, 1578 Piedmont Ave. NE, 30324. 404-875-1522. sobatl.com
Kim Richey, Eddie Owen Presents: Red Clay Music Foundry — Folk/pop/Americana singer/songwriter Richey's 1999 album Glimmer was a career high point. There have been plenty of wonderful albums since, but this one brought her and her expressive voice to the national stage. So it's not surprising that she revisited/re-recorded it in 2019 for the disc's 20 anniversary. She'll be playing those songs on this tour, plus some gems from the handful of releases that followed and preceded it, all of them worth hearing.
$25-31. 8:00 p.m. Red Clay Music Foundry, 1578 Piedmont Ave. NE, 30324. 404-875-1522. eddieowenpresents.com

Please send upcoming blues events to consider for CL's Blues & Beyond concert calendar to hal.horowitz@creativeloafing.com