GRAZING: The price of 'handhelds' is skyrocketing
So is the price of everything else you order at Atlanta's half-empty lunch spots
THE PATIO AT THE BUTTERY: There's no table service, but you can tote your purchases outside to dine here.
You've probably read a ton of articles about the way restaurants are thriving again. New ones are opening. Sales are increasing. Unfortunately, it's also true that the increased revenue results mainly from increased prices, not an increase in customers. This can mean lunching on an $18 sandwich in a half-empty restaurant, feeling good because you paid $21 for a similar "handheld" masterpiece at another restaurant.
Meanwhile, 2023 grocery prices also continue to rise, not at last year's 11.4 percent, but at a predicted 8.6 percent, according to the US Dept. of Agriculture. (Compare that to 2021's 3.5-percent hike.) I routinely shop at the Glenwood Kroger, which has countless checkout lanes and, oh, maybe two cashiers working every evening. My receipts have at least one error about 50 percent of the time. That should motivate me to use self-checkout, right? But that would require developing the mental and physical dexterity of a Gen-Z ninja. So, I've come to regard the cashier errors as a luxury tax for standing in lines that stretch halfway across a football field.
About those handheld masterpieces: Since the City of Atlanta finally managed to reopen Cheshire Bridge Road, it's now a lot easier to get to The Buttery, a market shop for "incredibly pleasing delicious things" opened by Linton and Gina Hopkins in 2020. Among those things really are some of the best sandwiches around. Everything here is for takeout but you need only take it a few steps to the patio to eat on the premises. There's no official table service and no promise of good weather, so don't plan your bridesmaids' luncheon here.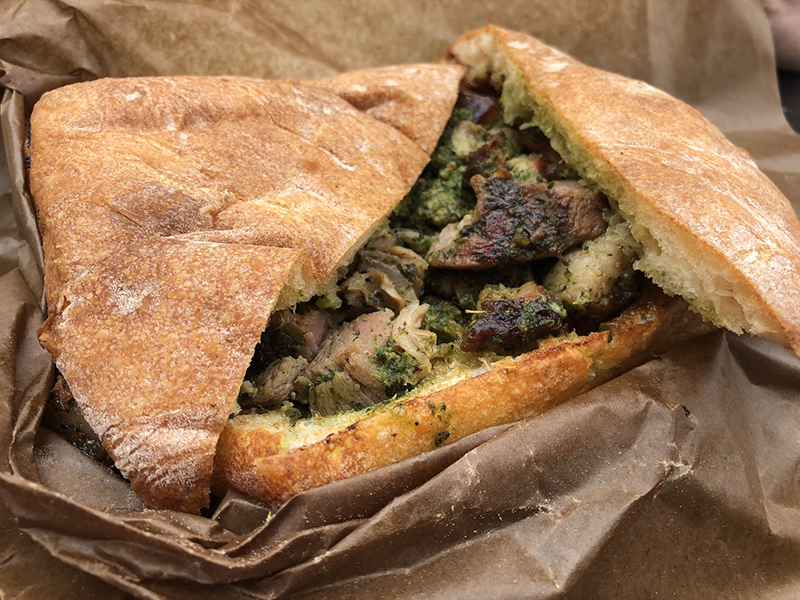 My favorite sandwich has been the porchetta. I was expecting the usual sliced, Italian-style roasted pork, but this is hefty chunks of the fatty meat served on toasted ciabatta. The occasional crunch of caramelized fat will remind you of Latin America's carnitas. Indeed the sandwich is served with a salsa verde, as is common in Mexico. The Buttery's Italian version does not have the Mexican's acid that punches back at the fat surplus. I can't eat this whole sandwich at one setting, so the $15 cost is actually a bargain. (I add capers to my leftover half for some acid.) I also love the muffuletta which you can buy in quarters for $10 and the pastrami whose $17 cost for half a pound of meat also amounts to a two-for-one sandwich. And, yes, the infamous H&F double-patty cheeseburger with Kraft American cheese is available for $17 — also cheap for a big burger these days. All of the sandwiches are made with flawless breads baked on the premises.

There are lots of pastries to ogle, but I haven't been quite as impressed with those. At my most recent visit, I tried a nondescript biscuit and a depressing sweet roll. There are also playful treatments of pretzel bread, unique cheeses, some entrees, CBD-spiked juices, good coffee, and a really friendly, informed, intelligent staff.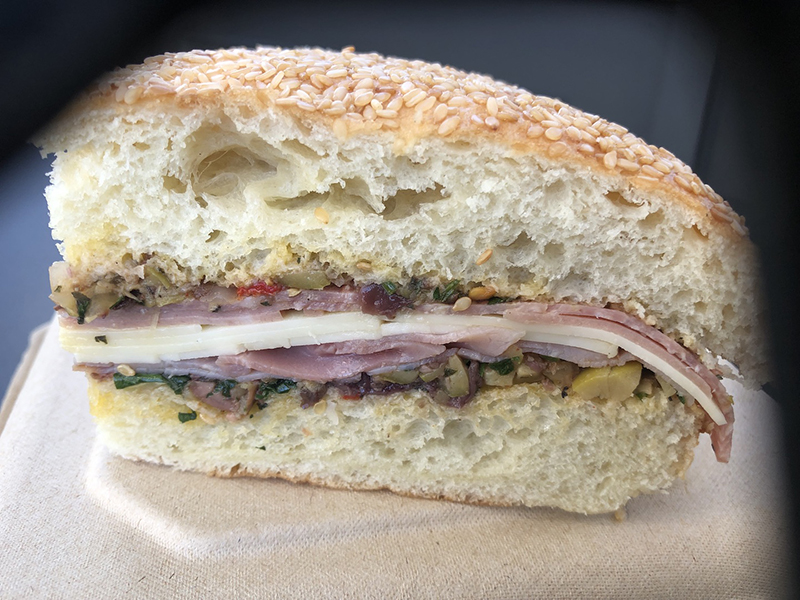 The Hopkins became famous when they opened the elite Restaurant Eugene and the trendy Holeman & Finch Public House in the first decade of the 2000s. While those two restaurants closed — thanks not, Covid — the couple had also created a mainly delicious multi-venue conglomerate of burgers, fried chicken, baked goods, and cocktails. In fact, they recently reopened Holeman & Finch at Colony Square and I can't wait to sample the sweetbreads, bone marrow, and chicken livers with spoonbread puree and – gasp! – "country-ham gastrique." Can you say beast?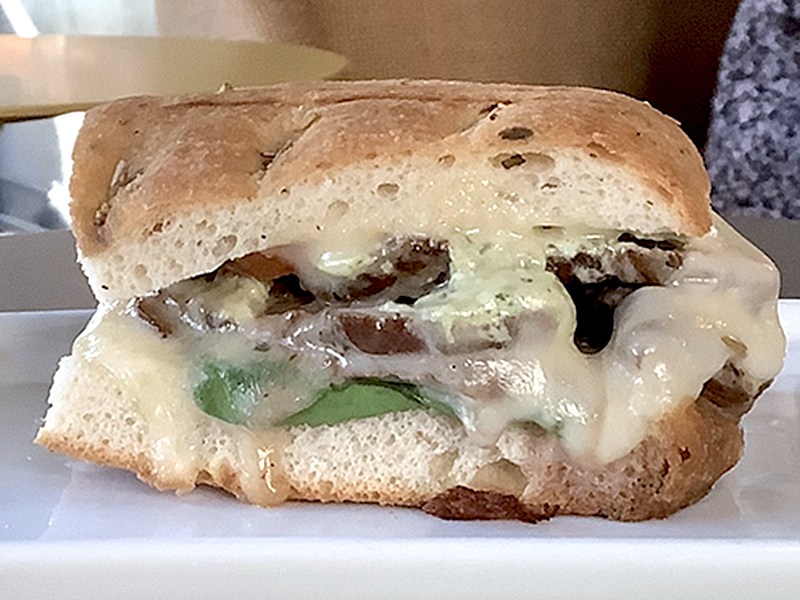 I've been hanging out a lot in Glenwood Park in recent months. I've written before about Drip, my favorite coffeeshop these days, and Pho Cue, my favorite place — okay, the only place — for a mash-up of Vietnamese cuisine and southern barbecue. Drip makes a fantastic cortado and constantly amazes me with its changing menu of sandwiches that are like kinky handhelds from the Mad Hatter's table. Most recently, I've loved the sous-vide steak sliders and the turkey sandwiches with pesto. They have an almond Danish large and rich enough to wear as an almond-paste facial mask. Sylvester, the tuxedo cat also known as the "mayor of Glenwood," sleeps here most days. Artist and standup comedian Darren Ray Hays recently photographed Sylvester for a portrait he plans to paint. Several of Hays' funny, bizarre paintings are on the walls there.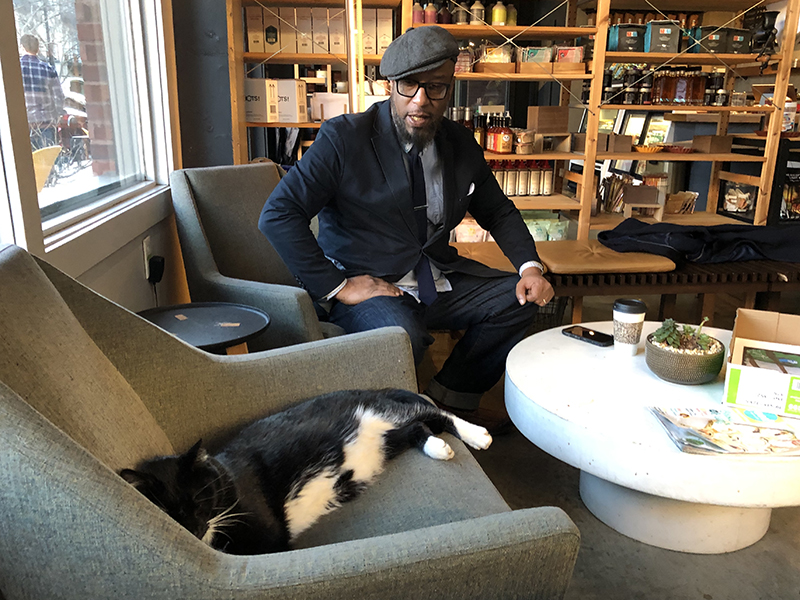 Pho Cue has been featuring my favorite special every Friday. It's half a huge rack of flawless ribs for $12. It comes with a manly slice of toast, some rugged serrated bread-and-butter pickles, and a stinking pile of sliced white onions. These are so well seasoned you don't even need a drop of sauce. Be sure to tip co-owner/co-chef Meaty Jesus, aka Brian Holloway, who usually works the dining room between training sessions that you can view on IG (@meaty.jesus).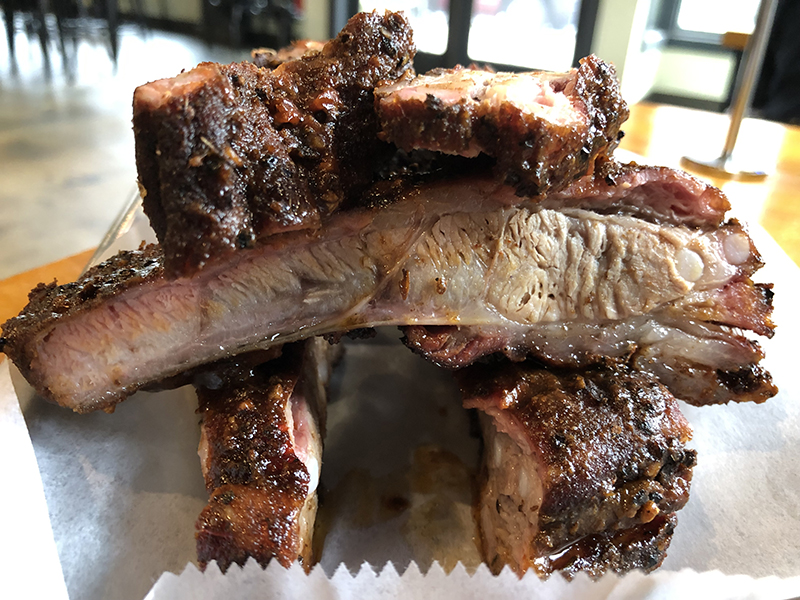 I finally made it to lunch with my friend Miss Rose at Tio Lucho's, a Peruvian café in Poncey-Highland. Chef Arnaldo Castillo, who partnered with Howard Hsu of neighboring Sweet Auburn Barbecue, offers a menu of classics including ceviches and lomo saltado, but sometimes inflected with Southern, local flourishes such as a bowl of collards and canary beans with a sofrito. Such invention is more prevalent on the evening's much larger menu. Lunch "sanguiches" range from a bacon-cheeseburger to avocado toast and a compelling chicken chicken thigh grilled in a classic Peruvian "antichuchero" style. Most sandwiches are $15.

Rose and I weren't having that and shared three entrees and ended up spending about $50 each. My favorite was an obese pork belly tamal made from mote, gigantic kernels of white corn, anointed with salsa criolla and topped with a fried egg and purple onions. Be forewarned that purple onions seem to garnish everything at Tio Lucho's. We also shared a plate of fish fried in cornmeal batter and, um, more pork belly in mashed yuca. I also got a taste of causa, the classic whipped potatoes I used to devour while drunk in a Peruvian dive somewhere in Atlanta in the late '70s. Thanks for the foggy memory!

Tio Lucho was the nickname of Castillo's deceased father who moved him here when he was six. His dad operated a catering business and briefly owned a restaurant, Inka's Grill, on Buford Highway. Castillo worked at Inka's during high school. He eventually went to work for Hector Santiago, whose original tapas bar, Pura Vida, was across the street (and was long my favorite Atlanta restaurant). He became executive chef at El Minero for four years and then broke out as a pop-up star with La Chingana, which gave many intown foodies their first taste of Peruvian cuisine, even as it gave Castillo the challenge of more deeply exploring his culinary roots inside the context of growing up Southern. Get a reservation.
Speaking of reservations, who knew that you could even need one on a Wednesday night in Atlanta? Even for a vegetarian meal at a restaurant whose name, La Semilla, literally means "The Seed"! And on Memorial Drive in Reynoldstown! The place, which opened in January, is an overnight hit. Basically, you get Latin food made with plants. Think cauliflower with mole or lion's mane with yuca mash and caramelized onions. Picture cochinita pibil tacos packed with jackfruit or crunch wraps with seitan beef and nacho cheese. I can't wait to try this bird food if I can ever get a reservation.
Unhappy times
I actually am trying to eat less meat. I think there's something anti-social in it. Over a month ago, Wayne Johnson and I showed up at Wood's Chapel in Summerhill about 45 minutes before closing. We ordered our usual 'cue dishes. Wayne got a cocktail. We paid. The bill provided no place for a tip, so the person at the register had to run a separate ticket, thanking me profusely. Then they informed us we'd not be eating inside. It was too close to closing, they said. We were told we could eat on the patio…where it was raining. Fine. Whatever. Three bros behind us ordered and went straight to a table. Being their surrogate parent, I asked them if they knew it was too late to eat in. "Naw, they said we were good." Huh? Fuck that. Then we're eating in too. We were given our food and took it to a table, not far from the bros. Soon, someone authoritative emerged from the back and announced that there would be no further eating in the dining room. We were all told to pack up and git outta there. The bros, with a ton of boxes, stood up with ribs in their hands and marched out like children. We were more sluggish and openly disgusted, prompting a pointless apology from our evictor. Too bad for us. I ain't been back….

Nothing will ever come between me and my mulita at El Tesoro, but I was freaked out to discover that the enormous patio on the lot adjoining the restaurant has been closed. The owner of the lot cancelled the restaurant's lease and gave the land to the city. It's in a flood plain and cannot be developed. It actually looks quite lovely, filled in and newly sodded. But all seating has been crammed onto the smallish area immediately next to the restaurant, which has no indoor seating. Okay, fine. I usually go there alone and now I start conversations with strangers I eavesdrop on. Shout out to the couple there who told me about the new Bona Fide Deluxe sandwich shop next to the MARTA station in Edgewood from the folks at fabulous Banshee. They are selling some mighty handhelds. And listen up, Buttery salsa makers: They've got a porchetta melt with a salsa verde that adds a jalapeno sting. I'll let you know! I had a great time with my 20-minute besties at Tesoro discussing the origin, meanings, correct pronunciation, and inherent annoyance of the term "bona fide."
So sorry for your loss
I extend my heartfelt sympathies to the Buckhead restaurant community. The Georgia Senate for the second year in a row has scrapped the bill authorizing Buckhead to secede from Atlanta. I seriously doubt many, if any, restaurants would support such a Confederate-ish move. Still, it must be doubly painful since the Senate also sunk the "don't say gay" bill. Is Flower Child hosting drag queen brunches yet? —CL—
The Buttery, 2137 Manchester St., 678-235-2654, thebutteryatl.com , thebutterylove.com , @thebutteryatl.
Holeman & Finch Public House, Colony Square, 1201 Peachtree St., 404-948-1175, holeman-finch.com  @holemanandfinch.
Drip, 928 Garrett St., 404-627-7375, dripatlanta.com @dripatl.
Pho Cue, 925 Garrrett St., 404-549-7595, eatphocue.com @eatphocue.
Tio Lucho's, 675 N. Highland Ave., 404-343-0278, tioluchos.com @tioluchos.
La Semilla, 789 Memorial Dr., 404-228-3090, lasemilla.kitchen @lasemilla.atl.
Bona Fide Deluxe, 1454 La France St., 404-228-2391, bonafide-atl.com @bona_fide_deluxe.