SCREEN TIME: 'They Cloned Tyrone' doubles down on social satire
Netflix film blends Blaxploitation, sci fi and satirical commentary
">
GHETTO SUPERSTARS: Jamie Foxx (from left), Teyonah Parris and John Boyega investigate the mystery of 'They Cloned Tyrone.'
At a time when streaming movies have instantly forgettable titles like Red Notice and The Gray Man, Netflix's new satirical thriller They Cloned Tyrone sports a name to put the rest to shame. It's an attention grabber that immediately prompts questions — Who is Tyrone? Why was he cloned? — that can only be answered by you watching the movie.
And while most of the big-budget, highly-touted action content produced by streamers feel like bland imitations of better movies, They Cloned Tyrone brings an energetic mash-up spirit to the films that clearly inspired it. You can recognize influences like John Carpenter's They Live and still enjoy the fresh ideas filmmaker Juel Taylor brings to the table.
Filmed at DeKalb County's Blackhall Studios, They Cloned Tyrone initially unfolds like a pulpy 1970s Blaxploitation drama. Small-time drug dealer Fontaine (John Boyega) goes about his daily routine in an inner-city neighborhood called The Glen. He buys alcohol and scratch-offs, he collects money from his underlings and he punishes potential rivals. After his paths cross with ambitious sex worker Yoyo (Teyonah Parris) and her stylish, striving pimp Slick Charles (Jamie Foxx), Fontaine gets brutally gunned down in a motel parking lot.
Rather than roll credits, the film then shows Fontaine waking up and going through his routine again, until a nonplussed Yoyo and Charles convince him that he was fatally shot the night before. The unlikely trio uncover an increasingly far-reaching conspiracy that involves high-tech surveillance, behavior-altering drugs and, yes, human cloning.
They Cloned Tyrone uses satire to reinforce serious themes, such as how capitalism can influence cycles of poverty and violence. Mainstays of The Glen include the popular fast food chain "Got Damn Fried Chicken" and a liquor store called "Got Dranks!" (the signage resembles The Waffle House) as just a few means of keeping the populace drunk, satiated, and otherwise unlikely to challenge the system. In one of the slyest details, a local church subtly reinforces submissiveness in its parishioners.
The film traffics in over-the-top archetypes of "hoes and gangbangers" for more than just laughs. Boyega conveys the despair behind Fontaine's aggression in a role that echoes his breakout turn in the similarly-themed Attack the Block. Even the preening, showboating Slick Charles has deeper concerns that he's past his prime and in over his head. Foxx's live-wire acting serves as a reminder that the Oscar winner is severely underemployed — he could be carrying multiple dramas, comedies or action films every year.
Genre films have always smuggled social commentary into "low-brow"-seeming stories. The massive mainstream success of Jordan Peele's Get Out opened new doors for horror, sci-fi and satire to scrutinize American race relations and other issues, with They Cloned Tyrone, like The Blackening earlier this summer, remixing tropes from previous movies.
Juel Taylor's film goes on a bit long and injects a few concepts too many, making the climax slow down when things should be speeding up. But it's consistently clever and inventive enough to prove that They Cloned Tyrone is no cheap knockoff.
Thu., Aug. 3-Sun. Aug. 6
Atlanta Underground Film Festival, Limelight Theatre — The 20th annual festival for independent cinema showcases work on film and video from outside the mainstream, including three blocks of local shorts.
Thu., Aug. 3-Sun. Aug. 6. Limelight Theater, 349 Decatur St. SE Atlanta, 30312. auff.org
Thu., Aug. 3
Talladega Nights: The Ballad of Ricky Bobby, Plaza Theatre — Wax & Wane presents a screening of the 2006 comedy starring Will Ferrell as a successful NASCAR driver who undergoes as personal and career crisis through a rivalry with a gay Formula One racer (Sacha Baron Cohen). Remember when director Adam McKay made fun fare like this, and not overly ambitious political satires like Don't Look Up?
8 p.m., Thu., Aug. 3. Plaza Theatre, 1049 Ponce de Leon Ave NE, Atlanta, 30306. plazaatlanta.com
Fri., Aug. 11
The Last Voyage of the Demeter— A 19th century sailing ship en route from Transylvania to England faces a string of mysterious murders in this period horror film starring Corey Hawkins, David Dastmalchian and Aisling Franciosi.
Opens Fri., Aug. 11. Atlanta area theaters
Sat., Aug. 12
The Parent Trap, Plaza Theatre — Actor Lindsay Lohan and director Nancy Meyers made their film debuts in this beloved remake of the 1961 film about young twins who scheme to reunite their divorced parents. Wussy Mag co-hosts this screening featuring actor Elaine Hendrix with proceeds benefiting PALS Atlanta.
7 p.m. Sat., Aug. 12. Plaza Theatre, 1049 Ponce de Leon Ave NE, Atlanta, 30306. plazaatlanta.com
Sun, Aug. 13 and Wed., Aug. 16
Enter the Dragon — Iconic martial arts star Bruce Lee died in July of 1973, a month before this film's U.S. premiere became a massive hit. This 50th anniversary will showcase how the combination of martial arts, James Bond and Blaxploitation tropes, combined with Lee's charisma and physicality, changed the shape of film in the 1970s.
Sun., Aug. 13, and Wed., Aug. 16. Atlanta area theaters. fathomevents.com/events
Fri., Aug. 18
Blue Beetle — Xolo Maridueña, a star of the Atlanta-shot "Cobra Kai," plays a teenager who becomes a reluctant superhero after encountering a high-tech scarab. This light-hearted action comedy will face heavy scrutiny as the latest DC Comics adaptation following The Flash and other high-profile disappointments 
Opens Fri., Aug. 18. Atlanta area theaters
Problemista — A toy designer from El Salvador struggles to find a way to stay in New York before his visa runs out in this surreal comedy starring Julio Torres, Tilda Swinton and RZA. Expect Julio Torres, co-creator of "Los Espookys," to bring similar stylishness and pointed politics to his directorial debut.
Opens Fri., Aug. 18. Atlanta area theaters
Fri., Aug. 25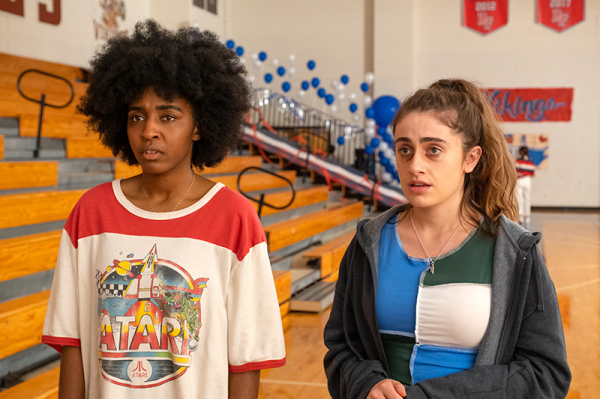 Bottoms — Two teen girls (Shiva Baby's Rachel Sennott and "The Bear's" Ayo Edebiri) set up a high school fight club as a means to seduce cheerleaders and push back against bullying football players. Emma Seligman offers a follow-up to her indie hit Shiva Baby with this raunchy comedy.
Opens Fri., Aug. 25. Atlanta area theaters
Wed., Aug. 23-Sun. Aug. 27
BronzeLens Film Festival — The 14th annual festival of cinema by, for or about African-Americans and the African diaspora screens shorts and feature films while also hosting panels and workshops
$75-$300 passes. Wed., Aug. 23-Sun. Aug. 27. bronzelens.com