LISTENING POST: Repeat redux
What's old is new again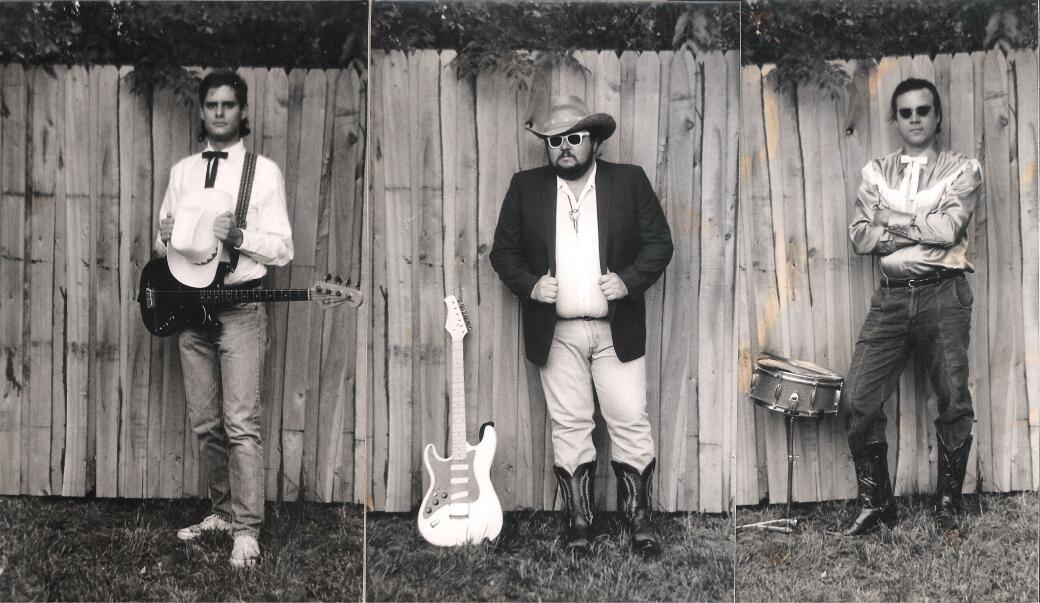 ">
CONVICTS REUNITE FOR CASH BASH: The original lineup of Slim Chance & The Convicts (pictured here from an earlier time, from left: Dangerous Dan, Slim Chance, Tony Drummer) will reunite for an exclusive performance at the annual "CASH BASH" at the Star Bar Sat., Sep. 9.
As summer fades into fall, new music series start to gather momentum.
Sat., Sep. 2
RoboCromp, Whispers of Night, and Adam Lion at Railroad Earth — Since 2004, Tallahassee guitarist Rob Rushin-Knopf and Atlanta saxophonist Jeff Crompton have been offering a mellifluous mix of jazz, rock and world music under the moniker RoboCromp. Whether spawned from original material or a composition by Thelonious Monk, Ornette Coleman or Steve Lacy, RoboCromp's music is infused with a deep improvisatory sharpness, which only comes from years of careful listening among close friends. Likewise, Whispers of Night (cellist Ben Shirley and mandolinist Majid Araim) relies on sympathetic ears and acutely honed skills to create magical performances. Asheville-based percussionist Adam Lion has collaborated closely with leading experimental artists including Harold Budd, Laura Steenberge, Matt Nelson, Mustafa Walker, Thom Nguyen, Brett Naucke, Mark Applebaum, Nief-Norf, bang on a can, and Sarah Hennies.
$15 suggested donation. Doors 7:30 p.m., music 8 p.m. Outdoor venue. Bring portable chair. 1467 Oxford Rd NE. Free Parking: Emory University Fishburne Deck, 1672 N. Decatur Road.
Sat., Sep. 9
Mudcat, Northside Tavern — As chronicled by Hal Jacobs in his superb 2022 documentary Northside Tavern: The Mostly True Account of the Golden Age of Atlanta's Most Exquisite Blues Dive, Danny 'Mudcat' Dudeck is one of the main reasons why the scruffy music joint up near the Fulton Water Works has enjoyed such an enduring and storied history. Don't miss the chance to hear an authentic blues hero stomping out the real thing with a posse of talented friends at one of the greatest dive bars in these here United States.
$10. Doors 9:30 p.m., music 10 p.m. The Northside Tavern, 1058 Howell Mill Rd., 404-874-8745.
Cash Bash, Star Community Bar and the Little Vinyl Lounge — It's time once again for the Annual Johnny Cash Tribute and Benefit for Juvenile Diabetes — a/k/a CASH BASH! — at the Star Bar in Little Five Points. This year's lineup includes The Tomb Tones, Ghost Riders Car Club, Rodeo Twister, The Wheelknockers, Downer Brothers, Al Shelton & Bar Community Stars, Micheal Bradley, Georgie Harris, The Skylarks, and Slim Chance & the Convicts. The latter will feature the band's original members — Slim Chance, Dangerous Dan, and Tony Drummer — performing the Johnny Cash covers they played during the heyday of the Austin Avenue Buffet. As always, Cash Bash at the Star Bar will be emceed by the incomparable Ted Weldon. Proceeds to benefit the Atlanta Juvenile Diabetes Foundation.
$12 advance, $15 door. Doors 7 p.m. Star Community Bar and the Little Vinyl Lounge, 437 Moreland Ave NE.
Paul Mercer Album Release, Alchemical String Theory, Red Light Café — According to Atlanta-based multi-string instrumentalist Paul Mercer, his new album, The Whispering in the Wood, "is an obsessive examination of the unique voices of ancient violins and violas with songs composed and performed on five specific instruments chosen for their otherworldly tones," which include a 400-year-old viola da gamba. "Each song is a story," Mercer says, "and the whole album a journey into a new frontier of neoclassical stringed music composition, violin technique and ambient music production. While The Whispering in the Wood is available on Bandcamp (free or pick you price), there is no substitute for a live performance, which will transpire at Red Light Café where Mercer will be joined by members of Alchemical String Theory, "a collective of avant-garde string artists from Atlanta's Improvisational underground."
$10 advance, $15 door. Doors 7 p.m. 553-1 Amsterdam Ave NE, Atlanta. 404-874-7828. www.redlightcafe.com
Bach & Bluegrass at the Schwartz Center — The Emory Chamber Music Society of Atlanta's (ECMSA) kicks off its 31st season with a concert by bluegrass superstar Mark O'Connor in a mixed-genre program called "Bach & Bluegrass" featuring wife Maggie O'Connor along with Emily Smith and Jessica Wu of the Vega Quartet. The 2023-24 ECMSA concert calendar features more than 60 concerts, masterclasses, world premieres and special events — all free and open to the public. In addition to programs at venues on the Emory University campus and at First Presbyterian Church, the ECMSA will partner with the High Museum, Breman Museum, Fernbank Museum and Science Center, and Kai Lin Art for to present performances cross Atlanta.
Free. 8 p.m. Schwartz Center for the Performing Arts, Emerson Hall, Emory University, 1700 N. Decatur Rd. Atlanta, 30322.
Sat., Sep. 23
25 Bells, Railroad Earth — A backyard iron pour is one of those spectacular, nearly indescribable events you have to experience at least once in your lifetime. "25 Bells" marks 25 years of iron pours at Railroad Earth (RRE), the wondrously funky art compound in Emory Village, which also serves as the residence of artist-impresario Neil Fried. One of the coolest features of RRE iron pours is the opportunity for attendees to create their own piece of artistic ironwork using sand molds, which are available for purchase ahead of time or on-site at RRE. In 1998, foundry artist Carl Pelizza teamed up with RRE to create an extravaganza to celebrate the arts in Atlanta. "25 Bells" carries on that tradition while paying special homage to artists lost to the community in the last couple of years including Robert Cheatham, Joel Rives and Fried's housemate Nicole. The musical performance lineup at "25 Bells" include Grady Cousins, George Trotter and Aaron Ruscetta who will play during the pour. After the molten iron runs out, Cousins will play a solo set, followed by John Pierce & Hannah Neal, with W8ing4UFOs headlining the evening festivities.
$10 suggested donation. Doors 7:30 p.m., music 8 p.m. Outdoor venue. Bring portable chairs. 1467 Oxford Rd NE. Free Parking: Emory University Fishburne Deck, 1672 N Decatur Road.