SCREEN TIME: Southern filmmakers go through Goth phase
'Gothic South' shorts to screen at Plaza Theatre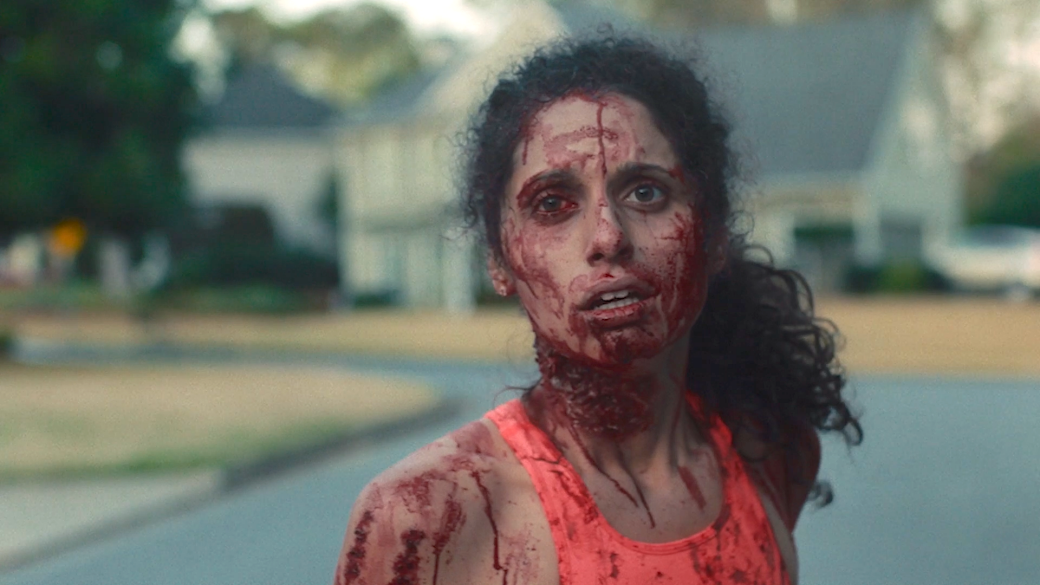 RUN LIKE HELL: Courtney Locke plays a suicidal spouse who finds a new taste for life in the short 'I Could Just Die, And That Would Be All Right' in the 'Gothic South' program.
For many fearless filmgoers, October is the season for scary movies, and the studios have scheduled multiple new ones for the weeks leading up to Halloween. But "new" might be a misnomer: this month you can see the tenth film in the Saw franchise, the sixth film in The Exorcist franchise or, with The Nun II, the ninth film in The Conjuring franchise.
Fans of horror, suspense or atmospheric films may need to cast their nets wider to find genuinely new work. The best new horror film of 2023, recently released on VOD, is Talk To Me, the debut from twin Australian filmmakers Danny and Michael Philippou. It's a smartly-conceived and well-crafted depiction of young people recklessly playing with paranormal forces, a sub-genre of contemporary horror that's admittedly feeling rather familiar.
The Plaza Theatre offers an intriguing option with the "Gothic South" program on Oct. 4. The evening showcases the work of four Southern filmmakers, two from Atlanta, for a sampling of different flavors of horror, dark comedy and mood.
"Gothic South" includes the premiere of "I Could Just Die, And That Would Be All Right" by Atlanta filmmaker AK Espada, who conveyed dread, icky effects and sharp interpersonal dynamics with her 2021 short, "This Is Our Home."
"I Could Just Die" marks an advance in Espada's craft, capturing the psychology of a depressed young wife (Courtney Locke) who contemplates sacrificing herself to a mysterious creature in the woods. Espada packs a lot in 20 minutes, including themes of suicide, codependency and transformation, as well as an homage to The Blair Witch Project. The film stands alone as a short, but contains enough implications that could support expansion to a feature film.
Giovanni Tortorici's "Eat Your Heart Out" is more playful, showing an awkward first date between a vegetarian (Wendy Melkonian) and a meat enthusiast (Daniel May). Anchored by two stalwart Atlanta stage actors, "Eat Your Heart Out" begins like a comedy sketch but ends on a note of surreal lyricism that offers a new take on the term "carnal knowledge."
Christa Boarini's moody "Brackish," from Florida, depicts an aquatic creature who stalks humans from the swamps, like a sexier update of The Creature From the Black Lagoon. Louisiana's Brooke H. Cellars directs the remaining film in the program, "Violet Butterfield, Makeup Artist for the Dead," about a mortician beautician (not seen at press time).
The program makes a loose interpretation of the idea of Southern Gothic and leans more on contemporary anxieties than the kind of decaying South being consumed by its own past. But the "Gothic South" shorts are entertaining in their own right and introduces four filmmakers who are ready to say something new.
Gothic South. 7 p.m., Wed., Oct. 4. Plaza Theatre, 1049 Ponce de Leon Ave NE, Atlanta, 30306. plazaatlanta.com
Sun., Oct. 1– Wed., Oct. 4
The Exorcist — Director William Friedkin, who died in August, helmed multiple major films in the 1970s, including this Oscar-winning horror film celebrating its 50th anniversary. When a 12 year-old girl (Linda Blair) begins acting out in disturbing ways, a pair of priests suspect a demonic influence.
4 and 7 p.m. Sun., Oct. 1-Tue., Oct. 3. The Springs Cinema & Taphouse, 5920 Roswell Rd., Sandy Springs, GA 30328. springscinema.com
Tue., Oct. 3
The Conformist — The first major film of director Bernardo Bertolucci, this acclaimed 1970 political drama depicts a mid-level Italian fascist on a mission to assassinate his former college professor.
Tue., Oct. 3. Tara Theatre, 2345 Cheshire Bridge Rd. NE, Atlanta, 30324. taraatlanta.com
Fri., Oct.6
The Exorcist: Believer — What's scarier than a little girl possessed by a demon? How about two little girls possessed by demons? Ellen Burstyn, star of the original Exorcist, returns for this sequel. Director David Gordon Green is supposedly helming three of these, despite the mixed results of his recent Halloween sequel trilogy.
Opens Fri., Oct. 6. Atlanta area theaters
Sat., Oct. 7
Bride of the Monster — A mad scientist (Bela Lugosi) with a giant octopus and a lumbering assistant (Tor Johnson) performs freaky experiments in this beloved 1955 film by notorious director Ed Wood, Jr.. Presented by the Silver Scream Spook Show, a live, burlesque tribute to the classic horror hosts of yesteryear.
1:30 and 10 p.m. Sat., Oct. 7. Plaza Theatre, 1049 Ponce de Leon Ave NE, Atlanta, 30306. plazaatlanta.com
Thu., Oct. 12 – Sun., Oct. 15
Atlanta Horror Film Festival — The annual horror festival features 200 independent shorts and feature films that touch on all the spooky sub-genres, including a block of called "Mostly Local Shorts."
Thu., Oct. 12 – Sun., Oct. 15 RoleCall Theater, 675 Ponce De Leon Ave. NE Atlanta, 30308. atlantahorrorfilmfest.com
Fri., Oct. 13
Taylor Swift: The Eras Tour— Taylor Swift's 2023 tour was the year's hottest ticket and this concert film (shot in August) promises to be a massive hit in cinemas, racking up more than $30 million in pre-sales on the first day tickets became available.
Opens Fri., Oct. 13. Atlanta area theaters
Sat., Oct. 14
Little Shop of Horrors — WABE City Lights Movie Night presents this special screening of the classic dark musical. The Muppets' Frank Oz directs this big-screen adaptation of the delightful musical by Alan Mencken and the late Howard Ashman (itself based on a notoriously cheap black comedy from 1960). Rick Moranis plays a flower shop employee who strikes a Faustian bargain with a carnivorous plant. It's a real delight featuring Ellen Greene, Steven Martin and some great cameo appearances.
4 p.m. Sat., Oct. 14. Plaza Theatre, 1049 Ponce de Leon Ave NE, Atlanta, 30306. plazaatlanta.com
Fri., Oct. 20
Killers of the Flower Moon — Awards season starts in earnest with Martin Scorsese's epic-length depiction of mass murders among the Osage Nation in the 1920s. The cast includes Lily Gladstone, Jesse Plemons and frequent Scorsese collaborators Leonardo DiCaprio and Robert DeNiro. —Curt Holman
Opens Fri., Oct. 20. Atlanta area theaters
Sun, Oct. 22 and Mon., Oct. 23
The Birds — Master suspense filmmaker Alfred Hitchcock followed up his hit Psycho with this loose adaptation of the Daphne du Maurier novella. Tippi Hedren stars a socialite whose low-stakes visit to Bodega Bay hits a snag when birds turn inexplicably hostile to the human race.
Sun, Oct. 22 and Mon., Oct. 23. Atlanta area theaters. fathomevents.com/events