SCREEN TIME: Big filmmakers, small movies
Short films give major directors the chance to experiment
STRANGE BEDFELLOWS: Ethan Hawke draws on Pedro Pascal in 'Strange Way of Live,' a stylish short from Spanish director Pedro Almodóvar.
The past two installments of this column have called out excellent short films by local filmmakers. Despite the flexibility the streaming era should offer, many shorts are essentially calling cards or proof-of-concept work for young directors seeking to break into the film industry. Major filmmakers tend to devote the artistry to features, but some exceptions have used shorts for intriguing experiments.
Pedro Almodóvar, one of Europe's great filmmakers, has recently used shorts for his first two English-language efforts, 2020's "The Human Voice" with Tilda Swinton and his new release "Strange Way of Life" (packaged together for theatrical release). Almodóvar has often celebrated classic Hollywood genres and "Strange Way" allows him to dabble in the Western. The 30-minute film depicts the reunion of two retired gunslingers (Ethan Hawke and Pedro Pascal), former lovers still attracted to each other decades later, despite the fraught circumstances that bring them together.
Hawke and Pascal's performances convey such deep personal histories and complex feelings that the story could support a longer exploration. But their high emotions don't quite fit with the mannered artifice of the project. "Strange Way of Life" was produced with the Saint Laurent fashion house, which can explain why the clothes look brand new and the supporting players like runway models. Perhaps Almodóvar wanted to craft a highly anachronistic Old West setting, but "Strange Way of Life" lacks true grit.
Some short films from already-established directors can feel like intentionally minor exercises, like David Lynch's "What Did Jack Do?" in which Lynch plays a detective interrogating a monkey. Earlier this year, Charlie Kaufman's "Jackals and Fireflies" showcased a poem by Eva H.D. that felt worlds away from the filmmaker's trademark surrealism.
Wes Anderson flourishes in the short form with his new adaptations from Fantastic Mr. Fox author Roald Dahl short stories on Netflix. As established in the first, lightest and longest short, "The Wonderful Story of Henry Sugar," Ralph Fiennes plays the author, reciting the text of his story to the camera. Then he hands off the narration, relay race-style, to Benedict Cumberbatch as Henry Sugar, then Dev Patel as a doctor and so on.
While the other shorts explore more of the darkness in Dahl's work, "Henry Sugar" is more of a romp, with English materialism having an unexpected clash with Indian spirituality. Like Anderson's Asteroid City earlier this year, the shorts celebrate the nuts and bolts of art, juxtaposing Dahl's prose against the director's signature theatricality. It's probably no coincidence that the four shorts total to around an hour and a half, so they'll inevitably be packaged as an anthology feature like Anderson's The French Dispatch.
Finally, if Marvel Studios can be considered a "filmmaker," its "I Am Groot" shorts have unexpectedly proven to be Marvel's most reliably entertaining Disney+ show since "Loki." For the spin-off of the Guardians of the Galaxy movies, director Kirsten Bell depict the misadventures of Baby Groot in five-minute bites: Groot takes a bath, Groot chases an ice cream truck through space, etc. "I Am Groot" shows a keen appreciation of the dialogue-free gags of classic Looney Tunes cartoons. They serve as a reminder of how films don't have to be two hours to be creatively refreshing.
Sun, Nov. 5
The Last Waltz — Martin Scorsese directed this chronicle of The Band's final performance, an evening that features such guests as Bob Dylan, Muddy Waters, Emmylou Harris and Neil Young. This 45th anniversary screening promises a thrilling concert film as well as a timely tribute to songwriter/guitarist Robbie Robertson, who died in August.
Sun., Nov. 5. Atlanta area theaters. fathomevents.com/events
Tue., Nov. 7
I Am Cuba — The "Taradrome" series concludes with this nearly forgotten Cuban/Soviet political drama from 1964, an anthology film about the Cuban revolution known for spectacular tracking shots.
Tue., Nov. 7. Tara Theatre, 2345 Cheshire Bridge Rd. NE, Atlanta, 30324. taraatlanta.com
Fri., Nov. 10
The Marvels — Space-faring superhero Captain Marvel (Brie Larson) finds herself inexplicably switching places with spunky teen Kamala Khan (Iman Vellani) and astronaut Monica Rambeau (Teyonah Parris), who also happen to be superheroes. Nia DaCosta directs the 33rd film in the Marvel Cinematic Universe, which is a sequel to 2019's Captain Marvel and also continuation of the "Ms. Marvel" Disney+ series. Got all that?
Opens Fri., Nov 10. Atlanta area theaters
Wed., Nov. 15
The Crow — Brandon Lee, son of Bruce Lee, stars in this 1994 thriller about a murdered musician who comes back to life to exact revenge on his killers. In a real-life tragedy, Lee was fatally wounded by a prop gun during filming.
7 p.m. Wed., Nov. 15. The Springs Cinema & Taphouse, 5920 Roswell Rd., Sandy Springs, GA 30328. springscinema.com
Fri., Nov. 17
The Hunger Games: The Ballad of Songbirds and Snakes — This prequel to the hit Hunger Games series offers the backstory to villainous future President Snow (played previously by Donald Sutherland and here by Tom Blyth), who becomes drawn into the deadly dystopian competition. The cast includes Rachel Zegler, Peter Dinklage, and Viola Davis.
Opens Fri., Nov. 17. Atlanta area theaters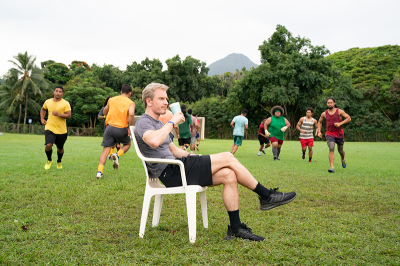 Next Goal Wins — In this sports comedy loosely based on real events, Michael Fassbender plays a coach hired to reverse the fortunes of the losing American Samoa national football team. Here's hoping that director Taika Waititi can similarly turn things around after the ill-received Thor: Love & Thunder.
Opens Fri., Nov. 17. Atlanta area theaters
Sat., Nov. 18
The Dead Zone —  "The ICE… is gonna BREAK!" Christopher Walken plays a schoolteacher who comes out of a coma with the psychic powers that bring him into the orbit of a serial killer and then a deranged presidential candidate (Martin Sheen). David Cronenberg's first mainstream horror movie lacks the visceral impact of his more personal works but remains a compelling thriller. —Curt Holman
9:30 p.m. Sat., Nov. 18. Plaza Theatre, 1049 Ponce de Leon Ave NE, Atlanta, 30306. plazaatlanta.com
Wed., Nov. 22
The Holdovers — Oscar-winning writer/director Alexander Payne reunites with his Sideways star Paul Giamatti for this acclaimed, bittersweet comedy. Giamatti plays a 1970s prep school teacher reluctantly required to spend the holidays with students and staffers who can't go home for Christmas.
Opens Wed., Nov.22. Atlanta area theaters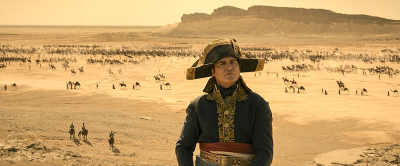 Napoleon — Oscar-winner Joaquin Phoenix and rising star Vanessa Kirby star as the Corsican general and his wife in this historical epic about Napoleon's rise to power. Director Ridley Scott, now in his mid-'80s, seems to have lost none of the ambition he brought to films like Gladiator.
Opens Wed., Nov.22. Atlanta area theaters
Sun., Nov. 26
High and Low —  The film history podcast "Behind the Slate" partners with the Plaza for a 35mm screening of one of Akira Kurosawa's lesser-known classics. In this film noir from 1963, kidnappers target the son of a Japanese factory owner (Toshiro Mifune), who faces a dilemma when they mistakenly capture the son of his chauffeur.
6 p.m. Sun., Nov. 26. Plaza Theatre, 1049 Ponce de Leon Ave NE, Atlanta, 30306. plazaatlanta.com