Decatur Nightlife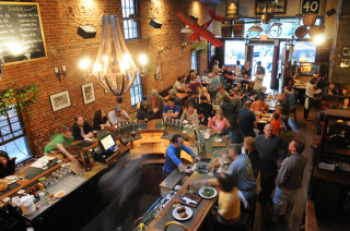 This outstanding neighborhood pub, complete with an upstairs Belgian bar that has potent brews on tap, offers roughly 215 beers. The menu's beer descr... |
more...
Located across from Decatur Square, Eddie's hosts aspiring and accomplished singer-songwriters for live shows almost nightly and is famous for its bia... |
more...
Pub on Decatur Square with an Irish bent, offering savory pies, whiskey, beer, and daily specials. |
more...
An independently owned steakhouse in Decatur. |
more...
FB: Fiercely independent brewpub serving the Metro Atlanta area; a humble crew creating sophisticated beer and pub fare. |
more...
A neighborhood pub in Oakhurst, the Imperial features Southern comfort and typical bar food with a twist. The menu features a host of appetizers inclu... |
more...
Located in the former Paper Plane space in Decatur, SOS is the tiki bar from the the team behind Victory Sandwich Bar. |
more...
Decorated with posters of the periodic table, planet factoids, and musculoskeletal charts, Thinking Man Tavern feeds the mind as well as the body. The... |
more...
Excellent pool tables (and other games), big-screen TVs, some of the best bar food in Atlanta; a true local brewpub. Besides brewing its own beer, Twa... |
more...
Great neighborhood meeting place with a pleasant patio in the heart of Oakhurst. |
more...
---
Decatur Neighborhood Guide - Nightlife, Pubs and Bars