CL RECOMMENDS
USER SUBMITTED
Live from Woodruff Park: Beetlejuice
Wednesday October 3, 2018 06:00 pm EDT
Cost: Free
On the first four Wednesday evenings in October, a lineup of movies will be screened on the Woodruff Park lawn to get Atlantans in the Halloween spirit. All movies are free and open to the public, and attendees will be able to purchase food from food truck vendors and beverages and popcorn from a cash bar managed by neighboring restaurant 55th and Park. The October movie lineup will begin on October 3 with 1988 classic Beetlejuice. Bring your blankets, chairs, and friends to enjoy a movie under the stars! Attendees are encouraged to wear costumes to the movie screenings – prizes are in store for those with the most standout ensembles.
More information
The Other 4 Things To Do Today
Wednesday July 8, 2020 06:30 pm EDT
Wednesday night live music with The Murphs on our patio stage. Free show from 6:30 to 8pm, seating is limited [
click here for more
]
Wednesday July 8, 2020 08:00 pm EDT
Catch your favorite flick from new heights at Movies on the Roof! We're playing classics and new favorites every Wednesday evening at 8:30pm, so grab popcorn and settle in — we'll be here all summer. All guests with 9 Mile Station reservations OR unlimited gameplay wristbands for Skyline Park will h... [
click here for more
]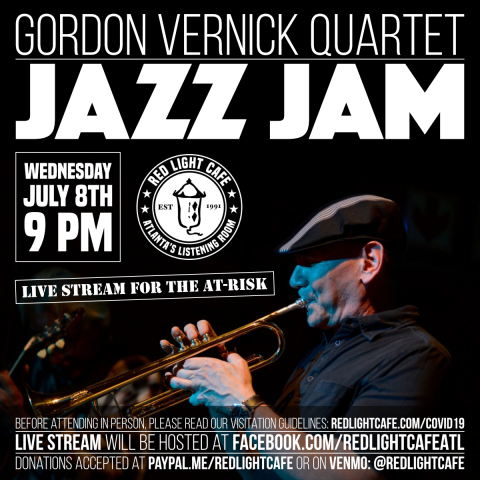 Wednesday July 8, 2020 09:00 pm EDT
Every Wednesday, the Gordon Vernick Quartet perform a few numbers then invite other musicians and singers to join them on stage for a Jazz Jam Session. Whether you're a professional or amateur musician, you're welcome to sit in — everyone who wants to perform will be given a chance to play. The ja... [
click here for more
]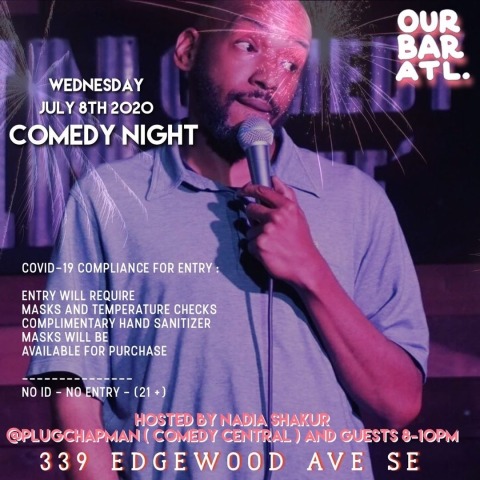 Wednesday July 8, 2020 08:00 pm EDT
Categories: Comedy
Comedy Night w/ Plug Chapman from Comedy Central & Guests!
Come to Our Bar ATL on Wednesday, July 8, for a night of fun and laughter!
Hosted by Nadia Shakur.
Masks + Temperature Checks Required for Entry. Complimentary Hand Sanitizer. Masks will be available for purchase.
... [
click here for more
]
Wednesday July 8, 2020 05:30 pm EDT
Gett ready for Episode 2 of the Georgia Enviro Show! This online series will feature a different environmental organization each week, bringing you the environmental, justice, and climate information that you need to know. This week's episode features Sierra Club Georgia Chapter and its work protect... [
click here for more
]