CL RECOMMENDS
USER SUBMITTED
Live from Woodruff Park: Beetlejuice
Wednesday October 3, 2018 06:00 pm EDT
Cost: Free
On the first four Wednesday evenings in October, a lineup of movies will be screened on the Woodruff Park lawn to get Atlantans in the Halloween spirit. All movies are free and open to the public, and attendees will be able to purchase food from food truck vendors and beverages and popcorn from a cash bar managed by neighboring restaurant 55th and Park. The October movie lineup will begin on October 3 with 1988 classic Beetlejuice. Bring your blankets, chairs, and friends to enjoy a movie under the stars! Attendees are encouraged to wear costumes to the movie screenings – prizes are in store for those with the most standout ensembles.
More information
The Other 4 Things To Do Today
Saturday January 23, 2021 07:00 pm EST
Alex Cavanaugh, a local acoustic artist, will be in the taproom Saturday at 7pm. He will be celebrating the release of his debut album with us!
Website: www.AlexCavanaugh.com PreOrder: https://distrokid.com/hyperfollow/alexcavanaugh/rise-above
[
click here for more
]
Saturday January 23, 2021 10:00 am EST
The LGBTQ+ Book Club is a group for LGBTQ+ folks and allies to read queer-themed books and books by queer authors! We aim to have diverse thought-provoking discussions about queer identity, history, and topical issues. All are welcome to join! This month's book is: Rubyfruit Jungle by Rita Mae Bro... [
click here for more
]
Saturday January 23, 2021 03:00 pm EST
The Charis Black Feminist Book Club welcomes Nikki Grimes in conversation with Susana Morris for a celebration of Grimes' young adult poetry collection, Legacy: Women Poets of the Harlem Renaissance. This all-ages event is co-hosted by the Auburn Avenue Research Library on African American Culture a... [
click here for more
]
Saturday January 23, 2021 08:00 pm EST
USER SUBMITTED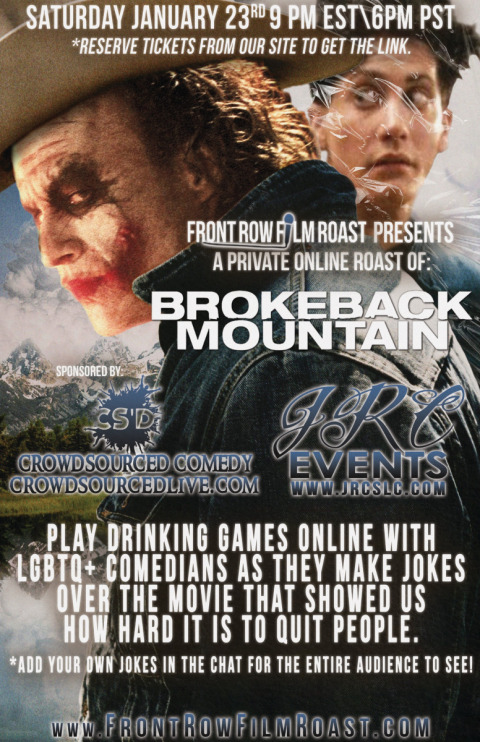 Saturday January 23, 2021 09:00 pm EST
Categories: LGBTQ+
Play drinking games with LGBTQ+ comedians as we make jokes over the movie that taught us how hard it is to quit people.
Add your own jokes in the live chat
You can be emailed the free link along with a reminder for the show when you submit for a 'ticket' here:
www.frontrowfilmro...
[
click here for more
]
USER SUBMITTED