Event Scheduled
Brigid Kemmerer With Rebecca Ross - Defend The Dawn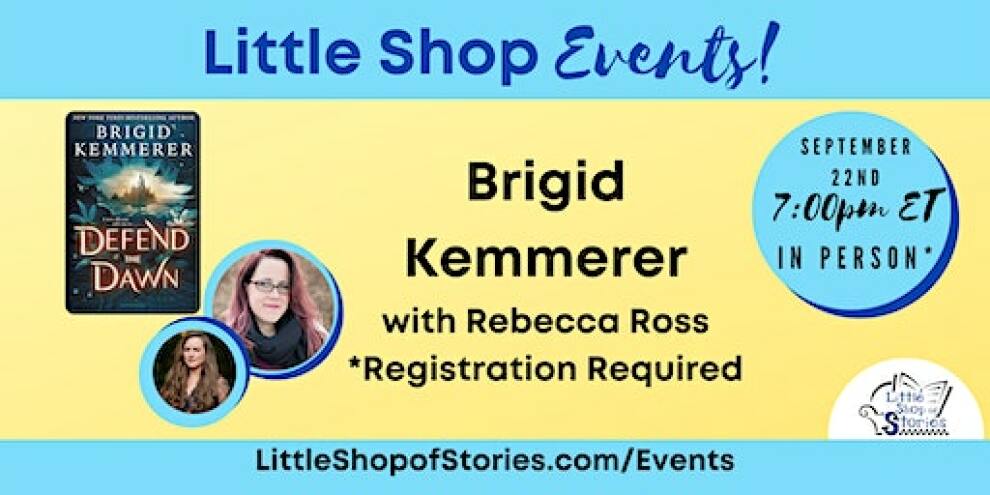 Thursday September 22, 2022 07:00 PM EDT
Cost: Free,
From the venue:
Brigid Kemmerer Discusses Her Newest YA Release: Defend the Dawn!
About this event
Alright, everybody stop what you're doing, alert the presses, and prepare yourselves for EXCITING NEWS (we don't want to be held responsible for any fainting spells or noise complaints): beloved YA author, Brigid Kemmerer, is coming to Decatur to celebrate the release of the highly anticipated sequel to Defy the Night, Defend the Dawn!!! You might recognize Brigid from the immensely popular Cursebreaker Series which BLEW UP on Tiktok, and we are absolutely thrilled about her visit. However, Brigid isn't coming alone; fellow author and Little Shop FAV Rebecca Ross will also be joining us for an evening that's sure to be filled with mystical magic, bold adventure, and of course great books. See below for all the details on how to save your spot!
Tickets:
Admission: $0 That's right, admission is free, but you still need to "purchase" a ticket for every person in your group (EX: a family of four needs four tickets)
Pre-order a copy of Defend the Dawn: $18.99 + tax You must purchase a book in order to enter the signing line!
About the book:
To save their kingdom, they must embark on a dangerous journey…
The kingdom of Kandala narrowly avoided catastrophe, but the embers of revolution still simmer. While King Harristan seeks a new way to lead, Tessa and Prince Corrick attempt to foster unity between rebels and royals.
But the consuls who control the Moonflower will not back down, and Corrick realizes he must find a new source for the lifesaving Elixir.
When an emissary from the neighboring kingdom of Ostriary arrives with an intriguing offer, Tessa and Corrick set out on an uncertain journey as they attempt to mend their own fractured relationship.
This could be their only chance to keep the peace and bring relief to the people of Kandala, but danger strikes during the journey to Ostriary, and no one is who they seemed to be. . .
About the author
Brigid Kemmerer is the is the author of the New York Times bestseller Defy the Night and the New York Times bestselling Cursebreaker series, which includes A Curse So Dark and Lonely, A Heart So Fierce and Broken, and A Vow So Bold and Deadly. She has also written the contemporary young adult romances Call It What You Want, More Than We Can Tell, and Letters to the Lost, as well as paranormal young adult stories, including the Elemental series and Thicker Than Water. A full-time writer, Brigid lives in the Baltimore area with her family. brigidkemmerer.com | @BrigidKemmerer
Rebecca Ross writes fantasy novels for teens and adults. Her titles include The Queen's Rising Duology, Sisters of Sword & Song, Dreams Lie Beneath, and A River Enchanted. She lives in the Appalachian foothills of Northeast Georgia with her husband, their lively Australian Shepherd, and an endless pile of books. When not writing, she can be found reading or in her garden, where she grows wildflowers and story ideas.
Tags
United States EventsGeorgia EventsThings to do in Decatur, GADecatur AppearancesDecatur Hobbies Appearances
Share with friends
Share on Facebook
Share on Facebook Messenger
Share on Linkedin
Share on Twitter
Share by Email
More information