Event Scheduled
Critz & Titz! A Dungeons & Dragons Improv Burlesque Show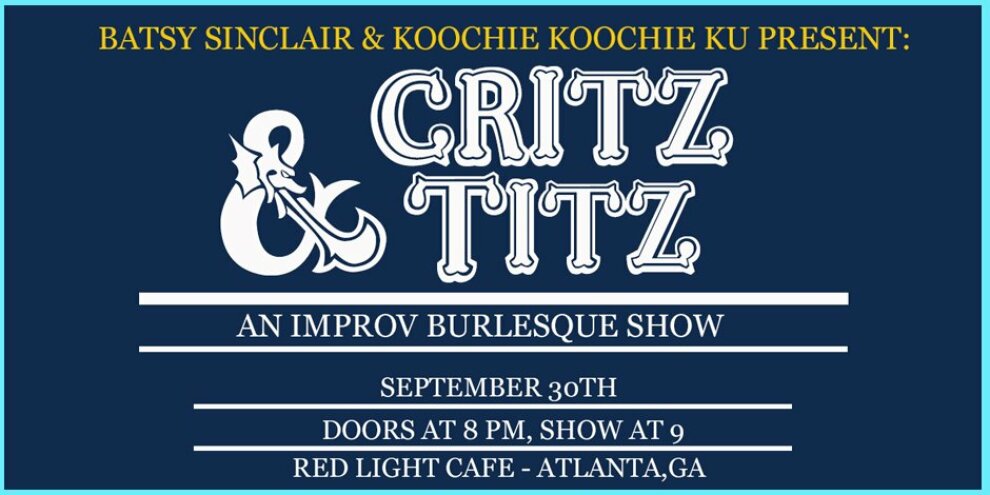 Saturday September 30, 2023 09:00 PM EDT
Cost: Check Site
From the venue:
It's time to Roll Initiative! "Critz & Titz!" The Critical Hit DND Improv Burlesque is BACK! Co-produced by Batsy Sinclair & Koochie Koochie Ku, it's gonna be an Adventuring PARTY!
Hail and Well Met all Fae & Fiends, Asimar & Tieflings, OwlBears, Bugbears and every creature in between!
There's space for all sorts of Wild Magic in our MC & DM Rolan Critz's campy campaign where all of the wizards, monsters, and various other characters on stage will roll a D20 to determine their songs and props! You never know what's going to happen!
Featuring performances from:
- Batsy Sinclair
- Koochie Koochie Ku
- Dotte Com
- Saliva Godiva
- Teq Nik
- Ivee the Amazon
- and more to be announced!
Dungeon Master:
- Rolan Critz
Stage Tabaxis:
- Vandellous
- Rainy Galore
Bring plenty of gold pieces for Adventure awaits! See y'all at the tavern!
VIP tickets are limited and include near-stage seats and gift bags.
$20 Adv / $25 Doors "¢ $35 VIP 1st Row "¢ $30 VIP 2nd Row
Doors @ 8 PM (ages 18+)
More information