Heart Hunters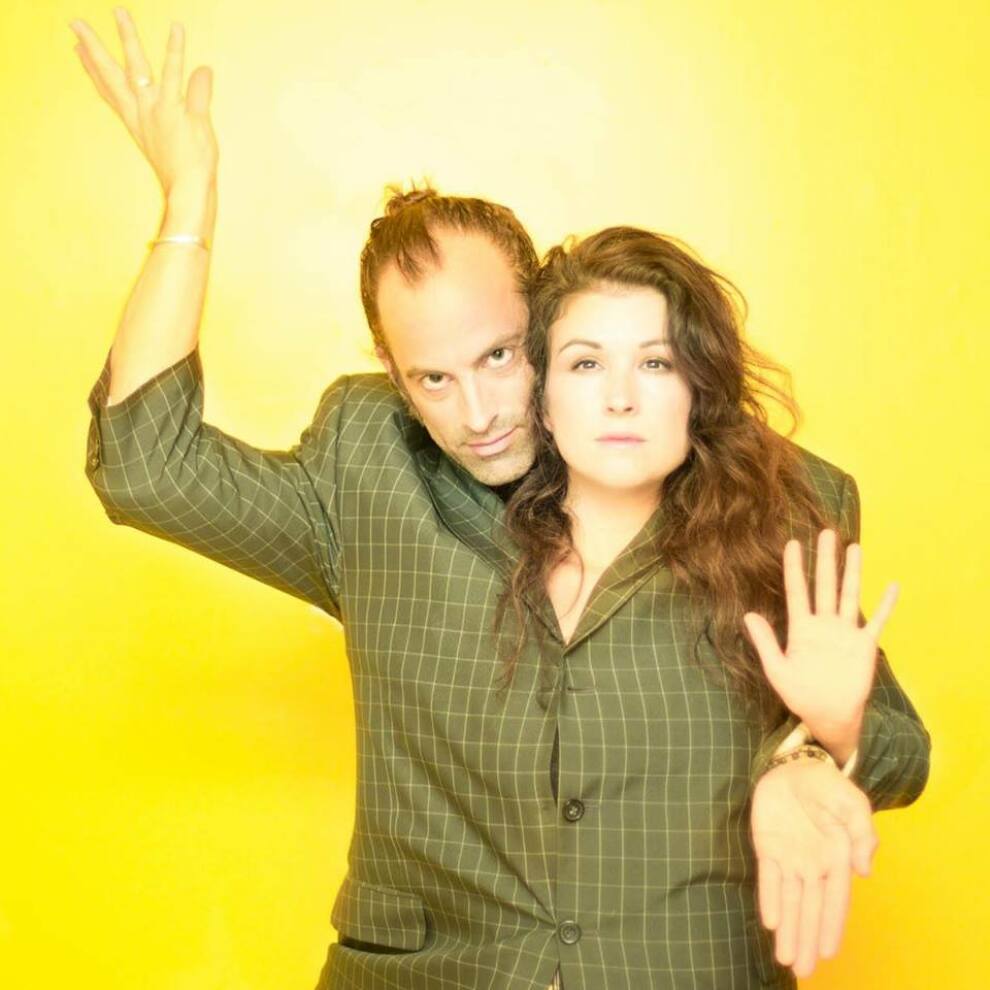 Heart Hunters' Drew de Man founded his first band, No River City, in 2001 and spent the next several years making records, touring the country and sharing bills with artists such as Iron & Wine, Calexico, and Alejandro Escovedo. After a decade away from the spotlight, his new project Heart Hunters—a duo with his wife, singer/songwriter Brianna Blackbird—builds on the moody indie/alt-country sound de Man explored with No River City, updating them for a new era with debut LP American Eclipse. The record's alternately haunting and wistful folk songs find De Man and Blackbird engaging in potent social and spiritual commentary, clinging to silver linings while wrestling with an increasingly turbulent country. But while the subject matter is often heavy, the duo's hook-laden melodicism offers all the balance the record needs
Produced by Peter Case (T-Bone Burnett, John Hiatt, Mike Campbell), American Eclipse puts Heart Hunters' gorgeously wounded harmonies front-and-center. Sonically, the record ranges from sparse acoustic ruminations to lush, complex Americana anthems, some tracks—"The Good Fight" and "Cristo" come to mind—drawing not just from the country-music tradition, but also Celtic and Eastern influences, taking cues from songs like The Beatles' "Within You Without You" and Led Zeppelin's "Kashmir."
Born of the American zeitgeist, as well as the personal experiences of Blackbird and de Man, American Eclipse is simultaneously a deeply personal and overtly political album. Opener "Normal America"—a protest song shining a harsh light on the flawed notion of the American dream—sets the tone for the record from the start, while a track like "Angels" represents a more autobiographical side of the family band, exploring parenthood from the eyes of a touring musician. But even in the album's more personal moments, Heart Hunters don't shy away from what they see as their responsibility to confront injustice. "The last verse of 'Angels' is the crux of it all," de Man says, citing lyrics that address racism, mass incarceration, homelessness and the Native American water protectors at Standing Rock. "We can't just indulge in driving around playing music—we have to recognize our platform to spread ideas and use our music to aid social movements."
"The Good Fight" offers another striking blend of the personal and political, indulging the dream of jackhammering parking lots and tearing down dilapidated strip malls and big-box stores in an effort to reclaim communities, trading the evils of suburban sprawl for vibrant gardens, carbon sinks, and dedicated green spaces. It's sort of an inversion of Joni Mitchell's "Big Yellow Taxi." "People need a place where they can recover from the suffering and alienation of urban capitalism by loving the land," Blackbird says.
She and de Man met while studying music therapy in Portland, Ore, and they soon began writing and recording together, releasing a couple EPs and their first full-length in 2015 (under the moniker Pretend Sweethearts). The duo played cafes, bars, and clubs on the West Coast, also bringing their music to homeless shelters, youth detention centers, prisons and rehab facilities along the way. Their wanderlust—and desire to find affordable housing—led them deep into South America, to a mountain village in Bolivia. While there, Blackbird and de Man had their son while immersing themselves in songwriting and Andean culture. Living beyond U.S. borders proved an enlightening experience for the couple, imbuing their eventual return Stateside with a new sense of purpose that is entwined throughout the songs of American Eclipse.
Having grown up in Georgia, the soundtrack to de Man's childhood was comprised largely of country, blues, bluegrass and Southern rock, but he was also eventually inspired by a pair of odd bedfellows—the Grateful Dead and punk rock. De Man's father—a poet with a penchant for quoting ancient mystical texts around the campfire—was also a big influence. At age 10, Drew's mother gave him his first guitar, and he hasn't stopped playing since.
Blackbird was raised in Oregon and spent many a rainy day getting lost in Celtic-folk cassettes. The daughter of a music teacher, she was raised on folk, classic rock and Beethoven, sang in several choirs and studied voice, piano and guitar. She went on to major in performance and social activism at Naropa College in Boulder, Colo., before moving to Brooklyn, where started writing songs. Two years ago, she added upright bass to her repertoire after learning some fundamentals from Joe Stevens of Coyote Grace.
Heart Hunters are currently based in the country outside of Atlanta, Ga. They make music, teach music, remodel houses, show up for marches, work as session players, and somehow still find time to raise two kids, who will be accompanying them in the family's new biodiesel-fueled van on tour in support of the new record.
Discography
Wanderlust (2013)
I'm With You (2014)
Becoming The Tender Animal (2015)
American Eclipse (2018)
Sound Files
Video
Include Your Band