Zombie Cat Builds
Zombie Cat Builds is a brick and mortar fabrication and design shop established by Molly Coffee of Zombie Cat Productions in 2014. The shop is located in The Met in the Historic West End of Atlanta. Zombie Cat Builds specializes in puppets and creatures, mascots and specialty props, full scale installations and award winning design. That spirit that drew Molly to the film and television industry and fabrication in the first place has brought together some of Atlanta's most talented builders under one roof to excitedly tackle projects.
Sunday February 12, 2023 01:00 PM EST
Categories: Workshop
The ancient art of ventriloquism: revered and feared, mystical and misunderstood, fantastical and fanatical, insert another clever alliteration here.
You will learn the proper techniques from a skilled performer, up close and personal. You will get personalized feedback and inst... [
click here for more
]
USER SUBMITTED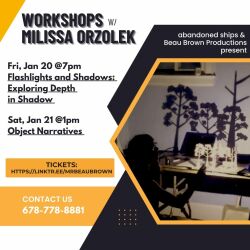 Saturday January 21, 2023 01:00 PM EST
Categories: Workshop, Theatre, Puppetry, Puppets, Class, Delve into the world of object theatre through a series of games and exercises geared to help us understand the stories that are hidden away in everyday objects. We will learn how to work collaboratively to develop impromptu storylines as well... [
click here for more
]
USER SUBMITTED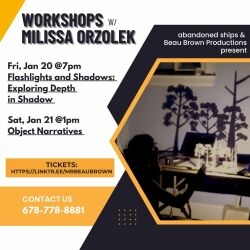 Friday January 20, 2023 07:00 PM EST
Categories: Workshop, Theatre, Shadows, Puppetry, Puppets, Class, Come explore how flashlights can transform shadow puppetry into a more cinematic experience. We'll play with depth, fades, focus and technique. Bring your favorite single point LED flashlight and shadow puppets. We will also have mate... [
click here for more
]
USER SUBMITTED
675 Metropolitan Pkwy SW
Atlanta
,
GA
30310
(404)539-5687
zombiecatbuilds.com
Design Services, Entertainment Business