Fl
This Midtown spa offers your typical relaxation experiences including massages and facials, but none is as calming or surreal as a flöt in one of the two saltwater-filled pods. Located in private rooms, each of these giant white Dutch-clog-like contraptions is filled with 12 inches of water and 300 pounds of Epsom salt. The highly salinized water allows you to float effortlessly, simulating a zero-gravity experience that opens up your back and relieves the pressure on your body and mind.
Saturday March 12, 2022 12:00 AM EST
Categories: Market
Come enjoy an open air market and shop with over 60 small businesses and artisans! There will be amazing food, drinks, music, fresh flowers, henna, and more! There something something for everyone, including your paths! Everyone is welcome here, and we can't wait to see you!
Free ... [
click here for more
]
USER SUBMITTED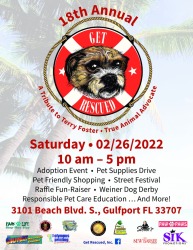 Saturday February 26, 2022 10:00 AM EST
Categories: Animal Rescue Once again, Gulfport goes to the dogs, kitties, skunks and other feathered and furry love-bugs on Saturday, February 26, 2022, from 10 AM – 5 PM. We're not kitten around! This paw-some event has helped hound-reds of homeless animals find their ulti-mutt fur-ever homes for 1... [
click here for more
]
USER SUBMITTED