SCREEN TIME: Boots Riley's 'Sorry to Bother You' offers head-spinning satire of 21st century life
GOT YOU ON THE LINE: Lakeith Stanfield calls in as Cassius "Cash" Green in 'Sorry to Bother You,' directed by Boots Riley.
 The surreal Sorry to Bother You demonstrates that it's better to be a movie with too many ideas than too few. Just some of the themes tackled by writer/director/rapper Boots Riley include income inequality, racial code-switching, political activism, viral fame, and other hot-button issues.
Atlanta co-star Lakeith Stanfield stars as Cassius, a.k.a. Cash, a broke young man who takes a lousy telemarketing job to make ends meet. He struggles until an old-timer (Danny Glover) advises him to speak in a relaxed, privileged "white voice," which in Cash's case is dubbed (with deliberate obviousness) by David Cross of Arrested Development.

In his feature film debut, Riley emulates Eternal Sunshine of the Spotless Mind director Michel Gondry's fondness for dream imagery and practical effects: When Cash makes his calls, his workstation physically drops into the same room as his recipients, whether they're in the kitchen or on the toilet. Cash's success draws the attention of a cokehead zillionaire (Armie Hammer) whose corporation WorryFree puts an upbeat spin on legalized slavery.
But Cash's climb up the corporate ladder dismays his colleagues (including Steven Yeun as a union organizer) and his girlfriend Detroit (Tessa Thompson), a sign-twirler and performance artist. Stanfield and Thompson have great chemistry, but as a morality play about Cash's temptations to sell out, the script tends to send them in circles.

Sorry to Bother You fits in a tradition of low-budget, idealistic films from the hippie-era '60s and the late '80s (Robert Townsend's Hollywood Shuffle comes to mind), which try to use raw energy to compensate for limited finesse or financial resources. Sorry to Bother You mostly overcomes cheap-looking, poorly lit visuals with its dedicated performers, imaginative jokes, and frequent surprises, including possibly the single weirdest third-act twist I've ever seen in a film.
Riley's greatest strength may be an ability to articulate a specific kind of millennial anger, living at a time with seemingly narrowing economic opportunities and proliferating media distractions. Sorry to Bother You proves a little too strange and scattershot to be satisfying, but Riley is definitely more interested in provoking his audience than pacifying it. After all, it's called Sorry to Bother You, not Happy to Comfort You.

Sorry to Bother You. ★★★☆☆ Stars Lakeith Stanfield, Tessa Thompson. Written and directed by Boots Riley. Rated R. Opens July 6. At area theatres.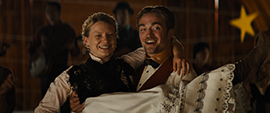 Go West The Western genre never seems ready to ride off into the sunset. A mainstay of American culture in the mid-20th century, it's decidedly out of the mainstream now, as shown by such commercial flops as The Lone Ranger, Jonah Hex and Cowboys and Aliens. But it's also proved capable of generating surprise hits: By far the most financially successful films of the Coen Brothers and Quentin Tarantino were, respectively, the True Grit remake and Django Unchained (although much of the latter took place in the South).

Outside of HBO's Westworld, Hollywood seldom focuses on the genre, giving independent filmmakers a chance to slip in and break new ground in old territory. The eloquent, ultraviolent Bone Tomahawk was a recent knockout, and Mohawk, debuting on Netflix on June 30, promises a comparable blend of horror and Western. Now, Damsel, (opening on June 29 at Midtown Art Cinema) makes an extremely strong first impression before becoming something of a one-trick pony.

Robert Pattinson, having put aside his shiny vampire signature role from the Twilight films, gives an endearingly goofball performance as Samuel Alabaster, a city slicker seeking his fiancée in the remote West. He hires a suspiciously incompetent parson (co-director David Zellner) and brings a miniature horse named Butterscotch as a wedding gift. Damsel's first half has an extremely confident sense of deadpan humor and eye for sight gags, oddly reminiscent of the animated Western Rango.

Mia Wasikowska of Tim Burton's Alice in Wonderland films plays Samuel's intended, Penelope, but contrary to the title, she's not remotely a damsel in distress. Without spoiling any more, Damsel turns Western notions of male heroism and female submissiveness upside down in a way that feels very timely during the #MeToo movement. Wasikowska gives a fiery performance as a capable woman uninterested in catering to male expectations.

Damsel kind of peaks at the halfway mark and tends to cover well-trodden ground in its less funny latter section. Accomplished writer/director brothers David and Nathan Zellner cast themselves in important roles, and prove adequate but unequal to the rest of the acting, which includes excellent appearances from Robert Forster and late Native American actor Joseph Billingiere.

Still, if you fondly remember the "Little Sebastian" jokes from the sitcom Parks and Recreation, Damsel should amuse you while proving that there's life in the old genre yet.

Damsel. ★★★☆☆ Stars Mia Wasikowska, Robert Pattinson. Written and directed by David and Nathan Zellner. Rated R. Opens June 29. At Midtown Art Cinema.
Coming Attractions: The ninth annual Atlanta Shortsfest brings scores of short subjects to Synchronicity Theatre from July 6-7. Programs include animation, LGBTQ, documentary, drama, comedy, horror-comedy, and local shorts. For more information see atlantashortsfest.com.
When the locally-filmed Ant-Man and the Wasp opens on July 6, local theater fans should look out for actress/playwright Suehyla El-Attar, who has several lines and is in multiple scenes as an FBI agent keeping tabs on Paul Rudd's Ant-Man."
Screen Time is a monthly column about film and cinematic narratives, from the big screen to streaming services.
---