Hail to the original brewer
Dames and Dregs Beer Festival celebrates women in brewing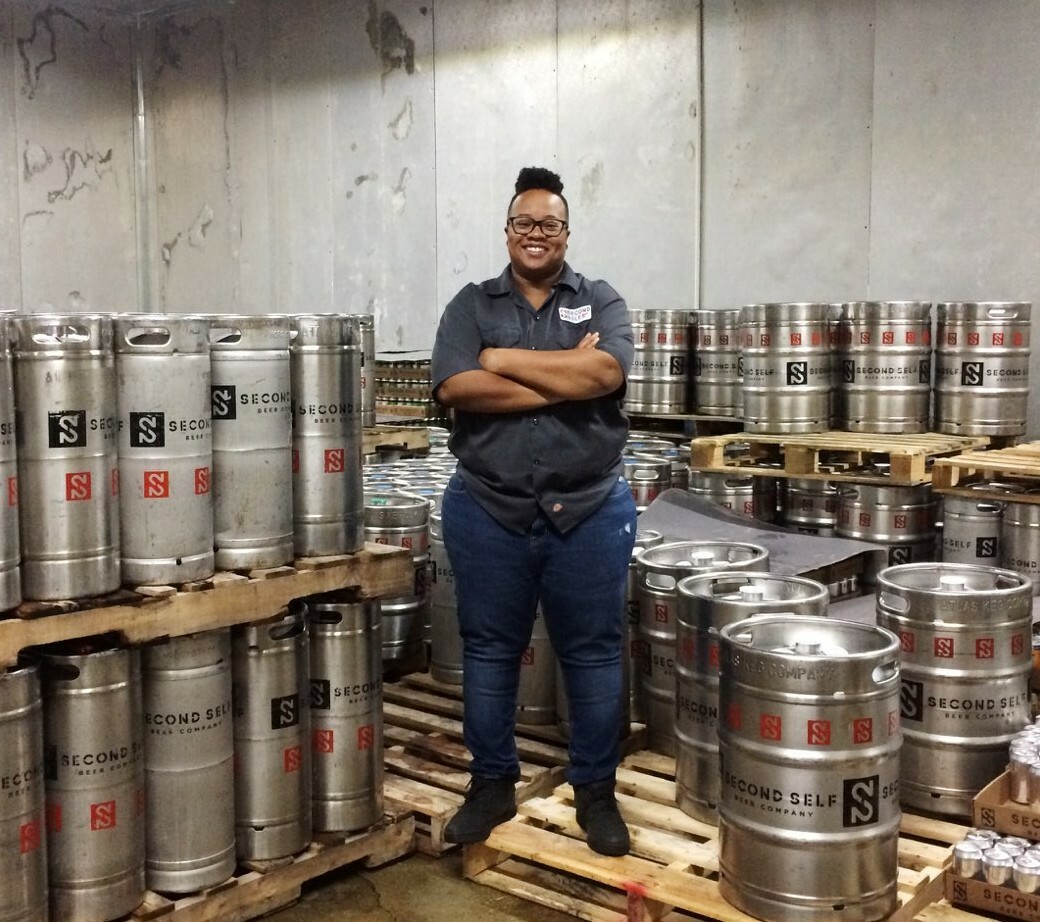 FEMININE TOUCH: Zuri Coleman of Second Self Beer Company maintains quality in every batch she lays her hands on.
It's not hard to spot the classic craft beer brewer: Caucasian, chiseled features, dark-rimmed glasses and a scruffy beard. Red-checkered flannel sleeves rolled up to reveal geometric tattoos on his burly forearms. Lugging not one, but two oversized sacks of dank hops into the boiling batch of his next Double IPA. Although beer drinkers have grown accustomed to this familiar sight, it belies the historically feminine origin of the craft. And as more women and people of color are returning to the modern brewery, the craft beer industry continues to grow and diversify.  
Showcasing the hard work and talent of women in the brewing industry, the inaugural Dames and Dregs Beer Festival takes place on August 11, co-hosted by the Masquerade and Underground Atlanta. Luis Martinez, the festival's founder and visionary, was formerly the tasting room manager at Orpheus Brewing, where he developed a respect for the curiosity and passion of female beer enthusiasts.
"Historically, women were the original brewers," Martinez says. "Men gathered the raw materials and women brewed the beer. Women are a true force — locally and globally — and this festival is about providing a supportive environment for their contributions to the beer industry."
Dames and Dregs Beer Festival will span all three Masquerade stages and Kenny's Alley, showcasing craft beer and cider from more than 35 local and national breweries and three female-owned breweries in Mexico City. Female brewers and employees from local breweries have teamed up to brew special collaborative one-offs just for the festival.

Support groups for women and other nonprofits are tabling the festival, including International Women's House, an Atlanta-based supportive service for victims of domestic abuse and human trafficking, to which a portion of the ticket sales will be donated. There will also be panel speakers on female entrepreneurship, business, and the brewing industry, as well as arts and craft vendors from female-owned businesses.
After working her way up from cleaning kegs and pouring beer in the tasting room, Second Self Beer Company's Zuri Coleman has brewed professionally for three and half years.  She is a brewer in practice and on paper, holding a certificate in Intensive Brewing Science and Engineering from the American Brewer's guild, and an outspoken advocate for women in the brewing industry. She actively works to establish a Georgia chapter of the international nonprofit Pink Boots Society, which supports and encourages women in the beer industry, and was one of the first guests on Atlanta-based Bitch Beer Podcast. She'll be at the Dames and Dregs festival to promote Second Self's beer, especially her brainchild, Margarita In Gose.
There's a reason most brewers tend to be burly, hairy men whose rugged appearance might seem more suited for the job. Brewing is physically demanding work, and requires constant heavy lifting in harsh temperatures. "I will flat out say this is not a job for everyone, but it just takes the right people," Coleman says. "That can be a man or a woman — it just depends on what you're willing to do."
As one of the increasing number of female brewers in Atlanta, Coleman worked hard to prove herself. Like many female beer drinkers, she still has to fight stereotypes in the male-dominated industry. "I've had a bartender bring my male friend a full pint of a beer that I recommended to him, and then bring me a sample because they didn't think I would like it," Coleman says. "Most of the time they expect me to order wine or some kind of fruity cocktail. It might feel like a waste of energy sometimes, but I think it's important for women to stand up for themselves and drink what they want to drink."
The practice of "gendering" beverages as a marketing strategy extends to those burly hopheads who might lose their beard privileges for bringing a "girly" cider to the party. Because cider is sweeter and fruitier than beer, it's assumed that women favor it, though Urban Tree Cidery's co-owner and master cider maker Maria Resuta says they get all types in their tasting room, including men. "We could talk about the psychological strategy of marketing to females all day. I think women are so much more complex today," Resuta says. "Women's palates are not defined by sweet, and I've seen so many women who look for hoppy and dry in their drinks."
Resuta's sister and assistant cider maker Jackie Waice agrees that "Chicks do go toward the sweeter stuff." But in contrast to the sweeter American ciders, Urban Tree's are based on English dry ciders, which are quite popular among men across the pond. Waice herself is a hophead, preferring Urban Tree's bitter Das Hopps. "Out of our tasting room, our Classic is the sweetest cider that we make," Waice says. "We call it a 'semi-sweet' because of the sugar content in it compared to American ciders. Women drink that like it's water." The Urban Tree Cidery team will be serving their new Rosé cider at the festival, in addition to their staples.

The sisters say that colleagues in the brewing industry have welcomed them since Urban Tree opened in 2016, and that it has nothing to do with gender. "I don't view the fact that I'm a female as a negative or a deterrent by any means," Waice says. "The brewing community has been very gracious to us, very receptive. If we needed help setting up something they came over, not a problem."
After Maria's husband and co-owner Tim Resuta minimized his shares in the business last year, Urban Tree Cidery became majority female-led, with Waice and Resuta leading the charge and running the daily operations. Now with two strong women at the helm, Resuta says the business can only grow in the future. "With the culture right now and everyone's so focused on females, I think that our voices are being heard a lot more."
Women, men, and everyone in between are welcome to share a brew together at Dames and Dregs festival. Just remember to raise a glass to the original brewer.
Sam Holt contributed to this article.
$25-$45. 1-10 p.m. Sat., Aug. 11. The Masquerade, 75 Martin Luther King Jr. Dr. S.W., Atlanta. 404-577-8178. www.damesanddregs.com.__
---