GRAZING: Authenticity Redux
Is it real — or is it tempered for tastebuds outside the native land?
This month I'm feeling annoyed by "authenticity." I mentioned last month that Roxana and Octavio Aguirre, the owners of the defunct El Mexicano, have opened a new restaurant, Patria Cocina, in the Beacon Atlanta complex in Grant Park. Its outdoor sign advertises "authentic Mexican dining," which brings up all kinds of questions in our border-crossing global culture.  
Before we go there, let's set the stage. Yelp reviewers have been complaining about increased costs at the restaurant, which is predictable whenever owners of a so-called ethnic (um, "authentic") restaurant aspire to offer more than street food in a dive. That said, the move is indeed a huge step up in terms of location and appearance. While El Mexicano occupied a squat building on a somewhat seedy stretch of Moreland Avenue, the Beacon puts the new restaurant on the Beltline in a nine-acre development that includes six former warehouses with 51 commercial tenants, most of whom are just settling in. Besides accessing the Beltline, visitors can gaze at a meadow where the Atlanta Police Department's real-life horses happily graze with no memory of 40 years ago when their parents lived in Piedmont Park and chased people having sex in the woods into police vans. Now, everyone lives in harmony. There's even a meditation studio, Shambhala, at the Beacon.
Patria Cocina occupies a surprisingly large space in the new development. The dimensions are, as usual in warehouse re-do's, largely vertical, so seating is sparse enough that you might want to make a reservation. Consider, too, the large patio if you can bear the sub-tropical weather. The interior floors and tables are dark glossy wood,  and the walls are alternately dark and white, and flasheswith pops of Trumpian orange pop here and there. (I have yet to find – — gracias a Dios — — a piñata or Day of the Dead skeleton.) There's a roomy bar with a black-and-white mosaic. Be warned: if If you're mainly wanting one of the restaurant's popular margaritas, call ahead. At this writing, they did not have their liquor license.. 
Now, about that big sign out front. The word "authentic" has become virtually meaningless (despite the Donald's impending efforts to outlaw all but our white forefathers' cooking). Patria poses the usual question: Is Tex-Mex authentic Mexican? No, it really isn't, but it's been around for a century and it is a cuisine unto itself at this point, the same way Italian-American is. Personally, after eating the supposedly best of Tex-Mex in Houston for two years, I still dislike its typically heavy-handed flavor of commercial "chili powder" stirred into the kind of grease that Draino can't flush from your digestive system. But not every Tex-Mexxer cooks that way. So, all of that noted, I'd say Patria Cocina is authentically Mexican and, with its deftly cooked fajitas and nachos, it's also authentically Tex-Mex.  
Generally, I don't sweat this anymore. If it tastes good, bring it on, and my two meals at Patria Cocina have pleased me as much as my earlier meals at El Mexicano. I head straight to the street tacos at lunchtime. Here's some advice.
If you want good tacos, skip the $8.99 lunch special, which gives you two tacos with unappetizing ground beef or chicken, plus the inevitable rice and beans. Instead, order àa la carte and get three actual Mexican tacos for $9. I've done the restaurant's carnitas and al pastor and both are much better than the average around town, even though the al pastor is not cooked on the traditional rotisserie, bathed in the juice of a roasting pineapple under a constant bath of a roasting pineapple's juice. I do share some of other people's irritation about costs, which can rise substantially for little reason. The tacos come on a single corn tortilla instead of a double and can get messy. If you upgrade to flour, you have to add 75 cents. That's a lot for some flour. There's more. I don't know why, but most gringos aren't content with just the authentic meat, the tomatillo salsa, the cilantro, and onions. They Tex-Mexically want to ruin their tacos with lettuce, tomato, shredded cheese, and sour cream. That will cost you an extra dollar. In other words, the $3 taco increases to $4.75. That sucks. Burritos and enchiladas, a salad, a chicken sandwich, and huevos rancheros (which would be my second choice) are also available as $8.99 lunch specials, and they're also on the dinner menu.

Start your meal with house-made chips and salsa. No, they're not free. You can spend $9 for a trio of salsas or $3.50 for one. Splurge. If you don't, then order the charred tomato or the roasted tomatillo. These are clearly not poured from a bottle. They are smoky, tangy, thick, fresh, and quite mild. There's also a salsa fresca made with diced pineapple that is overwhelmed by onion. I also like their grilled corn on the cob with cotija cheese, lime, and a mild chile seasoning. 
The kitchen prepares a soup every day. During my Sunday dinnertime visit, it was chicken pozole with a nearly clear broth and very little hominy. I was turned off by the pile of dry-looking chunks of chicken, but ended up finding it quite juicy. The usual authentic condiments – — radishes, cilantro, tomato, and something like a very thick tostada – — were on the side.  Personally, I much prefer a red, pork-based pozole with lots of hominy and some straightforward heat, but "spicy" is not an adjective much in use at Patria Cocina.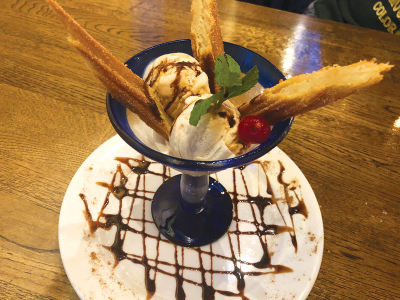 The dinner menu includes my two favorite dishes from El Mexicano – — a chicken breast in a rich mole negro sauce and roasted pork in a tomatillo sauce. This visit, I ordered a special of short ribs in a red sauce. It looked to me like a chile verde sauce, but my server swore it was red. Whatever, it was savory enough, but I was sorry to find the meat oddly dry and tough. My friend ordered the carnitas plate, and it was a huge shock. I've complained for 30 years that I can't find "authentic" carnitas in Atlanta. By that I mean pork that has been braised forever, then subjected to high heat to caramelize it. It's this last step that nearly every restaurant ignores. Patria Cocina does it right. You get a huge chunk of juicy pork with a guaranteed crispy exterior. You pull the meat and roll it into tortillas with grilled peppers and onions anointed with one of the salsas, delving into the rice and beans now and then. Our server confirmed that the kitchen takes time to basically fry the braised pork before serving it. It's not exactly the classic way of preparing carnitas, but it works perfectly. 

Patria Cocina offers plenty of seafood and vegetarian alternatives. (I'm scared of the authentic veggie fajitas.) Desserts are down-home fancy. We ordered the churros with ice cream – — a rococo version with three crispy spears in a goblet with the first maraschino cherry I've seen in years. The glass was sitting on a plate etched with a chocolate lattice. Sugar!
MEANWHILE: I recently visited the Spindle in the Studioplex. Kind of weirdly, the Spindle's front room is a bicycle shop but the rear is where Asha Gomez's Spice to Table lived and quickly died a few years back. Now, the space vends coffee, beer, and Tinkertown Pies' pastries. But it also hosts pop-ups with chefs like Marciela Maricela Vega of Chicomecóatl. She serves lunch there two weeks a month. I was anxious to try out her cooking after reading about her in Atlanta Magazine.  "I want to create food spaces where there is a deliciously beautiful, living interpretation of modern Mexican cuisine," she told critic Jennifer Zyman. In other words, she's "authentically" morphing the classics of her own heritage. 
I was mainly impressed by my impromptu lunch there with a friend. The menu offered only three options: a beef empanada, a veggie one, and a soup that featured molokhia, the bitter Middle Eastern, bitter super-green I've actually never tasted. Unfortunately, we only got to sample the fat, crumbly brisket empanada, which I thought was fantastica but very unattractively plated, with a scattered serving of fried rice topped with skinny Shishito shishito peppers and way too many undercooked onions for my taste. The menu said okra was present but we never found more than the seeds. We looked and looked, as did our server at the bar. Nonetheless, I do want to try one of her Vega's multi-course dinners around town. Check out her website (chicomecoatl.com). She is obviously a brilliant advocate [for what? local food?] and culinary artist….
At this writing we are about halfway through the annual harvest of Hatch green chiles. Every year, Taqueria del Sol features a Hatch version of chiles rellenos on its evening menu. Last year I ate about 50, literally. What makes them so good? Chef Eddie Hernandez concocts a panko coating rather than the typical egg batter used to fry the less hearty poblano peppers. The panko adds a substantial crunch that highlights the Hatch chiles' crisp density and the creamy interior cheese (from Land o' Lakes!). As with most chiles, you never know if a Hatch, which has a sweet note, is going to be hot or mild.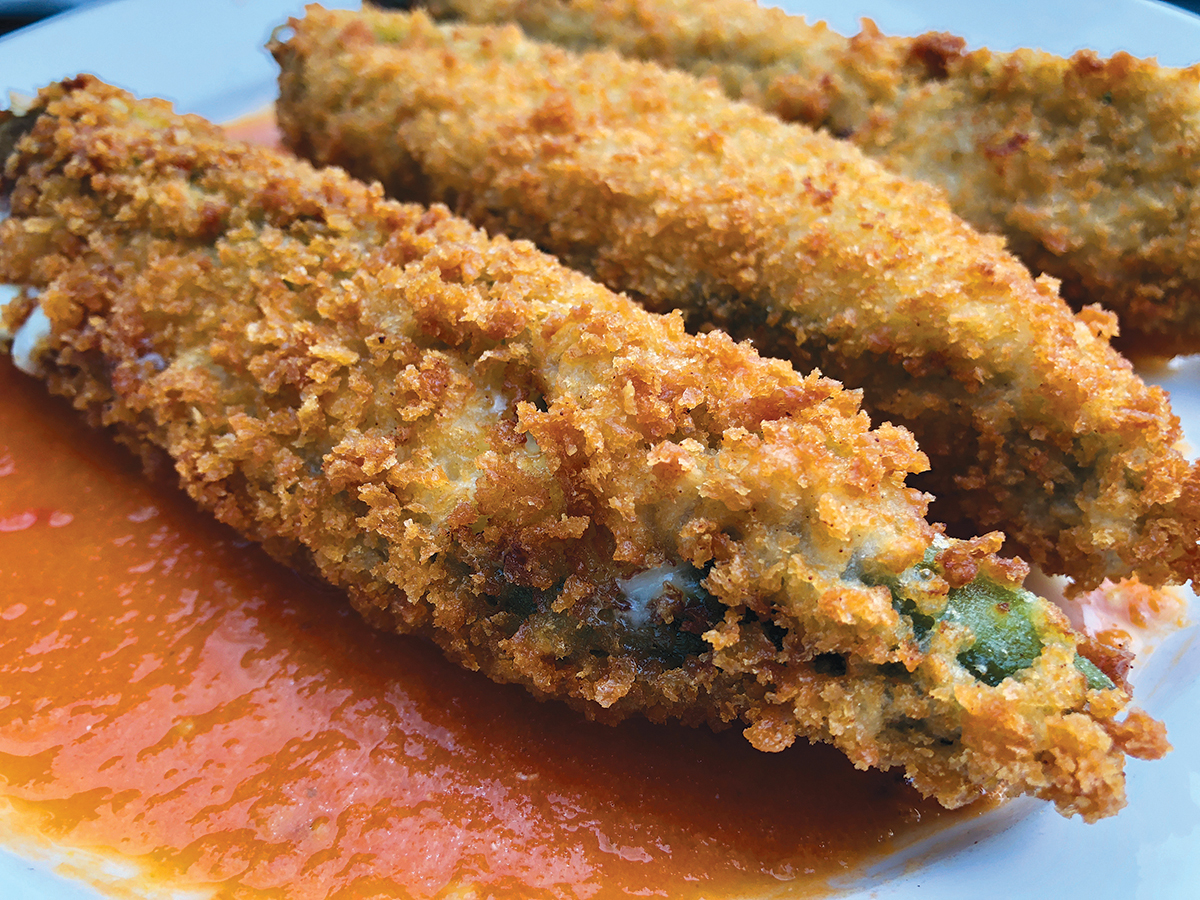 Hernandez has, by the way, authored a cookbook with Susan Puckett, the longtime former food editor at the Atlanta Journal-Constitution. Its title, "Turnip Greens and Tortillas," summarizes Hernandez's famous marriage of Mexican, Texan, and Southern cooking. Face it. Obviously, authenticity is strictly personal style. Culturally speaking, it has become a myth.
---