GRAZING: When ayahuasca is poison, a mulita will blow your mind (or something)
Taqueria el Tesoro — a new Edgewood 'treasure'
I've been wanting for a long time to get down to Mexico to dunk my head in a big bowl of life-changing ayahuasca brewed by a real-life shaman. Unfortunately, those of us who take certain antidepressants cannot safely sip the psychedelic Kool-Aid because a chemical interaction might blow our brains up. This is a demonic paradox. It is the depressed who most deserve to find cheerful enlightenment in the jungle. Reasonably happy people should just be content power-walking the BeltLine on the way to Sunday school.
Happily, and I use the word without irony, there is a democratic alternative to ayahuasca. I'm talking about really good Mexican taqueria-style food. The chile-spiked salsas give your entire body a buzz. Maybe you even deliriously hallucinate, hearing Ritchie Valens singing "La Bamba" in your ear. If you eat enough you might throw up, just like the ayahuasca tourists do. So chin up, my fellow sad sacks. I urge you to binge, purge, and be of good cheer at Taqueria el Tesoro, a new joint in the Edgewood district whose food might blow your mind even though the ambiance befits the down-and-out.

And I do love the ambiance. Tesoro, which means "treasure," is studiously seedy, with yellow-gold walls, cheap kinda-wood tables and rough, unfinished pine chairs. The floor looks like worn-out linoleum impersonating worn-out ceramic tile. Here and there are examples of mid-century American kitsch and a smattering of Mexican clichés such as a painted skull, a prayer candle, and a big blue sombrero (minus, gracias a dios, any hint of a mariachi band). My favorite piece is a portrait of Jesus. It's one of those glorious 3-D, or lenticular, renderings whose content totally changes, depending on the angle from which you view it. Here, Jesus turns into Mother Mary and back into Jesus again. You just can't beat a restaurant whose décor so clearly illustrates our lord and savior's Oedipus complex and androgynous dilemma.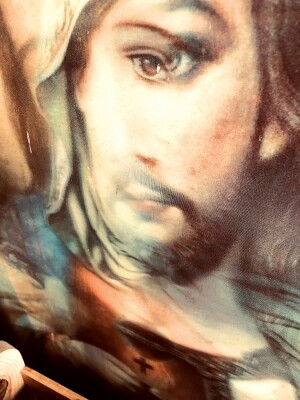 The bad news is that there are only 16 of those pine chairs I mentioned. That's the total seating capacity in the 950-square-foot building that seems like it's in the middle of nowhere, but is barely a block from Memorial Drive. Honestly, though, I've had no difficulty getting a table during three visits. That's in large part because, as expected, a majority of people are ordering takeout — not surprising since Tesoro is only open for breakfast and lunch, 7 a.m.-2:30 p.m. daily. Owners Alan Raines and Darryl Howard say they will eventually expand the restaurant to include a walk-up bar, lots of patio space, a fountain, and a playground for children. It's ambitious, but Raines has a solid background in the industry. In fact, he operated an ancestor of the new restaurant, called Cantina el Tesoro, from 2008 to 2010 in the Decatur house that became Kevin Gillespie's Revival.

What's to eat? First, know that one thing that's fueling the drive-by breakfasters is the large menu of well-prepared coffee drinks, including everyone's au courant favorite, the cortado. There's no competition in the immediate area, even with the commercial reformation creeping toward it. The drinks are made with Counter Culture coffee — not quite as trendy as ayahuasca, but a safe substitute if you're headed to work. The breakfast menu, like the lunch menu (which is available after 11 a.m.), is divided into tacos and burritos. These are composed by the kitchen, with additions available. 
I was excited to see migas on the menu. Don't hate on me. I know it's a Tex-Mex dish, not "authentic" Mexican. I got totally addicted to migas during my years in Houston. Every morning, on the way to the magazine I edited, I'd stop at a taqueria and frequently get a migas burrito — creamy scrambled eggs tossed with lots of crunchy strips of fried tortillas, soft cheese, bits of chile, and salsa verde. Tesoro's migas include a lot of esquites — corn kernels scraped from a grilled cob (elote). In Mexico, the corn is usually mixed with spicy mayo and cheese. The version on the taco I ordered at Tesoro was oddly dry. I preferred the other taco I ordered — spicy/funky, roughly-ground chorizo with scrambled eggs, potatoes, and cotija cheese. A vegan stranger sitting at a nearby table offered me a taste of an alternative — soy chorizo. Gracias, chica, but I'd rather be set on fire. Most all tacos and burritos here are doused with onions, either in pico de gallo or straight up. I avoid raw onions, and the kitchen accommodated my fussy GI system.
I've had two lunches at Tesoro, and I insist you not go here without ordering a mulita. I've only had one of these before and it was at a taqueria in Los Angeles whose most famous customer was Julia Child. A mulita conceptually resembles a quesadilla. It's two large corn tortillas sandwiched with cheese, meat, and rajas (strips of roasted poblano chiles). Cheese also coats the outer sides of the tortillas. The mulita is thrown on the grill and flipped, so that the exterior cheese melts into a slightly crispy red char that heightens the fluffy factor of the thick tortillas. Then it's drizzled with crema. At Tesoro, you pick your meat for any dish. I ordered my mulita with tinga de pollo — chipotle-seasoned pulled chicken. You can also order pork in salsa verde, the chorizo with potatoes, or a daily special like barbacoa or carne asada. Conspicuously missing are al pastor and carnitas. That's my main disappointment here, but both are labor-intensive to do right. There's also a vegetarian option — the Frontera — which combines rajas, esquites, mushrooms, and squash. It's spicy, crispy, creamy, and, honestly, ranks close to the top of my favorites. Do get a Frontera taco (with an eco-friendly corn tortilla too complicated to explain here). 
I've only sampled one burrito. It was filled with the day's barbacoa, refried black beans, rice, cheese, and cilantro. (I know. You were born with the gene that makes cilantro taste like burro feces; just ask for it to be withheld.) My burrito was made with a white flour tortilla, but wheat is available. It was set briefly on the grill before serving. I have to say I prefer the tacos over the burritos, which I found a little heavy-handed. 
You also want to try the tamales, masa-made fatties steamed in corn husks with the filling of your choice. I've done both the puerco verde and the Frontera. I actually preferred the latter because I found the pork a bit dry (although that was easily remedied by the addition of the restaurant's arbol verde salsa. (It's labeled "spicy!!!" but I'd only give it one exclamation mark.) Two mild salsas are also available; one is guacamole-based and the other, my preference, features roasted tomatoes.
Tesosoro also serves a daily soup special. I've tried two and they've been fantastico. Both were classics served in gigantic bowls — pozole and frijoles charros. Tesoro's pozole has a clear chicken broth rather than the usual chile-spiked red broth around town. But don't think that means it doesn't have great depth of flavor, including spiciness. I'd like a bit more hominy in the bowl, but the huge chunks of pork were adequate compensation. Unfortunately, the soup isn't served with garnishes, so you should certainly order a side of avocados. The charros were ridiculously rich and fatty and probably too large a portion on their own. Order a giant bowl for takeout and divide it with your mate to swill with tacos. Both soups were garnished with crispy chicharrones. I want a taco made with them. If you need still more crunch, order the fried crickets. (Yes, really.)
Desserts are limited to pastries, including the usual gigantic sugar cookies coated in lividly colored sprinkles. There are also marranitos, little pig-shaped ginger cookies, and house-made, freshly fried churros, about the size of French-fries and perfect for dunking into a double shot of espresso.

El Tesoro is not perfect, but it is certainly lovable. It's counter service only, of course and if the staff can't answer your questions, the tiny kitchen's window is close enough to the register that you can badger the chef. Please ask him when the special of al pastor con sopa de ayahuasca will be available. 
Taqueria el Tesoro, 1374 Arkwright Place S.E., 470-440-5502, eltesoroatl.com
Here and there: At the behest of friends, I've had some unexpectedly good meals recently. I frequently eat at Grant Central Pizza (451 Cherokee Ave. S.E.) because it's two blocks from home and makes some great specials, notably Wednesday night's chicken piccata. I recently broke my habit and dined at its across-the-street neighbor, Dakota Blue (454 Cherokee Ave. S.E.), where the evening's soup special was a stunningly good African peanut soup. The restaurant also makes perfectly cooked burgers with a ton of toppings available. (I like the fire-roasted poblanos, aka rajas.) … Who knew Mediterranean Grill (985 Monroe Drive N.E.) serves a lamb shank that is actually good? It's a moderate $14, which seems expensive to me, because my mother used to feed them to me the way you feed a dog scrap meat. Then the Colonnade served them for $7 for years. Now they're often quite expensive, so $14 is a bargain …. I love puttanesca sauce. In fact, Grant Central makes a good one. Recently, I lunched at Storico Fresca (3167 Peachtree Road N.E. Suite S) in Buckhead and ordered their puttanesca with tuna and rigatoni pasta. I assumed it would be the usual spicy tomato sauce seasoned with ground anchovies and capers but served with — what? — a tuna filet. Instead, the tuna was in the form of a high-class canned variety, apparently serving the same purpose as the anchovies. I did research and found there is nothing unusual about it, but I do prefer the anchovy variety. The restaurant/market sells perfectly made fresh pasta, by the way. While there, try the infamous burnt ricotta pie.
---