Fall Arts Preview 2019: Classical Music
Symphonic, Choral, Chamber Music (Classical & Contemporary), Opera
SIDEBAR: Choral Singing and Community
It isn't just the music of dead white guys wearing wigs anymore. Far from it: "Classical music" in the 21st century is enjoying widespread popularity as well as growth in terms of diversity, inclusiveness, and eclecticism. While broad acknowledgment exists among those at the forefront of this transformative shift that more progress is needed before aspirational goals align with reality, classical music has never ceased evolving in accordance with the times.
The reality is that classical music is becoming more, not less, relevant in the 21st century. Part of that reality concerns the definition of "classical music." It's certainly not limited to the Classical period of music and its antecedent Romantic era. Classical music history spans more than a millennium of artistic expression and remains very much a living tradition of thought and practice by composers and performers. Its stylistic nature has changed over time, especially during the last half century, but that change attests in part to the persistent influence of the genre on our rapidly evolving culture: "Classical music" has  always been a highly adaptable species.
In spite of the overwhelming prevalence and commercial economic power of pop music in Western culture, classical music is thriving. In 2018, classical music "was the fastest-growing genre" in sales volume in the United Kingdom, according to figures released by the British Phonographic Industry (BPI). Last year, sales and streams of classical recordings increased by a little over 10 percent in the UK compared to the previous year — not bad considering a rise of just under 6 percent across all genres. Significantly, sales of classical CDs alone increased by almost 7 percent versus the negative trend in pop and rock. Perhaps because classical music listeners still prefer a physical product, only a quarter of classical music sales in 2018 was handled by streaming services, versus nearly 64 percent streaming for the non-classical market.
These numbers account for various directions taken by "contemporary" classical music makers from concert stage music and film scores to opera and video games. They also reflect the resilient popularity of familiar traditional repertoire by composers such as Haydn, Mozart, Bach, Beethoven, Brahms, and Rachmaninoff.
Yet, a cynical observer might ask: Why do we even need classical music in the Hip-Hop Capital of the Universe? Common wisdom says that interest in classical music comes only from a relatively small base. But, says the attentive observer, let's look at one telling current statistic from our internet-age world:
According to Facebook's advertising algorithms, one out of every six users between the ages of 21 and 39 located within 50 miles of downtown Atlanta is interested in classical music. That percentage is slightly higher, by about one point, for the 21-to-65 age category, contradicting the notion that "only old people" care about or listen to classical music. Although a minority, that's still a sizable chunk of the metro area population.
The thousands of attendees who show up in June at Piedmont Park for the Atlanta Symphony Orchestra (ASO) free classical concerts offer further testimony to the local appeal of classical music. Beyond metro Atlanta, the ASO reigns as one of America's most popular orchestras with 28 Grammy Awards representing some serious street cred.
The cultural milieu of classical and post-classical music in Atlanta encompasses a combination of leading organizations, such as the ASO and the Atlanta Opera, top-level presenters such as Spivey Hall, plus a panoply of interdependent classical and contemporary chamber ensembles, university venues, and adventurous alternative performance spaces. Concurrently, educational programs like the ASO's Talent Development Program and the Atlanta Symphony Youth Orchestra, and the independent "El Sistema"-inspired Atlanta Music Project, are shaping the diverse landscape of classical music's future.
The following compendium is a non-exhaustive list of organizations and venues offering readers a few waypoints by which to explore the rich community of classical music in and around Atlanta.
ATLANTA BAROQUE ORCHESTRA
The first and longest-running professional Baroque chamber orchestra in the Southeastern United States, the Atlanta Baroque Orchestra (ABO) has been performing continuously since 1998. Today, under the direction of violinist Julie Andrijeski, the ABO – www.atlantabaroque.org – calls Roswell, Georgia, home and also performs as "ensemble-in-residence" at the Cathedral of St. Philip in Buckhead as part of a collaborative arrangement with the Friends of Cathedral Music.
This fall, the Cathedral Schola, directed by Dale Adelmann, will join forces with the ABO on Friday, October 11, at the Cathedral of St. Philip, and on Saturday, October 12, at St. David's Episcopal Church in Roswell, to perform J.S. Bach's Magnificat paired with the famed German composer's Orchestral Suite No. 3 in D Major. Both concerts will feature the ABO wielding period instruments in pursuit of a historically-informed rendering of Bach's music as the maestro himself might have heard it.
ATLANTA CHAMBER PLAYERS
Founded in 1976 by pianist Paula Peace, the Atlanta Chamber Players (ACP) – www.atlantachamberplayers.com – has earned a national reputation as a pioneering chamber group. A mixed ensemble of strings, winds, and piano, the ACP's broad repertoire includes traditional masterpieces and contemporary classics. The current artistic director of the ensemble is pianist Elizabeth Pridgen.
In 2009, the ACP's long-standing commitment to performing the music of living American composers led to the formation of Rapido!, a national composition competition supported by the Antinori Foundation.
The ACP's 2019-2020 season opens on Sunday, October 13, at Peachtree Road United Methodist Church, performing works by Clara Schumann for the 200th anniversary of her birth, plus a clarinet trio by Atlanta composer Tommy Joe Anderson featuring clarinetist Laura Ardan.
On Tuesday, November 19, the ACP performs at the Shakespeare Tavern Playhouse, premiering a new work by last year's Rapido! winner Brian Nabors.
ATLANTA CONTEMPORARY ENSEMBLE
The Atlanta Contemporary Ensemble (ACE) – www.atlce.org – is a mixed chamber orchestra specializing in avant-garde works by living composers in performances that combine live music with choreography by Sukha Artists, a contemporary dance company headquartered in Avondale. The ACE holds an annual open call for scores. September 1 is the deadline for submissions to be considered for the ACE's "Electric Eve" concert in April as part of the 2020 SoundNOW music festival. ACE is seeking three pieces between 5-7 minutes, scored for modern dancers and small mixed chamber ensemble. The music must reflect and draw inspiration from paintings by Atlanta artist Krista M. Jones.
ACE executive director Tracy Woodard is also artistic director and violinist of the string quartet Cantos y Cuentos, which will soon announce its fall concert schedule. Amy Wilson, who conducts the ACE, also serves as music director of the Atlanta Philharmonic Orchestra.
ATLANTA GAY MEN'S CHORUS
Inspired by the formation of the San Francisco Gay Men's Chorus four years earlier, the Atlanta Gay Men's Chorus (AGMC) – www.voicesofnote.org/agmc – was founded in 1981 by Jeffrey McIntyre, becoming the first such chorus in the South. Today, under the direction of Donald Milton III, the AGMC remains committed to "changing hearts and minds through music."
In 2012, the AGMC formed Voices of Note, Inc. under which the chorus and any future programs would operate. With the launching in 2013 of the Atlanta Women's Project (now the Atlanta Women's Chorus) – www.voicesofnote.org/awc – Voices of Note expanded its community leadership as an organization devoted to diversity and excellence in vocal performance.
This season's AGMC holiday concerts take place on Friday and Saturday, December 6 and 7, at the Cathedral of St. Philip. The AWC, under the artistic direction of Melissa Arasi, will present a concert (program TBA) on Saturday, December 14, at Grace United Methodist Church.
THE ATLANTA OPERA
A growing presence and influence in the national and international operatic world, the Atlanta Opera – www.atlantaopera.org – celebrates its 40th anniversary in the 2019-2020 season. Under General and Artistic Director Tomer Zvulun, the Atlanta Opera has grown from a very good regional company into a dynamic, creative force, widely acclaimed for bringing operas large and small, popular and obscure, to 21st-century audiences. By reimagining the classics and introducing new works to metro audiences, the Atlanta Opera has expanded the audience for the grandest of the performing arts to an unprecedented degree.

"In our 40th anniversary season, we're producing our largest Discoveries season yet; these operas are smaller in scope but big on impact, especially Frida," says Zvulun.
Frida is the story of the Mexican icon Frida Kahlo, which will be performed at Sandy Springs Performing Arts Center at City Springs in October. A fantastical multifaceted theatrical production, Frida includes pantomime, puppetry, movement, and vocal performers. The music is a bright and spicy blend of mariachi, tango, zarzuela, ragtime, 1930s jazz, and vaudeville. Reflective of the Atlanta Opera's commitment to broadening its repertoire and attracting a wider audience, scheduled in March is the Gershwin brothers' (George and Ira) larger-than-life operatic musical, Porgy and Bess.
In May 2020, Giacomo Puccini's masterwork Madame Butterfly returns to the stage with all the drama and spectacle of classic Italian operas. In addition, the main stage season includes Gioachino Rossini's La Cenerentola and a new production of Richard Strauss' Salome. The 2020 Discoveries series closes with Tom Cipullo's Glory Denied, which recounts the story of the longest-held prisoner of war in American history.
With four main stage productions at the Cobb Energy Centre and two innovative Discoveries series productions at other venues, plus community and educational outreach programs, the Atlanta Opera fosters a welcome combination of forward-thinking artistic vision and smart business acumen. By providing an environment in which emerging artists work alongside internationally acclaimed professionals, the Atlanta Opera Studio provides a launching pad for talented singers and creatives who represent the next generation of opera stars.
In partnership with The Home Depot Foundation, the Atlanta Opera offers an award-winning Veterans Program, which makes it possible for veterans and current military servicemen and women to attend all main stage productions for free.
ATLANTA SYMPHONY ORCHESTRA
The 2019-2020 season marks the 75th anniversary of the Atlanta Symphony Orchestra (ASO) – www.atlantasymphony.org – which has unquestionably earned a place among the city's "major league teams," regardless of category.

"This season is both a celebration of our rich history and a time to look to the future and our next 75 years," says ASO Executive Director Jennifer Barlament.
Superstar violinist Joshua Bell opens the Delta classical subscription series with concerts on Friday and Saturday, September 20-21. Music Director Robert Spano will conduct the program, which will include Henryk Wieniawski's "Violin Concerto No. 2" and the "Concerto for Orchestra" by Jennifer Higdon, an Atlanta-raised, Pulitzer Prize-winning composer long-championed by Spano.
Throughout the season, top guest artists and long-time friends of the ASO will join in the celebration, including violinist Midori, pianist Emanuel Ax, and pianist André Watts. For a special one-night-only performance on March 11, former music director Yoel Levi returns to Symphony Hall to conduct the ASO with the incomparable violinist Itzhak Perlman as featured soloist.
The subscription season also includes world premieres of works by Atlanta composer Richard Prior and up-and-coming Rapido! composition contest winner Brian Nabors on Thursday, November 21, and Friday, November 23.
On Thursday, November 14, and Saturday, November 16, the ASO with Chorus and guest artists will perform and record live Gustav Mahler's monumental Symphony No. 8 (the "Symphony of a Thousand") with Spano conducting. Also on the program is Carl Orff's compelling Carmina Burana under the baton of principal guest conductor Donald Runnicles. The season wraps up with an Atlanta first: a three-day festival featuring Richard Wagner's opera Tristan und Isolde performed one act per evening over three successive evenings, Thursday–Saturday, June 11–14.
The 75th anniversary season marks a pivotal point in the ASO's history. It's a time to reflect on past successes, including a score of Grammy awards, but also to envision the orchestra's values, mission, and audience. The ASO just hired a new chief artistic officer, Elena Dubinets, whose job description includes creating new streams of programming aimed at increasing the breadth and diversity of the ASO's repertoire, artists and audience, and broadening the orchestra's footprint in the metro Atlanta community. The ASO is also actively searching for a new music director to replace Robert Spano, who will step down from his post at the end of the 2020-2021 season.
ATLANTA YOUNG SINGERS
In 1975, Stephen J. Ortlip founded the Young Singers of Callanwolde in an era when the idea of boys and girls singing together in a community choir was rare. Today, the Atlanta Young Singers – www.aysc.org – directed by Paige Mathis, remains a leader in the national children's choir movement.
On November 23, in partnership with the Morehouse College Glee Club, the AYS will present a "Young Men's Power Sing" workshop for boys, culminating in a concert at the Ray Charles Performing Arts Center. On successive Fridays, December 14 and 21, the AYS will present the 44th annual "Music of the Holidays" concert at the Immaculate Heart of Mary Catholic Church.
 The AYS is just part of Atlanta's broad, diverse community of young persons' choirs, which includes the Gwinnett Young Singers – gwinnettyoungsingers.com – Spivey Hall Children's Choir – www.clayton.edu/spiveyhall/shccprogram – Atlanta Boy Choir – www.atlantaboychoir.org – Georgia Boy Choir – georgiaboychoir.org – and choirs of the Atlanta Music Project – www.atlantamusicproject.org.
BENT FREQUENCY
Atlanta's premiere contemporary music ensemble, Bent Frequency – www.bentfrequency.com – brings the avant-garde to life through adventurous and socially conscious programming, cross-disciplinary collaborations, and community engagement. As champions of work by historically underrepresented composers — women, composers of color, and LGBTQIA+ — Bent Frequency plays a vital role in expanding the breadth and scope of contemporary music while challenging audiences with fresh new voices and sounds.

In recent years Bent Frequency co-founders Jan Berry Baker and Stuart Gerber have overseen highly adventurous programs including traditionally staged concerts and solo recitals, operatic works, performances on the Atlanta Streetcar, and a concert at Historic Fourth Ward Park involving 111 bicycle-mounted community performers.
Confirmed dates and locations for Bent Frequency's 2019-2020 season, which opens in October, were not available at press time. In December, the ensemble will reprise its participatory street-crowd performance of Phil Kline's "Unsilent Night," this year in Hapeville.

CORO VOCATI
John H. Dickson is the founding artistic director and conductor of Coro Vocati – www.corovocati.org – recognized as "one of Atlanta's most accomplished professional chamber choirs."  Most recently, the group attracted public and critical attention at the end of June with a presentation of "Considering Matthew Shepard" at the Sandy Springs Performing Arts Center.
Coro Vocati kicks off its 2019-20 season with "Can You Hear Me?" which focuses on giving voice to the voiceless and disenfranchised through musical selections from around the world. Performances will take place at First United Methodist Church of Marietta on Saturday, September 28, and Morningside Presbyterian Church on Sunday, September 29.
The "global" theme continues through the holidays with a program titled "Christmas with Coro: Carols Around the World" on Friday and Saturday, December 14-15. Venue TBA.
GEORGIA TECH SCHOOL OF MUSIC
The Georgia Tech School of Music – www.music.gatech.edu – cultivates a rich legacy of musical traditions and develops cutting-edge technologies to help define the music landscape of the future.
The annual Margaret Guthman New Instrument Competition showcases next-generation musical instruments, concluding with a concert performed on the submitted instruments. Research at Georgia Tech has produced a pair of robotic musicians, Shimi and Shimon, and spawned the development of prosthetic hands and arms, which allow amputees to play musical instruments.
 On Friday, November 15, and Sunday, November 17, at the Ferst Center for the Arts, the Georgia Tech School of Music and Law Institute of Arts and Technology at the University of Denver join forces to present the world premiere of Four Seasons Double Concerto. Inspired by Antonio Vivaldi's Four Seasons, Zhou Jiaojiao's composition will be performed by an operatic soprano, guest instrumentalists, and the Georgia Tech Symphony Orchestra under the direction of Chaowen Ting.
GEORGIAN CHAMBER PLAYERS
With a roster based around principal string players of the Atlanta Symphony Orchestra, Georgian Chamber Players (GCP) – www.georgianchamberplayers.org – defines classical chamber music in Atlanta. The ensemble's season opens Sunday, November 3, at the acoustically fine Kellett Chapel of Peachtree Presbyterian Church in Buckhead. On the GCP roster for the concert are violinists David Coucheron and Julianne Lee, violist Reid Harris, cellist Christopher Rex, and pianists Julie Coucheron and Elizabeth Pridgen, plus a pair of "mystery guest performers." Insiders report the as-yet-unknown guest performers will soon be playing important roles at the top level of Atlanta's classical music scene.
GSU SCHOOL OF MUSIC
The Georgia State University School of Music – www.music.gsu.edu – includes among its downtown complex of buildings two important music venues: the Rialto Center for the Arts and the Florence Kopleff Recital Hall. The Rialto Center – www.rialto.gsu.edu – is a 900-seat performance facility well suited to touring performing artists and the School's larger ensembles and performance projects. Kopleff Recital Hall, which sits adjacent to Hurt Park, is a more intimate 400-seat hall ideally configured for chamber and solo performances. The Rialto has its own eclectic, multidisciplinary series, which ventures into genres far afield from the classical programming that predominates at the Kopleff facility.
This fall's "Rialto Series" includes musical performers as diverse as Red Baraat, a "Bollywood funky party band," which plays North Indian bhangra, a popular style that mixes elements of hip-hop, jazz, and punk (October 12); and the legendary empress of soul Gladys Knight (November 10). Also scheduled are the Ailey II dance troupe on Saturday, October 26, comedy acts, visual art shows, and even video gaming events. The Rialto will also serve as the venue for Atlanta's annual "Celtic Christmas" show, which combines Celtic music, dance, and poetry (Saturday-Sunday, December 21-22).
On the classical side, the GSU School of Music's "Signature Series" features self-produced concerts divided between Kopleff Recital Hall and the Rialto Center for the Arts. In addition to the GSU orchestra, symphonic bands, jazz bands, and choruses, more specialized groups, such as a saxophone ensemble and percussion ensemble, offer opportunities to hear newer and more adventurous repertoire.
Ensemble-in-residence Bent Frequency has become one of the most active and visible contemporary ensembles in the Southeast. In the same vein, the neoPhonia New Music Ensemble, with its flexible instrumentation and mixed roster comprised of GSU faculty, students, and local professional musicians, champions the music of established contemporary composers, performs important chamber works from the late 20th and early 21st century, and premiers new works by emerging young composers.
The annual SoundNOW Festival, held in April, which showcases Atlanta-based composers and performers of contemporary music, largely centers around Kopleff Recital Hall and other parts the GSU campus, as well as edgy, alternative venues across Atlanta.

PEACHTREE STRING QUARTET
Formed in 2012 by violinist/artistic director Christopher Pulgram, the Peachtree String Quartet (PSQ) – www.peachtreestringquartet.org  – enters its eighth season with a lineup that includes Pulgram, violinist Sissi Yuqing Zhang, violist Yang-Yoon Kim, and cellist Thomas Carpenter — all four members of the Atlanta Symphony Orchestra.
During the 2019-2020 season, the PSQ will celebrate Beethoven's 250th birthday with the "Better Be Beethoven" concert series, which runs on three Sundays (October 6, January 12, and March 15). The concerts at the intimate Garden Hills Recreation Center will feature one Beethoven string quartet each from the composer's early, middle, and late periods: opus 18, opus 74 and the glorious opus 132.
The concerts will also include works by Joseph Haydn, Edvard Grieg, Luigi Boccherini, and Arvo Part. In addition to the Garden Hills series, PSQ will perform around the metro area and Georgia.
RIVERSIDE CHAMBER PLAYERS
Based in Roswell, Riverside Chamber Players (RCP) – www.riversidechamberplayers.org – brings high-quality classical music to the suburban North Fulton region with accessible quality programming. The RCP's season opens Sunday, November 3, at their home venue, the Unitarian Universalist Metro Atlanta North congregation (UUMAN), with a concert featuring Anton Arensky's String Quartet No. 2, which is scored for an unusual combination of violin, viola, and two cellos.
On Sunday, March 8, 2020, the RCP will host a concert featuring works by finalists in the RCP String Quartet Commission Award competition, which challenges Georgia college students to compose music for standard string quartet. Judges for the award are ASO Music Director Robert Spano, ASO bassist and RCP Composer-in-Residence Michael Kurth, and RCP Artistic Director and cellist Joel Dallow.
SCHWARTZ CENTER FOR PERFORMING ARTS
The Schwartz Center for Performing Arts, including its 800-seat Emerson Concert Hall is the flagship complex of Emory University's "Arts Village." – www.arts.emory.edu. The 2019-2020 edition of the Flora Glenn Candler Series promises to "celebrate cultural connections" with top-tier programming and guest artists.
"Music is one of the beautiful things we share around the world — my hope is this coming season provides our audience the opportunity for new and meaningful shared experiences celebrating this commonality," says Rachael Brightwell, managing director of the Schwartz Center for Performing Arts. "The 2019-2020 Candler concert series celebrates the ways in which music brings people together."
The famed Kronos Quartet opens the Candler series on Saturday, September 14, bringing their "Music for Change" project to the Schwartz Center. "It's going to leave our audience asking new questions of themselves about our similarities and our differences," remarks Brightwell.
On Friday, October 18, a Candler series concert features acclaimed jazz pianist Brad Mehldau and classical tenor Ian Bostridge performing together in a recital that acknowledges their different musical backgrounds and shared musical affinities. On Sunday, November 3, mezzo-soprano Joyce Didonato brings her "In War & Peace: Harmony through Music" program to the Schwartz. The program examines the chaotic world in which we live in today, raising the question, "How do you find your joy, how do you find your peace?"
Although the concert isn't until spring 2020, it's well worth noting that, on Friday, April 10, ASO music director and pianist Robert Spano and internationally acclaimed, Macon-born violinist Robert McDuffie will perform a special recital of Brahms and Beethoven to close the Candler series season.
Beyond the Candler series, Emory has more to offer. The Emory Chamber Music Society of Atlanta is the largest and most active organization of its kind in the Southeast, building new audiences through a wide variety of performances and teaching activities. The 2019-2020 season will include the first half of the "Beethoven 2020" project, a celebration of the composer's 250th birth year, which includes all 32 of his piano sonatas performed consecutively; the complete works for piano and violin and piano and cello; and the complete cycle of Beethoven's string quartets performed by Emory's award-winning string quartet in residence, the Vega String Quartet, in six concerts over the course of 2020.
SPELMAN & MOREHOUSE COLLEGE GLEE CLUBS
The Morehouse College Glee Club – www.morehouse.edu/academics/music/concert.html – directed by Dr. David Morrow (see sidebar), is the official choral group of Morehouse College. Founded in 1911, the Glee Club has a long tradition of significant public appearances, having performed at Martin Luther King Jr.'s funeral, President Jimmy Carter's inauguration, Super Bowl XXVIII, and the 1996 Summer Olympics in Atlanta. The Glee Club participates annually in the Atlanta Symphony Orchestra's "Christmas with the ASO" concerts.
The Spelman College Glee Club – www.spelman.edu/academics/majors-and-programs/music/ensembles/glee-club/schedule – directed by Dr. Kevin Johnson, has maintained a reputation for choral excellence since 1925. The Glee Club's repertoire draws from sacred and secular choral literature for women's voices with a particular focus on traditional spirituals, African American composers, and music from many cultures, plus commissioned works. The Glee Club has performed with the Atlanta Symphony Orchestra, renowned opera singer Jessye Norman, and in 2016 at the White House for President Barack Obama.
SPIVEY HALL
The crown jewel of metro-Atlanta's classical music venues, Spivey Hall – www.spiveyhall.org  – is unmatched in its combination of pristine acoustics, consistently excellent programming, and roster of outstanding guest artists. Located on the campus of Clayton State University in the city of Morrow on Atlanta's suburban south side, the 400-seat hall sports a pair of complementary Hamburg Steinway concert grand pianos, plus the esteemed Albert Schweitzer Memorial Organ. Ample free parking in front of the Hall adds convenience to the wonderful experience inside the facility.
While Spivey Hall regularly presents leading classical, jazz, and popular music stars, the venue is also known for introducing promising emerging talents to Atlanta audiences. For the city's classical music cognoscenti, Spivey Hall is the luxury vehicle of choice.
The Dover and Escher string quartets kick off Spivey Hall's 29th concert season with music by Joseph Haydn and Paul Hindemith, then join forces for one of chamber music's most exhilarating masterworks, the Octet for Strings composed by the 16-year-old wunderkind Felix Mendelssohn. Returning favorites include Canadian pianist Angela Hewitt in an all-Bach program, celebrated young British "wizard of the piano" Benjamin Grosvenor, and the Takács Quartet, entering its 45th season as one of the world's leading string quartets.
The glorious voice of Georgia-born Metropolitan Opera star mezzo-soprano Jamie Barton returns for her second Spivey Hall recital in December. In February, Grammy Award-winning Juilliard School faculty organist Paul Jacobs performs on the magnificent Albert Schweitzer Memorial Organ.
The Spivey Hall jazz calendar includes a quintet led by pianist Kenny Barron, the Christian Sands High Wire Trio, and vocalist Cécile McLorin Salvant. For lighter fare, Spivey Hall offers the tongue-in-cheek high spirits of the Ukulele Orchestra of Great Britain; the Swingles vocal ensemble (with a Christmas program, Winter Tales); and guitarist Miloš Karadaglić, known for popular interpretations of classical Spanish repertoire and original arrangements of Beatles tunes.
Making their Atlanta premieres are the dynamic husband-and-wife piano duo Alessio Bax and Lucille Chung; the golden-voiced British soprano Mary Bevan; and the captivating Ukrainian piano virtuoso, Alexander Romanovsky performing music by Frederic Chopin.
Choral Singing and Community
Celebrating hope and a sense of triumph
Choral music has many reasons for being. It is the music where people just bring themselves and the voice included in their body to rehearsals and performances. The resulting music is for enjoyment, for function, for healing, for unification, and more. Regardless of the quality, most of us can sing, and we sing more confidently together.
Chorus America's 2019 Chorus Impact Study highlights the impact exerted on your life by singing, which includes personal and community benefits. The study shows that more than 54 million Americans sing in choruses. In addition, the study found that singers in choral organizations tend to be more civically involved and culturally accepting. These days, choral concerts are more often centered on a theme, which varies in terms of musical characteristics, text, or underlying subject. There is a growing trend toward creating more socially conscious themes, which foster performances that are not only enjoyable, but also contain cultural, social, or political relevance that leads to awareness, support, and empathy toward a specific idea or culture.
As director of the Morehouse College Glee Club at a historically African American College for men, the music I have chosen for us to sing has ranged from works by classical composers from all eras to music created or influenced by African and African-American composers. Sometimes, the music has a dual effect. For example, the textual and cultural relevance of arrangements of African American spirituals adds enjoyment or appreciation of musical ingredients, such as melody, rhythm, and harmony.
Recently, we have been singing a very special work called Seven Last Words of the Unarmed by Atlanta composer Joel Thompson. A young African American who holds bachelor's and master's degrees in music from Emory University, Thompson is currently studying composition at Yale University. Written in 2015, Seven Last Words of the Unarmed is a seven-movement work for male chorus and orchestra set to the last words of six unarmed African American men and one unarmed youngster who were killed by individuals in law enforcement. The following are the texts used:
• Kenneth Chamberlain: "Officers, why do you have your guns out?"
• Trayvon Martin: "What are you following me for?"
• Amadou Diallo: "Mom, I'm going to college."
• Michael Brown: "I don't have a gun! STOP!"
• Oscar Grant: "You shot me!"
• John Crawford: "It's not real."
• Eric Garner: "I can't breathe."
The piece uses contemporary musical devices, such as cluster chords and intentional dissonances, but also draws on older resources including fugue and references to the medieval tune L'homme armé doibt on doubter ("The armed man must be feared"). Thompson calls his work a "sonic diary entry," which chronicles the circumstances surrounding these deaths and their aftermath. Where others have expressed fear, anger, and dismay, the composer poured his emotions into creating this music as a means to get beyond his feeling that the color of his skin was a "capital offense."
Seven Last Words of the Unarmed was premiered and championed by Dr. Eugene Rogers, who directed the University of Michigan Men's Glee Club in both the chamber and full orchestra versions of the work. This past March, the Morehouse College Glee Club was invited by Dr. Amanda Springer, CEO of the Tallahassee Symphony Orchestra, to join with the men of the Florida A&M University Choir in a performance of this piece. In preparation, we performed Thompson's piece with a chamber orchestra in February and toured with the work.
Thompson's piece is musically and emotionally challenging. The rhythmic and vocal demands are at an advanced level, which requires care and commitment. For the Morehouse College Glee Club, Seven Last Words of the Unarmed became very emotional for the students (and for me). As African American men, we are so close to the subject matter, while singing, we sometimes cannot help but think, "That could have been me." That perspective made for genuine, heartfelt performances.
While on tour we were fortunate to have with us Mr. John Russell, our bus driver, who never misses a concert. In many ways he was our "proud parent" in the audience who paid attention to the way audiences reacted to this piece. While many found Thompson's work poignant and powerful, others found it divisive and were angered by it.
After one concert, Mr. Russell told me that a few audience members walked out, stating, "I didn't come here to hear any protest music." I was sorry to hear about that reaction, yet I was satisfied they were at least talking about it. The Tallahassee Symphony concert was followed by a panel discussion, which included the chief of police, the composer, and two board members. During the discussion, the audience came to understand that the music affected them in a way that brought us together to listen to each other's perspectives.
Thompson's work is musically and socially relevant, as well as sharply insightful. In an address at the 1964 Berlin Jazz Festival, Dr. Martin Luther King Jr. stated, speaking of jazz and blues, ". . .if you think for a moment, you will realize that they take the hardest realities of life and put them into music, only to come out with some new hope or sense of triumph. This is triumphant music."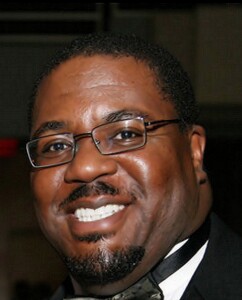 Joel Thompson's Seven Last Words of the Unarmed embodies King's statement. It imbues the words of these seven men with humanity. We begin to see them as real people and not just news reports, which make us numb to each other. Only then can we move toward the triumphant and decide to make the "hard realities" better. We look forward to singing Seven Last Words of the Unarmed. I am proud to be part of the choral arts, a medium by which we can entertain, enrich, engage, and create community consciousness.
Return to Fall Arts Preview 2019