Fall Arts Preview 2019: Theater
Onstage and off, with actors and puppets, dealing in reality and escape
7 Stages
Since its founding more than 40 years ago, 7 Stages Theatre — www.7stages.org —has been devoted to producing provocative material and confronting difficult subjects. At press time, 7 Stages was not ready to announce the production company's 2019-2020 season schedule. However, three productions by other companies will take place in the 7 Stages Theater in Little Five Points during the next two months. Each play poses tough questions, and focuses on characters facing severe physical, emotional, and moral challenges.
With "Grounded" (August 3-17), Atlanta Theater Club (ATC) – www.atlantatheatreclub.com – is back with another intensely emotional work produced and directed by company founder Rebeca Robles. "Grounded" takes audiences into the mind and soul of a former ace fighter pilot operating military drones from a windowless trailer outside Las Vegas. The Pilot (actress Courtney Moors) watches screens to hunt and kill terrorists all day long and returns to her family each night. As the pressure to track a high-profile target mounts, the boundaries begin to blur between the desert in which she lives and the one she patrols half a world away. Robles, Moors, and seven of ATL's most accomplished female theater artists are in control of every aspect of this Atlanta premiere including video and projection design, sound and lighting, scenic design, and wardrobe.
For the past seven seasons, Aris — "Atlanta's stage for Celtic culture" — has brought the Celtic theatrical and literary traditions, mythology, and storytelling from the British Isles to Atlanta. Next month, Aris – Aristheatre.org – presents the Atlanta premiere of "Woman and Scarecrow" by celebrated Irish playwright Marina Carr. Emory University professor Jon Ammerman directs this very intimate play set in a dying woman's bedroom. In the face of her death, the woman threshes out her life's truths, sparring with a ridiculous aunt, a cheating husband, and a slippery alter ego. 
On Friday, September 27, The Object Group and 7 Stages Theatre present a sneak peek presentation of Michael Haverty's adaptation of Albert Camus' "L'Etranger" (The Outsider). Puppetry and noir/new wave-inspired projected cinema are integrated in an absurd investigation of Camus' cautionary tale. The original 1942 novel is riddled with messy conflicts between existential philosophy and privileged oppression, sometimes to the apparent blindness of the author. This multimedia experience explodes the story onto stage and screen, allowing insight while tickling the mind and senses. 
Actor's Express
"We seek to jumpstart individual transformations through the shared adventure of our live performances, which range from daringly provocative to audaciously hilarious." That sentence from the mission statement for Actor's Express Theatre — www.actors-express.com — says a lot about them — and not just what they want to accomplish as a theatre, but how. The theatre has been pushing emotional envelopes since Chris Coleman founded Actor's Express in the basement of a church on Clairmont Road 31 years ago. Freddie Ashley has been artistic director since 2007, and few Atlanta theaters are as successful at reflecting the passion, intelligence, and geniality and flair of their leadership.
Ashley also directs most AE dramas, comedies, and musicals that attract sold-out houses night after night. Here are just some of AE's bravest and most entertaining work of the past dozen seasons: "Stupid Fucking Bird," "Bad Jews," "Murder Ballad," "The Rocky Horror Show," "Six Degrees of Separation," "Bloody Bloody Andrew Jackson," "Kiss of the Spider Woman," "The Motherfucker with the Hat," "Edith Can Shoot Things and Hit Them," "Spring Awakening," "Slasher," "Grey Gardens," and "Hedwig and the Angry Inch."
Next month, Ashley and another smart AE cast will unveil their 31st season with "Skintight." The Atlanta premiere of "Bad Jews," playwright Joshua Harmon's latest comedy, pokes fun at America's obsession with youth, sex, and physical beauty. When Jodi Isaac flies across the country to visit her famous fashion mogul father for his 70th birthday, she finds that her dad's new boyfriend is a 20-year-old porn star. OK! "Skintight" sounds like a perfect fit for Actor's Express. 
Alliance Theatre
Elton John's "Aida." "Bring It On: The Musical." "The Color Purple." "The Last Night of Ballyhoo." "The Prom." "Sister Act: The Musical." Twyla Tharp's "Come Fly Away." 
Can you guess what all these (and many more) hit plays and musicals have in common? They were all first performed at the Alliance Theatre — www.alliancetheatre.org — right here in ATL. Over the past 51 years, the Alliance has premiered more than 100 original productions, launching important American musicals with a strong track record of Broadway, touring, and subsequent productions, including several Tony Award winners. In fact, in 2007, the Alliance won a special Tony Award as Best Regional Theater in America. 
2019-2020 will be their first full season in their lavishly renovated main stage space, which opened late last year. In "Becoming Nancy," the next big musical to premiere at the Alliance, David, a talented high school senior tries out for the school play and is cast as the female lead. It's 1979, and everyone in his small English suburb is shocked, including David. Should he play the part? Just wait and see. Another sign that "Becoming Nancy" is set to be the Alliance's next big hit is its director, Tony winner Jerry Mitchell, whose past musical hits include "Pretty Woman," "Kinky Boots," "Legally Blonde," "La Cage Aux Folles," and "Hairspray."
Alliance Artistic Director Susan Booth directs the Off-Broadway hit comedy "Small Mouth Sounds," to be performed downstairs at the Woodruff Arts Center on the intimate Hertz Stage. The play, running from October 4–27, follows six strangers at a five-day silent wellness retreat in the woods. Guided by an unseen guru, each one wrestles with their personal demons as their vows of silence clash with the irresistible human need to connect.
Center for Puppetry Arts
It's hard to think of another Atlanta-based theatrical organization with a greater reputation for excellence and creativity than the Center for Puppetry Arts — www.puppet.org. Just a few years after puppeteer Vincent Anthony stood with Muppet master Jim Henson as they cut the opening-day ribbon in September 1978, the Puppetry Center became one of the most respected and revered creative hives for puppetry in the world. CPA has hosted  dozens of the best puppeteers and puppet theater companies from across Europe, Asia, Africa, South America and the Caribbean. The Center's Museum is now the home of the Henson Collection and its iconic puppets from "Sesame Street," "Labyrinth," "The Dark Crystal," "Fraggle Rock," and Emmet Otter's "Jug-Band Christmas." 
The fantastic puppet productions conceived and created at CPA have played to sold-out audiences across North America, and Artistic Director Jon Ludwig is widely considered one of the geniuses of the ancient and timeless art form. The shows range from super sweet and cute to deadly serious, even tragic. Some are strange and weird. But no matter what the show or the exhibit or the workshop, kids and grownups of all ages have a blast every time they set foot inside.
This fall, CPA lifts off with "SPACE!," Ludwig's 2016 song-filled puppet adventure about the cosmos. "SPACE!" employs shadow puppets, hand and rod puppets, black lights, computer animation, and crystal-clear images from NASA and a rap and rock score to explain the entire universe, more or less. From red dwarf stars to the planet Neptune, from comets to black holes, and beyond, Ludwig's latest rock opera is the perfect way for anyone of any age to celebrate the autumnal equinox.
Essential Theatre Play Festival
Since 1999, the annual Essential Theatre Play Festival – www.essentialtheatre.com – which was founded by Atlanta playwright-director Peter Hardy, has premiered 34 new works by 25 different Georgia writers, with many works being restaged by other Atlanta theaters and across the country. The 2019 Festival (July 25–August 24) features three full productions plus four new scripts being heard for the first time in the Bare Essentials Play Reading Series. All performances and readings take place at the West End Performing Arts Center.
July 25-August 24: Peter Hardy directs "Slaying Holofernes" by Emily McClain. The play upsets notions of past/present, fact/fiction, and personal/political as it explores the quest for justice by two women.
August 1-25: Written by Ben Thorpe and directed by Shannon Eubanks, "Babyshower for the Antichrist" takes place on the night of 'Hell Feast' as a small, isolated cult prepares for the birth of the Antichrist. Viewer beware: This world premiere contains moments of blood and violence, plus a talking goat.
Thursday, August 15 and Friday, August 16: In "The Attic, creator/performer Aaron Gotlieb explores the things we hold onto and those we leave behind. "
The Bare Essentials Play Reading Series includes "Day of Saturn" by Leviticus Jelks III, directed by Najah Ali (August 3); "Darger Takes a Walk" by Rosalind Sullivan-Lovett, directed by Natalie Fox (August 6); "Waiting for Big Stuff" by Allan Dodson, directed by Kati Grace Brown (August 12); and "The Odds Against Death" by Ted Westby and John D. Babcock III, directed by Bill Murphey (August 21).
Horizon Theatre
Eternally young Horizon Theatre — www.horizontheatre.com — founders Lisa and Jeff Adler founded their small (172 cozy seats), independent theater in 1983 and have stayed busy ever since. Year in, year out, they offer a mainstage season of six to eight contemporary plays (almost always local or regional premieres) for diverse Atlanta audiences, a family series for younger audiences, a free outdoor musical in Piedmont Park, and free outdoor performances with Little Five Arts Alive from April through October. They also create new plays from, for, and about Atlanta through their New South Play Festival program, and reach out to new audiences through their New South Young Playwrights Contest and Festival, the Horizon In-School Playwriting Workshops, the Horizon Apprentice Company (early career professionals), the Intern Program (for college students) and the high school theatre program at The New School.
From September 20 through October 27, Horizon will stage one of the most honored plays of the past decade, "The Curious Incident of the Dog in the Night-Time." Four years ago, the Broadway production won the Drama Desk Award, the Outer Critics Circle Award, the Drama League Award, and five Tony Awards, including Best Play. Lisa Adler and Justin Anderson will co-direct the story of an autistic teenager who's better at solving equations than navigating a world that's out of sync with how his mind works. After being wrongly accused of murdering his neighbor's dog, he resolves to find the real culprit. When his investigation uncovers painful truths about his family, he strikes out on his own, embarking on a daring train ride to London to confront his parent's past.
Kenny Leon's True Colors
This season will mark a major turning point in the story of another beloved Atlanta theater company. Tony Award-winning director Kenny Leon is departing the role of artistic director of the company that he co-founded and that now bears his name. Associate Artistic Director Jamil Jude will take over the position at Kenny Leon's True Colors Theatre Company — www.truecolorstheatre.org. Since Leon established True Colors with Jane Bishop in 2002, the theatre has produced over three dozen productions with a focus on black storytelling. They've presented several of the best plays by, or adapted from works by, Langston Hughes, James Baldwin, August Wilson, Ntozake Shange, Pearl Cleage, and Dominique Morisseau, among many others. 
True Colors' dedication to black voices in the theater continues September 24 through October 20, when they present the Atlanta premiere of "Paradise Blue," the third play the company has mounted in Dominique Morisseau's Detroit Trilogy, which includes "Detroit '67," and "Skeleton Crew." In "Paradise Blue," set in 1949, when Detroit's white mayor pushed to move African Americans out of Detroit's Black Bottom neighborhood, a musician named Blue considers selling his family's once-thriving jazz club. Against a backdrop of gentrification and displacement, Paradise Blue encompasses the pain and suffering that accompany the erasure of black history.
Orange Box Theater
In Tucker, a 1,600-square-foot converted warehouse space that seats about 80 people is the staging venue for Orange Box Theater at Mark SQared Studios – www.orangeboxtheater.marksquaredstudiosatlanta.com – which presents innovative takes on classic and new theatrical works by African American artists using nontraditional casting and multimedia effects. In recent years, creative director Karlotta Washington has overseen productions of George C. Wolf's "The Colored Museum," Michael Frayn's "Noises Off," and "Purlie," the Tony Award-winning musical comedy based on a play by Ossie Davis.
On multiple days between October 11 and 27, Orange Box Theater will present "Sunset Baby" by Dominique Morisseau. A MacArthur Foundation "Genius Grant" recipient and Obie-award winning playwright, Morisseau recently became the first African-American woman nominated for a Tony Award in a musical category in 20 years for the Broadway hit "Ain't Too Proud: The Life and Times of the Temptations." 
Described in a 2013 New York Times review as a "smart and bracing new play about two generations of urban outlaws," "Sunset Baby" explores the relationship between Nina, a tough, uncompromising street hustler, and her estranged father, a former black revolutionary who shows up one day seeking reconciliation and a series of letters left with Nina by her mother.
Out of Box Theatre
In 2012, Carolyn Choe started Out of Box Theatre – www.outofboxtheatre.com – with the goal of producing superior quality shows without exceeding a smart, practical budget. Taking advantage of the talent and resources at hand in Marietta and the greater metro community, during the past few seasons, Out of Box Theater has established a reputation for challenging, offbeat, and daring theater productions, as well as for developing programs, such as the unBOXed Comedy Class and an internship for college graduates.
This fall, Out of Box Theatre presents "Entertaining Lesbians" (August 2-17), written and directed by the always amusing and topical Topher Payne. The play follows the exploits of Rowena Tuttle, described by Payne as "a cisgender heterosexual white woman who no one finds interesting anymore" as she tries to gain admission to an elite school for her daughter by buddying up with Atlanta's most powerful lesbian couple.
Running October 4-20, "Evil Dead: The Musical" offers a lyrical take on the notoriously absurd, cult classic horror film by Sam Raimi (Spider-Man Trilogy). For readers unfamiliar with the source material, "Evil Dead" recounts the tribulations of a group of college students who, while spending the weekend in an abandoned cabin in the woods, unwittingly unleash an evil terror, which tries and largely succeeds in killing everyone in unspeakably gruesome ways. Perfect fodder for a musical.
From November 8–17, Topher Payne returns to direct Jordan Harrison's "The Grown Up," a play about a boy who is given a magical crystal doorknob, which enables him to travel through space and time to see his future life.
PULP
Owner Will Eiseman opened the original PULP – www.pulpatlanta.com – a bookstore and gallery specializing in pop culture books and zines, original artwork, cinema art and ephemera, and photography, in Charleston, South Carolina. Since relocating to Midtown Atlanta in the summer of 2018, PULP has hosted exhibitions of cryptozoological art and large-scale street art and murals. In collaboration with Videodrome, rare films are screened on Sundays, while original theatrical performances and live comedy are staged in the store's Black Box Theatre.
Highlights from the Black Box fall performance season include:
August 23-September 1: "The One Act Spectacular" features four of Atlanta's top casting agents each directing a one-act play with local film and TV actors.
September 26-28: ATL Sketchfest comprises three separate comedy sketches per night staged over three consecutive nights with a cash prize awarded to "Best in Show" chosen by five anonymous judges. Organizers are also accepting comedy video shorts, which will be shown between live performances.
October 2-17: World premiere of a new stage adaptation of Roger Corman's '50s schlock sci-fi classic film, "Attack of the Giant Leeches," written and directed by John Babcock. 
October 25-26: The Phantom Film Festival features a horror-themed short film night of works by local filmmakers on Friday followed on Saturday by a one-night only live stage adaptation of Brian DePalma's horror musical classic "Phantom of the Paradise."
Synchronicity
Synchronicity — www.synchrotheatre.com — produces theatre to spark community connections and uplift the voices of women and girls. Founded in 1997 by four women, Synchronicity presents plays for adults (Bold Voices) and families (Family Series) and offers a wide range of educational programming, including Playmaking for Kids (PFK) summer camps and after-school programs, and their award-winning Playmaking for Girls (PFG) program. Now in its fourth year, the organization's Stripped Bare: Arts Incubator Project gives artists a space to create and present new work. The series focuses on projects that emphasize words and ideas, with minimal technical elements, and encourages young artists to think about the essentials of theatre (mostly) stripped of intricate sets, lights, props, sound design, and costumes.
From August 1–11, Synchronicity will host a revival of "2 the Left: A Tribute to the Life of Lisa 'Left Eye' Lopes." Written and performed by Kerisse Hutchinson, and originally performed as part of the Stripped Bare Arts Incubator Project, this multimedia experience chronicles the life of the most controversial member of the '90s pop music phenomenon TLC. Thomas W. Jones II directs. Sunday, August 4, there will be a talkback after "2 the Left" with the cast, crew, and members of Lopes' family. Later this month, Synchronicity will announce two more Stripped Bare projects that will be performed September 10–12 and Nov 12–14. Tickets are free to all Stripped Bare performances, but reservations are required.
Synchronicity's first full production of the new season is "MacBeth," Erica Schmidt's bold adaptation of the Bard's Scottish play running October 4–28. On an autumn afternoon, in an empty lot outside the city, seven girls meet up to perform "Macbeth," using Shakespeare's original text. It's not long before the blood fantasy of the play starts to seep into their real lives.
Theater Emory
Theater Emory – www.theater.emory.edu – is the Emory University theater department's resident professional company and the producing organization for Theater Studies. Typically, Theater Emory presents four productions per year.
This fall's production of "The Nether" (November 1–17), directed by Ibi Ovolabi, promises to be one of most provocative projects ever staged by Theater Emory. Jennifer Haley's psychological crime thriller draws the audience into a detective's investigation of a virtual world where pedophiles indulge their fantasies. The investigation sparks questions about ethical behavior as experienced in the imagination and practiced in the "real" world.
"'The Nether' questions the way we define something as 'real,' which is an idea that has fascinated philosophers for millennia," says Brent Glenn, artistic director of Theater Emory. "As we approach a time when virtual reality may be as real as our daily lives, discomforting ethical conundrums rise to the surface. "The Nether" forces us to face that discomfort."
Theatrical Outfit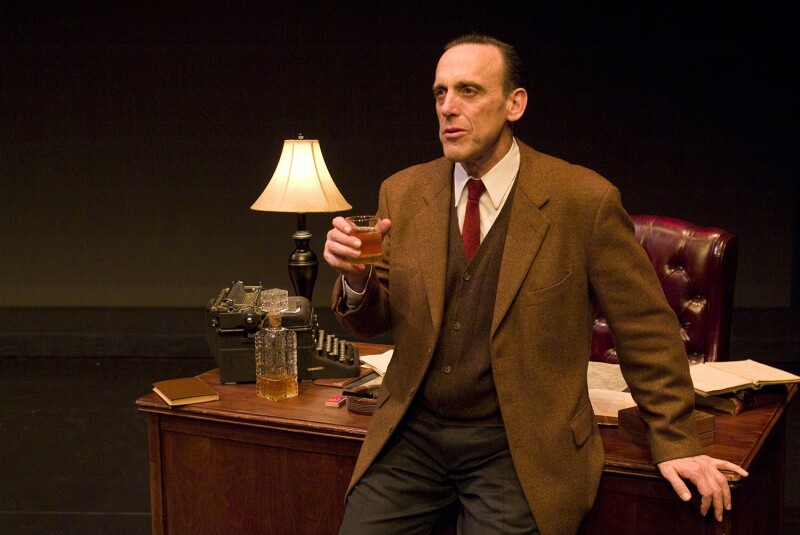 Founded in a converted Virginia Highlands laundromat 43 years ago, Theatrical Outfit — www.theatricaloutfit.org — is Atlanta's second oldest professional theatre company. The Outfit produced some of its boldest, most provocative work in the '80s out of the (now long gone) Kress Five & Dime building in Midtown, before it moved downtown in 1999 to the site of the former Herren's Restaurant, now the Balzer Theatre. 2019-2020 marks another milestone as Atlanta theater legend Tom Key will be stepping down from the position of artistic director after 25 years. Since 1995, Key and The Outfit have had critical and popular success presenting dozens of regional and world premieres, classics, and musicals that explore diversity, equality, ethnicity, race, and faith. Key has taken great pride in programming plays by many of the best writers of the American South, including Ernest Gaines, Horton Foote, Harper Lee, Flannery O'Connor, and Tennessee Williams.
Theatrical Outfit begins "Tom's Farewell Season" with "Our Town" and "The Laramie Project" in repertory from August 27 to September 29. Considered by many to be the greatest American play, Thornton Wilder's "Our Town" depicts the town of Grover's Corners in three acts: "Daily Life," "Love and Marriage," and "Death and Eternity." Narrated by a stage manager character and performed with minimal props and sets, Wilder's classic chronicles the Webb and Gibbs families as their children fall in love, marry, and eventually die. David Crowe will direct.  
In 1998, a university student named Matthew Shepard was kidnapped, beaten, and tied to a prairie fence outside Laramie, Wyoming. When he died days later, the world learned Shepard was targeted because he was gay. In its review of the original production, the New York Times observed, "'The Laramie Project' is 'Our Town' with a question mark, as in, 'Could this be our town? It can't happen here,' followed immediately by 'And yet it has.'" Clifton Guterman will direct "The Laramie Project," a play that strives to find the light in a tragedy and to reveal examples of profound compassion in its wake.
The Windmill Arts Center
Opened in late 2017, the Windmill Arts Center – www.thewindmillatl.com – in East Point contains an 80-seat "black box" theater plus a 40-seat "white box" space for rent as a gallery, rehearsal space, yoga studio, classroom, or for special events. Converted from a gas station/garage, the arts center now serves as the East Coast headquarters for Vanguard Repertory Company (VanguardRep), which was formed in Los Angeles in 2008 by husband and wife Sam and Elizabeth Ross (who previously lived in Atlanta), Matthew Burgos, and Elisa Blandford. 
From August 2–18, VanguardRep presents the Atlanta premiere of "Br'er Cotton," a contemporary fable about systemic racism by playwright Tearrance Arvelle Chisholm and directed by Burgos. Later in the month (August 29–September 1), The Tiny Theater Company will premiere a one-act adaptation of William Shakespeare's "Hamlet" featuring live music and dance by an all-black cast with Tiny Theater founder Cydnei Prather directing.
Return to Fall Arts Preview 2019