Where to go with family and friends in Atlanta
Explore these must-visit attractions in the metro Atlanta area
Atlanta has much to offer its visitors as well as its indigenous residents. Here is a list of Atlanta attractions to inspire the explorer in you:
Atlanta's most fragrant attraction blooms with more than 3,000 ornamental plants spread over 30 acres adjacent to Piedmont Park, including a rare 15-acre urban forest. There is a 600-foot Canopy Walk situated 40 feet high, and regular exhibitions and concerts in the gardens. |
more...
The nation's largest aquarium has more aquatic life than any other aquarium, with specimens from more than 500 species, including whale sharks, the largest fish in the sea. Visitors can go to the "touch tank" for the chance to interact with sea stars and anemones. "Behind the Scenes" tours are avail... |
more...
The age of the Ferris wheel in Downtown is upon us, Atlanta. The 20-story attraction known as SkyView Atlanta takes guests on a roughly 15-minute ride and provides them with a view of the city's skyline. |
more...
Offers free, self-guided tours of the Monetary Museum and Visitors Center.
The museum features a display on the history of money; interactive, multimedia exhibits explaining the Federal Reserve's role in the economy; and a view of the bank's automated vault and cash processing areas. In addition, ... |
more...
The world's largest mass of exposed granite is the centerpiece of this park, which features golf courses, hiking trails, camping, swimming, dining, and attractions including the Geyser Towers, Summit Skyride, and much more. The park also hosts a spectacular 3-D laser light show nightly during the su... |
more...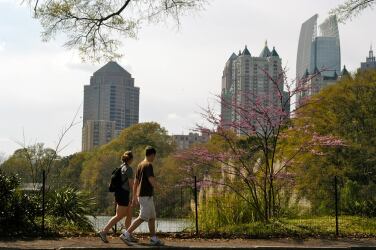 The 200-plus-acre park with tennis, walking trails, and a pond has been Atlanta's place to go on a Sunday afternoon since it was first purchased by the city in 1904. Piedmont Park added 13 acres in 2013 and unveiled a collection of new entrances. The add-on near the intersection of Piedmont Road and... |
more...
The crypt for King and his wife, Coretta Scott King, is located outside in the stately plaza, but there's not much else to see here. |
more...
The new soda-pop museum, next to Centennial Olympic Park, is slicker than the old one — but still basically a big interactive commercial that you pay to watch. It features free samples of various international flavors of the company's sugar water, a mini-bottling line, and Coke-themed pop art. |
more...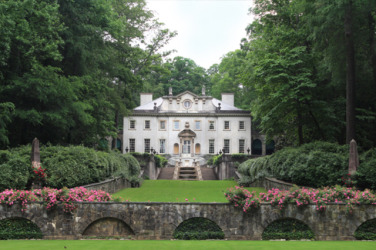 Founded in 1926, the center includes the Atlanta History Museum featuring signature and traveling exhibitions, the Smith Family Farm, the 1928 Swan House mansion, research archives/special libraries, and 22 acres of gardens. |
more...
The zoo houses more than 1,400 animals, including elephants, Sumatran tigers, black rhinos, zebras, and Chantek, the first orangutan to use sign language. And did we mention pandas? |
more...