Halloween Coverage Archives 2000-2007
A List from our Archives
Below is a list of articles from our archives. We're in the process of cleaning these up. Please bear with us as we complete this project.
---
Below is our coverage and events for the 2000-2007 Atlanta Halloween Events.
CL Articles on Halloween
Thursday December 27, 2007 06:09 pm EST
image-1
image-2I lunched last week at Soleil in Buckhead for the first time in a couple of years. The restaurant's quality took a dive after owner/chef Jacques Hourtal sold it. I received an e-mail last week that announced revision of the lunch and dinner menus.
So my friend Brad and I checked out lunch last Friday. Our first shock was the garish, orange-trimmed plastic that...
|
more...
Thursday November 1, 2007 06:02 pm EDT
Walking through the aisles of the grocery store last night, I was thrilled to see giant boxes of pomegranates, bins of brown chestnuts and big, beautiful oranges. They were like signs of cold weather to come.
Apparently, though, more than Mother Nature wants to get in on the premonitions: In addition to the seasonal produce, the grocery store was stocked with products already...
|
more...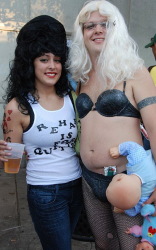 Wednesday October 31, 2007 03:29 pm EDT
Friday October 26, 2007 09:23 pm EDT
The Atlanta Police Department is planning a Halloween "traffic safety blitz," complete with "saturation patrols" and "security checkpoints" that will start this weekend.
According to an APD press release:
More than half of all Halloween fatal accidents are alcohol related. Accordingly, Metro Atlanta law enforcement officers will be turning up the HEAT Highway Enforcement of...
|
more...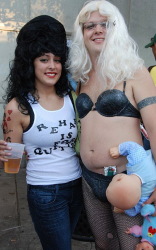 Monday October 22, 2007 06:04 pm EDT
Wednesday October 25, 2006 12:04 am EDT
Pairing wine with chocolates can be a real treat |
more...
Wednesday October 30, 2002 12:04 am EST
Herman Munster: Me and Lily are going to go to the graveyard out back, and we're going to watch the moon, look at some graves, hang out at the graveyard and say hello to some old family members. We have a big party going on at 1313 Mockingbird Lane this year. We have a girl named Marilyn. She didn't turn out quite as pretty as the rest of the family. We still love her, but she's not as pretty.... |
more...
Wednesday October 23, 2002 12:04 am EDT
Scary attempts mixing wine with candy |
more...
Wednesday October 24, 2001 12:04 am EDT
BELA (LUGOSI), HOLLYWOOD:
My celebrations will not be ruined at all. Bad things happen all the time. You get over it and move along. I lost two friends up there and they'll be missed, but I'm going to celebrate Halloween as if they were here. People should go out and see the shows and have fun. Don't let anything stop you. Halloween is the best holiday of the year. It's like Christmas but...
|
more...
Wednesday October 24, 2001 12:04 am EDT
Witchy brews from Bull's Blood to Vampire Merlot |
more...
Saturday October 28, 2000 12:04 am EDT
Jim Stacy, creator of the legendary Star Wars-theme rock band Grand Moff Tarkin, switches off his power drill and stands back to admire a massive new prop created for his most ambitious project yet. He grins proudly as he gestures at the 11-foot high wooden skull.
"On Halloween night," he chuckles, "you'll walk through this to get into the Echo Lounge!"
With a production budget rumored to be...
|
more...
Saturday October 28, 2000 12:04 am EDT
Mark, Atlanta:
I'm the Crimson Ghost. I loved the movie and it's my favorite band's Misfits logo. I loved all those old black-and-white horror movies with Bela Lugosi and Boris Karloff. Halloween was like my Christmas. I always loved to throw spiders at my Mom and other people who were really scared of them. Every year of my life I have dressed up for Halloween.
Gouda, Atlanta:
My Mom made...
|
more...
---