THE MOVE: Plan Accordingly - April 2020
Hey, y'all! What's the move?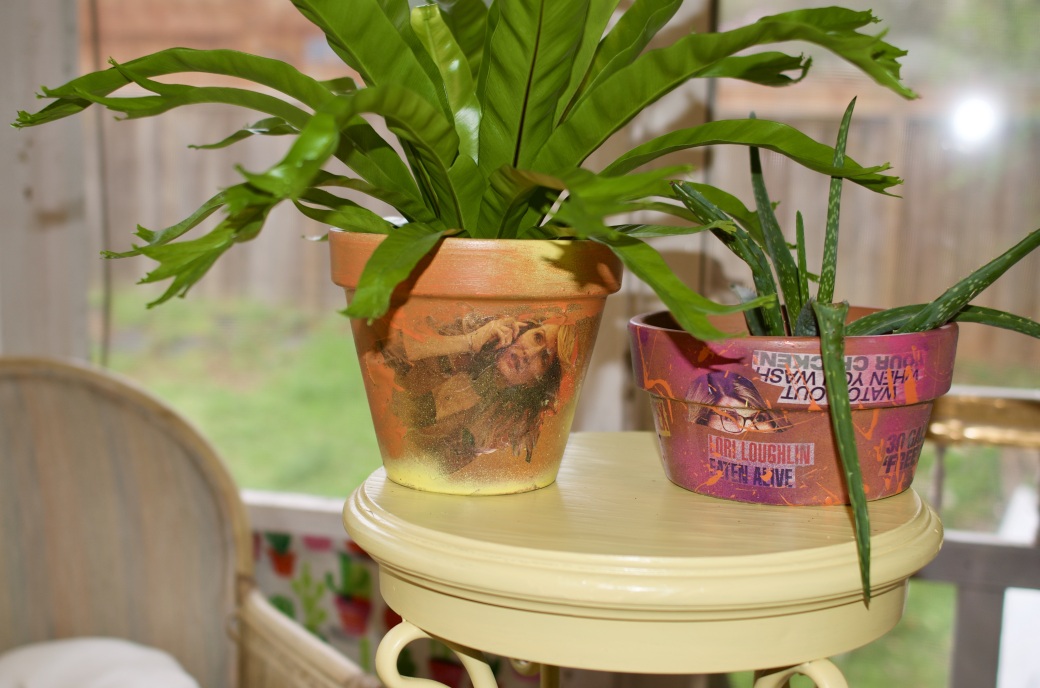 DIGGING IN THE DIRT: Make "sex pots" and more using old "Creative Loafing" papers while on COVID-19 quarantine.
The Move is a column intended to get you out of the house, interacting with strangers and returning home with new experiences, not coronavirus. Because Tecate doesn't seem to be the cure, meet The Move: Things to Do at Least 6 Feet Away from Other Humans, the new, hopefully temporary, edition of The Move. But have no fear, bc we don't f*ck with boredom on The Move: Things to Do at Least 6 Feet Away from Other Humans. Some home- and self-improvement are just what my WebMd doc prescribed for a voluntary-ish quarantine. Read on to become a better, more gifted you during COVID-19!*
The internet has never felt more useful than to keep up with a mega-virus, absorb YouTube content, and telecommunicate with those I cannot currently touch. Like any modern millennial, my cures for anxiety include  memes, DIY home- and self-improvement, carbonated water, and marijuana. And although my dream of retiring to open a cuddle camp has been postponed — truthfully she wasn't even close — we still have Amazon.com to bring activity tools.
Life threw The Move lemons, so we're going to scour Pinterest for hours looking for the best damn lemonade recipe, and maybe, possibly consider making it, ya know, btw memes. I hope you feel inspired after reading how I spend my personal wi-fi bill. Post COVID-19, it's quite likely The Move may include an event of interest to the new you! Stay sanitary, neighbors!
DIY: Sex Pots
If you keep up with The Move, you know she is plant-obsessed! Here's a makeover for those basic planters your last neighbor left behind. Easy, customizable sex pot created by you! Copy and paste are not just keys on your computer. Using Creative Loafing print ads, cut, place, and paste on pottery or furniture of choice, then Modge Podge over them for instant art, aka decoupage. I splattered and sprayed some paint and glitter for accents. To keep with the "sex pot" theme, use the adult ads in the back of this newspaper.** Or try six-time Golden Globe actor Laura Dern's face for a "Dern fern" piece, pictured.
DIY: Perfect Another Language
Travel plans canceled? Naw. You just got more time to practice your language skills. Personally, I'll be re-learning Russian to make up for my lack of studying in St. Petersburg many white nights ago.
Between YouTube, smartphone apps, and streaming channels GALORE, you could come out of COVID-19 speaking sign language! My Roku streaming stick, just like your Chrome Fire stick or Apple TV, offers entire channels dedicated to a single language. How about ordering that lengua taco in the bull's native tongue by the time you scarf down your next Mexican meal in public?
Stay home and Make a Bolo Tie

I made a bolo tie, once I realized a good bolo tie is tough to find outside of the Southwest and can be limited in design. Fun Fact! A bolo tie is the official state neckwear of New Mexico. (My findings for Georgia's official neckwear, inconclusive.)
A good bolo tie is rugged yet refined, and pretty easy to make. Don't take my advice, take YouTube's! Google "How to make a bolo tie" for a swarm of quick and easy ways to create the base of your bolo, but let your designs sprawl outside the box if it feels right. Add a favorite patch or some pom-poms vs a turquoise gem.
Just think, nearly 100 years ago, a Native-American with a silver-clasped bandana gave a cowboy silversmith the idea for adding his leather hat string, then calling it a bolo tie. A practical thought, turned fashion. Your incubation time could hatch great things for the runway, my friends.
How to Keep Music Alive During a Crisis
Keep streaming. Vinyl, CD, and cassette friends, come up to the airwaves and listen local, or subscribe to a music streaming service that pays the artists appropriately. Or buy the music outright. Yes, that's still a thing! Don't want to listen to music 24/7? Support your favorite small artists by playing their songs on repeat, even if you mute it. Plays pay bills.
Don't Wait for a Sign, Make One
Are you a political activist or slacktivist? Take a listen to Hidden Brain wherever you listen to podcasts. Specifically, the episode titled, "Passion Isn't Enough," with political scientist Eitan Hersh. Hersh talks about the study of "political hobbyism" and how the US currently treats politics more like sports entertainment.
If you find yourself in the political slacktivist category, like most, it's a great time to make a sign supporting your candidates for all the upcoming elections. Don't wait until May or November. Take that sign out to the street, keeping over six feet away from passing humans, and hold it up high for your neighbors and traffic to see. I promise it's way more invigorating than a one-click Facebook share.
This downtime is a great chance to call your representatives and political candidates vying for their position, even if it's just to introduce yourself and your priorities. Mark the new Georgia Primary Election voting day for MAY 19, 2020. If you need help getting to the polls in May, try https://carpoolvote.com/.
Xtra! Xtra! Weed all about it. Or listen wherever you get your podcasts. The latest episode interviews Corey Lowe, a former police officer who left the job to fight for her daughter's right to medical marijuana in Georgia. Without this medication, her daughter, Victoria, suffers up to 100 seizures a day. With it, only one.
Listen to Lowe's family story and how she's played a dominant part in making change for Georgia's cannabis laws. The fight is far from over. Tune in at CLATL.com/FiHP
Film and Tube Time
Here's what I'm watching during an international crisis. If I ain't learning something or solving a murder, I'm likely not streaming it. Naturally, I watch Outbreak the day we hit a pandemic state in the U.S., to learn what not to do. Kevin Spacey gives off a particularly great creep vibe, per usual.
Upbeat and super motivational Hulu original programming "Making It" is just good for the whole fam jam fun. Nick Offerman and Amy Poehler, of Parks and Rec, bring notes of the warm and fuzzies as hosts of this craft challenge for the masters. In only a few hours, these makers create a mailbox that shreds bills, a dog house with edible wallpaper, and a photobooth that can fly — all with more puns than my little heart can love.
A&E's docuseries "The Many Faces of Jane" follows 28-year-old Jane Hart in her daily life as a mother of two young children and to her thrice-weekly intensive therapy sessions for dissociative personality disorder (previously known as multiple personality disorder). Hart's personalities are each derived from a different age in her life when trauma and abuse occurred. I know you have a million questions, and I am not a doctor, yet, so just go watch it. I streamed on Hulu.
Film of 2019 IMO, was GREENER GRASS. Comedy meets horror in timeless suburbia where everyone wears braces on straight teeth, and matching tertiary wardrobes, and golf carts glide nicely along with music from composer Samuel Nobles. Dawn Luebbe and Jocelyn DeBoer star and direct in a story of jealousy and murder in this irrational masterpiece with strong David Lynch vibes. Either you'll get it, or you won't. Either way, you'll feel awkward.
Other TV listings include Kamp Kenan for reptile curiosities; Yarn TV, a crochet channel; and, not a series, but yes a channel dedicated to making your own soap (DIY Soapmaking). All streaming on Roku, and probably elsewhere.
Totally unqualified advice for those bored in Atlanta during COVID-19.