GRAZING: Talat Market: Where scoring a takeout meal is harder than getting laid in a pandemic
But the reward is the same
STUDY IN RED: Red chile jam colors crispy rice, and beets take it a shade deeper. PHOTO CREDIT: Cliff Bostock Peanuts challenge rice in a battle for crunchy superiority.
I intentionally arrived 10 minutes early when I went to pick up my meal at the new Talat Market in Summerhill. I knew curb service was their modus operandi, but my sneaky plan was to go inside and at least get a look at the dining room, which was, of course, under coronavirus-shutdown. I leaned back in my car, opened the door, put my left foot out, and was startled by a scream. "Sir! Sir! Are you here to pick up an order? May I help you? Sir? What is your name, sir?"
I peeked outside and saw that the woman asking to see my papers was smiling, but holding her social distance at, oh, 30 feet. I identified myself. She paced into the restaurant and paced back out with a large paper bag that she held at arm's length, reminding me of my second-grade friend Joel, who walked into class holding a dead squirrel at the same distance. I put the bag on the passenger's seat, and, just as our second-grade teacher made Joel do, I furiously cleaned my hands with antibacterial soap before grabbing the steering wheel and nervously driving home.
Is it ever going to end? Unless you have a second-grader's immune system, it's still risky to dine with other humans. While a lot of restaurants have reopened — 40 in the Buford Highway corridor! — most have not. By the time you read this, the city's bars and clubs will have been authorized to reopen, so maybe alcohol will help spread Eric Trump's neurological disorder that causes the pandemic to seem like a Democratic hoax which will disappear after the November election. In other words, if you are a Republican, eat, drink and be merry now. I concur!
Atlanta's foodies have anticipated the opening of Talat with the same fervor as Little Bear, which I wrote about last month. They have a similar history, having both gained enormous popularity as pop-ups at Gato in Ormewood Park. Chefs/co-owners Parnass Savang and Rod Lassiter spent two years there before exiting last August to begin working on their brick-and-mortar plan while still popping up at various locations around the city. This was after Talat was named one of Bon Appetit's best new restaurants of 2018 and Savang had been named a James Beard semi-finalist, as was Jarrett Stieber, owner of Little Bear. The two restaurants also share the ill fate of opening in the same neighborhood during the pandemic and having to limit their service to takeout. They've also both done well enough — they sell out quickly — to retain their small staffs.
I dined at Talat's Gato location at least four times and, like everyone else, was floored by the food. Savang's story has been microscopically recounted (see Eater Atlanta). He grew up in his parents' Americanized Thai restaurant, Danthai, in Lawrenceville, and planned to flee the restaurant business after high school. But it was in his blood and, after two years, he embarked on a career that sent him to the Culinary Institute of America and had him working with some of the city's best chefs, like Hugh Acheson and Ryan Smith (who was a huge inspiration to Stieber). While working at Kimball House, he convinced co-worker Rod Lassiter to join him as sous chef and co-owner of Talat, which means "market" and pays homage to the Thai markets he visited with his mother as a kid. He credits "staging" gigs at restaurants in Bangkok and Portland with distilling his vision for authentically inspired Thai food, more like the kind his parents actually ate at home instead of the Americanized version their restaurant served.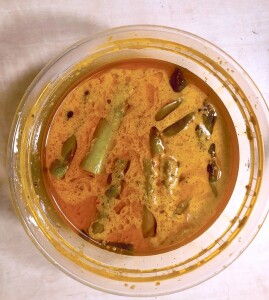 The Portland restaurant where he staged, Pok Pok, is famous for adapting Thailand's street food, which is highly seasonal and varies by region with the same kind of intense cultural and agricultural differences as, say, Mexico's Oaxacan province. A region's dishes — here or in Thailand — are an expression of its particular culture interacting with the ground to which it is attached. Thus, Savang's cooking transforms Thai food by bringing specifically located, native technique into contact with Georgia dirt. While local sourcing sounds like the agenda of nearly every young chef, it requires special deftness to bring those ingredients smoothly into cooperation with a culture on the other side of the globe. That is why I'd call this unusually authentic but other-than-authentic Thai cooking. It's not the clumsy fusion food of the '80s. It is a new cuisine. This, at least, is my reading of Talat's food.
That said, beyond the greater spiciness, it's not so easy to detect specific subtleties even though it's easy as pie to know you are eating something extraordinary. The takeout menu, like many others around town, features multiple dishes — seven during my meal — for two people and costs an absurdly cheap $50 total. Let me get the warning over with: Scoring a meal — 52 are available daily, Wednesday-Sunday — is frankly a nightmare. You order online, starting at noon, two days before your preferred pick-up day. Here's what happened to me: I got online at noon, was surprised to see a slot available, filled out all my information, hit "submit" and was booted back a page. I wasn't sure if I'd been charged. I was so confused, I called and left a message and sent an email, but I decided to try again. Whoa! I was informed a later time was available. I filled everything out and — boom! — the same thing happened. My fingers flew into a typing rage a third time, and I scored! In short, meals were selling out between the time I entered my credit card number and hit the submit button.
My meal was expectedly wonderful, with few disappointments. Takeout presentation is not especially attractive or convenient. When you're serving soups and curries, I guess there are few alternatives for transport, but I came very close to spilling the pork-based broth from its large plastic container that was thin and slippery. The soup included pork and shrimp sausage, glass noodles, wood ear mushrooms, daylilies, scallions, and cilantro. To serve, I suggest you pour the liquid first into two bowls and then divvy up the solids at the bottom of the container. The soup was a springtime wake-up to the palate by way of funky flavors pulled out of the ground by a hungry pig.
Next up was yum khao thawt — Savang's signature crispy rice, stained with red chile jam, tossed with beets, peanuts, ginger, cilantro, shallots, and little gem lettuce. So red. I'm sure you see the Southern influence. Another plastic container contained more red, this time as a coconut-milk curry with asparagus, pineapple, spring onions, and Thai basil. The pineapple's sweet notes were a bit much for me, even with the spicy zing, but I loved the fresh grilled asparagus, slightly bitter, replacing the green beans we usually see around town. You'll want to serve this over the large portion of jasmine rice that comes with every meal.
Then there was the protein: crispy pork belly served with a garlic-pepper vinegar. This offered clean, clear, melting flavors, with the vinegar striking me, improbably, as an allusion to barbecue. Maybe my favorite dish was the luscious, stir-fried eggplant seasoned with garlic, fresh chiles, and Thai basil. It included an oyster sauce. I usually detest the heavy brown oyster sauces that obscure every other flavor on a plate, but this was light to the degree I didn't even recognize it. Dessert was the menu's explicitly Southern absurdity — your mama's banana custard turned lividly green with pandan, an aromatic leaf common throughout Southeast Asia. Just in case the pudding and its vanilla wafers were too sweet, Savang threw some fried shallots on top. I have to say, the packaging of this gooey delight was a bit off-putting. Basically you have to scrape it off the bottom of its cardboard box … and you will scrape.
I did ride by the restaurant and peeked in the window of the sleek, gray building that was formerly a small market. You'll enjoy the neon pineapple on the outside wall. The dining room seats about 30, includes a bar, and features a mural intended to complement a mid-century modern look. Check out the restaurant's Instagram page, @talat_marketatl, for a view of everything. —CL—
(Talat Market, 112 Ormond St. S.E., 404-257-6255, talatmarketatl.com.)
---