THE BLOTTER: Animals in the street and roaming
And other tales of life in the ATL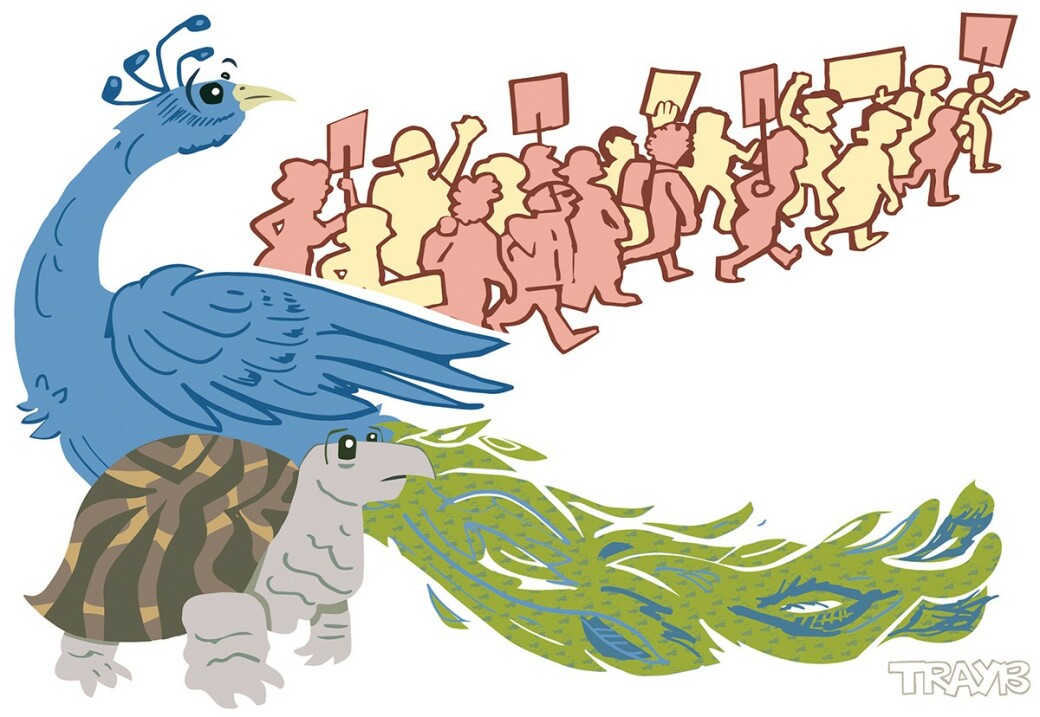 NATURE LOVES A LOCKDOWN: A wild turkey was spotted in East Atlanta Village (probably headed to the Earl for Wild Turkey shots). Peacocks roamed freely in Kirkwood. And in Decatur? One neighborhood denizen wrote, "The Dude on South McDonough a half hour ago, directing traffic so a turtle could cross the road — is exactly the hero Decatur needs right now — he low-key won the day."
Another Decatur resident responded: "Nice. The last time I helped a turtle in the middle of E. Davis, by putting him on the side of the street he was heading to, he peed on me."
JUST OUT FOR A JOG: In Lawrenceville, a 14-year-old African-American male says he was out running for exercise in his subdivision when he was accosted by two white males. He said the men in a silver 4-door car pulled alongside him and yelled extremely derogatory insults, before spitting on his arm. During a pandemic.
The 14-year-old says: "It was very disturbing that I had someone's bodily fluid on my arm."
The teen adds: "They yelled things like 'You're poor!' and 'Go back to your 'hood.' They also used racial slurs to describe me."
The 14-year-old's mother says her son was instructed by his football coach to start running to prepare for the upcoming football season.
DECATUR DICKHEAD: About 30 people decided to hold a Black Lives Matter protest on a street corner in Decatur, holding up signs.
"For the most part, we were greeted with signs of support — from honks to thumbs up!" reports one protest organizer. "Towards the end, an older (white) man drove by while yelling that we were ignorant." About two minutes later, the older white man showed up on foot at the protest "and started using the N-word," reports the protest organizer. "Not afraid of a good fight, I let him know I wasn't afraid of his ignorant rants. Then, he got ugly. This man got in my face and spit on me. Twice. He then yelled, 'I have the COVID-19.'
The spitter wore a T-shirt that read: "Math Counts."
That wasn't all. A fellow organizer followed the older white guy to his car, intending to snap a pic of his license plate. "When the man saw him taking a photo, he shouted, "I'll shoot you, N-lover. Why don't you suck a N-dick?" 
The older white man lives in Decatur. Yes, Decatur. The land of hemp clothes and yoga. He wore plaid shorts, that t-shirt, and a white baseball cap.
The protest organizer posted photos of the man (and his license plate) on Facebook. "I have called the police," he says. "This man belongs in jail."
MESSAGING MALFUNCTION: In Buckhead, a restaurant called OK CAFÉ displayed a perplexing banner during a recent student-led march called Buckhead4BlackLives.
The banner, proudly displayed across the restaurant's storefront, read in huge letters: "LIVES THAT MATTER ARE MADE WITH POSITIVE PURPOSE," alongside a booth that read "OK Café Tea Party."
A Georgia Tech student organizer of the march says, "It's such cryptic wording that we feel like they were trying to step around it, while not actually saying 'All Lives Matter.'"
Other signs displayed at OK Café include: "Law & Order = Peace," "OK Café Loves America," and "We Support the Georgia Police Force."
The restaurant's female co-owner — when quizzed by food and dining network Eater about her controversial signage  — had this to say via email:
"The mass and unhinged violence and destruction of business across America was purposeless, anti-American and destroyed the concept of law and order. A message of positive purpose needed to be said. I hope to see many similar messages posted too as Business is the glue of our free society."
The Blotter Diva says, Shove it, lady. If "Business" (with a capital

is the glue of our free society … then, we're all about to come unglued. Quickly.
THIS IS FUCKING POST-GEORGE FLOYD AMERICA: A police officer held two African-American boys (ages 13 and 15) at gunpoint in Clayton County.
Police say the boys showed them a BB gun hidden in the bushes — and it looked like a real semi-automatic pistol.
One person standing nearby was heard pleading with the officers: "Please sir, don't shoot. They're kids. What did they do?"
Another person cried out, "Why you got a gun out?"
The officer replied, "Because I'm being safe."
The boys' mother says: "If this community in Clayton County didn't come out for them, I wonder if one of these boys wouldn't have made it home. … These kids were shadow-boxing near the convenience store, playing with each other as kids do. The community begged the officer to put his gun away. Police harassment is real!!! A gun before a Taser on black CHILDREN?"
The 15-year-old says: "I thought I was going to die. Because you see all these black kids dying."
Community activists are calling for the Clayton County police officer to be fired. —CL—
---