See our
guide to COVID-19 in Atlanta
(this page last updated )
ATLANTA MUSIC NEWS: #SaveOurStages legislation up for vote
Plus, new music from the Callous Daoboys, Playytime, Elliot Bronson, and more
Live music venues across the country — large and small — are feeling the pressure of stay-at-home orders, as the ongoing COVID-19 pandemic approaches the six-month mark.
In May, the National Independent Venue Association (NIVA) conducted a poll of its members, which currently includes more than 2,000 members in all 50 states. The poll revealed that, unless some sort of federal relief aid is provided within six months, 90 percent of the country's live music venues will go out of business permanently. Several venues around the country have already closed down in recent months, including The Metro in Chicago and, closer to home, The Vista Room in Decatur.
For many, the bipartisan Reviving the Economy Sustainably Towards a Recovery in Twenty-twenty (RESTART ) Act, introduced by Senators Michael Bennet (D-Colorado) and Todd Young (R-Indiana), has offered a glimmer of hope. If passed, the RESTART Act will expand upon the Paycheck Protection Program to work for businesses that have lost revenue while remaining closed as a measure to prevent the spread of COVID-19. But if the RESTART Act does not pass before Congress goes into recess in August, countless more music venues will likely be forced to shutter their doors forever.
On the heels of the RESTART Act, U.S. Senators John Cornyn (R-Texas) and Amy Klobuchar (D-Minnesota) have introduced their co-sponsored, and possibly more helpful, bill to provide relief for venues struggling to survive during the COVID-19 pandemic. The new bill, dubbed the Save Our Stages Act, takes its name from NIVA's ongoing social media campaign, turning #SaveOurStages into possible legislation.
According to a July 22 press release issued by NIVA, if passed, the Save Our Stages bill will: "provide Small Business Administration grants for independent live music venue operators affected by COVID-19 stay-at-home orders. These grants would provide at least six months of financial support to keep venues afloat, pay employees, and preserve a critical economic sector for communities across America."
The Save Our Stages Act is also designed to keep a tighter focus on music venues, promoters, and staff, whereas RESTART was created with a broader definition of the affected businesses that it covers. Even more important, however, is that Save Our Stages functions as a grant program rather than a loan program — with certain payback components built in.
NIVA is showing support for both bills. The July 22 press release goes on to explain that, if passed, the Save Our Stages Act will establish, among other things, a $10 billion grant program for venue operators, promoters, and staff. Eligible recipients would receive grants equal to the lesser of either 45 percent of gross revenue from 2019 or $12 million. The bill also includes the possibility of supplemental grants in the future if funding continues to remain available and venues continue to struggle as a result of COVID-19-related financial losses.
The Save Our Stages bill was introduced to the Senate on July 22, and made its way into the House on July 23.
Tomorrow, Tuesday, August 4, is the day for action, "our final push," as Rival Entertainment announced in a press release Monday afternoon. Congress will make decisions this week that determine the fate of thousands of independent venues, promoters and businesses in the ecosystem of live music. While our businesses are closed and it's unsafe to gather together, we need our Senator's support for legislation that keeps businesses afloat and workers' bills paid!
As Rival, the Fox Theatre, Masquerade and every other music venue in Atlanta urge you to do, demand:
Support of the Restart Act For America (S 3814 / HR 7418)
Support of the Save Our Stages Act (S 4258)
A six-month extension of unemployment benefits.


Ask Senators Loeffler & Perdue to support THE RESTART ACT, THE SAVE OUR STAGES ACT and Extended Federal Unemployment support.
Visit www.SaveOurStages.com now to send the Senators a new message and let them know that you support the businesses and people that make concerts, festivals and cultural events happen.   It only takes a minute and there isn't much time left.
Have an extra minute?  Email the Senator's staff to ensure our message is getting through:
Senator Loeffler: wesley_coopersmith@loeffler.senate.gov & sydne_smith@loeffler.senate.gov
Senator Perdue: pj_waldrop@perdue.senate.gov & john_eunice@perdue.senate.gov
Stay tuned for more information as the story develops.
On July 24, Rep. Ron Kind (D-Wisconsin) and Rep. Mike Kelly (R-Pennsylvania) introduced yet another piece of legislation aimed at protecting independent music and entertainment venues through the COVID-19 crisis. The Entertainments New Credit Opportunity for Relief & Economic Sustainability (ENCORES) Act allows live music venues to recoup some of the losses they've accrued over ticket refunds from canceled events. If passed, the Bill will provide a 50-percent tax credit for refunded tickets. Like RESTART, ENCORES targets a broader base of affected business including events that also promote and host live comedy, theatrical productions, and sporting events. It also stipulates that to get the credit, eligible businesses must have 500 or fewer eligible employees, and have offered vouchers to customers first, and customers opted for a refund.
In the meantime, venues such as Center Stage and the Masquerade are in the process of outfitting their live music rooms to begin hosting live-streaming performances, while Atlanta's City Winery is "hitting the pause button," as CEO and founder Michael Dorf announced in a press release, adding he hopes the closing will only be "temporary."
Keep an eye out here for more details and announcements regarding Atlanta clubs and music venues as they become available.
In hardcore news ...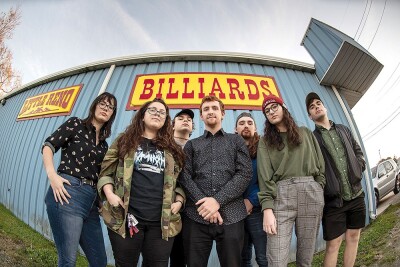 Atlanta's rising seven-piece post-post-hardcore outfit The Callous Daoboys recently announced that the group has signed on with the Long Island, New York-based record label Modern Static Records to release a new full-length in 2021. It is, according to an email from the group, "the most ambitious thing we have ever written."
The album's title has not yet been revealed. Look for new singles to materialize this winter, and the new album to arrive sometime in March or April. In the meantime, the Daoboys' 2019 debut album Die on Mars is still blowing minds with its maze of jagged and controlled chaos.
Slow Fire Pistol also recently made a big jump to Run for Cover Records to release a split 7-inch with Austin's Portrayal of Guilt. For their side of the split single, Slow Fire Pistol's singer and guitar player Hank Pratt, guitarist Ben Jordan, bass player Connor McFall, and drummer Blake Hall crafted a five-minute miniature epic that traverses a broad swath of punk, hardcore, post-punk, and early screamo hallmarks, titled "Heart of Discernment." The song takes shape as a loud and poignant cry for compassion amid a current social and political climate that grows increasingly hostile by the hour. It's also a searing compliment to Portrayal of Guilt's "The End of Man Will Bring Peace to This Earth" on the record's flipside.
Clocking in at right around 16 minutes, Playytime's brand new 7-song EP, titled The Fun Never Ends, is a crawling, heavy-as-hell dose of raw, barreling hardcore that's exemplified by the album's title track, and counterweighted by the slow-burning introspection of the closing number, "Windlike (ft. Stemlines)."
In other new releases news ...
St. Louis rapper Smino recently teamed up with Dreamville's J.I.D and producer Kenny Beats for a spacious and meditative post-trap banger, titled "Baguetti." This new cut falls on the heels of Smino being featured on the Dreamville posse cut, "Sacrifices," with J. Cole, Saba, and Earthgang, which arrived earlier this year. Smino also managed to land a guest spot on Chance the Rapper's song, "Eternal," from the album The Big Day, which peaked at #25 on the Billboard Bubbling Under Hot 100. On "Baguetti," J.I.D brings the song to a close with his own take on a TED Talk-style breakdown of his music industry credentials. Check it out on Spotify.



The Young Antiques rolled out a video for the song "Goin' Home," featuring songwriter and Atlanta expat Kelly Hogan, whose musical repertoire includes a vast body of solo recordings, as well as performing with the Jody Grind, the Rock*A*Teens, Decemberists, and Neko Case. The social distance-friendly video was directed by Atlanta-based photographer and filmmaker Jeff Shipman__, and premiered via The Big Take Over in July. The song is taken from the Young Antiques' latest album, Another Risk of the Heart. The album is out now via Southern Lovers Recording Co.


And last, but not least, on July 24, singer and songwriter Eliot Bronson released his latest album, Empty Spaces. The album's first single, "Let Me Go," which premiered via Rolling Stone Country, is just a glimpse of the album's larger conceptual leanings, steeped in visions of lust, loss, betrayal, romance, and more. —CL—
Send local music news items to chad.radford at creativeloafing.com.__