A 'Sonic Rebel' as well as an industry powerhouse
Tammy Hurt debuts her new music project with a live show and a new EP
Prolific Atlanta musician Tammy Hurt, who refers to herself as a "mad consumer of music," will debut her new electronic project, Sonic Rebel, with a live performance at Smith's Olde Bar on Thursday, June 24.
Hurt describes Sonic Rebel as a mashup of influences: "Rage Against the Machine, the Chemical Brothers, and OutKast combined with a lifetime of live music experiences."
"Most of my life I've spent being a side man," Hurt says. "I had to wait for someone to ask me to play or do a session with them, and now it's just me with my Roland SPD SX (a percussive sampling pad) that I trigger with my tracks. It's great to play on stage with a band, but it's also really nice to not have to depend on anyone to do what I do."
The stalwart drummer has been playing all over town for years with acts such as Indigo Girls, Michelle Malone, Minority Rules, Van Hunt, and Wendy Bucklew, and has worked with producers Brendan O'Brien and Nick DiDia. Right out of college she joined a folky acoustic group called the Fabulous Scallion Sisters, featuring DeDe Vogt, which mutated into Paper Dolls, a rock band that "went in a little bit more of a commercial direction" and made an album for Sky Records. "It was an incredible run," she says of her time with the two bands, both of which had considerable followings in Atlanta and the Southeast.
Sonic Rebel's new five-track EP, We Made This With Our Hands, will form part of the set at Smith's. A single and video of the track, "This Vibe," came out in early May. The recording took place at the Big Trouble Studio in Little Five Points with the assistance of Grouplove's Dan Gleason and Ben Homola, engineer and programmer TJ Elias (Mastodon, Thievery Corporation), and multi-instrumentalist Kevin Spencer. The recording was mastered by GRAMMY nominee Michael Romanowski.
"I wanted to create original tracks to stand on their own, and I also wanted to use those tracks as music beds for mashups," says Hurt. "I've been a lover of rock and roll all my life, but as I've grown up I've been digging into new styles of music, and I always thought that some of this music I was hearing, that I really loved, could use some live drums."
Why choose the title "We Made This With Our Hands" for the EP? "I had an idea stylistically of what I wanted to create — the beats per minute and the energy level of each track — so we started with the drum grooves and recorded the drum tracks first," Hurt says. "TJ (Elias) was behind the console, and Ben (Homola) was working with a modular synth, so he was creating sounds, samples, and different treatments on the spot. I remember watching Ben make these sounds with his hands, literally twisting and turning knobs to have different output, and I thought, 'That's it, that's exactly the name for it.' All those sounds came from people. They were not created by preconceived, pre-programmed samples in the studio. It was something completely original."
Dolby Atmos versions of all five tracks on the EP will be released "for a more immersive sonic experience," according to a press release issued by Hurt. Dolby Atmos is a technology that allows sounds to be interpreted as three-dimensional objects, letting musicians place each voice, instrument, or sound in its own space. Other plans for the tracks call for "drummer play-alongs, stems for DJs to incorporate into their sets, and sample packs for music creators." An Atmos studio of her own in Atlanta is in the planning stages. In the meantime, Hurt will share her music via livestreams.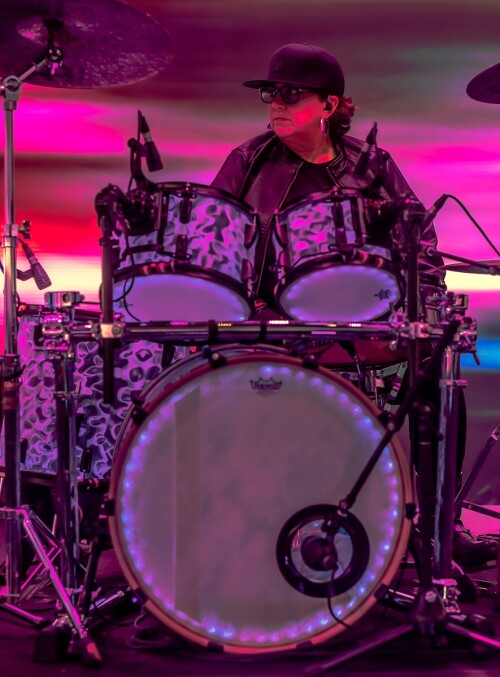 Hurt adds, "The crazy thing is that the Dolby Atmos immersive mixes that are currently at Amazon Music Ultra HD and TIDAL HiFi are far outperforming the stereo mixes on Apple and Spotify. If you have a home theater with a soundbar that's Atmos capable, it makes what you're listening to multidimensional."
Hurt is encouraging remixes. "Other people can take what we've created and utilize it in their productions. There's an opportunity for licensing these tracks; there's an opportunity to play them live, and there's an opportunity to collaborate — the project was intended to be collaborative."
It was Hurt's mother who first exposed her to music at a young age. Susan Kelly was a keyboard player in an all-girl cover band called The Body Shop "that played every standard and cover you can think of in the late '60s and early '70s. The moms were in the band because the dads were in a men's civic group called the Jaycees. The women could attend the Jaycees' convention as long as they provided the entertainment."
Hurt had an epiphany when she got to see The Body Shop rehearsing in the basement of the family home. "The kids of the moms would hang out upstairs usually with the babysitter. One fateful day we were allowed to go down and see them. If you can imagine four-, five-, and six-year-olds around musical equipment ... I saw the drums, and that was it for me. If I could recreate it, spotlights would shine right down on the drum kit. There was never another choice."
She moved to Atlanta as a 10-year-old with her single mother and sister and attended Joseph Wheeler High School in Marietta. She graduated from Presbyterian College in Clinton, South Carolina, with a bachelor's degree in business administration.
"I remember my mother going for a job interview at Alex Cooley's Electric Ballroom," Hurt recalls, "and she got the gig, working with the quintessential, iconic bands of the '70s and '80s that came through. My sister and I basically grew up backstage, and there were always two rules when we went to work with mom: Number one, stay out of the way. Number two, don't get on the bus!"
She added, "Music was part of my mom's history with her family and my history with my mom. I got my passion from my mom but my sheer will and determination from my father. He always taught me to keep my nose to the grindstone, and I never let up. Music has been a huge part of my life ever since then."
Indeed it has. On top of being a working musician, Hurt — who says she tends to compartmentalize her world behind either a recording console or a desk — is deeply involved as an executive in the music industry, with strong ties to several organizations. Among them is a company called Placement Music that provides customized music, scoring, and post-audio for various media such as CBS, Paramount Pictures, HBO, MTV, NASCAR, Lifetime, SONY, and the NFL. Film and TV credits include "True Blood," "Dexter," "Drop Dead Diva," and "Mean Girls 2." The outfit was also commissioned to create an original, custom theme for a podcast called The Friendzy, hosted by Jenn Hobby and Melissa Carter. The track was composed by Mark Dannells of Yacht Rock Revue.
"It's a company that I've poured my heart and soul into," Hurt says. "We had out-of-the-gate success when we got commissioned by Fox Sports to do a full orchestral score to kick off the Super Bowl. To make sure it wasn't a fluke, they came back and asked us to do it again (the following year)."
Another active endeavor is the Recording Academy, where she serves as vice-chair on the board of trustees and co-chair of the national membership committee. Hurt and other Academy leaders recently recorded a new version of John Prine's "Angel from Montgomery" that was released on May 25 in 81 countries, with all proceeds supporting the MusiCares® COVID-19 Relief Fund.
Hurt says her job at the Academy is to build bridges and open doors. "Finally we have our foot on the gas to diversify our membership and make sure the Academy is equitable for all people. I'm committed to creating a more diverse and inclusive membership body representative of all genders, races, ages, national origins, sexual orientations, and beyond." Hurt's work earned her a spot on Billboard magazine's Pride List for 2020. What does this accolade mean to her? "It's important to me to advocate on behalf of all of the LGBTQ+ community, to ensure we are well represented, and that our voices are heard."
Further recognition includes two Telly Awards, Catalyst Magazine's Top 25 Entrepreneurs and Ones to Watch Award, and more recently, an Emmy nomination for her production work on "The ASO Plays On." The hour-long documentary focuses on how the Atlanta Symphony Orchestra adjusted to continue working during the pandemic. "I had always wanted to work with them, and I had hoped to land a project where I could record the score for some big feature film," she says. "When the pandemic hit, they said, 'We would love to talk to you about creating a feature about the symphony and what we've been doing,' because they really innovated during that time. And I commend them — because so many of the professional orchestras shuttered, but the ASO reinvented themselves and figured out a way to do things."
Hurt has also spent seven years pioneering a campaign to create and pass Georgia's first music tax incentive, the Georgia Music Investment Act, which she calls "a passion project." An organization she co-founded, Georgia Music Partners, is behind it, and the intention is to do for music what the film incentive has done for movies and television in the state.
"We live in a city and a state where we are cranking out feature films and TV shows," Hurt says. "The video game industry here is off the chain; we have incredible advertising agencies here; we're creating such amazing content and from my perspective, music is a part of all those things. I believe that if we intentionally connect the dots, we can become a full entertainment hub. There's a little bit of that happening right now, but it's a tremendous opportunity to grow an industry that is already very successful, and if we collaborate and aggregate all our resources, I truly believe we can be the epicenter of production."
Georgia Music Accord is behind a move to bring the GRAMMY Museum and its education programs to Georgia. The effort is a collaboration between the City of Atlanta, Fulton County, the State of Georgia, and the GRAMMY Museum Foundation. It would provide 300 days of music education annually and create opportunities for workforce development, says Hurt. "It helps to not only unify our community, but also helps to unify the business sectors (in order to) fully realize the depth of the talent here in Georgia." Hurt cites the existence of 48 music programs in post-secondary schools in the state and a doctorate of music technology degree offered by Georgia Tech. "We do a great job of creating this work force, but we need to keep them here. We want to bring the economic development piece full circle so that — like music cities such as Nashville and Austin do — we can educate students and have them work right here in their own communities."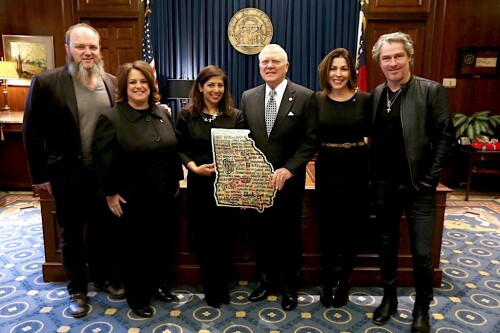 At her Smith's Olde Bar showcase, Hurt will have a couple of "very special guests" still to be determined. "Then I'll get on and play my set alone with my Roland, and then play a set with Chozen, a great DJ who blends genres together beautifully. He and I have curated a genre-fluid set together." Smith's is like a second home to Hurt, she claims. There is a plate with her name on it on a wall, as well as a poster from one of her old bands, and she has known owner Dan Nolen and his former business partner Mike Reeves since she was "knee-high to a kick drum." "I'm thrilled to be playing Smith's and to finally be bringing out Sonic Rebel live," she says, "because that was always what this project was to be — a project that people could consume in a live setting."
Hurt adds, "There's no other place that I would rather be than behind my drum kit on a stage in a room full of people. It's truly an opportunity to be 100 percent my authentic self. It all started when I was four years old when I saw that drum kit, and I have had the same love all these years since then. I've been patiently waiting to do this, and it's right around the corner. Where else can you go into a room with 200 or a thousand people you don't know and share this great unifying music that we all love?" —CL —
Sonic Rebel, Thursday, June 24, at Smith's Olde Bar, 1578 Piedmont Ave., Atlanta, 30324
---