GRAZING: The longtime effect and indisputable lies
Abby Singer, Nam Phuong, and 'High on the Hog'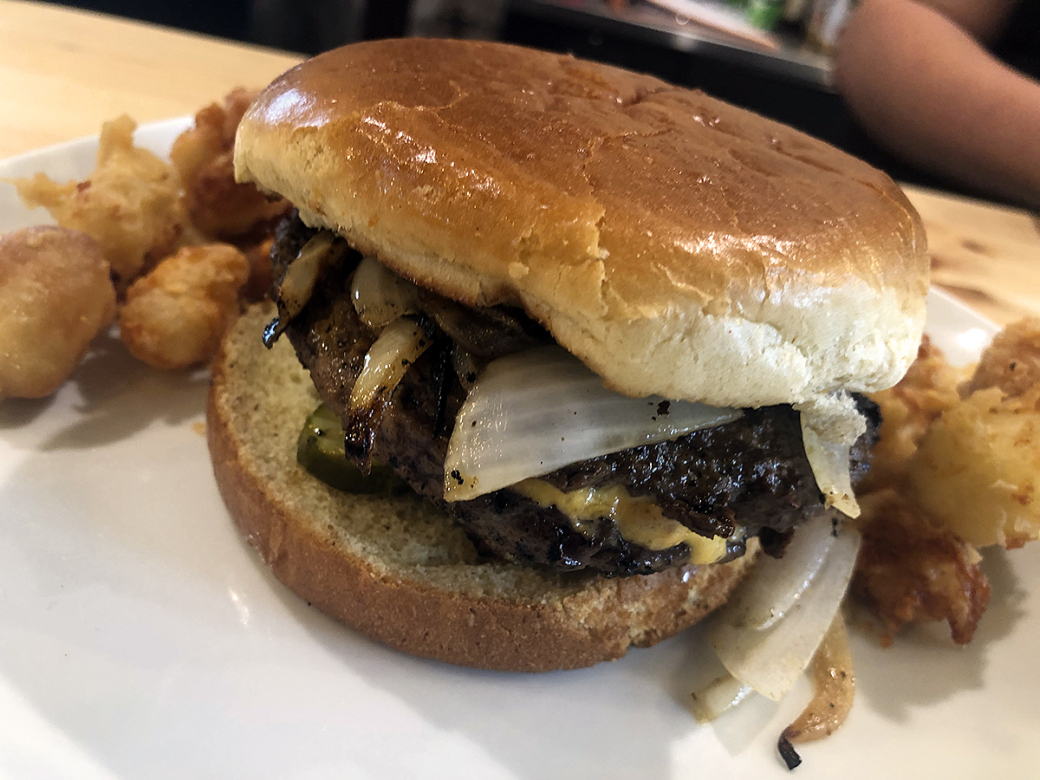 THE JUICY LUCY: A half pound of ground beef encasing a lava flow of American cheese. It's the favorite burger in Minneapolis.
If you don't think the pandemic will have a longtime effect in the United States, arrange a culinary tour of new restaurants in Atlanta. You'll immediately notice a few things they have in common. The dining rooms are smaller. Patio dining, often covered, has expanded. Takeout remains robust. Counter service is everywhere. The accent is often on international and regional cuisine. Many restaurants host kinky pop-ups that help new chefs get established. Staffs are smaller but fear not. Even though prices have increased significantly, if you want a job that pays enough to qualify you for food stamps, there are plenty available.
Maybe the most noticeable change that accommodates all of this is an explosion of so-called food halls. This was of course already happening with places like Ponce City Market and Krog Street Market, just to name two of the original intown behemoths. I wrote about Chattahoochee Ford Works last month. Considering inflated real estate costs, it makes sense to locate in these developments which repurpose often abandoned or downgraded industrial spaces.
One of the latest and most interesting is the Pratt Pullman District in Kirkwood, a 27-acre redevelopment of a former fertilizer plant and railyard into a "creative city within a city" — or something. The name is totally confusing. The development has historically been referred to as the Pullman Yard. Its current URL is pullmanyards.com but the name on that site is Pullman. On their Facebook page, where they like to refer to themselves as "epic," it is Pratt Pullman District. Whatever, it has mainly been the site of film production since 2017 when Atomic Entertainment acquired it. With COVID's relative evaporation, it's become popularly known for hosting "Van Gogh: The Immersive Experience," an interactive digital exhibition which allows you to fully soak up Vincent's vibe and maybe cut your ear off on your way outside for food.
Food? Supposedly the enormous grounds outside the Van Gogh exhibition are home to multiple "mobile dining" operations. Not during my visit on a sprinkly weekday afternoon. After parking a football field or two away and getting complicated instructions on how to pay, I found only Kamayan ATL's Filipino food truck and a stall selling pastries from Gabriel's and coffee from Apotheos Roastery. I had heard Supremo Taco and another coffee shop were operating fulltime there, but every employed person I asked about them shrugged and said they knew nada. Luckily, the brick-and-mortar Abby Singer, was open. After trying to explain the name of the development, I'm not going to do the same with the restaurant. Do your own research.
Abby is a gastropub open for lunch and dinner, with a very limited menu for the present. Business partners Mike Horn and chef Jeffrey Peterson moved here from Minneapolis in 2019 with other plans that were, of course, blown up by the pandemic. They landed at Pratt Pullman and set up operation in one of the site's smallest buildings to give Atlanta cocktails and cheese curds. Yes, cheese curds, the chewy delicacies for which displaced Canadians wail when they need their poutine. Midwesterners likewise demand their "squeaky cheese," most popularly in fried form, and I think they'll be happy with Abby's. If you're not drinking, the portion is adequate for four. If you're drinking, you'll want a second order just for yourself.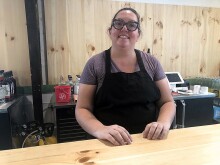 The big deal here is the Minneapolis obsession, the Juicy Lucy burger. It's a half pound of grilled ground beef stuffed with American cheese that erupts like yellow lava inside a bun layered with charred, lightly caramelized onions and dill chips. Mine was delicious, but I have to say it didn't really seem to adhere to the classic configuration. The cheese seemed to be simply placed between two patties instead of buried like treasure in one giant patty. You can also order a portobello "burger," tots, chicken tenders, and a grilled-cheese sandwich. There are kids and brunch menus. Specials pop up now and then on their Facebook and Instagram pages. Recently, they offered a full menu for the debut of the development's 45-piece Pullman Pops orchestra.
The Abby Singer had no indoor seating apart from the bar the day I visited, although there were plenty of picnic tables — some covered — outside. Since I don't drink, I don't talk much to bartenders, but I met my favorite ever at Abby's. Have you ever met a bartender who is a former public school teacher with a master's degree in theology from Emory who also pastors a church and has authored a book? How often do you get to use your useless PhD to discuss liberation and queer theology with your barkeep? Her name is Abby. Tip her big. You might be spared eternity in hell for the sin of drinking too much.
I should add that the Kamayan Filipino venue features excellent food that I've sampled elsewhere. I'm also excited about the plans to host a regular chefs market where customers can buy prepared dishes. It sounds like a great opportunity for new chefs to introduce their cooking.
I'm really hopeful Pratt Pullman succeeds. Creating a "creative city" is greatly ambitious, and I keep remembering when the Ponce City Market redevelopment was announced. The press releases frequently claimed it was sure to attract successful people with high IQs. That was an obvious failure, but artistic people are so much more open-minded than nerds.
BIRTHDAY DINING: Wayne Johnson, Rose D'Agostino, and I have a long history of celebrating birthdays together. It was Wayne's turn in July, and we went to one of his favorite restaurants, Nam Phuong, probably the best overall Vietnamese restaurant in the city. Being three highly skilled eaters, we passed on the dinner for three and ordered the dinner for four, which includes seven dishes. Just in case it was not enough — we had no birthday cake — we added one of Wayne's favorites, the slightly crispy crepe filled with shrimp, pork, and bean sprouts served with herbs and lettuce for wrapping. This was probably my favorite of the eight dishes, only four of which could comfortably sit on the table at a time.
The reason we actually went for the larger dinner was to get Wayne his shaking beef. I have stopped ordering this dish just about everywhere. My first experiences with it in New York and at the wonderful spot in Midtown Promenade many years ago featured exceedingly tender steak, filet mignon typically, lightly marinated and served classically with salt and lime. In the years since then, I'm always presented overcooked or frankly inappropriate cuts like flank steak, typically heavily sauced. The version at Nam Phuong was in that vein. It wasn't repulsive and maybe the effectively low price requires lower grade beef, but it's not a favorite.
The table also included a lotus salad, salt and pepper squid, summer rolls, spare ribs, sweet and sour soup with shrimp, and a green Jell-O dessert that reminded me of those complicated congealed salads of my suburban youth. The real reason we ordered the seven-course dinner was to avoid reading the ridiculously enormous menu. You should be more patient, because there are much better dishes available than the "banquet" standards. Service, as always, was perfect and fun.
FOOD MEDIA: Please watch the Netflix four-part series "High on the Hog: How African-American Cuisine Transformed America." It features Atlantan Stephen Satterfield, the food writer and chef who founded Whetstone, the nation's only Black-owned food magazine. There is much about the series to love. Principally, what Satterfield does is demonstrate the way storytelling creates history — cultural and personal. It is immensely difficult but possible for anyone, as Satterfield does, to untangle the formation of a cultural narrative to discern the truth, which is almost always quite different from the story we've been told, especially if we're unhappy.
Satterfield's passion, obviously, is food, and the lens through which he was told to view his life is the one that Black people were handed by a society founded on racism. It doesn't matter how enlightened or privileged he was. We all internalize systemic cultural stories. In this Netflix series, Satterfield shatters the lens. He goes in search of the story of Black people's role in American foodways and discovers the massive, indisputable lies of American racism. He finds that American food is fundamentally African-American food. Ultimately, he realizes that African-Americans have basically created popular culture for 200-plus years. This probably sounds impossible to you, but watch the series.
Watching the series brought back rather embarrassing memories that I don't think I've ever publicly shared. Before I was 10, I used to climb into the attic of our house in Charlotte. It was stacked with countless books that my mother had taken from her parents' home after their deaths. My grandparents operated a former family cotton plantation in South Carolina that had been home to more than 100 slaves. They lost the land and much more in the Depression. Among the books in the attic were many written to educate freed slaves. While their intention may have been superficially positive, the leather-bound, gilt-edged books were horrifying. I remember the illustrations that basically depicted Black people as animals and provided instructions on bathing, dining, and general etiquette. Some directly addressed the former slaves. Most were written for their white owners to facilitate liberation. One of those images has stuck in my head my entire life. When I hear white people disparaging critical race theory's assertion that you can't grow up in America without internalizing systemic racism, I use that image that haunts me as a metaphor for that process. The only way I could neutralize the hateful image was to acknowledge its presence in my head.
"High on the Hog" offers inspiration to stop reflexively denying what we believe about ourselves and ask ourselves instead, "What if everything Stephen Satterfield has disclosed is true?" I keep repeating in my head one line he speaks in the first episode when he visits Benin, where people were enslaved and shipped abroad: "It was strange to come home to a place I'd never been." If only we all could do that. —CL—
The Abby Singer, 225 Rogers St. N.E., #11 in the Pratt Pullman District, secondmeal-llc.com.
Nam Phuong, 4051 Buford Hwy. N.E., 404-633-2400, skiplinow.com/shop/-M2dIWvR0BGxCo2qRbK0/site/
---