THE BLOTTER: Creepy eyes
And other tales of life in the ATL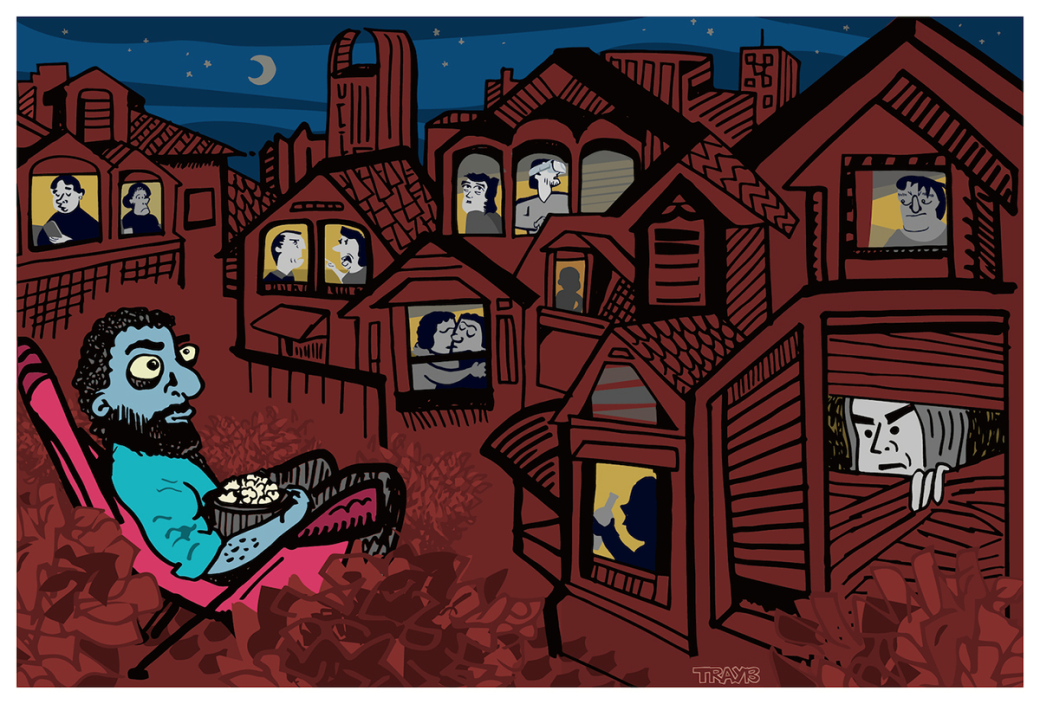 Atlanta police need to get off their butts and do something about a notorious Peeping Tom striking again and again in Midtown Atlanta.
Yes, it sounds like the same dude over and over. No, he hasn't been caught. Yes, people in Midtown are understandably upset — and frustrated as hell. Yes, they've filed police reports. Yes, they've turned in surveillance video of the Peeping Tom from their Ring cameras. So what's the holdup, APD?
The Midtown Peeping Tom struck several times on Myrtle Street this fall.
"He has done this before on this street and its terrifying," Midtown resident Sarah Buchanan told CBS46.com. Buchanan moved to an apartment complex on Myrtle Street just four months ago, and she's already been a victim of the Peeping Tom on two separate occasions. "He comes over this way, and right when he gets to the window, he ducks," Buchanan said. "You can kind of see where he comes to this corner. And he watches me from the corner."
Also, Buchanan alerted her neighbors on social media. "You post one thing and there are 10 people or so who have had it happen to them."
One Midtown neighbor told CBS46 that this Peeping Tom has been peering into Midtown homes for about four years. And neighbors say, to their knowledge, the man has never faced repercussions.
Buchanan said the Peeping Tom makes her feel unsafe. "Do you get a weapon? Stay inside? I think that's the worst part — feeling like I'm trapped in my own house at this point."
Scattered, covered, and smothered
A Waffle House waitress pulled a gun on a customer during a dispute over a food order. The shenanigan went down around 1 a.m. at the Waffle House on Marietta Street near Centennial Olympic Park in downtown Atlanta. No one was hurt in the scuffle.
The Waffle House waitress "said she felt like she was being smothered by a customer and that pulling out a gun was a way to quiet him down," reported WSB-TV.
Yup, the waitress felt smothered. How Waffle House-esque!
Except there's no sign that the customer actually touched the waitress at all. In fact, the male customer left the Waffle House and reported the standoff to the police himself. He told investigators that he and the Waffle House waitress were arguing over his food order — and when the waitress got mad, she pulled out a handgun and pointed it at him.
The irate waitress later agreed with the customer that the argument had been about his food and began "the minute he made his order," even though, she claims, his food was being made correctly. The customer's complaints went on for several minutes, according to the waitress, and eventually she had to change his order several times because he was unhappy about it.
The officer said he was met by the victim, Candy Franklin, who said that the Waffle House employee, Angelic Patterson, pointed a gun at him.
The Waffle House waitress is charged with aggravated assault.
Riot fest
Rapper Boosie Badazz is facing charges after an epic brawl broke out at his recent concert, Legendz of the Streetz, at State Farm Arena in downtown Atlanta. The concert also featured Gucci Mane, Lil' Kim and Jeezy.
According to TMZ, Boosie performed for all of two minutes when a massive fight erupted on stage, beginning when a man descended from the DJ booth and started punching another guy.
Atlanta police responded around 12:41 a.m.
Initially, Boosie and members of his entourage allegedly destroyed his own stuff — i.e. property belonging to Boosie's own production company!  Then, Boosie and his pals allegedly destroyed stuff belonging to State Farm Arena.
No one was injured in the brawl, and Atlanta Police investigators are working to determine what led up to the clash. Boosie was released from Fulton County Jail on bond. He's facing four charges: one, felony criminal damage to property; two, disorderly conduct; three, trespassing; and four, inciting a riot.
Boosie Badazz's real name is Torrence Hatch Jr. He hails from Louisiana.
Points for creativity
A French man is singing a different tune after getting busted at Atlanta's airport for allegedly attempting to smuggle 11 guns inside karaoke machines.
Police say the man had a Delta airplane ticket to fly to Sint Maarten. The man went into the international terminal at Hartsfield Jackson and checked two pieces of luggage. "As the bags passed through the X-ray machine, the operator noticed what appeared to be several firearms inside," reported CBS46.com.
TSA security workers opened the man's luggage , looked inside and found two karaoke machines. When they opened the karaoke machines, they found nine handguns, and two automatic rifles. All of the weapons were individually wrapped in aluminum foil.
The man told authorities that he bought the guns from a Jamaican guy selling weapons out of the trunk of a car in Newnan, Georgia. The man said he paid $2,500 for the entire stash and was hoping to take the guns to Sint Maarten to sell for a profit.
The man's scheme isn't as weird as it sounds. "The way that guns are usually trafficked to Caribbean countries is through these compartments — you know — in laundry machines, even in vehicle parts," Eugenio Weigend Vargas, director of Gun Violence Prevention at American Progress, told CBS46.com.
In January 2021, the TSA said Atlanta topped the nation for the most firearms found at US airport security checkpoints during the previous year.
Grave situation
Unmarked graves were found near a Walmart parking lot in Decatur.
Some residents have long suspected that the remains of former slaves might be buried just outside the Crowley Mausoleum located near the big box store. Turns out, they might be onto something.
11 Alive News reported, "The mausoleum, a Civil War-era burial site, is enclosed by 15-feet-tall granite walls. It's seen better days. Graffiti stains the outside of the shrine while inside, overgrown trees and grass cover the tombs." This mausoleum sits about 300 feet from Memorial Drive.
Decatur resident Jessica Derise recalled to 11Alive, "I remembered in the back of my head, I had a Crowley far, far back in my line. Seven, eight generations back. And I realized, 'Oh my gosh, my ancestors are buried there."
That's not all, though. Derise hit the internet. "I was told again and again online that there are 40 to 50 slaves buried underneath here."
Derise reached out to 11Alive News investigators to find out for sure.
11Alive brought in an expert, Len Strozier, who's been mapping cemeteries for 14 years with ground-penetrating radar. He found several stunning air pockets, including one that "looks like a wooden casket, and it looks like the wooden casket is intact."
The owners of Crowley Mausoleum released a statement: "We are sympathetic to this issue and will look and see what can be done so this area is treated with respect. We are trying to figure out exactly what's there and what our options are moving forward." —CL—
The Blotter Diva compiles reports from the Atlanta Police Department and local news reports — and puts them into her own words.
---