THE BLOTTER: The beat goes on
And other tales of life in the ATL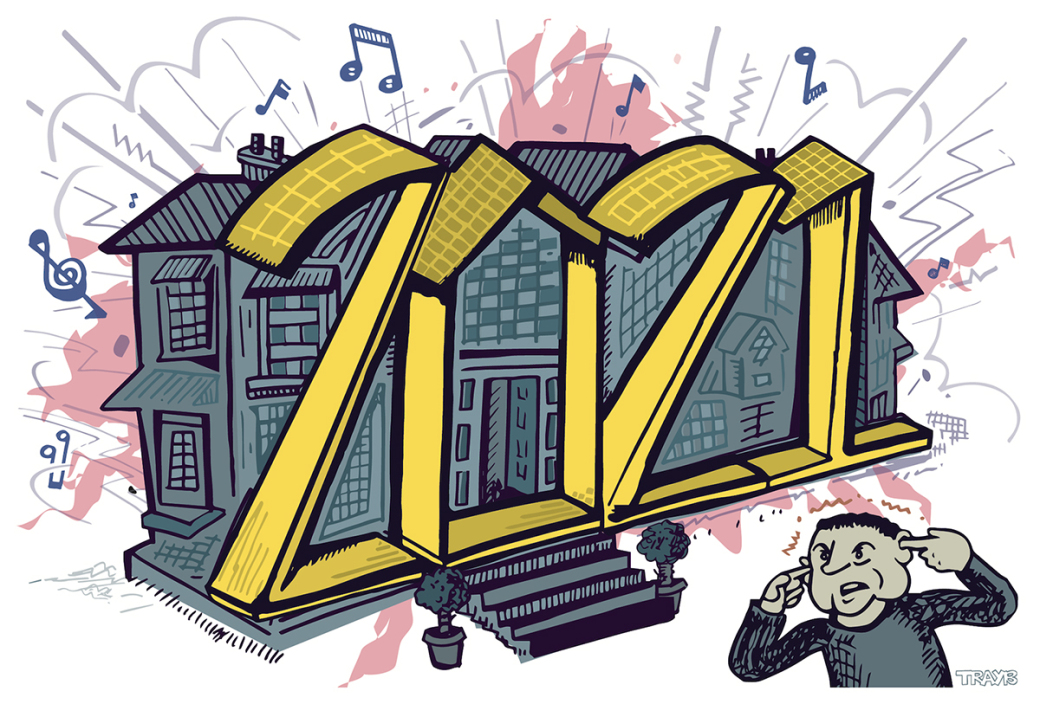 The year 2021 was a big ball of blah. It was the year that was supposed to herald a "return to normal" — only to have any sense of normal snatched away by fresh waves of new strains of the coronavirus, the dreaded Delta and the seemingly omnipotent Omicron variants. Both which make it sound like we're battling a bevy of out-of-control fraternity parties. "Hey, Delta Kappa Delta and Omicron Alpha are out to getcha!"
It was the best of times. (Yay, vaccines!)
And the worst of times. (Boo, stupidity and "doing your own research.")
Yes, 2021 was a rough year. However, Georgia is filled with enough kooky lawbreakers to keep us entertained.
And the beat goes on

In Buckhead, some neighbors are fed up with a "problem party house" that's actually a luxury estate where hosts regularly throw parties for hundreds of people featuring "college-style drums."
Fox 5 News reported on a recent December bash. "On Saturday, at an estate in Buckhead, (the neighbors) came out of their homes to see a full-fledged band with college-style drums and other instruments blaring in the front yard."
We're just dying to know what "college-style drums" sound like. Does that mean unskilled percussionists? Or marching-band sounds? A drum circle? Or just drunken "wanna bang on my drum all day, and party every night" noises?
One homeowner tells Atlanta's Fox-5 News: "The noise was awful. Each time a guest would arrive, they would drum up."
Atlanta City Councilman Howard Shook lives just two blocks from the "problem party house." He says he understands why neighbors are angry. Apparently, the epic parties have been happening for more than two years. When Shook heard about that December party, he quickly contacted Buckhead's police commander. A police cruiser was dispatched and parked in front of the "party house" for about an hour. "The music and the party … did not stop. That fact further frustrated the neighbors," reported Fox 5 News. "But Shook revealed a citation for a noise violation was issued. And the councilman said that was all the officer could do in that situation. Shook said the matter must work its way through the court."
Bittersweet revenge

A brawl over a packet of artificial sweetener erupted at a McDonald's drive-thru window near I-75 in Locust Grove, GA.
A married couple ordering food from their car requested a Splenda packet. According to police, employees told the couple: Nope, drive-thru customers must walk inside the McDonald's to get that precious packet of Splenda sweetener.
This enraged the husband and wife — who both got out of the car and started raising hell. They yelled and banged on the drive-thru window and tossed items at workers inside. The wife allegedly threw her drink and tried to hit a McDonald's employee.
Then, the husband allegedly crawled through the drive-thru window, grabbed a chair and hit the McDonald's manager in the leg. The wife shoved her head and torso through the drive-thru window and started tossing any McDonald's items within her reach, including drink lids.
Several teenage employees hid inside a refrigerator, fearing for their lives. "I was scared because like, you never know how crazy people are like," a 16-year-old employee told WSB-TV.
The couple fled after the fight, driving away. Of course, the Splenda showdown was recorded on cell phone video — which went viral. Less than two weeks later, the husband and wife were arrested at a traffic stop and taken to a Henry County jail. The husband is charged with battery; the wife with assault. Both face charges of criminal trespassing and disorderly conduct.
In a statement, Henry County Sheriff Reginald B. Scandrett said the viral video "clearly shows actions that blatantly violated the law and brought national embarrassment to the people of our great county."
Pandemic showdown at Mickey D's

At a McDonald's in Decatur, a woman claims an employee pointed a gun at her during a confusing spat over her lack of mask-wearing.
She told Channel CBS46 Atlanta News that she walked into the McDonald's without a mask on her face — and eventually asked the McDonald's manager to give her a mask to comply with the store's policies. "They had already served people who didn't have a mask, plus we were not the only people in the store who didn't have masks. So when I asked if they had any masks back there, they started yelling at me."
The woman, who hails from Athens, Ga., continued. "The manager came from behind her work station and she slapped my phone out of my hand and when I went to pick it up — and I turned around — she had a 9-millimeter handgun and she proceeded to act like she was going to hit me with it."
DeKalb investigators confirm they have the woman's cell-phone video of the alleged showdown. But the next steps seem a bit murky, according to CBS46.com: "DeKalb Police told CBS-46 that even though (the woman) did report it to police, she was encouraged to apply for a civilian warrant in the Magistrate Court, which as of Wednesday (Dec. 8), she has not."
Home is where you hang your hat?

An alleged high-end squatter managed to live in a $1 million dollar Ansley Park luxury home for over two years before Fulton County marshals finally evicted him.
The Ansley Park homeowner was desperate to get rid of the alleged squatter man, who apparently got in by pretending to want to buy the home and offering a "sweet deal" in September 2019. The squatter and his family moved in before the deal closed and paid rent for a few months.
"In my opinion, I don't think they were ever going to buy the house. It's just how they got in," the homeowner told WSB-TV.
The homeowner said for months, the high-end squatter kept pushing back the closing date, then canceled the deal but stayed in the Ansley Park home — and stopped paying rent.
The alleged squatter's attorney stated in an email to WSB-TV. "They are not squatting, they are landlord and tenant. The landlord/tenant dispute arose after a tree fell on the residence."
The homeowner said a tree did fall on the Ansley Park home in October 2020, but the alleged squatter refused to let contractors inside to complete repairs and kept living in the home for another 14 months, refusing to pay rent most of that time.
Meanwhile, the homeowner and his family had to live in short-term rentals while the dispute played out in courts. "You know, money's a big thing. But I had to move my family six different times in the past 10 months, and that's my daughter, my husband, even my dog," the homeowner told WSB-TV.
Marshals finally evicted the alleged high-end squatters in December 2021, tossing their belongings onto the front lawn. The Ansley Park homeowner was both elated and exhausted after his two-year battle. "I feel like I just won a Super Bowl and I just got out of an abusive relationship," the homeowner says.
Apparently, the luxury squatter has pulled off similar ruses before. A WSB-TV/Channel 2 reporter checked court records and discovered that Fox News chatter-host Sean Hannity earlier had sued the same alleged high-end squatter man in Cobb County; a judge there ordered the man to pay Hannity $900,000 in the real estate dispute.
Snakes on a plane

A 35-year-old man admitted that he illegally shipped venomous snakes and turtles from his home in Valdosta, GA.
The man accepted $3,300 to send 19 endangered turtles to a customer in Florida, knowing that the turtles would ultimately be shipped to China, according to the Atlanta Journal-Constitution and prosecutors with the U.S. Attorney for the Middle District of Georgia. The man shipped the turtles in a box labeled "Live Tropical Fish."
Several months later, the same man sent a package of 15 Gaboon vipers to Florida, with the final destination of China. "The label on the box said it contained harmless reptiles and bail pythons when it really contained venomous snakes," prosecutors told the AJ-C..
The man faces up to 5 years in prison on a wildlife trafficking charge, plus up to 10 years on an unrelated gun charge.
Rough ride from Hell

A 34-year-old man contacted a rideshare company and requested a ride. A male driver picked him up. During the ride, the 34-year-old passenger asked the driver for a cigarette. The rideshare driver said he didn't have any cigarettes to give away. The 34-year-old passenger got pissed, pulled out two handguns, and told the driver to keep driving or he would be shot, according to 11Alive News.
The rideshare driver reportedly drove to a Family Dollar store on Joseph Lowery Boulevard — and escaped from his own car, leaving behind the angry and armed 34-year-old passenger. The driver called police and described the passenger.
Atlanta police officers quickly tracked down the 34-year-old passenger, who tried to run when police found him. After a short foot chase, cops quickly arrested him. The 34-year-old's backpack contained: meth, MDMA, oxycodone, bath salts, cocaine, and cough syrup. One of his guns was found in his backpack; the other gun he'd hidden in the rideshare driver's car. The 34-year-old went to jail on multiple charges.
The Blotter Diva compiles reports from the Atlanta Police Department and local news reports — and puts them into her own words.
---