GRAZING: Swole eggplants at Nur Kitchen, Krystal mendacity, strange little pyramids, lovely kiwis
Mediterranean, Middle Eastern, or West Asian — a rose by any other name…
THE EMOJI THAT EXPLODED: Nur Kitchen's "burned eggplant" gives you chunks of creamy, roasted flesh inside charred skin mixed with tahini, chopped salad, and mango dressing. It is a stunning example of Chef Shay Lavi's ability to marry flavors behind carefully crafted chaos.
I know I'm in a great restaurant when a server looks me in the eyes with a curled lip that says, "I get your sarcasm, motherfucker."
I was at Nur Kitchen, the "modern Mediterranean" restaurant on Buford Highway that has caused local dining critics' pens to pulse and spurt for at least a year. While three of us were perusing the menu, the server dropped a magnificent charred, eviscerated, and stuffed whole eggplant on the very close-by table of two women. We ordered one instantly. When the server lowered it toward our table, I noted: "Wait, their eggplant is much bigger than ours." He shot a glance at theirs and ours and clunked the plate on the table, smiling, and vanished. When he came back, I resumed my complaint. "You understand that the eggplant is an emoji for the penis, right? You have two women at that table and two men and one woman at this one. For obvious reasons, we deserve the larger eggplant." That's when his lip curled. In a world that now seriously pathologizes my first language, sarcasm, I am constantly misunderstood. It felt so good to be understood.
And it felt so good, too, to be fed so well. The chef, Shay Lavi, emigrated here in 2015 from Israel and became quickly popular with his catering. He was raised in Tel Aviv in a family with maternal connections to Libya and Turkey. The label "Mediterranean" is a bit confusing. It refers to the cuisines of all countries that border the Mediterranean where wheat and olive oil reign. Nur's cooking, although featuring a few notes from France and Greece, is mainly what we usually call Middle Eastern, which is also known as West Asian. The French, by the way, love Middle Eastern food, especially Moroccan, and it was my go-to in Paris after exhausting myself in the spectral companionship of Ms. Julia Child. My favorite Middle Eastern food in Atlanta has been mainly Palestinian. My experience of Turkish food was routinely and maddeningly better during trips to Germany than I sampled during the weeks I spent mainly inland in Turkey (while incubating giardia). It's complicated. However you locate Lavi's cooking geographically, the taste is unique.
That eggplant was roasted and charred in a brick oven. A lot of people have become nervous when meat is charred because it can eat you alive with its carcinogens. Veggies are safe, though. A char basically means the vegetable's natural sugar has caramelized, amping up the sweetness but with a bit of homeopathic bitterness. The eggplant's succulent interior was largely cut into chunks tossed with tahini, mango dressing, and chopped salad. And that brings up my one complaint about the food here. The tabouli, or chopped salad — mainly cucumbers, tomatoes, onions, and parsley with lemon juice — is ubiquitous. If you order one of the pita sandwiches, the main ingredient is the chopped salad. My mouth and my gut don't really enjoy raw onions much, but we encountered them repeatedly at our meal. (It's especially not good if your occupation requires you to listen to anxious people and ask them to follow you in taking some deep breaths).
The three of us ordered pita sandwiches — one with falafel, one with chicken shawarma, and mine with chicken schnitzel. Happily, the flat, crispy schnitzel waved out of the pita interior where hummus and tahini co-existed with the ton of tabouli (chopped salad). It was really delicious and next time I might go for the entrée plate where the schnitzel is liberated from the profusion of salad. My companions Wayne and Rose piped happily about their sandwiches whose primary ingredients were completely invisible. I scored a taste of Wayne's falafel and it was startling. I mean it had a depth of vegetarian flavor I don't think I've encountered before. Rose's shawarma, which is available daily in limited quantities, pleased her so much she did not offer me a taste. The golden house-made pita with which these sandwiches are made is thick, somewhat fluffy, and perfumey like none I remember ever encountering.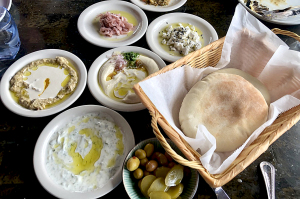 We also had to order Nur's mezze platter, an assortment of six to eight tapas-sized vegetable dishes that change frequently. If Chef Lavi knows you — the restaurant is very social, especially during dinner — you might get some more esoteric and complex tastes, according to Wendell Brock of the AJC. For now, I don't care because most of the classics like hummus, sour eggplant, and baba ghanoush were startling in the clarity of their ingredients, especially when teamed with the unexpected like a puddle of aioli. You tear up pieces of the perfect pita to scoop up the dips and if there are more than two diners at your table, you'll wonder why you did not receive more than two of the cushiony pita. So order more. Other small plates during our visit included more prosaic dish fillers like olives, pickled onions, and labneh.

The lunch and dinner menus are the same here and include many other dishes, from burgers (lamb or beef) and grilled chicken thighs to mussels (fried or sautéed) and baklava. A large plate of roasted vegetables draws as many approvals as the mezze. A whole roasted fish is available most days. Many items, like the schnitzel, are available as sandwiches or on entrée plates. The charming dining room is festooned with colorful lamps high above that somehow made me Dream of Jeanie and wonder when someone was going to step out of the kitchen to read Rumi aloud in Farsi (the most beautiful language on the globe). The dining room is small and busy enough that reservations are recommended. Definitely go with friends, because this very sensual food is meant to be shared (even though I refused to share my schnitzel). Don't forget to taunt the server with sarcasm.
Shopping

I go to Kroger and Trader Joe's every week and spend an increasingly ridiculous amount of money on staples alone. Recently, I decided to try out the budget-minded Aldi which has a store near Grant Park. There are annoying aspects like having to insert a quarter in a lock to get a cart. You get the quarter back when you return the cart. Meanwhile, someone might be standing by, asking you for the quarter in your hand. Here ya go, buddy.
Inside, most everything is stacked in boxes instead of being arranged on shelves. Pricing is clear – something Kroger obviously and intentionally avoids. I had conversations with three or four other shoppers there and I was taken aback by everyone's enthusiasm for the place. A young French student told me it's the perfect place for "European ingredients." I didn't exactly get that until I later read that Aldi and Trader Joe's have a common European heritage too complicated to describe here.
Savings on produce, including the fruit I'm addicted to, were huge. Much of it is organic, as is much of the meat, if that means anything to you because, frankly, it generally means very little. I bought three varieties of bagged apples, kiwis (which I haven't eaten in 10 years), mandarin oranges, strawberries, nectarines, grapes, cheeses, chicharrones, a gigantic corned beef, organic chicken breasts, a mesquite-smoked pork loin, wet cat food, and, incidentally, pita bread that cost about $1 and was far better than Kroger's and Trader Joe's. By the time I left, I'd spent about $65. I was not totally happy with the bagged apples. They were small and not always crisp. And the pork loin was just weird. I wish I'd found an unseasoned one.
I also visited Hoa Binh, a large Asian market with a Vietnamese name, on Buford Highway. Wayne buys tons of Szechuan pickles and peppers and slimy roots there to put on everything he eats, but I was particularly interested in the fresh Vietnamese specialties wrapped in banana leaves that are sold in the check-out lanes. They are made by the folks who operate a food booth inside the store.
I pride myself on loving Asian foods, but the truth is I have some pretty pathetic boundaries. I don't like strong fish and shrimp paste, for example. I don't like organ meats. Honestly, I don't even like brown sauces with muddled tastes of soy sauce. I tried about four of the Vietnamese items. The only one I really liked a lot was the cha lua or "Vietnamese ham" that is often compared to mortadella. Unwrapping it from the banana leaves and plastic wrap is a chore, but the stuff, a frequent banh mi ingredient, is delicious…at room temperature or slightly cool. I did try it in a few warm noodle dishes and did not find it appetizing. Sliced and plunked on a baguette with some sriracha mayo, it's perfect.
The most unfamiliar item was two little sweet pyramids, also complexly wrapped in leaves — banh tet chuoi. They are a sticky treat popular during lunar new year (tet). Unwrapping these little beasts was like performing surgery. They had that gummy texture I really don't like, usually derived from sweetened beans of some type. It's a funky gummy. I have no idea what the flavors were. I'm guessing the green one was green tea and the brown one was, um, peanut butter? There was mysterious stuff in the core. I also bought two other logs, both of which also turned out to be sweets. The most interesting thing about this experience was detecting the taste of banana leaves. I had no idea they imparted subtle but distinctive flavor. Now I do.
Here and there

Dude, I'm so over the Krystal at 626 14th Street and Northside Drive. I've wanted to try it out ever since it teamed up with Butter.ATL and the Spice Group to basically create a big piece of urban art that serves sliders and Black culture. I finally decided to give it a go last month. Like three times. Despite its marketing claims and signs, it's not open 24 hours. While the drive-through was open during two visits, the doors were locked. On my third try, two idle employees came out and explained they weren't open inside. I told them my story. They looked at one another and groaned. One of them explained that they never knew day to day whether to unlock the doors. "We wait for the call," he said. "You should call our manager." I said I'd done that but his phone was disconnected. Seriously…..
Following my second abortive attempt to get me a Krystal, I rushed to Mix'd Up to snag a lamb burger, which they had brought back after taking it off the menu earlier. Nope. Off the menu again and "we're closed anyway." I rounded the corner and saw that Estrellita, a Filipino restaurant, was all lit up. I raced inside and asked if they were still serving dinner. "No," the guy said behind the counter. While I was about to kill myself, he said, "Wait. We have a dinner someone ordered but Uber didn't come get. You can have it for $5." Hell yeah. A quarter of a spicy, super crunchy chicken and two Filipino-style egg rolls. Check out their ube -– traditional purple ice cream.
Decadently rich
I swear Woods Chapel BBQ makes the most decadently rich Cuban sandwich in our city. It has co-owner Todd Ginsberg's artistry painted all over it. I've written about it before when it was only available one day a week, but it's on the regular menu now. They've also added some weekend specials: I want the Pig n' Grits: "smoked pork belly, creamy grits, winter veggie slaw, mustard vinaigrette, maple syrup." —CL—

Nur Kitchen, 7130 Buford Highway, Suite C-100; 678-691-3821; nurkitchenusa.com; @nurkitchenusa
Aldi, 1461 Moreland Avenue (and 7 other locations), 844-476-1058, aldi.us
Hoa Binh Supermarket, 4897 Buford Highway, 770-457-3383.
Estrellita, 580 Woodward Avenue, 404-390-3038, estrellitafilipino.com
Woods Chapel BBQ, 85 Georgia Avenue, 404-522-3000, woodschapelbbq.com, @woodschapelbbq
---