ABOUT TOWN: Walking on the Moon
Plus evolving artists, cool cars, floozies and gamblers, and pulp novels
Illuminarium is up to its tricks again. Get away from this cruel world — if only for 45 minutes — with a cosmic cruise in outer space. There's also an exhibition of classic pulp fiction cover art at Emory, a couple of cool car events, and two worthy plays, among other things.
Now through Mon., Oct. 31

SPACE: A Journey to the Moon & Beyond, Illuminarium — The latest immersive adventure from Illuminarium producers blasts off to the stratosphere with an intergalactic journey through a gorgeous nebula, an asteroid belt, the rings of Saturn and the surface of the moon on which your own dusty footprint appears. The show conjures up a human colony on the planet as well, and the whole trip is accompanied by a booming soundtrack with the likes of David Bowie ("Space Oddity"), The Police ("Walking on the Moon"), and J.S. Strauss ("Blue Danube Waltz") plus a thundering original score by Dave Sardy. For extra buzz, the venue is serving "out-of-this-world" cocktails to imbibe on the ride. Located on the Eastside Trial of the BeltLine next to New Realm Brewery, Illuminarium has racked up quite a few impressive shows during its brief existence, with plenty more in the works, according to VP Nicole Klein.
$25-$40 Illuminarium, 550 Somerset Terrace, Atlanta 30306. 404 341 1000 illuminarium.com @illuminariumatl
Now through Sat., Sep. 3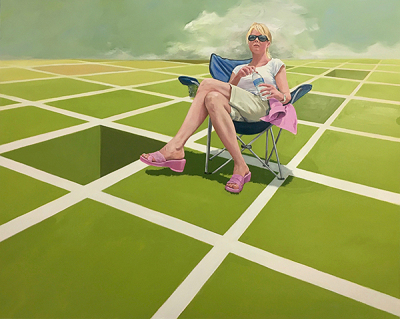 Progression, Spruill Gallery — Half a dozen local artists who first exhibited at Spruill Gallery over a decade ago are showing what their work looks like now in the aptly named exhibition "Progression." This new collection of paintings, collage, mixed media and ceramic sculpture highlights the transition of Meg Aubrey, Erin McIntosh, Susan Ryles, Ashley Schick, J. Glenn Taylor and Kyungmin Park, all of whom had originally been designated "emerging" artists. "To be able to show the work of an artist at various points in their career is such a privilege," said gallery head Jennifer Price. "I am so honored to be able to organize this show and let the community see the evolution of these artists over the course of the past decade or more." An artists' talk will take place at the location on Saturday, Aug. 13, at 2 p.m.
Free. Tue.-Sat. 11 a.m.-5 p.m. Spruill Gallery, 4681 Ashford Dunwoody Road, Atlanta 30338. 770-394-4019 spruillarts.org/gallery @spruillarts
Now through Fri., Oct. 7
Forbidden Loves and Secret Lusts: Selections from the Golden Age of Queer Pulp Fiction, Rose Gallery at Emory University — Hundreds of queer pulp novels from the Rose Library's LGBTQ collection published from the early 1950s until the late 1970s have a showcase of their own that opened during Pride Month. Curator Carrie Hintz says the exhibit is "focusing on the sometimes sleazy, sometimes seductive, but always striking cover art and the artists that gave the pulp novels their distinctive aesthetic." Also on hand is a copy of the earliest paperback with a plot about male gays titled "Men into Beasts" and classic tales by Ann Bannon, known as "the queen of lesbian pulp."
The novels ranged from poor quality erotica to campy parodies of mainstream spy thrillers, according to Hintz, but there were also "sensitive, well-written accounts of self-discovery" in a deeply homophobic and hostile era. "Though the quality and content were inconsistent, for many queer Americans these pulp novels were the first time they had seen themselves represented in any kind of mainstream media."
Free. Mon.-Fri. 10 a.m.-4 p.m Rose Library, Level 10, Robert W. Woodruff building, main Emory campus. 540 Asbury Circle, Atlanta 30322 Emory.edu @EmoryRoseMARBL
Now open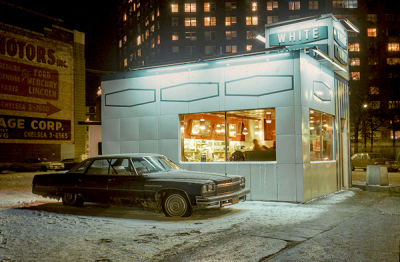 Langdon Clay - Cars: New York City, 1974-1976, Jackson Fine Arts — Inspired by realist painter Edward Hopper, photographer Langdon Clay scoured nighttime New York City in the mid-1970s capturing images of seemingly ordinary cars parked in the streets. The results are strangely compelling in their directness. Born in the city in 1949, Clay moved to Mississippi in 1987 where he continues his art. Clay's work is held in the Victoria & Albert Museum in London and the Bibliothèque Nationale de France in Paris. His photographs of vintage cars were published as a book in 2016.
What makes this exhibit different from other showcases is the ability of customers to acquire non-fungible tokens of Clay's photographs, as well as regular prints. "NFTs have been in the fast lane for the last year, and as the crypto market is beginning to coast, Jackson Fine Art remains intrigued with the digital token authentication of fine art photography," gallery managers note on their website. "We believe that the traditional print market and the emerging digital one are not mutually exclusive, but may one day work in tandem — and are curious to see where this road takes us as curators, artists, and collectors."
Free. 10 a.m.-5 p.m. daily. 3115 E. Shadowlawn Avenue, Atlanta 30305. 404-233-3739 jacksonfineart.com @jacksonfineart
Tue., Aug 2-Sun., Dec. 4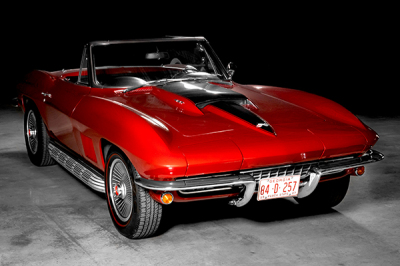 Big Blocks: Turning up the Heat, Savoy Automobile Museum — This four-month exhibition at the Savoy focuses on iconic "muscle" cars equipped with the titular mammoth motors under the hood. "The American muscle car era lasted over a decade of popular flexing with serious horsepower," the museum's blurb says. "Manufacturers were not shy about increased engine size and power, from Chevrolet's Chevelle to the Buick GSX and Ford Shelby GT500, all ranging from the late 1960s to the early 1970s."
This haven for gearheads has an impressive lineup of events throughout the year with showcases of "woodie' station wagons, art deco coachbuilders, Pirelli's 150-year history, Indy 500 roadsters, screenings of movies such as Bullitt and Ford vs. Ferrari, and the like. The Savoy is the latest entity to join the nonprofit group that operates the Tellus, the Bartow and the Booth Western Art museums in Georgia.
Free for members. $15 general admission. $5 ages 3-12. 10 a.m. - 5 p.m. daily. Savoy Automobile Museum, 3 Savoy Lane, Cartersville 30120. 770-416-1500 Savoymuseum.org @SavoyAutoMuseum
Fri., Aug. 5-Sun., Aug. 7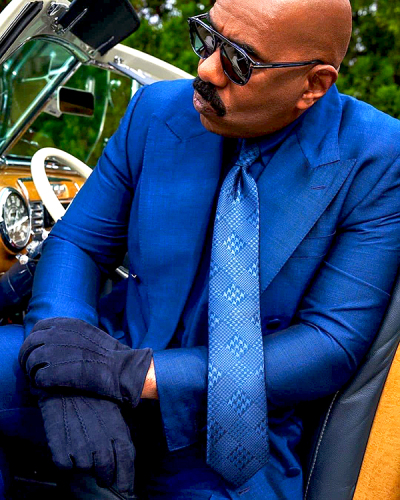 Invest Fest, Georgia World Congress Center — Television personality Steve Harvey is hosting an Atlanta conference in August that combines investing advice, entrepreneurship, pop culture, and entertainment. Joining him at Invest Fest 2022 will be Rashad Bilal and Troy Millings from the "Earn Your Leisure" podcast, rappers T.I. and Rick Ross, BET's Terrence J and "The Breakfast Club" co-host Charlamagne Tha God, among others.
Described as "equal parts education and entertainment," Invest Fest will take place from Aug. 5 to Aug. 7 at the Georgia World Congress Center. "Be open to learn everything that will be poured into you. Stay open-minded," Harvey suggested in an announcement. "The majority of things that have happened to me have happened in ways I didn't see coming, but I was open to it."
$249-$10,000. Georgia World Congress Center, 285 Andrew Young International Boulevard, Atlanta 30313. Investfest.com #investfest
Wed., Aug. 17-Sun., Aug. 28
August: Osage County, Stage Door Theatre — Playwright Tracy Letts won both a Pulitzer Prize and a Tony Award in 2008 for this dark comedy about a dysfunctional family that gathers in Oklahoma for its patriarch's funeral. Letts, also an acclaimed actor, called his play "somewhat autobiographical." A 2013 movie version featured Hollywood heavyweights Meryl Streep, Julia Roberts, Ewan McGregor, and Benedict Cumberbatch.
The new Stage Door production has a notable cast of local talent, including Alpha Trivette and Rebecca Koon (The Waltons: Thanksgiving) Erin Bethea (Fireproof, New Life), Drew Waters (Friday Night Lights, Breaking Bad), Alicia Kelley (Ozark, The Resident) and Christian Stokes (Monster, Doom Patrol). The director is actor and writer Forrest Attaway, making his Atlanta debut with the play. Partial proceeds from the show will go towards addiction and mental health services provided by the Atlanta Recovery Place in Dunwoody.
$35. 7:30 p.m. daily. Matinees 2:30 p.m. Aug. 20, 21, 27, 28. Stage Door Theatre, 5339 Chamblee Dunwoody Road, Dunwoody 30338. 770-396-1726 augustosagecounty.com @Stage_Door
Thu., Aug 25-Sun., Sep., 4
Guys and Dolls, Jennie T. Anderson Theatre — This adaptation of the musical "Guys and Dolls" is based on the 1955 movie starring Frank Sinatra, Jean Simmons and Marlon Brando, which in turn followed a stage hit with the same title. Based on a combination of Damon Runyon short stories and set in Times Square during the Depression, "Guys and Dolls" tells the story of big city gamblers and the floozies they attract.
The music and lyrics are by Frank Loesser and the book is by Jo Swerling and Abe Burrows. After the latter's communist sympathies were exposed by the House Un-American Activities Committee in 1951, a designated Pulitzer Prize in Drama for the play was vetoed by Columbia University trustees.
The Atlanta cast is led by Juan Unzueta as Nathan Detroit, Chloe Cordle as Miss Adelaide, Jaymyria Etienne as Sarah Brown, and Marcello Audino as Sky Masterson. Supporting characters include Caleb Brink as Nicely-Nicely Johnson, Dathan Thigpen as Benny Southstreet, Maurice Chinnery as Harry the Horse, AJ Klopach as Rusty Charlie, Blake Fountain as Big Jule, Joseph Woodruff as Arvide Abernathy, and Nicholas Gilomen as Lt. Brannigan.
$38-$63. 8 p.m. daily. Matinees 2 p.m. Aug. 28, Sep. 4, Sep. 4. Jennie T. Anderson Theatre at Cobb Civic Center, 548 South Marietta Parkway, Marietta, 30060. 404-377-9948. atlantalyrictheatre.com