THE VINYL WARHOL: This month is stacked
Live music heats up through the fall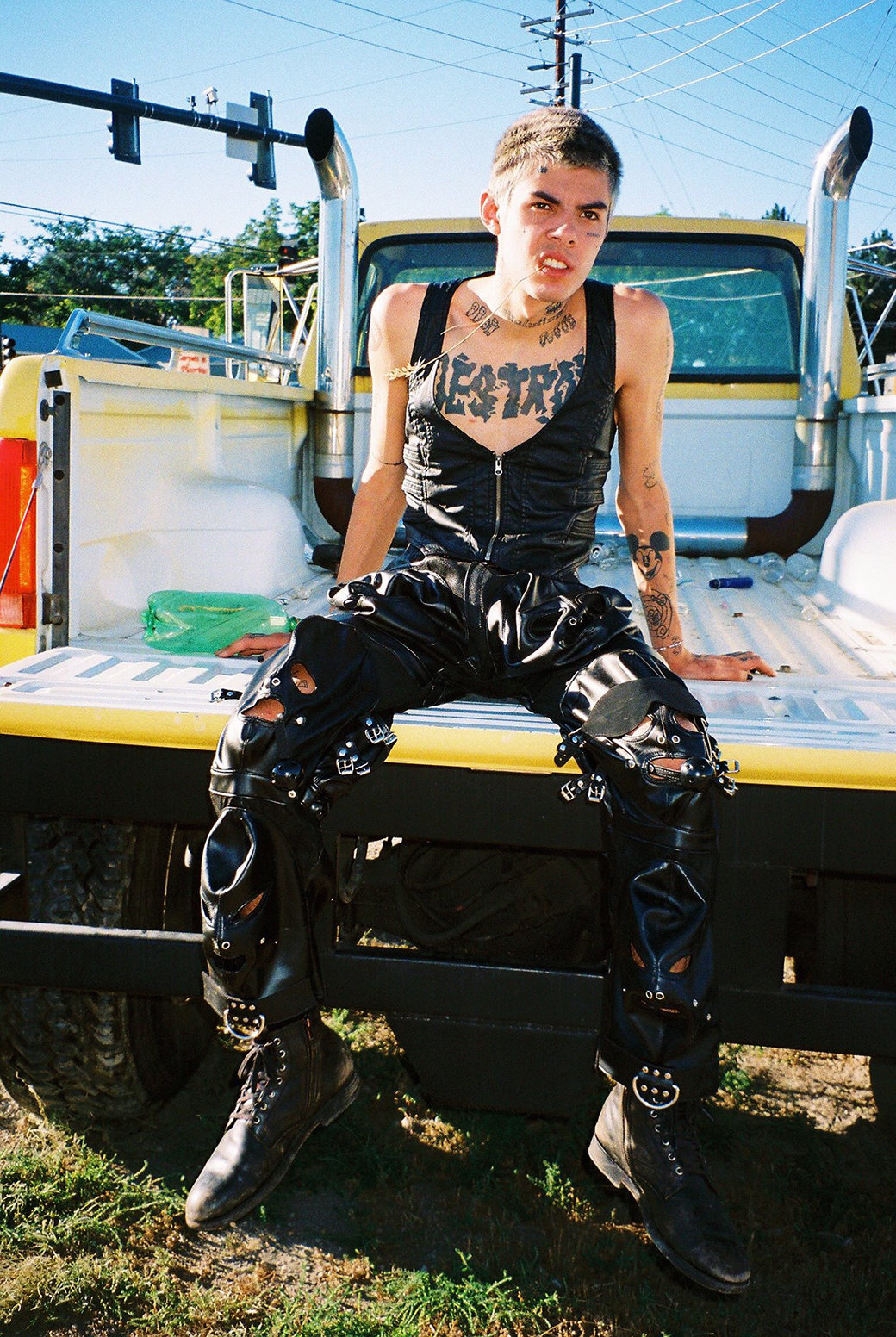 PLEASE DON'T ARREST ME OFFICER: Nascar Aloe and DEATHPROOF INC. are the boys your mother warned you about.
In my honest, humble, and factual opinion, July was weak for shows—ones I was interested in at least. I didn't find myself leaving the house once to go see an artist or band I was overly excited for. And it's the summertime damnit! This is when it should be the most popping. I had to scrape together artists for this very column, covering Babytron of all people(!!). But this month, and the beginning of September, is going to be stacked. No matter your taste, there's something in here for you. Enjoy.
Tue., Aug. 16
Peter Hook & The Light, Variety Playhouse —When I tell people of a certain age or musical affluence I once interviewed Peter Hook, bassist for seminal bands Joy Division and New Order, they tend to get excited. See, Hooky—his longtime nickname—isn't just the bass player in two legendary bands. In many ways, he approached the instrument from an entirely new angel, bringing from the background and into the primary melody of the song. Of this he told me, "I was very lucky to have the skill to be able to come up with lead, melodic lines. Which is very unusual for a bass player." After his split with New Order, Hooky began performing the songs from his two bands under the name Peter Hook & The Light. On this particular tour, the band will play both of Joy Division's albums front-to-back, delving back into the band that ended far too soon. "We were young. We didn't know what we were doing. We didn't get the gravity of what we were creating. And that has enabled it to last. So I mean really, the only thing that lasts mate is good music."
$30- $79. Tu., Aug. 16, 8:00 p.m. Variety Playhouse, 099 Euclid Ave N.E. variety-playhouse.com @varietyplayhouse
Wed., Aug. 17
Sleigh Bells, Center Stage —It has been 12 years since Sleigh Bells bombastic debut album, Treats. And if you don't know the album I'm speaking of… boy, are you in for a insert the name of said album here. When I first heard the intro to "Tell 'Em," I thought it was from another planet. 80s hair metal guitars, an ear-splitting drum machine, horns that would make Just Blaze jealous, and vocals that were somehow both light as air and sounded like they were bullying you. I had never heard genres melded like this before. Returning to it now, it's still fresh and loud as hell. I remember my friend, the one who introduced me to Sleigh Bells, ran a high intensity kick boxing class and would use their music to get the girls moving. And to this day, I can't listen to one of their songs without shadow boxing to the beat. The first album was definitely the peak—they sort of subdued their sound later on—but Sleigh Bells are still on an island by themselves. You have to listen to that album if you haven't.
$31. Wed., Aug. 17, 8:30 p.m., Center Stage, 1374 W Peachtree St. N.W. centerstage-atlanta.com @centerstageattl
Fri., Aug. 19
July Friday Jazz Night, High Museum of Art — Hands down, jazz nights are the best way to experience the High Museum. I love museums. But, my biggest complaint about them is that visiting a museum is too similar to going to the library. On jazz night, however, The High is alive. People are drinking and laughing and clapping. Everyone gets dressed up. The main corridor is buzzing from the energy produced by world-class musicians giving their all. And you're free to walk through the exhibits as usual, but even that feels electrified. Somehow, Atlanta's biggest arts institution gets even more creative.
$25. Fri. Aug. 19, 6:00 p.m. High Museum of Art, 1280 Peachtree St. N.E. high.org @highmuseumofart
Sat., Aug. 20
Joyce Manor, Variety Playhouse —No one stays the same forever. As we grow older, our goals change, our emotions change, and, if you are lucky enough to have a music career spanning over a decade, your music changes. Joyce Manor are not the same people they were when they were screaming out the angsty "Leather Jacket" and "Constant Headache" from 2013. That music is still great, and still resonates with the parts of me that feel isolated and angry, but if I was still the same person I was in 2013, we'd have a problem. Joyce Manor have too have cooled and matured their mosh pit days—they've actually come out largely against the often overly intense pits, where women can be vulnerable to violence from much larger men. Their latest album, 40 oz. to Fresno, sounds closer to Jimmy Eat World pop punk than the aggressive punks they used to be. The angst and emotion is still there, but dealt with in a healthier way. So is life.
$25-$49. Sat., Aug. 20, 7:00 p.m. Variety Playhouse, 099 Euclid Ave N.E. variety-playhouse.com @varietyplayhouse
Wed., Aug. 24
The Stargazer Lilies, 529 Bar —The Stargazer Lilies's gothic, shoegaze sounds hold a special place in my black heart. I interned for a summer at the band's one-time Savannah-based record label/PR company Graveface Records/Noisy Ghost PR. While sending hundreds of emails to music blogs promoting their album, We Are The Dreamers, I gave the album repeat spins. As I completed my monotonous task, I found the The Stargazer Lilies's music put me in a trance Their dreamy soundscapes sucked me into a fog. I can only imagine how this state is enhanced when witnessing them live, vocals and guitar washing over your head. The rabbit hole is calling your name. OnE oF uS! oNe Of Us!
$12. Wed., Aug. 24, 8:00 p.m. 529 Bar, 529 Flat Shoals Ave SE 529atlanta.com @529_eav
Wed., Aug. 24
Alex Isley, Heaven at The Masquerade —If nepotism always led to results the like of Alex Isley, Elon Musk would be my favorite businessman. Ms. Alex is the heir to the R&B/funk The Isley Brothers dynasty—her father is Ernie Isley. And for all the benefits that come with the name Isley, I'm sure filling those shoes is as monumental of a task as filling Shaquille O'Neil's size 23s. And Alex is up to that task. She's trained her whole life for it, having started classical music education at the age of 12. This shows in her seemingly effortless ability to pull strong emotion out of her voice, powerful, beauty, heartbreaking, all at once. After three albums and years of preparation, Isley finally got her breakout hit, 2021's "Good & Plenty." The song is a gorgeous three minutes of seduction, a beach sunset before a night of romance. At the age of 35, Alex Isley is getting her shot, and I only see her continuing to rise.
$20. Wed., Aug. 24, 7:00 p.m., Heaven at The Masquerade, 75 Martin Luther King Jr. Dr. S.W. masqueradeatlanta.com The Masquerade
Sun., Sept. 4

Nascar Aloe, Dirtybutt, Oddly Shruggs, Purgatory at The Masquerade —Punk and rap are commingling more right now than ever before. From the angst and aesthetic, to the chaotic moshing and thrashing guitars, the lines between genres are blurring, resulting in a whole new generation of artists opening the fucking pit up. Nascar Aloe is quickly becoming a figure head of this new wave, the flagship artist of LA-based DEATHPROOF INC. Nascar assaults listeners with strained screams over glitchy, distorted beats with lightening-fast drums. He pushes passed 10 on nearly ever song he has, Marie Antonette-ing his vocal chords in two minute bursts. When he chooses not to scream directly into our ears, he whines in washed out vocals about heartache and the following numbness.
$17. Sun., Sep. 4, 8:00 p.m., Purgatory at The Masquerade, 75 Martin Luther King Jr. Dr. S.W. masqueradeatlanta.com The Masquerade
Sun., Sept. 4
Wet Leg, Variety Playhouse —Wet Leg has my favorite debut LP of 2022. It came after a flurry of singles throughout 2021, establishing them as the "next big thing" in indie rock. And what's not to love? Hailing from the Isle of Wight, the duo of Rhian Teasdal and Hester Chambers are smart, funny, catchy, and just a hell of a lot of fun. Their music is a indie dance, art rock, and sugary pop, bound together by sarcasm and the ability to take not yourself too seriously. "Is your muffin buttered? Would you like us to assign someone to butter your muffin?" Their songs are chocked with one liners like this one, from the incredibly ear worm-y "Chaise Lounge," an ode to the "high class" furniture piece that I've apparently been pronouncing front my entire life. Another favorite is from "Wet Dream," "What makes you think you're good enough to think about me when you're touching yourself?" These two are crass in the most admirable way, coming to your party strictly for the free beer and telling you to suck their dicks when you piss them off. Their full album deviates at times, covering love in a more "serious" way—the girls still put hooks above everything else—but Wet Leg is at their best when their writing songs to make you laugh while dancing, and to make the shittiest guys you know mad on Twitter.
$22-$40. Fri., Sept. 4, 8:00 p.m. Variety Playhouse, 099 Euclid Ave N.E. variety-playhouse.com @varietyplayhouse