GRAZING: Boca N Boca, Holy Taco and The Feed Store
You don't have to go to Buford Hwy. for good Mexican food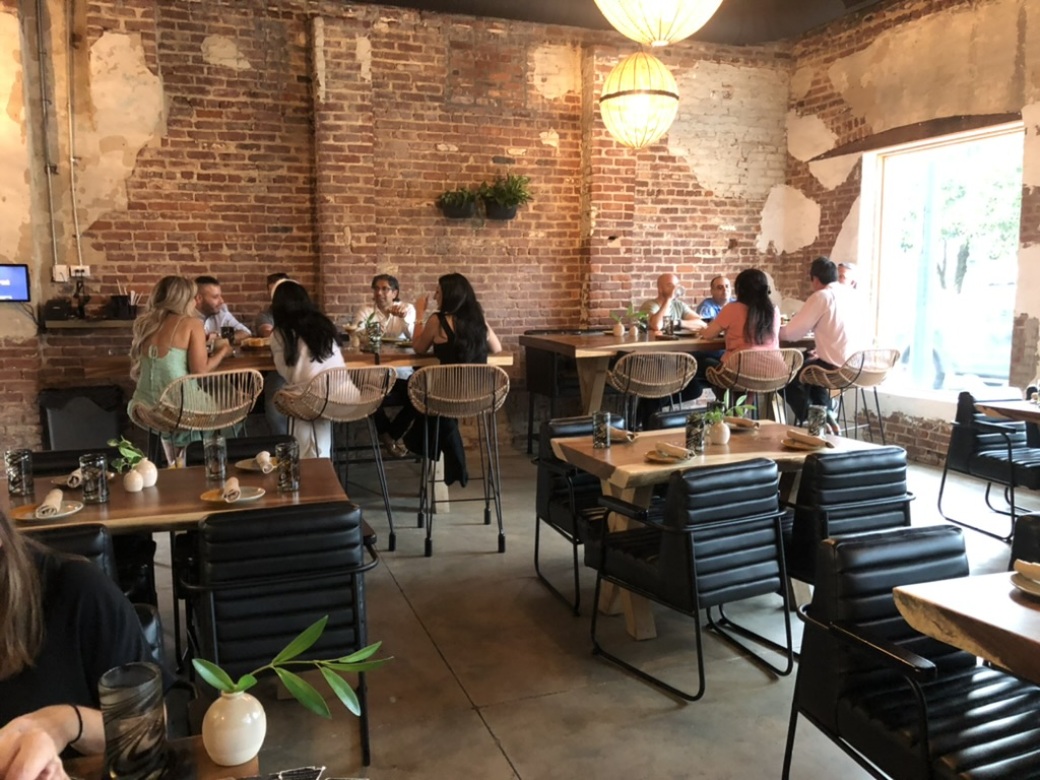 ZERO KITSCH: D Boca N Boca offers Mexican casual fine dining without the usual Day of the Dead decor. Sound tracks do not include mariachi bands. Gracias!
There's a problem that still hovers over every American restaurant that serves cooking outside the so-called mainstream. I'm referring to what we have long called ethnic cuisine like you find on Buford Highway. We scour the countless restaurants there in search of "authenticity." I don't by any means exempt myself from that safari, but the reality is that even though we live in a time of xenophobic nationalism, many Americans — red or blue — have become avid consumers of food our mothers never heard of. If the food's here, it's American.
Mexican food is the most usual example example of this. I confess that, yes, my first taste of so-called Mexican food was at the first Taco Bell to open here in the '60s on Roswell Road near Wieuca. I detested it. I'm talking, running out the door and vomiting in the parking lot, not just because of the taste but because I have a lifelong digestive disorder that does not enjoy tons of grease speckled with stinky chili powder. I do not recall ever (willingly) eating any Mexican food again until I landed in Houston for two years in the mid '80s.
I learned there that the Taco Bell chihuahua was eating really bad Tex-Mex, not "real" Mexican. Hearing my confusion, my new staff treated (aka pranked) me with their own favorite Tex-Mex. We went to a café where I was handed a bag of Fritos, a cup of chili to pour into the bag, along with ingredients on a salsa bar. It remains the worst thing I've ever eaten, but, mercifully, the repentant staffers soon introduced me to lots of taquerias serving incredible street food and eventually the more exotic and complicated cuisine described by Diana Kennedy in her book, "The Cuisines of Mexico." (Kennedy died this year at 99.)
When I returned to Atlanta as a lover of Mexican food, I was shocked that I couldn't even find something as simple as a salsa verde in the city. I raged constantly that there were no soft tacos I'd come to love, like chicharrones suaves en salsa verde — chunks of braised pork fat stewed in green sauce. Things began to change as Buford Highway became a corridor of inexpensive immigrant cafes. Then restaurants like Taqueria del Sol (nee Sundown Café) and Zocalo opened in town. While TDS is inspired mainly by Southwestern cuisine, Zocalo was spot-on Mexican. Both remain high-quality and inexpensive. After a few years of prospering at its present location at 10th and Piedmont, Chef Lucero Martinez-Obregon and her brothers opened a restaurant in Buckhead that included high-end dishes on par with Diana Kennedy's lusher recipes.You can guess what happened. It quickly closed because even Buckheaders refused to pay more than a few dollars for anything described as Mexican.
That brings me to the new D Boca N Boca, which opened in June, around the corner from me in Summerhill. Helio Bernal, the chef and owner, has long operated a pop-up, The Real Mexican Vittles, and has spent three years struggling to open D Boca N Boca amid the pandemic chaos. Unfortunately, it is now clearly struggling with that price problem. I confess that when I first saw the menu, I was taken aback by the prices myself, but I try to keep in mind that the restaurant industry is undergoing huge changes, largely because of inflation. Dining out, which had become standard weeknights for many families, has returned to its older status as a weekend or special occasion dinner for many people. When I read 50 Google reviews of Boca, I found that no matter how much diners praised the food itself, a majority complained about the prices and portions. Confusingly, the restaurant responded to many of the complaints with the same notation that it grinds its own masa for its house-made tortillas. But those tortillas make small tacos that cost $6 or $7. I mean, dude, you can get a Taco Bell Crunchwrap Supreme Combo, including a complimentary colon cleansing, for $7.99! Really, people post stuff like that.
I stopped by Boca on a weeknight. The restaurant's interior is mercifully free of the usual Mexican kitsch. Instead, it's all about leather dining chairs, wickeresque pub chairs, wood tables, brick walls, and windows with a view of twinkling Summerhill. There's a bar with a brief cocktail menu and a window on the kitchen where that miracle masa is milled. I took a seat on the multi-level patio that, like the interior, is sleek and cozy.

D Boca N Boca is new, but not that new, so I was surprised by the extent of confusion I encountered. For example, when I was seated, the host told me that she was sorry to say she couldn't find any menus. I told her I could look online. "I've heard you can do that," she said. A few minutes later she brought out a severely tattered black menu that made me laugh. "These are the old prices, aren't they?" I asked. "Are they? I'm new here." Someone else came to the table who was also new and not very familiar with things. One of the apparent cost-cutting specials was a trio of tacos for, as I recall, $17. Fair enough, but you couldn't include beef or pork tacos. I really wanted to try the al pastor, so I ended up just having that and another with chicken tinga. Both were delicious and, yeah, the tortillas were from Dios. I didn't pick up much pineapple in the al pastor, but I was pleased to encounter two pomegranate seeds which I knew were part of the guacamole recipe. In order to really sample the menu, it was clear I was going to have to haul at least one other person there.
So, the following night I returned with Mr. Wayne Johnson. We sat on the patio but were driven inside by rain. He ordered a cocktail. I don't drink, but occasionally I will take a sip of his. (It's nice to remember those bygone days when the police carried me off to jail after shoving me in a sewage tributary.) His mezcal cocktail, "Call Me Mr. Chimney," included notes of honey, blood orange, jalapenos and poblanos. He loved it. To me it tasted like my head was dunked into liquified tobacco smoke.
We feasted, and the food was fantastic. We started with the "Herby Guacamole." The name frightened me because I detest most of the guac served around town. It usually has the texture of a smoothie and stinks of onions and garlic. Boca retains a bit of chunkiness, doesn't hide the fruit's subtle flavor behind a ton of herbs, and adds some pepitas — pumpkin seeds — for an occasional crunch. Best of all, they add those pomegranate seeds. I have never encountered this before — here or in Mexico — but Chef Google tells me that it's quite common. The concoction is rich and sensual. I remind you that the pomegranate tree grew out of the bawdy blood of Dionysos, the god of wine, but party-pooping Christians naturally turned the fruit into a symbol of chastity. Unfortunately for them, "avocado" means "testicle" in Aztec.
We also ordered a special trio of birria tacos stuffed with juicy shredded beef, served with a dense, mildly spicy chicken broth. The tortillas were coated with cheese before grilling. We couldn't decide on a salsa, so we ordered the restaurant's entire "flight" of seven. Three were fruity, some sweeter than others, and the rest were savory with varying degrees of heat. My favorite was the hotter version of the restaurant's green sauce. We dribbled some on the tacos and scooped the rest with tortilla chips.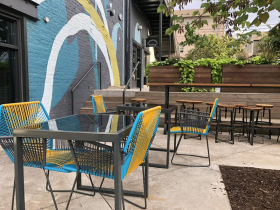 The evening's special, chicken pibil, was dramatically scattered with tiny flowers and served with skinny roasted carrots and a mound of rice. This is a classic dish from the Yucatan peninsula, whose kitchens arguably produce some of Mexico's most refined dishes. Chicken pibil is seasoned with achiote, a paste made from annatto seeds, sour orange juice, and other spices that vary from chef to chef. Traditionally, the chicken, like its better known pork version, is marinated overnight in the achiote paste, wrapped in banana leaves, and roasted in a pit. I doubt Chef Bernal goes to that extent, but his results are far better than the quicky versions you sometimes encounter on Buford Highway. I will note that the white meat was a bit dry, but only a bit, and I look forward to trying his chicken mole poblano.
Boca's menu includes three entrees — the chicken mole, a whole grilled snapper, and an intriguing cauliflower "steak" with a chipotle-cashew dressing and a pickled habanero salsa. There are five shareable appetizers, including chipotle meatballs and a mushroom escabeche, as well as the guac. There are six classic tacos and three desserts, including flan, churros, and fruit with salty-sweet chamoy sauce. The staff is helpful even when it's ignorant.
I really want to see D Boca N Boca succeed and not pass away like Zocalo's attempt at fancier dining did way back in the '90s. Boca is also a good place to stop for drinks and to sample tacos and starters. While the restaurant is not marketing small plates, most everything here is shareable.
* * *


Speaking of Mexican, I found my way back to Holy Taco in East Atlanta Village for the first time in probably four years on a recent Sunday. It was quite a journey. I had set out for El Tesoro in Edgewood to gobble a mulita or two, but was confronted by the longest line I've ever seen at a takeout window. I waved bye-bye and glided to EAV. When I arrived there, I decided to visit the Southern Feed Store, the food hall that has replaced the Graveyard. My particular destination was Buteco, a second location of the Brazilian bar and coffee café in the Beacon in Grant Park. There was a small crowd huddled in a corner next to the bar, which, it turned out, wasn't serving food. You'll also find Woody's Cheesesteaks, Waffle Bar, Gyro Gyro, and, by the time you read this, TKO, the popular Korean-American pop-up.
I headed out the door, followed by a stranger who kept asking me to explain the gigantic Feed Store, whose bloated red exterior has the effect of an asteroid that made it to earth before it got a chance to evaporate. I told him it seemed to be mainly a music venue. He asked me where I was going. I said I wasn't sure and, staring at my phone to further dissociate myself, I headed to Holy Taco. The stranger followed me a few feet behind. "Hey, do you want to have lunch together?" he asked. I said I was just wanting to grab some quick Mexican food. He said, "I like Mexican food too." I said, "Yeah, but I don't like people." He was startled. This is one of the pluses of aging. You say shit you never would have earlier in life.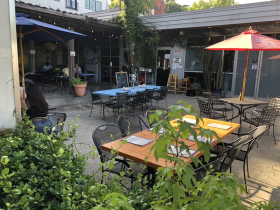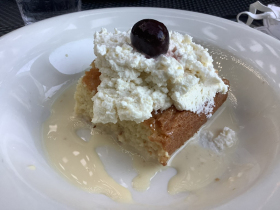 Holy Taco's interior was deserted and there were only a few diners on the patio. The restaurant is headed into 15 years since it was opened by chef Robert Phalen, who closed his other restaurant, One Eared Stag, last year. Phalen was actually ahead of his time with Holy Taco. He told Besha Rodell in a piece published in Creative Loafing in 2009, that "I'm not authentic," and instead of wrestling with that issue, he threw it into the kitchen sink of his own life. The taco I ate there repeatedly was the same one Besha favored: chicken hearts fried in a buttermilk batter folded in corn tortillas with a vinegary onion relish. It married my love of Mexico with the battles my father and I waged to claim the gizzards and hearts hidden in my mother's heaps of fried chicken. These and other oddities faded from the menu but I was just as happy with the chimichanga, which is still on the menu. For all my own posturing about authenticity I devoured the deep-fried Tex-Mex burritos at many long lunches in Houston. Holy Taco's version has frankly never been crispy but the roasted pork filling redeems it. I also allowed myself a chunk of tres leches cake topped by the famous cherry, which is like a micro-dose of so-very-authentic happiness.
I lumbered back to my car behind the Southern Feed Store. The stranger was chatting with Nicki Minaj's doppelganger. They waved at me. I waved back. I later learned that Supremo Taco has closed. That sucks, but they plan to reopen next door sometime this winter. —CL—
D Boca N Boca, 39 Georgia Ave., 770-655-9467, bocaatl.com, @bocaatl
Southern Feed Store, 245 Glenwood Ave., sfseav.com/dining, @sfseav
Holy Taco, 1314 Glenwood Ave., 404-230-6177, holy-taco.com, @holytacoeav
---