GRAZING: Veggie or not, spicy 'n' hot
'Seduced by the wacky stuff'
CUBAN FAVORITE: La Semilla specializes in Cuban flavors like this plant-based version of bistec de palomilla, typically a steak served with caramelized onions, but here made with lion's mane mushrooms served over mashed yuca with mojo.
I've eaten too much in the last month to write anything more than a bunch of blurbs. I recommend all of these places with some reluctance here and there. Nothing is perfect except you, dear reader, so don't hate me if things don't totally live up to expectations. There is no perfection without experience of imperfection, no 100 percent cleanliness without accidentally biting into a cockroach once upon a time.
Last month, I mentioned that I had been unable to get a seat at the new La Semilla in Reynoldstown that serves Latin American plant-based cuisine. Happily, my friend Frank and I did get a reservation two weeks later and the wait turned out to be worth it. I confess I feared the usual. In the dark ages of American vegetarian cuisine, you could almost always count on being served plates of vegetables and tough tofu revoltingly over-spiced with Tex-Mex flavors. At La Semilla, the strongest influence is Cuban, although, yes, there is a facsimile of Taco Bell's Crunch Wrap Supreme, and, no, we did not order it because I — not Frank — am too good for that.
All portions everywhere in Atlanta are on the tiny side when dining with ravenous Frank, and I admit these sharables at La Semilla did make me want to scream "postage stamps!" But, as it turned out, the dishes are dense enough to make you feel well fed and self-righteous for eating judiciously small amounts of soy seitan instead of bloody meat bits. An item that is straight up delicious plant life is the restaurant's take on bistec de palomilla, usually a fried top sirloin steak Cubans serve with grilled onions. La Semilla transforms lion mane mushrooms into a light-hearted impersonation of the steak served over mashed yuca with a mojo, topped with some caramelized onion rings. Y'all nailed it, Lucy.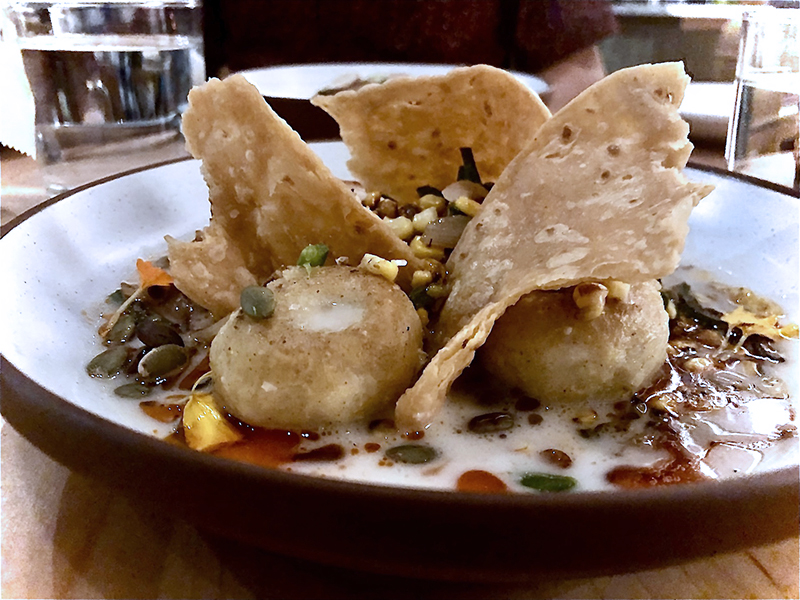 I was excited to see chochoyotes on the menu. Somehow, I don't think I've eaten them since my time long ago in Mexico. They are basically dumplings made out of masa (maize dough), usually boiled in soup. La Semilla is making fat ones out of fried masa and serving them in a shallow dish of coconut-corn broth with corn-poblano sofrito, macha oil, pumpkin seed oil, and some jagged house-made tortilla chips. Those chips are also available with a rather watery vegan queso blanco. Lo siento mucho, but I want to be at most an ovo-lacto vegetarian by the time my brain vegetates, so I prefer super-evil real queso. We also tried the cochinita  pibil tacos made with jackfruit, a tasty far cry from pork, and habanero-pickled onions with a muy creamy salsa verde. But tiny. Really tiny. Two tinies for $10.
I am looking forward to returning here. Having been marinated in Cuban cooking in my 20s during a five-year marriage, I've never lost my love for the flavors.

And speaking of flavors south of Marjorie Taylor Greene's Satanic border, I recently enjoyed some tacos from the Mascogo Tacos pop-up at Eventide Brewing in Grant Park. I was interested to try them because the name refers to the Mascogos (aka the Black Seminoles) who fled Texas to El Nacimiento in Northern Mexico to escape slavery. Yes, Marge, Mexico declared slavery illegal before the United States did. I was curious to see whether there was a difference in the usual border cuisine. Owner Craig Headspeth assured me I would not find much difference and he was right. But the flavor was so right. I especially liked his chorizo and nopales and was sorry to miss his sold-out carnitas, which are described on his menu as confit crispy pork shoulder. Hell yeah!

Are you tired of kimchi? It used to be a thrill to drive out Buford Highway and munch the spicy fermented cabbage at Korean barbecue venues. Then it became as ubiquitous as kale, clinging to corn dogs and ice cream, beloved by tummy-patting protectors of the gut microbiome. Some of us got sick of it, but, please, don't let that deter you from visiting Kimchi Joy, a pop-up that occupies Ria's Bluebird in Grant Park on Tuesday nights. It was briefly at Full Commission with So So Fed but was forced to leave when the facility closed.
The menu is brief and cheap. The vibe, especially on the patio, is chummy, and the food is wonderful. The big surprise was the fried chicken. I love Korean fried chicken as much as you love your kimchi lip gloss. Here, they are actually serving chicken karaage, which is a Japanese version of fried chicken. Usually, like the Korean version, it's twice-fried and has substantial crunch. The Kimchi Joy chef is not twice-frying the meat, so it was quite soft, almost like a tempura. It was served with a pile of plain cabbage — plenty of crunch there — in a gentle, sweet mustard dressing. It was luscious. We also sampled some skinny fried dumplings, some noodles, and a mild soup.
I know it's an insult to gay men everywhere, but I am not fond of brunch. Now that I am old and invisible, the social ritual per se is not so off-putting. But I typically just don't like the often juvenile effort to hybridize all traditional binaries — breakfast and lunch, pajamas and jeans, east and west hemispheres, dogs and cats, mamas and drag queens, etc. — into culinary novelties. I know. Some people do it well and god bless them.

So, Miss Rose and I weren't looking for brunch when we stumbled into the new Mobay Spice in Toco Hills on a Sunday soon after it opened in March. But okay, I'm down for Jamaican brunch. Wait! Nobody told me I was going to be crashing a room full of Black Girl Magic. I'm not kidding. The restaurant is operated by the entrepreneurial and gorgeous Wynter Lii and her three daughters whom you have seen styling their way around Essence magazine online. Of the 32 seats, all but ours and a third occupied by a young Black man were held by beautiful, mainly young Black women.
Of course, I was instantly seduced by the wacky stuff I just wrote I often find obnoxious about brunch. I saw what looked like a snake writhing on a pole atop a plate of waffles served with syrup. Hell yeah, I want those crazy crunchy fried chicken wings dipped Krispy Kreme-style in liquid sugar, pole-dancing in the air! Rose was equally entranced, although she thought at first the writhing beast was a steak. We shared the dish along with a plate of classic brown stew chicken.
The chicken and waffles, served with a syrup, were flying to just about every table, as was a burger with competing verticality. The brown stew chicken was pure comfort but, alas, had very little spicy intensity. Miss Rose lived in the Caribbean on a boat with her children long ago and agreed that the flavors were muted. I don't want to generalize based on one dish. We went to the restaurant because a Jamaican-loving friend had been there earlier in the week and recommended it. He had ordered a broad selection of dishes from the weekday menu and particularly recommended the oxtails braised with butterbeans (not on the brunch menu). He did agree, however, that his food was not spicy.
Here's a bit of cultural stupidity from me. Miss Rose and I were both wriggling our pollen-infested noses inside the restaurant because the atmosphere was heavily perfumed. We assumed that the clientele must all be wearing some wildly popular scent. It wafted more strongly at some times than others and finally there came that dreaded moment when I felt a volcanic sneeze forming but also fading. Just before the server stopped by the table, I erupted into a two-sneeze mucus bath for my hands.
"Can I ask you what perfume you are wearing?" I asked, wringing my hands with the napkin. She smiled. "Is everyone in here wearing the same one?" She laughed and asked me why. I explained our nasal experience. She pointed to the bar just behind us. There was a device blowing perfumed kisses into the room. She said she'd heard one complaint before. I wanted to pat Miss Rose's hand because, after all, she used to do aroma therapy and body work.
The place is a delight, worth every sneeze.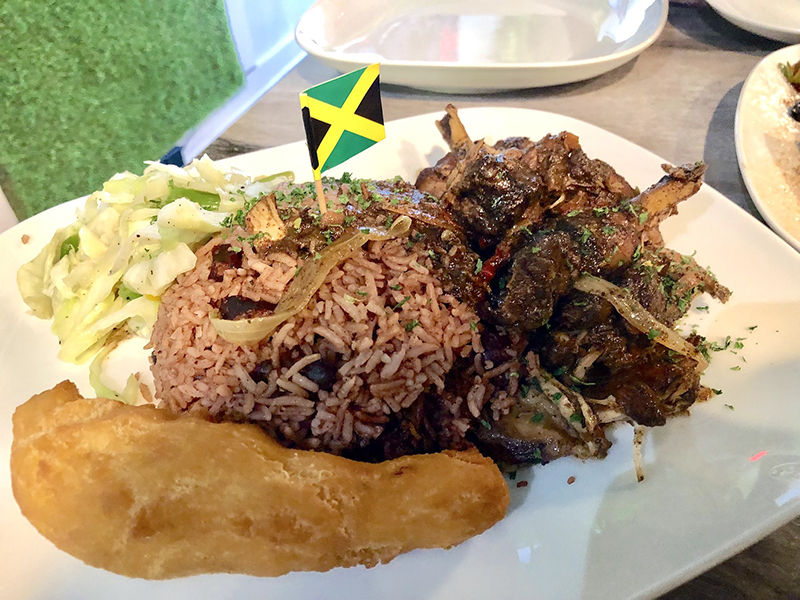 HERE AND THERE: On my way to Planet Fitness for a workout, I detoured through Kirkwood and decided to stop at Le Petit Marché, a café I'd not visited in — what? — maybe 10 years. It closed in its original location across the street, then reopened in the current one. And guess what! It was brunchtime! I ordered the gumbo and you should do the same. It was a big bowl of crawfish, chicken sausage, and rice afloat with a "Gulf shrimp po' boy crostini." What particularly surprised me was the house-made hot sauce that the server insisted I try. It was like a perfect lesson in the function of added heat. I could literally taste the hot sauce penetrating each layer of the gumbo's flavor. Try it! Foist it on your family and friends whose delicate mouths spurn the hot stuff….I recently paid a rare visit to the Colonnade, where I was a regular customer from the late '70s to the mid '90s. The 96-year-old restaurant was an enormously popular, inexpensive lunch and dinner destination for gay men and elderly women — "the gays and the grays" — during those years and it still retains a substantial clientele. Prices have increased significantly in recent years — to the degree they aren't included on the online menu — and the menu has shrunk, but the Southern diner classics, like flawless fried chicken and vegetables, remain the best choice….Estrellita, a small Filipino restaurant

in Grant Park, is a jewel. During April, the restaurant featured a weekend special of the nation's favorite roasted pork belly — a juicy, gigantic piece of meat with a crackly skin that I would happily eat every week. There is always something delicious going on there. —CL—



La Semilla, 789 Memorial Dr., 404-228-3090, lasemilla.kitchen, @lasemilla.atl  https://www.lasemilla.kitchen
Mascogo Tacos, pops up at various breweries; consult their IG, @mascogotacos, for their schedule and menu
Kimchi Joy, 5-10 p.m. Tuesdays at Ria's Bluebird, 421 Memorial Drive, kimchijoyatl.com; consult their IG, @kimchijoyatl
Mobay Spice,  2953 North Druid Hills Road, 404-941-7028, mobayspice.com  @mobayspiceatl
Le Petit Marché, 1984 Hosea L. Williams Drive, 404-471-9888, lepetit-marche.com  @lepetitmarche1
The Colonnade, 1879 Cheshire Bridge Road, 404-874-5642, thecolonnadeatlanta.com  FB: Colonnade Restaurant Inc
Estrellita, 580 Woodward Ave., 404-390-3038, estrellitalfilipino.com  @estrellitafilipino