ATLANTA FILM FESTIVAL: Georgia Films Embrace Mixing Media
The 47th Atlanta Film Festival showcases local artists, directors, producers and actors
PUPPET MASTERS: Animation captures late gallery owner Judith Alexander (left) and folk artist Nellie Mae Rowe in the documentary 'This World Is Not My Own' at the Atlanta Film Festival.
Georgia continues to be a hub for movie and TV productions, but most of these are filmed in Georgia and developed outside the state. The Atlanta Film  acknowledges and showcases Georgia's home-grown filmmaking creativity, while also focusing on features and shorts from around the world.
Running in theaters and online from April 20-30, the 47th ATLFF will present 155 films, drawing from 9,000 submissions from 118 countries, as well as a Creative Conference with educational workshops, panels, and conversations taking place virtually and in person from April 25 - April 28, featuring industry experts from across the country. Sessions will include: 
Development, the Pitch, and the Package
The Virtual Production Pipeline & the Future of Content Production
On Screenwriting 
Improv Reshapes Your Creativity
Jumpstarting Your Career: Tips and Resources for Emerging Filmmakers
The Business Side of Filmmaking
Changing the Climate: How to Weave Cultural, Social, and Environmental Narratives into Your Storytelling

For its opening night, the ATLFF screens Polite Society, a "feminist action comedy" and the first feature from writer-director Nida Manzoor, creator of the charming Brit-com "We Are Lady Parts." (The closing night film has not been announced at press time.)
Intriguing films also on the line-up include Final Cut, in which the Oscar-winning director of The Artist remakes the zombie-themed meta-comedy One Cut of the Dead; veteran filmmaker Paul Schrader's Master Gardener starring Joel Edgerton and Sigourney Weaver; and Showing Up, indie darling Kelly Reichardt's latest character-driven collaboration with actress Michelle Williams.
The Indigo Girls documentary It's Only Life After All is one of the highest-profile entries in the ATLFF's "Georgia Films" program of shorts and features — either locally-made or involving native Georgia filmmakers. Individual tickets for its screening may be purchased here.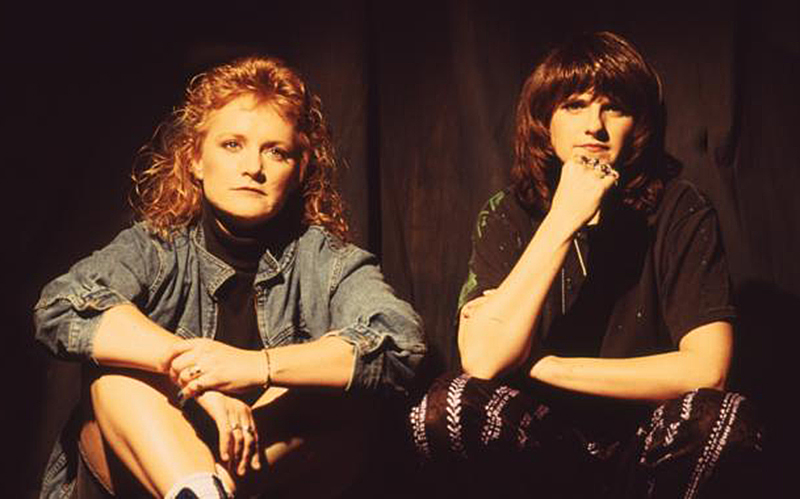 Many of the festival's Georgia themes share a common motif of mixing different filmmaking styles or genres in surprising — and rewarding — ways. None embrace the mixed-media ethos more enthusiastically than This World Is Not My Own, Petter Ringbom and Marquise Stillwell's documentary portrait of folk artist Nellie Mae Rowe. Rowe was born in Fayetteville in 1900. The film spans a century of local history, focusing on her evolving artistry against a backdrop of Atlanta's often strained race relations.
A self-taught artist, Rowe took on such subjects as hand-made dolls, chewing gum sculptures and vibrantly-colored paintings. The film uses interviews and quotes from Rowe for an animated, black-and-white framing device in which the artist addresses the viewer from a recreation of her long-demolished home in Vinings. The style isn't an exact match to Rowe's art, but reflects her found-object sensibility in a means to bring her personality into sharper relief.
The film particularly focuses on Rowe's relationship with Jewish gallery owner Judith Alexander, who helped elevate the artist's profile. This World Is Not My Own takes an almost Faulknerian approach to race and history. When the film pauses for an interlude about the notorious Leo Frank lynching, you question its relevance until we learn that both Rowe and Alexander had direct connections to people involved. This World Is Not My Own transcends the usual clichés about the South and the power the past holds over the present.
Geoff Marslett's sci-fi comedy Western Quantum Cowboys (from Atlanta-based producer Melodie Sisk) puts even more styles and narrative tropes in a blender. A trippy riff on quantum theory, time travel and alternate universes, the film follows three denizens of the Old West (Kiowa Gordon, John Way and Lily Gladstone), whose fates lead them again and again to a fateful shooting in Yuma.
Visually, Quantum Cowboys represents the idea that reality represents infinite possible choices by presenting the film in constantly shifting formats, from live-action to rotoscoped animation. The narrative juxtaposes dorm-room philosophy with the comedic mishaps of its protagonists and includes some amusing gags: a failed robber gets released from jail wearing prison stripes and is chagrined that he has to ride not a horse but a zebra. It's theoretically fun that Quantum Cowboys has appearances from musicians like John Doe and Neko Case, but in practice, most of the hip cameos bring the plot to a halt. The film never leans into the Western musical it seems straining to be.
Kayla Johnson's Fenom takes a prodigious multitasker as its subject. We meet high schooler Flau'jae Johnson as not only a basketball star breaking records her senior year, but also a rising young rapper with a compelling backstory. Her father, Savannah-based rapper Camoflague, was murdered before she was born, so she was named "Flau'Jae" in tribute to him. Johnson's a charming, energetic personality who comfortably commands the film, supported by her protective mother and boisterous stepfather. (He's her biggest cheerleader and, in a touching moment, cries openly when talking about their relationship.)
Fenom gives more attention to sports than to music. We see brief clips of Flau'Jae on "America's Got Talent" and later in the studio, but the film focuses much more on the basketball court and Johnson's college recruitment. Just when it seems like the film will show one repetitious success after another, Johnson has to deal with a setback that shakes her confidence. It's a short feature film at 66 minutes that still feels a little padded, but also leaves you invested in tracking the star's future career on and off the court.
Jordan Bellamy and Josh Gilligan's documentary Ship Happens holds some surprises in its account of an automobile-carrying container ship that capsized in St. Simons Sound off the Georgia coast. The salvage of the "Golden Ray" became the largest wreck removal in US history, but while the film shows the initial rescue and months-long, staggeringly huge operation that follows, the point of view feels like it's from outside looking in (or from on shore looking at out to sea).
The film addresses concerns over the wreck's ongoing environmental impact, but seems to have limited access to the responsible parties: no one seems to even know why the ship capsized in the first place. Ship Happens gradually emerges as a charmong, off-beat "hangout film" about St. Simon's Island and its sun-tanned natives, including environmentalists, retirees and journalists. Boardwalk T-shirt vendors and charter boat captains adapt to the presence of the massive eyesore and, ironically, seem to miss it a little bit when its finally gone.
Bryan Tan's moody drama She Watches Blindly feels like a genre hybrid as an enigmatic psychologist helps a young mother who may have psychic powers. The premise feels reminiscent of the ESP thrillers of the 1970s, but the filmmaker puts less emphasis on supernatural chills and more on the genuine challenges of post-partum depression and bipolar disorder. The sorrowful tone and overwrought confrontations of She Watches Blindly begin to feel like a series of acting class exercises, but you can appreciate the film's serious themes and sincere approach.
Finally, any film fan concerned that the current streaming age is strangling creativity will enjoy the short "CONTENT: The Lo-Fi Man" by Blake Myers and Brian Lonano. What starts as a Youtube review of the body horror cult classic Tetsuo: The Iron Man becomes an action spoof of guerilla artists rebelling against oppressive corporate content. Unapologetically silly, the film wears on its sleeve its love of analog films and the scrappy artists who make them. —CL—
Apr. 20-30. $12-$15 for in-person tickets, $85 for unlimited virtual all-access pass. Thu., Apr. 20 – Sun., Apr. 30. Plaza Theatre and other Atlanta venues. atlantafilmfestival.com
---