ABOUT TOWN: Setting new standards
Local creatives are getting progressive
A number of local companies in this month's listings are doing quite a bit more than just staging new productions. 7 Stages on Euclid Avenue has a program called Art for Activism that works with wildlife conservation and environmental groups based in Atlanta and abroad. In addition, the company has formed a partnership with Atlanta Green Theatre Alliance to set new standards for live productions, including the reuse of materials and eliminating waste wherever possible. Speaking of wildlife, the Art of the Brick Immersive experience has a portion of its current show dedicated to endangered species.
The Atlanta Opera has announced its second annual 96-Hour Opera Project, a competition in which five teams of composers and librettists write ten-minute operas. Here is the kicker: the contest is designed specifically for composers and librettists from historically underrepresented communities, and is only open to those who self-identify as Black, Indigenous, Asian-American, Pacific Islander, Arab-American, Latin-American or other communities of color.
The revival of Cats, now showing at the Byers Theatre, is directed by Broadway stalwart Baayork Lee, founder of the National Asian Artists Project. The nonprofit focuses on educating, cultivating and stimulating audiences and artists of Asian descent through various outreach programs. Then there is the Out Front Theatre, which has the distinction of being Georgia's only LGBTQ playhouse, and Actor's Express, which is continuing its mission of presenting works that enact anti-bias principles. See below for more details.
Now through Sun., May 7
Das Rheingold, Cobb Energy Performing Arts Centre — The first in a quartet of epic music dramas that make up Richard Wagner's Ring Cycle is being produced in the South for the first time, according to Atlanta Opera. (It's scheduled to be followed by Die Walküre next season). Based on Nordic folk-tales and legends and first staged in Munich in 1869, the opus has gods, dwarves, giants, river nymphs, and dragons scheming and dreaming of power in the mythical Valhalla, or "hall of the fallen." This all-new production from Tomer Zvulun features Greer Grimsley in the lead role of Wotan. ( HuffPost said Grimsley has a "wide-ranging and handsome voice" and touted that "he sings like a god.") Kristinn Sigmundsson appears as Fasolt and Elizabeth DeShong as Fricka; her sister Freia is played by Jessica Faselt, with Arthur Fagen conducting. The story includes depictions of kidnapping and ransoming, we are warned, and is sung in German (of course) with English supertitles.
See website for tickets and prices. Performances are Tue., May 2 at 7:30 p.m., Fri., May 5 at 8 p.m., Sun., May 7 at 3 p.m. Cobb Energy Performing Arts Centre, 2800 Cobb Galleria Parkway, Atlanta, 30339. 770-916-2800 atlantaopera.org
Now through Sun., May 14
It's Only a Play, OnStage Atlanta — Renowned playwright, screenwriter and librettist Terence McNally came up with It's Only a Play in 1982 after a previous version entitled Broadway Broadway failed to find an audience. The plot concerns a party at which a producer, a director, actors and hangers-on anxiously await opening night reviews of their new play. The synopsis describes It's Only a Play as "raucous, ridiculous, and hilarious, and proves that sometimes the biggest laughs happen offstage." Associated Press writer Michael Kuchwara called the show a "maliciously funny diatribe about the desperate and demented business of producing a play." Its successful Broadway run started a decade ago at the Schoenfeld Theatre and featured actors Nathan Lane, Matthew Broderick, Stockard Channing, F. Murray Abraham, Micah Stock, Megan Mullaly and Rupert Grint. A New York Times reviewer wrote at the time: "This show is, without a doubt, hilariously, side-splittingly funny. These are among the funniest lines to roll off a stage in years. It's Only a Play deserves only a rave." McNally became famous for exploring human relationships, often using dark humor, and received a Special Tony Award for Lifetime Achievement in 2019, among numerous other accolades.
$20 - $26 OnStage Atlanta, 3041 North Decatur Road, Scottdale 30079. 404-245-4205 onstageatlanta.com
Now Through Sun., May 14
Prayer for the French Republic, Actor's Express — Actor's Express is now staging Prayer for the French Republic, a play about navigating anti-Semitism and Jewish identity. Set on the eve of the 2016 French presidential elections, a Parisian doctor considers relocating to Israel with her family amid fears for their safety. A side story depicts her great-grandparents anxiously awaiting the return of relatives who have just been liberated from concentration camps. "This is Joshua Harmon's most ambitious play to date," says Artistic Director Freddie Ashley. "The rise of anti-Semitism in Europe and elsewhere fueled Harmon's exploration of the need for the safety of home. Exquisite in every detail, Prayer for the French Republic is an uplifting play that confronts the inhumanity of the world with the powerful forces of family and hope." Harmon, a two-time MacDowell fellow and Juilliard graduate, was invited by Ashley to be the Actor's Express Artist in Residence, a position he has held since 2010, and this is their fourth collaboration. The cast features AE veteran Carolyn Cook (Angels in America, Blackberry Winter), Ross Benjamin of Théâtre du Rêve (Intimate Apparel), Jared Simon (Glengarry Glen Ross) and former AE Apprentice Aliya Rose Kraar (Oh, to be Pure Again). According to a press release, Atlanta stage favorites making their AE debuts include Susan Shalhoub Larkin, Barry Stoltze and Clayton Landey. Also making their AE debuts are Shaun Maclean, Faina Khibkin, Israeli-American actor Adire Lev Mann and Jacob Sherman. Joe Alterman (Neranenah Jewish Music Festival) has composed original music for the production.
$20 - $40. Group pricing is available. Discounts for seniors 65+, groups and active or retired military. King Plow Arts Center, 887 West Marietta Street, Suite J-107, Atlanta 30318. 404-607-7469 tickets@actorsexpress.com actors-express.com
Now through Fri., Jun. 30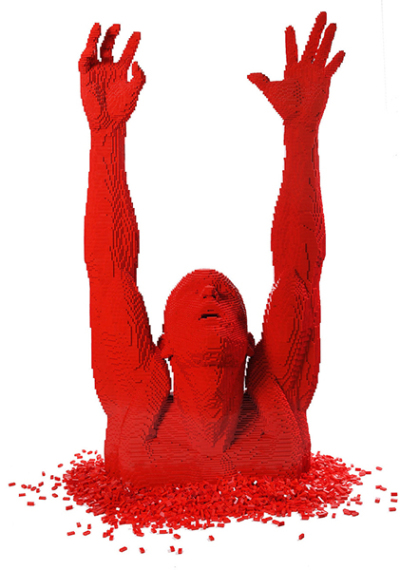 Art Of The Brick Immersive Experience, Exhibition Hub — The new 50,000 square foot Exhibition Hub Art Center in Doraville has begun hosting the world premiere of Art Of The Brick, consisting of more than a million Lego bricks transformed into 70 works by contemporary artist Nathan Sawaya. A press release describes the show as "an all-encompassing immersive environment showcased through 3D video mapping and enhanced by a soaring musical score" that took three years to develop. Elements include the unveiling of a giant version of Sawaya's sculpture "Yellow" as well as "Perniciem" (Latin for extinction) that highlights endangered species in their natural environments. Sawaya is known for building custom three-dimensional structures and large-scale mosaics from everyday items using standard Lego bricks. "Nathan is the world's foremost Lego artist," said Mario Iacampo, CEO and creative director of Exhibition Hub. "It is our honor to now help take Nathan's work to an even higher level with a totally immersive canvas worthy of his genius." Exhibition Hub is the company behind similar shows featuring Vincent Van Gogh, Claude Monet, and the new international hit Bubble World. "We've wanted to bring our tour here for years and now is the perfect time with a brand new collection of Lego-inspired art installations, sculptures and multimedia color creations," Sawaya said in a statement. "I'm so happy Atlanta will get the first look at my new, complex works that have been meticulously designed to trigger childhood memories of play and creativity while also evoking something more cerebral."
Adult (13+) $33.90; VIP Adult (13+) $43.90; Child (4-12) $20.90; VIP Child (4-12) $30.90; Senior (65+), Student or Disabled $28.90; Group Bundle (+8 People) $30.90; Premium Flex VIP $51.90. Exhibition Hub Atlanta Art Center, 5660 Buford Highway, Doraville 30340. feverup.com
Thu. May 4 - Sat., May 20
Ruthless! The Musical! Out Front Theatre — Georgia's sole LGBTQ theatre company is co-producing this campy musical with Georgia State University's School of Film, Media & Theatre, under the direction of Paul Conroy. Ruthless originally opened off-Broadway in March of 1992 (with the young Natalie Portman and Britney Spears as understudies) and won an Outer Critics Circle Award the following year. The main character is an eight-year old girl who creates mayhem in her desperation to play the lead role in a school play. "A wonderfully smart and funny send-up of every Broadway brat from Gypsy to The Bad Seed, loaded with campy wit and charm," a Variety reviewer noted at the time. Music is by Marvin Laird and book and lyrics are by Joel Paley. The Atlanta cast includes both Kayla Furie and Max Walls as Tina Denmark; Anna Dvorak as Judy Denmark; Latrice Pace as Lita Encore; Wendell Scott as Miss Thorne; Blake Fountain as Sylvia St. Croix; and Courtney Locke as Louise Lerman.
$25, $30, $35. Out Front Theatre Company, 999 Brady Avenue, Atlanta 30318. 404-448-2755 outfronttheatre.com
Thu., May 4 - Sun., May 21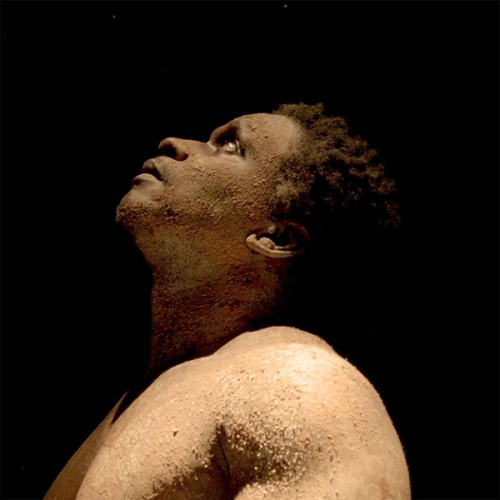 Mlima's Tale, 7 Stages — The spirit of a male elephant named Mlima, killed by Kenyan poachers for his tusks, haunts this poignant account of the international black market and its deadly consequences. "Those of you who don't believe in ghosts are likely to think again after seeing Mlima's Tale, Lynn Nottage's beautiful, endlessly echoing portrait of a murder and its afterlife," wrote Ben Brantley in the New York Times . "Each character, inhabiting a rung on an ascending ladder of power, is very clearly defined but without grotesque caricature. (Two-time Pulitzer Prize-winning playwright Nottage) packs a wealth of cultural, political and economic detail into each scene, from Maasai superstitions to the statistics of the illegal ivory trade." The play is based on "The Ivory Highway" by Damon Tabor, an article published in Men's Journal in 2014. According to 7 Stages, Director Lydia Fort visited Kenya to research the complex relationship of elephant poaching with life and society there. Fort began the trip in the Tsavo National Parks where Mlima was from, speaking with scientists, rangers, local organizations and community members. As a result, 7 Stages announced it will provide a free platform for an open dialogue related to the themes of Mlima's Tale during the run, as well as a Service Saturday event, providing community resources and opportunities for action. A spokesperson added, "This poetic tale gives voice to the objects we consume, the lives we exploit, and the planet we put at risk."
$15 - $40. 7 Stages Theatre, 1105 Euclid Avenue, Atlanta 30307. 404-523-7647 7stages.org
Fri., May 5 - Sun., May 21
Cats, Byers Theatre — In case you're one of the few people on Earth who hasn't seen Cats yet, here is your chance. Andrew Lloyd Webber's megahit musical from 1981 is getting a refresh at the Byers Theatre with some additional material written by Trevor Nunn and Richard Stillgoe. The long-running feline frolic, which won more awards than you shake a stick at, has been presented in over 30 countries, translated into 16 languages, and seen by more than 73 million people worldwide. Liberally lifted from the book "Old Possum's Book Of Practical Cats" by T.S. Eliot, this version is directed and choreographed by Tony winner Baayork Lee, one of the stars of the original Broadway cast of A Chorus Line. "Since taking Broadway by storm more than 40 years ago, Cats has delighted audiences of all ages, all around the world," said Executive Director Natalie DeLancey. "We're honored to have Baayork return to Atlanta to share her considerable, award-winning talents, and help us craft a memorable finale to our fifth season of shows."
$37- $77. Byers Theatre, Sandy Springs Performing Arts Center, 1 Galambos Way, Sandy Springs 30328. 770-206-2022 cityspringstheatre.com
Tue., May 30 - Sun., Jun. 4
Hairspray, Fox Theatre — This new North American tour of Hairspray is helmed by director Jack O'Brien and choreographer Jerry Mitchell, both of whom were behind the original hit production in 2002. "It's a brand-new world we find ourselves in today, and Hairspray is even more relevant than twenty years ago when it first burst onto the scene," O'Brien says. "With the renewed, refreshed energy of… a whole new generation of wildly talented kids across the board, we cannot wait to raise the various roofs once more with dance, joy, music, and that glorious, famous, energy-packed score." Hairspray, based on the 1988 John Waters movie, is set in 1960s Baltimore and tells the story of teenager Tracy Turnblad as she tries to dance her way onto the most popular show on television. The current cast is led by Andrew Levitt aka Nina West (from "RuPaul's Drag Race") as Edna Turnblad, Niki Metcalf as Tracy Turnblad and Sandie Lee as Motormouth Maybelle. Joining them are Charlie Bryant III as Seaweed J. Stubbs, Nick Cortazzo as Link Larkin, Ralph Prentice Daniel as Wilbur Turnblad, Billy Dawson as Corny Collins, Ryahn Evers as Amber Von Tussle, Addison Garner as Velma Von Tussle, Emery Henderson as Penny Pingleton and Joi D. McCoy as Little Inez. The New York Times deemed the show "Fresh, winning, and deliriously tuneful."
$35+ Fox Theatre, 660 Peachtree Street, Atlanta 30308. 855-285-8499 foxtheatre.org/Hairspray @HairsprayOnTour