Event Scheduled
Pink Turns Blue
Monday September 26, 2022 08:30 PM EDT
Cost: $12.00 ,
From the venue:
No description provided More information
Featuring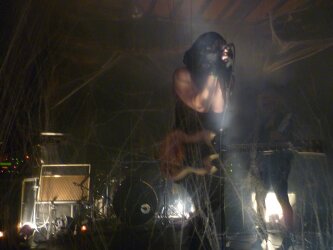 After a string of indie/art/noise singles on various labels, Entertainment released their debut album, Gender, on Atlanta imprint Stickfigure Records in 2008, votedDeathrock.com album of the year (2008) Gender was picked up by arthouse label Duchess Archive (N.Y.C.), where it was remastered and rele... |
more...
Pink Turns Blue is an alternative rock band from Berlin with hits and albums that have become milestones in the genre of post punk / guitar wave.
Last year, "Something Deep Inside" was used in Matthew Berkowitz's thriller "The Madness Inside Me".
Since their world tour 2018-2020 the three-piece has ... |
more...
That Which Is Not Said is an album about learning to accept oneself within, and accept the reality of all that comes from without. It's an eponymous abstract exposition on navigating the realms of intimacy that the living world inevitably unveils and their equally inevitable fallout, the panic of ... |
more...