Black History Month Events in Atlanta

CL's guide to Black History events
CL's Black History/MLK Cover February 2018
---
---
Atlanta is often called the Black mecca of the South, so what better place to celebrate Black History Month than here? From the Civil Rights Movement to nonviolent demonstrations, commemorate African-American heroes who gave people hope for the future and advanced the quality of life for the black community.
The King Center is a great place to start. This living memorial is dedicated to the legacy of Dr. Martin Luther King Jr. and offers a variety of programs and services committed to fulfilling King's dream of the beloved community.
Atlanta's spectacular
National Center for Civil and Human Rights is the place to follow with events throughout the month. The NCCJ has the King papers archive and one of the largest collection of the Civil Rights era history in the US.
Black History Big Events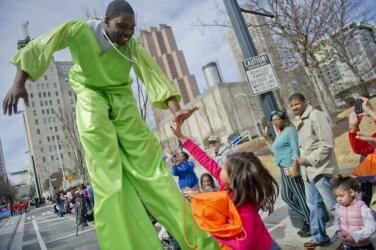 Saturday February 19, 2022 12:00 PM EST
Browse the Black History Month Parade schedule as well as recommendations. CL's critics & readers weigh in on the definitive guide to the event. |
more...
List of Black History Events
CL Articles on Black History
Past Years
---
Black History Month Events in Atlanta - MLK, Parade, Civil Rights CTR