Straight Outta Stankonia - Hollywood Courts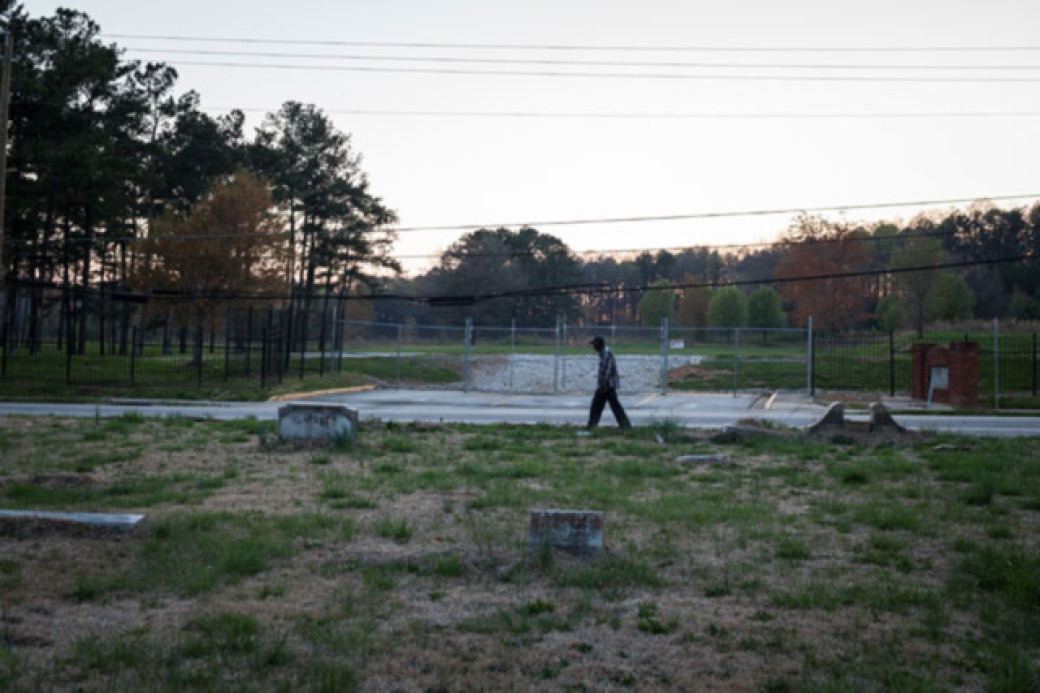 In actuality, it's only about 3 a.m.
And three niggas just done got hauled off in an ambulance (sliced up)
Two niggas done started bustin' (wham wham)
And one nigga done took his shirt off talkin' 'bout
'Now who else wanna fuck with Hollywood Court?'
This just my interpretation, of the situation
— "SpottieOttieDopaliscious," Aquemini (1998)
Like a king without a kingdom, Phillip Grimes, aka Swift, aka Boo Man, introduces himself as "the Mayor of Hollywood Court." We're standing on the grounds of the once formidable housing project where he came of age in northwest Atlanta. The wrought-iron entrance is gated now — not in the security-coded private-access sense but in the permanently padlocked-and-deserted sense.
"That's funny that this is OutKast's 20th year; this is Hollywood Court Day's 10th year," 42-year-old Grimes says. He's referring to the annual tribute he founded for residents to reunite each year around Mother's Day. It's an idea he initially got after missing his own mom while he "was gone away for a minute," he says in a manner that requires no further explanation. "I said, when I go home I'm going to talk to some people a little older than me and see can we get an annual event going on."
As if on cue, a man Grimes refers to as a neighborhood "O.G." comes strolling up the opposite side of Hollywood Road. "Hey Duck," Grimes calls out.
"What's up, Boo," Duck yells back, shuffling across the street. "You out here trying to set up something ain't you? Hollywood Court till we die!"
Although this housing project was demolished by 2012, it lives on through former residents like Grimes and Duck who still personify the place they call home. "We are what you call signature guys from our 'hood," Grimes says. "Every where we go, we represent Hollywood Court."
He pronounces it like "coat," the same way Andre 3000 did on "SpottieOttieDopalicious," the iconic Aquemini track with the spliffed-out bass line and infectious horn riff. Even if fans had never heard of the housing project before then, they understood by the end of Dre's spoken-word narrative of gangsta gloom that Hollywood Courts was not to be slighted.
"We were like a band of brothers," Grimes says, offering his interpretation of the situation. But he's also quick to acknowledge that the lyrical reference could've easily been replaced with any number of the city's public housing developments in an era when respect meant holding down your 'hood against rival projects. "I'll never say we were the baddest apartment, but it would take a snake from within to destroy us. That's on everything I love."
Nothing but trees and green grass remain where the three red-bricked, two-story complexes once stood. The only evidence of its former existence is the imposing brick sign at the entrance where the letters that spelled out "Hollywood Courts" have since been removed. It almost resembles a tombstone like the ones that pepper the adjacent Hollifield Cemetery. Grimes and Duck each take a moment to reminisce on a childhood spent playing hide-and-go-seek in the dark of night among the neighboring headstones before calling out a string of R.I.P.s in honor of the homies they've lost since.
"Sometimes I look over here and I be about to cry, man," Duck says with a hint of nostalgia. "That's where I was raised."