Atlanta Dogwood Festival 2019 - Sunday April 14th
Sunday April 14, 2019 10:00 AM EDT
Cost: Free,

CL RECOMMENDS
From the venue:
For all Atlanta Dogwood Festival Events
This year, the Atlanta Dogwood Festival celebrates its 83rd Anniversary in Piedmont Park, ringing in the spring with live performances, art booths, kiddie rides, bites from local restaurants, and thousands of cabin-fevered Atlantans. Attendees can visit the Artist Market which showcases hundreds of artists from around the country, and features sculpture, painting, pottery, jewelry, photography, and more. Admission is free to the festival, but check out the website for a look at the special ticketed events.
Sunday's Events
More information
Featuring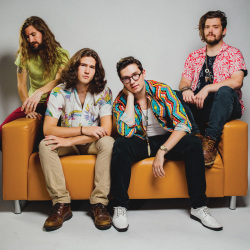 (RIGHT NOW), three and a half years before the end of the world, rushing in atop a giant (EXPLICIT ADJECTIVE) tornado, the (PREACHERVAN) have arrived, with an album of new songs about (NOUN) and (NOUN). The band is composed of two (WORD FOR REDNECK RELATIVES), reputed to have been conceived in a hai... |
more...
Self­taught multi­talented artist, Clay Shelburn, has performed on stage since the age of 13. Writing his first song at age 12, he categorizes his current original music as "funktry": a fusion of funk, rock, blues and country. Garnering recent world-wide viral fame as the "Walmart Rockstar" in 2015,... |
more...