Kyle Brooks
Artist
Kyle Brooks, whose art you know as BlackCatTips, has deep roots in Atlanta. The self-taught folk artist uses found materials, house paint, and bright colors. Companies like Coca-Cola, the Weather Channel, and MailChimp use his paintings. In addition to his studio and mural work, Brooks creates street poems and whimsical roadside art installations. His happy signs are all over the city, brightening our days. He has lived in East Atlanta for 10 years.
Tagged In
Friday October 7, 2011 02:51 pm EDT
Don't miss the opportunity to participate in a fun activity, win free art and support Atlanta's Beltline! |
more...
Wednesday August 10, 2016 06:30 pm EDT
Kyle Brooks finds inspiration in his grandpa's weather journals |
more...
Saturday May 14, 2016 09:35 am EDT
It's time to start scoping out thrift store jeans for that perfect pair of summer jorts. |
more...
Wednesday September 19, 2012 10:31 am EDT
The party kicks off at the Goat Farm tonight at 7 p.m. |
more...
Wednesday October 12, 2011 04:23 pm EDT
You already know that the prize for winning the CL + Art on the Beltline Scavenger Hunt is pretty sweet — tickets to Bodies: The Exhibition, The High Museum of Art: Picasso to Warhol, the Georgia Aquarium and Netherwold Haunted House.
But Hense and Kyle Brooks of Black Cat Tips have generously donated artwork for the First Place prize!
Their work is featured in the Art on the Beltline...
|
more...
Saturday October 15, 2011 09:00 am EDT

It's game time!
The starting point for the CL + Art on the Beltline Scavenger Hunt is at Memorial Drive and Bill Kennedy Way, west of H. Harper Station, 904 Memorial Drive SE, 30316.
Walk-ups are welcome, and need to arrive by 9:45 a.m. The hunt starts at 10. Price to play is $10. All proceeds benefit the Beltline.
The First Place team will win original artwork by Hense and Kyle...
|
more...
Tuesday May 26, 2015 10:30 am EDT
Owner announces plans for a brick-and-mortar location |
more...
Monday June 1, 2015 04:00 am EDT
Meet the artist behind the Atlanta City Guide map |
more...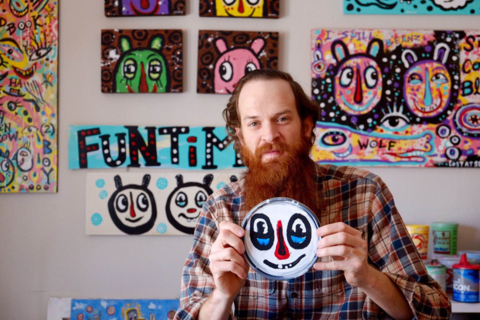 Tuesday June 14, 2016 04:00 am EDT
Local artist Kyle Brooks, aka BlackCatTips, shares his favorite things about ATL |
more...
Wednesday February 10, 2016 02:07 pm EST
For Inky Mixtape, four Atlanta artists collaborate on over 40 prints to be shown at Edgar Allan in the Goat Farm Arts Center. |
more...
Tuesday September 22, 2015 10:03 am EDT
A handful of illustrators use ATL as their muse |
more...