Hot Dog Pete's
Hot dogs are an iconic American food but like everything else in America, they are influenced by many cultures and recipes that continue to evolve. In Birmingham, Alabama, the hot dog game is strong thanks to a large immigrant population of Greeks who have been successful food purveyors for several generations.
Nick Pihakis, Founder and CEO of the Pihakis Restaurant Group, along with his partners, have teamed up with Pete Graphos, the founder of Sneaky Pete's Hot Dogs, a Birmingham institution since 1966. Together, they blend the collective experience of nearly 100 years in the restaurant business with the nostalgia of a beloved food to re-introduce this Birmingham classic to a new audience in Atlanta.
A new take on an American classic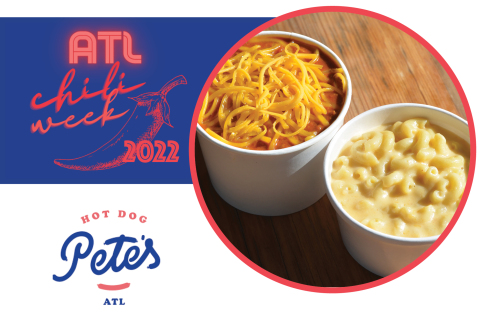 Hot Dog Pete's Chili and Mac and Cheese are delicious takes on two classics. Pete's Chili is rich, tomato and beef with a hint of Greek seasoning and just a bit of spicy heat. We top it with diced onions and shredded cheddar. New to the menu, Pete's Mac and Cheese is a three-cheese and cream blend t... |
more...
A bowl of Beef Chili with diced onions, cheddar cheese and oyster crackers with your choice of side Waffle Fries, Collard Green Slaw, Cucumber & Feta Cheese Salad, Pinto Beans or Kettle Cooked Chips.
Dine-in Take-out
Delivery (Order via Door Dash) |
more...
25 Georgia Avenue SE
Atlanta
,
GA
30315
470-369-6777
hotdogpetes.com
Food, Restaurant, Burgers/Hot Dogs
Hours
Monday: 11:00 AM – 8:00 PM
Tuesday: 11:00 AM – 8:00 PM
Wednesday: 11:00 AM – 8:00 PM
Thursday: 11:00 AM – 8:00 PM
Friday: 11:00 AM – 9:00 PM
Saturday: 11:00 AM – 9:00 PM
Sunday: 11:00 AM – 9:00 PM